You have purpose…
People see you trying hard to prevail in life,
Make you feel that without them you going to fail in life,
As you start to grow your strength and you making strides,
Their minions come to crucify like they nailing Christ,
Look at all of them and laugh out loud…
(Excerpt from Bunji Garlin's 2015 Soca song 'We Up Dey')
The following is an exchange of correspondence on Bunji Garlin's chorus:
Allan Karim: Bunji what RACIST Bullsit is this??? Bunji garlin new offering to soca 2015 "we up dey" lyrics: "as soon as yuh start to build yourself and yuh making strides, dem INDIANS come to crucify like they nailing Christ…"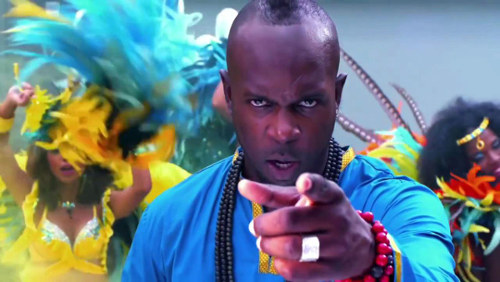 Bunji Garlin: Let's ATTEMPT to clear the air here… Again. I posted the correct lyric a few days ago so people can see but bad news travels faster than good but np we just have to learn as we go along. Again here I post the correct wording is "Their MINIONS come to crucify like they nailing Christ" NOT INDIANS.
Some people got it mixed up but before jumping up too quick let's take our times (sic) and make sense as we proceed. Naturally if anyone was caught off with this lyric I humbly apologise but the race card is not in my deck. That is one issue that I am exempt from. One love to all and to those who will call these people haters please do not. They genuinely thought it was something else but fear none for it is not. God bless.
Allan Karim: Dear all. My comments last evening on Ian Anthonio Alvarez, (Bunji Garlin) song "We up dey" has generated a lot of public discussion. My intention was never out of malice or ill will, I had a genuine legitimate concern for the content I heard in the song and I expressed it on my fb page as most people would do.
In Mr Alvarez clarification to my post he (Mr Alvarez) also apologized to those who interpreted the contentious part of the song to mean "INDIANS", that indicated to me that Mr Alvarez acknowledges the genuine, legitimate concern that I have about the song.
Therefore a public apology from me will not solve the problem that was created by Mr Alvarez poor choice of words when he wrote the song. I have listened to the song over 10 times since this morning and I'm not totally convinced that "MINIONS" was said but in fact "INDIANS". I'm still concerned about the discomfort this song could bring to a large section of society when played in public.
Mr Alvarez should reconsider the contentious part of the song and make the necessary changes to ease the discomfort that this has brought to himself and members of the public.
I thank you. Sincerely, Allan Karim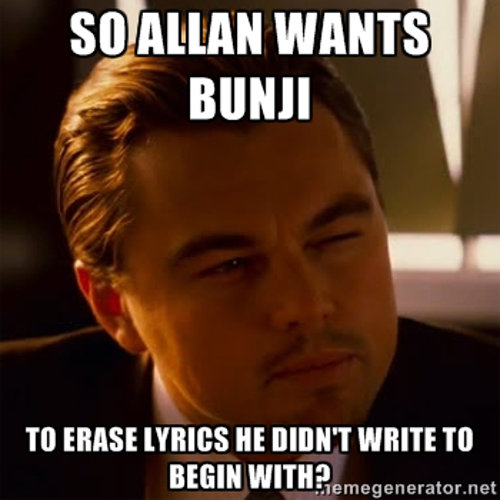 Mr Live Wire: Dear Allan. I have chanced across your moving letters and was touched by the anguish of a tortured soul and an obvious soca aficionado.
Although I do not and cannot speak on behalf of Bunji Garlin, I have listened to his soca song and can tell you with no ambiguity whatsoever that the hit is not aimed at you. Please listen again to the song's opening sentence, which goes: "You have purpose…"
Sir, I was surprised that you did not immediately hit pause on the youtube rendition—you don't seem to be a man who puts his money where his mouth is—and find something more to your taste.
But I suppose you are a man of more resolve than that and you made it to the chorus in which Bunji explained that, as soon people to start prosper, minions try to crucify them.
And, in the best case of life imitating art since the North Korean government attacked Sony over "The Interview", you promptly set off to do just that.
What next, Allan? Would you say that Iwer George's "Bottom in the Road" was a racist stealth attack on the right of Indian women to have buttock implants?
Is Sat Maharaj on vacation? Or are you muscling in on his turf?
Allan, do you realise you have asked Bunji to extract lyrics that were not there in the first place so as not to offend a man who is desperately seeking to be insulted?
How much of your time do you devote to fighting phantoms of your own creation? Or looking for imaginary bullets to dive in front of?
How should Bunji get rid of your own feeling of inadequacy? Would that require the skills of Leonardo Di Caprio and the rest of the crew from "Inception?"
In closing Allan (you're an idiot), please don't think (you're an idiot) that everyone (you're an idiot) is subconsciously (you're an idiot) trying to mock, ridicule and insult you because (you're an idiot) life would then become too miserable for words.
Maybe Bunji might be nice enough to write out the entire song for you and you might find some comfort there. You've got his attention now, so go for it.
I close with the words of former Britain Prime Minister Winston Churchill: "A fanatic is one who can't change his mind and won't change the subject."
Yours sincerely, Mr Live Wire.