It's been a tumultuous weekend for Trinidad and Tobago, as two of the country's larger than life characters appear to be on a collision course, after a startling public statement, subsequent inflation of egos and gathering of defiant supporters as well as the potential for a legal challenge.
But enough about soca star Machel Montano's clash with former 2006 World Cup captain Dwight Yorke over the latter's use of the former's name to promote his fete in Tobago.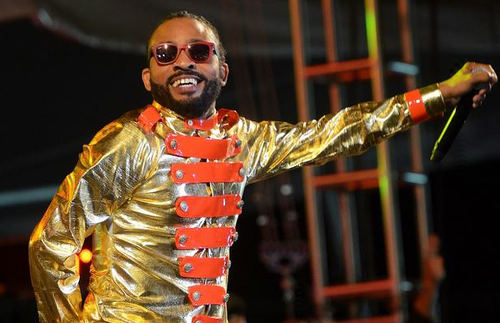 Things don't look too rosy either between PNM political leader Dr Keith Rowley and his treasurer Raymond Tim Kee, who just happen to be prime minister and Port of Spain mayor respectively.
But looks are often deceiving.
The Trinidad Guardian newspaper revealed today that Tim Kee, who acknowledged a show of support by demonstrators outside City Hall this morning, did not tender his resignation at an emergency City Corporation council meeting. The Port of Spain councillors, according to the newspaper, are deliberating his future.
If it goes to a referendum, the Tooth Fairy will have the casting vote.
In fact, none of those three things are true.
Mr Live Wire can confirm—from anonymous but well-placed sources—that the Port of Spain City Corporation did not have an emergency meeting today, there is no deliberation of Tim Kee's tenure under way. And, yes, the Tooth Fairy has no jurisdiction at City Hall.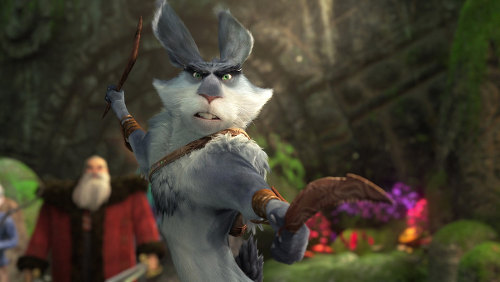 As it turns out, Tim Kee's eloquently worded offer to resign was never sent to his councillors—presumably apart from his BFF Farai Hove Masaisai—who have read the Mayor's twists and turns through the media rather than by official correspondence.
Why would Tim Kee tell everyone but his councillors about his intention to leave the Port of Spain City Corporation?
In short, Tim Kee has allegedly attempted the outwit the public. Minus, of course, the wit.
Or, to put it another way, the Mayor is still digging that hole he put himself into on Ash Wednesday—with his bizarre, irresponsible and insensitive comments about murdered Japanese pannist Asami Nagakiya—only now he thinks he is making progress.
Pause. Don't react yet. Tilt your head slightly to the side and picture Tim Kee with a shovel and smirk, blissfully and enthusiastically widening that hole he is standing in.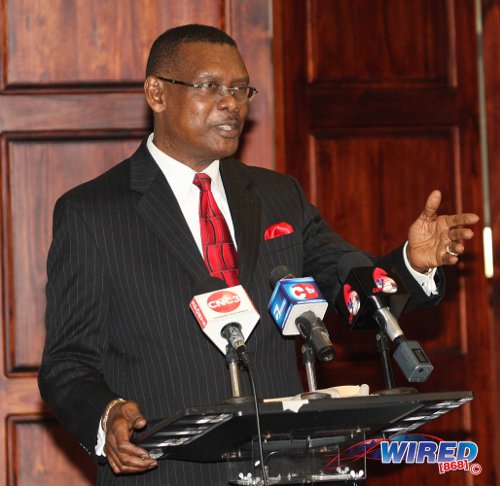 Bless him, he thinks things are getting better now, doesn't he?
It is like watching a toddler try to walk. Only, this time, you know you will be laughing when he topples over in a few moments.
So, Tim Kee made a fool of himself and his taxpayer funded post last week by choosing Nagakiya's death as an opportunity to give a lecture on female immorality at Carnival.
Point Fortin mayor Clyde Paul and Port of Spain councillor Masaisai both defended Tim Kee, while Rowley initially offered the tame suggestion that Port of Spain Mayor may have misspoke.
Cue pandemonium in cyberspace and a glimpse of writer Monique Roffey's mystical bam bam on the steps of the London High Commission.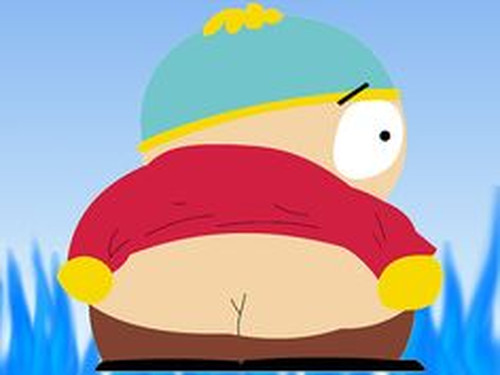 Tim Kee responded by sending an unequivocal apology to the media and a promise to resign, which was never addressed to his own corporation and immediately undermined as he gave another statement—via his wife's Facebook page—that insisted he would not be crucified.
Rowley told the Guardian that—"after reviewing the full statement"—he felt Tim Kee's comments were unacceptable and suggested he did the right thing by resigning.
"I feel his comments were clearly unacceptable but he has stated his intention to resign," said Rowley. "As far as we're concerned, it's been addressed."
But Tim Kee did not resign and never genuinely made any move to do so.
Was Rowley misled like the rest of the nation? Or was he in on one of the clumsiest attempts of misdirection ever tried?
Is Tim Kee hoping to merely confuse protesters into walking away?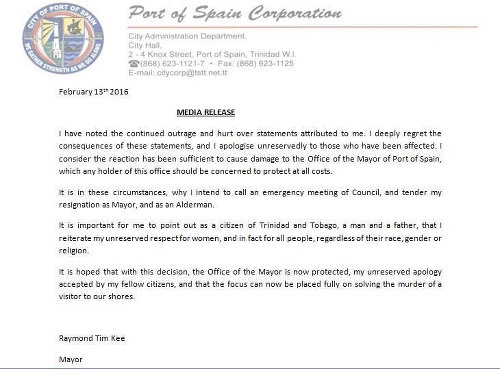 Ahhh, Live Wire just got the mental image of Tim Kee with a shovel again.
Mr Undertaker, make that man a political coffin.
And, for God's sake, get Machel and Dwight a marriage counsellor!