Defence Force FC are now one win away from lifting the CNG National Super League (NSL) Premiership Division title after defeating WASA FC by a 4-2 margin yesterday in a thrilling encounter at WASA's St Joseph compound.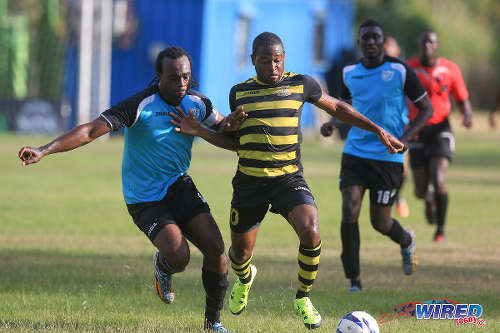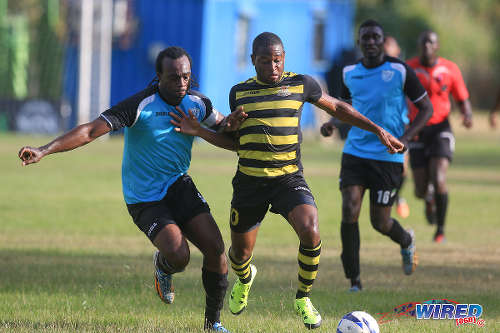 The Super League's Army/Coast Guard combination sits atop the Premiership standings with 63 points while second-place Guaya United are four points adrift, albeit with a game in hand.
Guaya, the defending NSL champions and the 2015 Super League knockout winners, have two more games remaining, including a tricky away trip to Stokely Vale in Tobago on Thursday.
Defence Force will face the same relegation-threatened Tobago-based outfit in their only remaining next Sunday.
At St Joseph, a pair of braces by Defence Force skipper Christopher Durity and ace attacker Josimar Belgrave propelled the Army past a resolute WASA outfit, which levelled the scores at 2-2 with 25 minutes of regulation still to play.
But Durity and Belgrave were too difficult for the WASA rear guard to handle as strikes in the 69th and 85th minutes sealed the fate of the somewhat underprepared "Water Boys."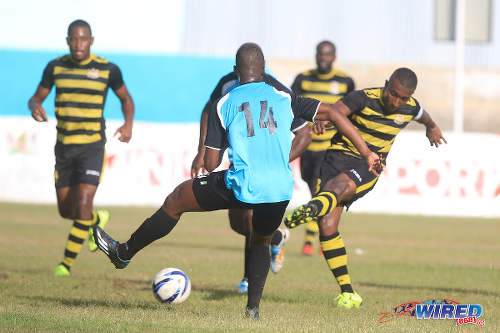 WASA coach Shurland David's charges have only had one training session in the last three weeks and very little access to their St Joseph home ground during that period due to the suspicious fire which occurred on the compound last month.
"We only had one session since our last game (against Siparia Spurs)," David told Wired868. "We had training on Thursday and my whole philosophy is if you train you will play. Plenty of the guys who didn't turn up to training were on the bench, and most of them are (usually) starters."
WASA showed very little signs of their rust early on as they give the league leaders tit for tat in an end-to-end start.
Following a smart goal line block by their skipper Akil Harley in the sixth minute, WASA attacker Glen Walker saw a glorious one-on-one chance charged down while winger Nathan Julien was denied by the linesman's flag after neatly lobbing opposing goalkeeper Kevin Graham.
It was Army who drew first blood though, as Durity played a deft one-two with striker Michael Edwards outside the 18-yard box before burying a low shot past WASA custodian Waldo Diaz in the 26th minute.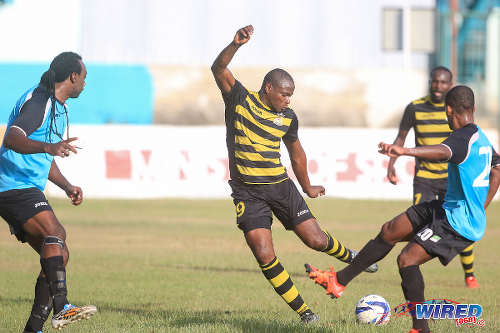 Walker had the opportunity to restore parity just seven minutes later, as Graham found himself in no man's landing after performing some sweeper duties. But the burly WASA striker sent his attempted lob well overbar from distance.
Walker was able to get his name on the scoresheet soon after though, as he tapped into the net from close range in the 38th minute following some smooth wide play by playmaker Shane Calderon.
But the scores were not level for long, as Belgrave finished sweetly from inside the area, in first half stoppage time, after Edwards tricked his way past right-back Christopher Mitchell near the by-line.
"Take him out man, you have to take him out there!" shouted a member of WASA's technical staff.
Mitchell paid a hefty price for not "taking out" Edwards, as he was substituted at the interval.
The lively tempo was maintained in the second half with Army winger Jamaal Goodridge doing most of the hard running.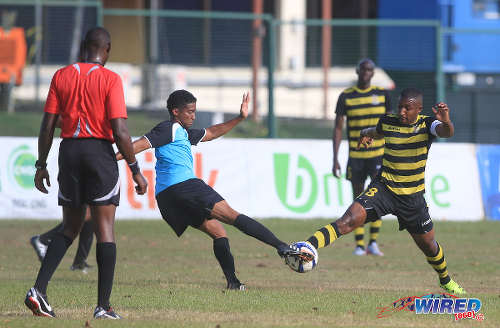 Goodridge's left side cross in the 55th minute nearly led to a goal for fellow winger Jahvon Neptune. And the former's lobbed attempt at the end of a swift counter attack, only four minutes later, sailed agonisingly overbar.
WASA substitute Ethan Robinson reminded the league leaders that they were still in a contest, in the 64th minute, as his rasping long-range drive brought a decent save out of Graham.
Robinson's fierce hit was still evidently on Graham's mind mere seconds later as the Army shot-stopper presented the lively Keron Clarke with a tap in after losing the handles on a cross from the left flank.
But, just as in the first half, the Army's response was swift.
This time, it only took them four minutes to respond, as Durity clinically finished off a left side move, which featured an accurate cut back by Goodridge and an instinctive dummy by Edwards.
WASA definitely had fight in them, but they had already run their race.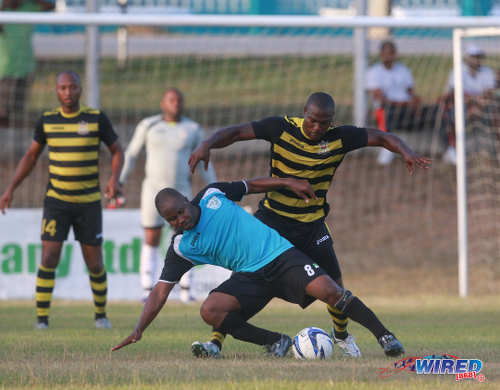 "What I will say is that the guys didn't do badly due to the preparations we had," said David, a former Trinidad and Tobago Gold Cup utility player. "The guys who started the game gave a good performance but they threw away a lot.
"And after we brought it to two-all the fitness (problem) stepped in and the guys weren't up to it."
Goodridge would go close to scoring once more in the 75th minute—this time skimming the crossbar—before Belgrave emphatically killed the contest, 10 minutes later, with a thunderous follow-up effort.
With only three points needed to secure the Premiership title, Defence Force coach Kelshall Alexander is in no mood to let up.
"We haven't won anything yet so we have to go into the last game and treat it the same way we treat every other game; like a final," Alexander told Wired868. "We knew it was going to be a hard game but we prepared for it. We wanted it more than anything else and we got that result in the end."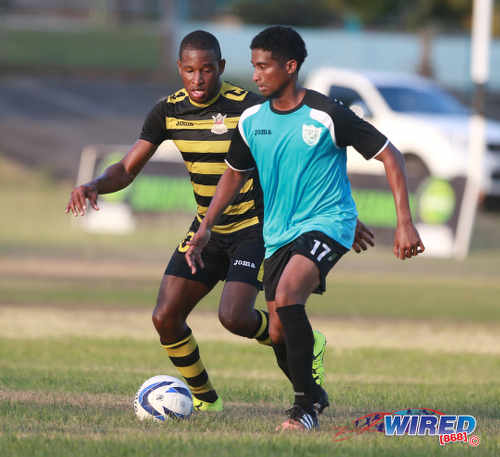 The attacking combination of Josimar Belgrave and Michael Edwards have accounted for 47 of the Defence Force's 68 league goals and Alexander was not shy in pointing out their value to the team.
"We've been telling the guys how important it is to win the Super League and we have also had a few guys come down from the Pro League so their experience has helped as well," said Alexander. "Belgrave has complimented the team tremendously this season and the boys have been playing around him and Michael Edwards up front. So it's a good team unit."
On the opposing end, David was not too pleased with the production of his unit and hinted at some changes for next season.
"What we have to do is get more dedicated guys who want to play the football and who want to win," said David. "We might have to move away from the policy of using mostly WASA employees.
"(With) the ability of the players we have, we are supposed to be contesting for the title, not languishing in seventh (place)."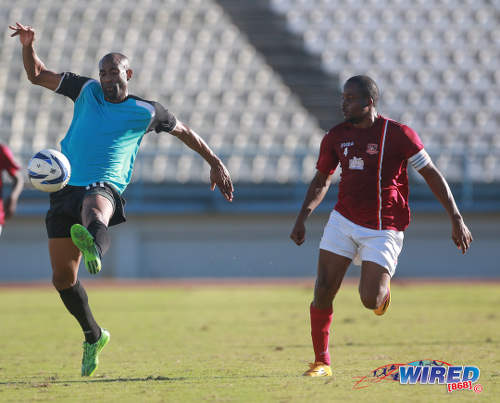 Despite looking destined for relegation, Stokely Vale has the opportunity to spoil the title aspirations of either defending champions, Guaya, or league leaders, Defence Force.
What can the Tobago team conjure up later this week?
(Teams)
WASA FC (4-2-3-1): 35.Waldo Diaz (GK); 14.Christopher Mitchell (28.Ethan Robinson 46), 5.Akil Harley (captain), 2.Damien Pompey, 20.Dillon Peterson; 8.Kevon Henry, 16.Kylon Gay; 11.Keron Clarke, 17.Shane Calderon, 7.Nathan Julien (23.Gary Glasgow 46); 26.Glen Walker (111.Michael-Lee Celestine 60).
Unused Substitutes: 34.Anthony Alleyne (GK), 15.Cleveland Cambridge, 19.Kirth Hutchinson, 24.Sheldon Nesbitt.
Coach: Shurland David
Defence Force (4-2-3-1): 1.Kevin Graham (GK); 5.Marlon Laidlow, 14.Dwight Scott, 6.Kevon Blackman, 20.Tevin Balfor; 16.Dexter Thornhill, 8.Christopher Durity (captain); 7.Jahvon Neptune (12.Lorenzo King 72), 10.Josimar Belgrave, 22.Jamaal Goodridge (23.Christon Baptiste 81); 9.Michael Edwards (4.Keron Bruno 87).
Unused Substitutes: 21.Akeel Jack, 26.Keston Williams, 28.Keshawn Mark, 30.Arkido Jospeh.
Coach: Kelshall Alexander
Referee: Nicholas Gloudon
Man of the match: Christopher Durity (Defence Force)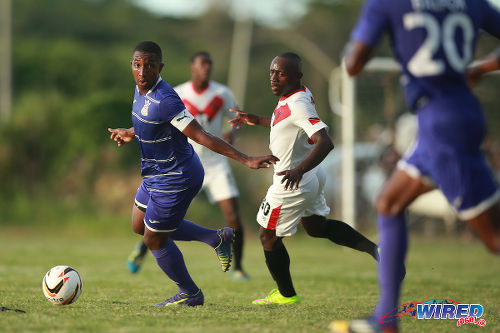 CNG NSL Premiership Division Scores 
(Sunday 14 February 2016)
Mature ReUnited 1 (Kerrin Vincent 26), Siparia Spurs 1 (Shavon Frederick 32), Matura Recreation Ground;
Guaya United 3, Petrotrin Palo Seco 0, Guaya Recreation Ground;
*–Guaya won by default.
Club Sando Moruga 2 (Maurice Dick 13, Anderson Toussaint 34), Real Maracas FC 1 (Marvin Manswell 68), Grand Chemin Recreation Ground;
WASA FC 2 (Glen Walker 38, Keron Clarke 65), Defence Force 4 (Christopher Durity 26, 69, Josimar Belgrave 45+1, 85), WASA Grounds, St Joseph;
Upcoming fixtures
(Thursday February 18)
La Horquetta SA v Bethel United, 4 pm, Larry Gomes Stadium;
Stokely Vale FC v Guaya United, 5 pm, Plymouth Recreation Ground;
WASA FC v Real Maracas FC, 5 pm, WASA, St Joseph;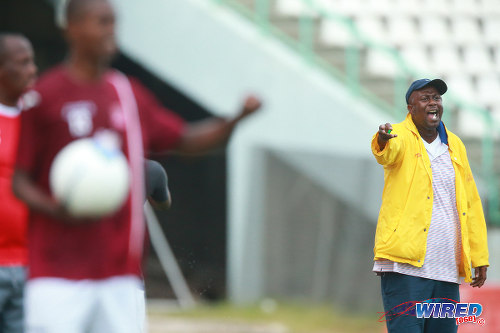 CNG NSL Premiership Division Standings
(Tabulated as Played-Won-Drew-Lost-Goals For-Goals Against-Points)
Defence Force            27-20-3-4-68-31-63
Guaya United             26-19-2-5-69-39-59
Tobago FC Phoenix 27-15-5-7-51-34-50
Mature ReUnited     27-13-6-8-47-48-45
Siparia Spurs             27-11-9-7-58-56-42
FC Santa Rosa            27-11-7-9-44-37-40
Marabella FCC           28-10-9-9-58-54-39
Club Sando Moruga 27-11-5-11-47-49-38
WASA FC                      26-11-4-11-38-31-37
Police FC                       27-10-5-12-54-47-35
Petrotrin Palo Seco  27-7-6-14-45-55-27
Bethel United              26-7-2-17-31-51-23
La Horquetta SA       26-6-5-15-42-67-23
Real Maracas              26-6-3-17-32-52-21
Stokely Vale FC          26-3-8-15-25-60-17