An act of humility towards an Argentine man with a supposed gateway to divinity continues to mystify and discomfort cynics in the wake of Trinidad and Tobago's friendly international against Argentina in Buenos Aires last night.
But enough about the habitual greeting for Pope Francis; what about Ataullah Guerra's pre-kick off bow to football legend Lionel Messi?
It is customary to genuflect before the Pope since Catholics believe him to have the ear of God. But how do you greet the little Barcelona player who might have Jesus' left foot?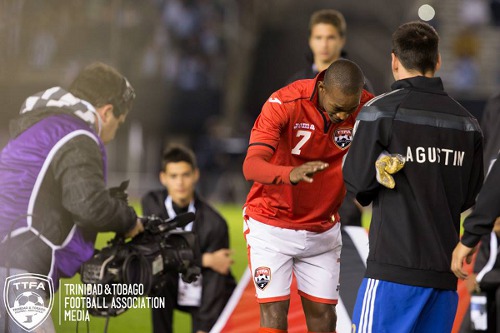 Well, Guerra hailed Messi with a bow and grin before kick off; the sort of thing that pardners sometimes do on the street corner. And, from the social media meltdown that followed, one might have thought that the Central FC midfielder and former John John resident had invited the Argentina captain up to room 201.
It turns out that Trinidad and Tobago is quite interested in what its footballers get up to, which might pleasantly surprise the "Soca Warriors" who usually play in front of near deserted stadia at home and can barely rely on public or private sector funding to even have training camps. Who knew?
The school of thought from critics of Guerra's gesture seems two-fold.
First, it is an insult to one's own self-worth to offer a rival such a show of appreciation.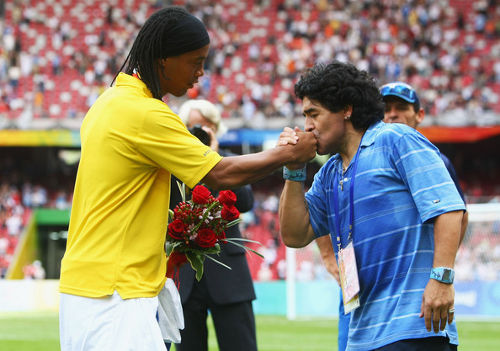 And, secondly, such gestures never happen before a contest;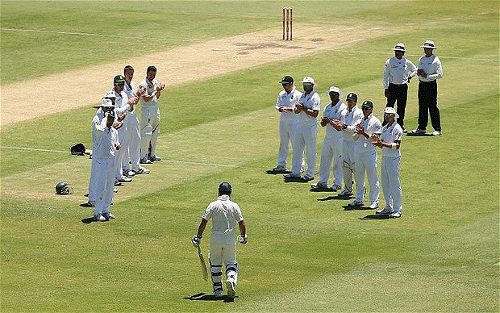 It definitely would not happen when two teams consider each other to be equals;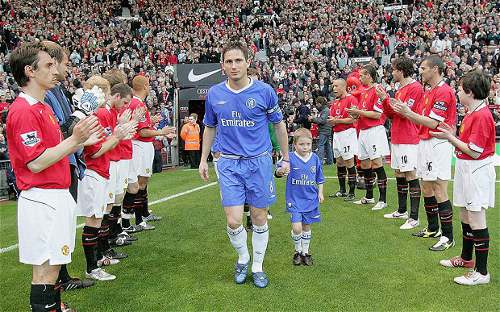 And, certainly, no player would ever treat one of our athletes with such respect.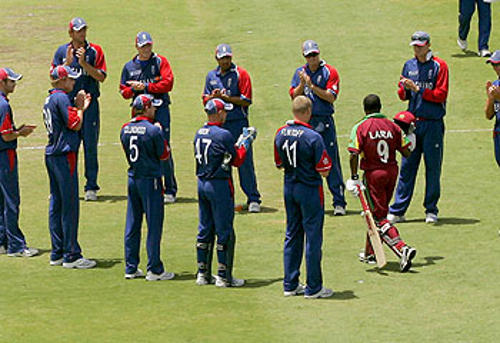 Mr Live Wire can only hope that Guerra takes time out from sobbing in the corner of his hotel room to write an apology to the nation for his embarrassing, misguided show of deference to the only player in the history of the game who, at just 26 years old, has held the World Player of the Year trophy four times.
But Guerra was not the only national football team member to display mistimed subservience this week.
On Sunday, the Trinidad and Tobago national football team turned up at the Piarco International Airport to travel to Buenos Aires; only to be told that a Ministry of Tourism official had struck goalkeeper coach Michael Maurice, a former "Strike Squad" player with over four decades of service to his country, and therapist Dave Isaac off the travelling list for its chartered flight.
So, a Government that considers sisters and mistresses to be appropriate taxpayer-funded travel companions decided that the Warriors should do without two important staff members for two days while Brian Lara, Shal Marshall, the Siparia Rhythm Section and dozens of even less relevant persons boarded.
At times like this, a national coach should ask himself: "What would Leo Beenhakker do?"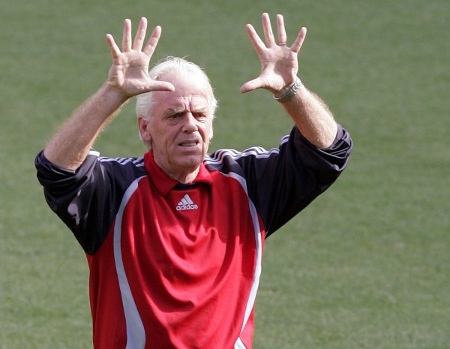 Beenhakker, the renowned former Real Madrid and Netherlands coach, famously asked the local football body for three pairs of Copa Mundial Adidas boots, 10 FIFA-approved balls and a movable goalpost for his first training session with Trinidad and Tobago.
Instead, he got Kaiser Adidas boots, non-FIFA balls and a verbal assurance that the goalpost would be sourced soon and he should continue with what was available for now.
Beenhakker refused to take to the field until he had the tools he deemed necessary; and, within a day, then TTFF special advisor Jack Warner found the relevant goalpost and had boots and balls delivered via Fed Ex. The coach went on to lead Trinidad and Tobago to a historic 2006 World Cup place.
Tobagonian Bertille St Clair has form for such defiance too.
His first chance to coach a national senior team came in the mid-1990s when German Jochen Figge selected him as an assistant. Then TTFF president Oliver Camps told St Clair the good news but warned him that there was no money to pay a salary and he would have to settle for a stipend.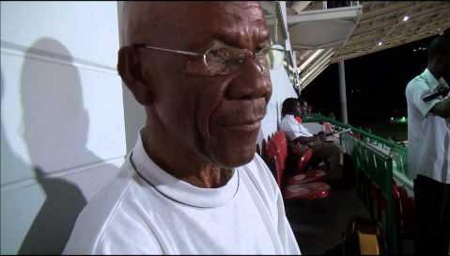 "Is Figge getting a salary?" asked St Clair, who was the first coach to take Trinidad and Tobago to a FIFA tournament back in 1991.
"Yes," replied Camps.
"When allyuh find money to pay me too, call me," said St Clair, who got up and headed straight for the airport to catch a flight back to Tobago.
A few years later, the TTFF offered St Clair the head coaching job; and he remains the only person to take Trinidad and Tobago to a CONCACAF Gold Cup semifinal place.
Neither Beenhakker nor St Clair would have bowed to such disrespect at Piarco and boarded that flight to Buenos Aires. The Ministry of Tourism would have had to either get Maurice and Isaac on board or put Lara in goal.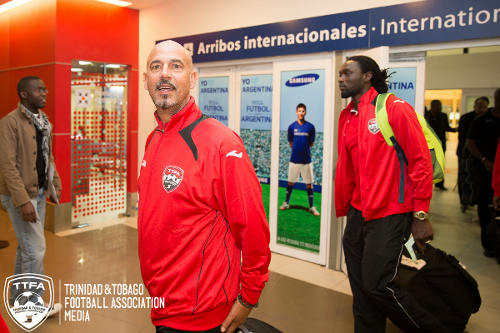 But Trinidad and Tobago head coach Stephen Hart took his team on the chartered plane. And, three days later, his words might have had a hollow ring when he urged his players to stand up for themselves against Argentina.
Hart is an affable gentleman and possesses a sound tactical mind. But neither attribute is as key to success in these parts as stubborn, single-minded vision and a refusal to go with the flow.
He has been warned.
As for the Trinidad and Tobago citizens who are more concerned with Guerra's courtesy to Messi than his promising performance once the game kicked off, Mr Live Wire offers a short tutorial about what shame really is: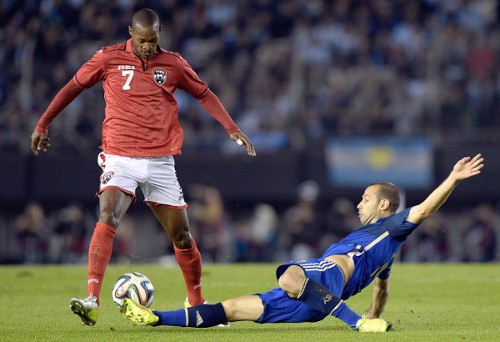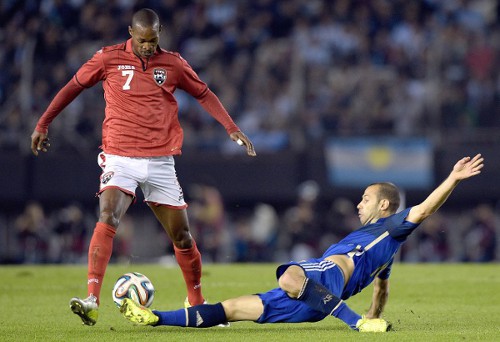 Shame is when men come to kidnap your wife and you run and dive to save your maid;
Shame is when the acting Police Commissioner says the best Minister he ever worked with it is under investigation from every integrity body and law agency in the country and a few internationally too;
Shame is when the Opposition Leader blasts the Chaguanas West MP all over the place for 'thiefing' the footballers' money and it is the PNM treasurer that helped him get away with it;
Shame is when your Prime Minister auditioned to be a Laker girl when a retired NBA star visited but never showed up to watch a local basketball game yet;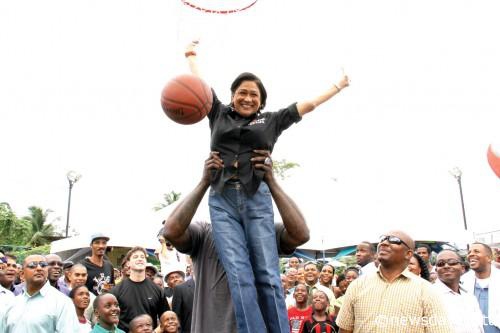 Shame is when the Government handing millions to former murder convicts in the Life Sport program and then cancelling leave for policemen and soldiers so they can act like they're trying to fight crime;
Shame is when the Sport Minister and coach of a top Olympian lectures everybody about morality and still cannot explain what Minister Two Pull was rolling in a home video;
And shame is when the Port of Spain mayor is too busy to meet his environs in a town meeting then runs off for five days in Buenos Aires to see Lionel Messi play; and everybody thinks it is a 26-year-old Trinidad and Tobago footballer who acted like a groupie.
Editor's Note: Trinidad and Tobago national football team head coach Stephen Hart and manager David Muhammad subsequently claimed that they were tricked into boarding the chartered flight to Buenos Aires without their two colleagues.