From 7pm on Saturday at the Diego Martin Sporting Complex, coach Hutson "Baba" Charles and his Defence Force team will hunt a Trinidad and Tobago Premier Football League (TTPFL) double in its inaugural season, after getting a nervy 3-2 win over Heritage Petroleum Point Fortin Civic in yesterday's first semifinal.
Standing in the way of an Army double and the TT$50,000 first place prize on offer will be Terminix La Horquetta Rangers, after their dramatic 3-2 win over Police FC—who played in honour of their fallen comrade Kemron Purcell.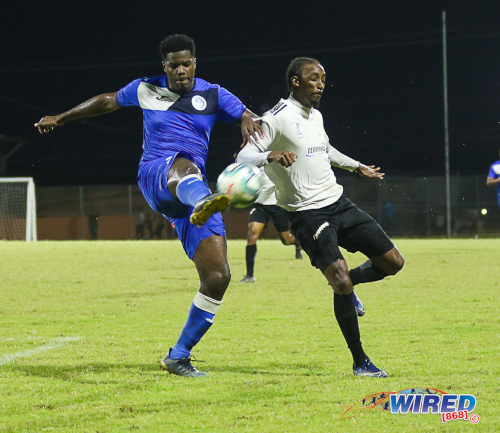 Before kickoff in yesterday's second semifinal in Diego Martin, a minute's silence was observed, while the Police FC players emptied their bench and hoisted Purcell's number 33 jersey for a team photo.
"The news of Purcell's passing was devastating. Even before the game, we had mixed emotions in the camp in terms of the players' psyche before the game," Police FC assistant coach Devon Bristol told Wired868.
"We had a good vibes going within the team and Kemron was instrumental in that, so to lose him at this time would've always been a negative or a backward step in terms of the team's progress going forward."
The "Lawmen" were off to a slow start on the field though, and coach Dave "Hoghead" Quamina's Rangers took the game to Police from the onset.
Quamina said Rangers were intent on going after their Police opponents in the opening 20 minutes and, by the half-hour mark, they held a two-goal lead—thanks to efforts by Josiah Edwards and veteran attacker Tyrone Charles, who bagged a brace on the night.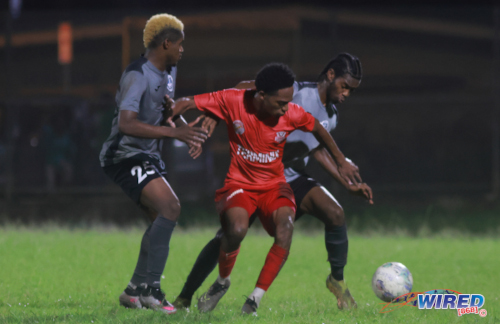 "There is no secret—our game is transition football," said Quamina. "The plan was to go hard in the first 15 to 20 minutes and you saw the outcome. We were brilliant in the first half and in the second half we let in two goals and were lucky to come out with the win."
Police may have done the double on Rangers in the league campaign. However, the boys from "LH", anxious to put a disappointing TTPFL campaign behind them, were in a different mood last night and they went big-game hunting very early.
Operating a 4-2-3-1 formation that morphed into a 5-4-1 shape when the opposition had the ball—as the lanky Jamal Creighton dropped into the back line—Rangers' nippy attacking players looked to press the Police defenders and turnover possession as they approached half line.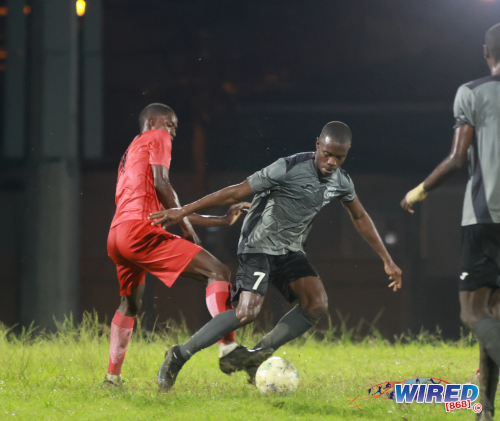 From as early as the third minute, Rangers exploited Police's high backline as Edwards easily slotted past Police goalkeeper and captain Adrian Foncette after receiving a precise through pass from Daniel "Fingers" David.
The warning signs were there earlier too, as David sent a tame effort straight at Foncette just seconds before—after getting behind the Police rearguard.
"We wanted to start the game fast; we are a team that loves to possess the football," said Bristol. "However, we didn't start the way we would've liked to. As a result of that, we found ourselves 2-nil down early in the game and after that, it was always an uphill task for us to get back in the game.
"We were making some simple mistakes and handing over possession, which is not in keeping with our game. And that caused Rangers to build momentum and even capitalise on the little mistakes that were made early in the game."
After former Soca Warriors defender Daneil Cyrus made a goal-saving tackle on his ex-national teammate Joevin Jones at one end, Police defenders basically gift-wrapped an opportunity for Charles to give Rangers a two-goal advantage on the half-hour mark.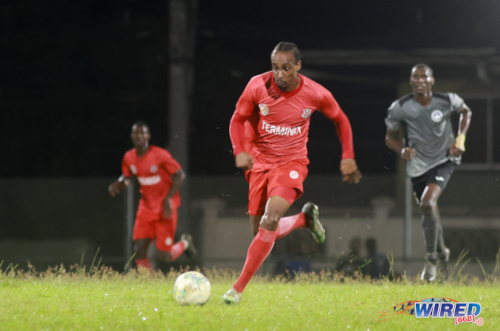 Perhaps overzealous in their quest for an equaliser, the Police back line was lingering near the half line when Charles latched on to a hopeful pass from Rangers defender Emmanuel Thomas.
The clearance-cum-pass by the rugged Thomas breached Police's absurd high line and saw the 34-year-old Charles in a foot race with retreating centre back Xavier Wheeler. Though he's no spring chicken, Charles showed Wheeler a clean pair of heels before rolling a deft effort past Foncette with his weaker left foot.
The Police captain could have done more to close down Charles' angle, and it would have been even more agonizing to see the ball slowly trickle inside the far post.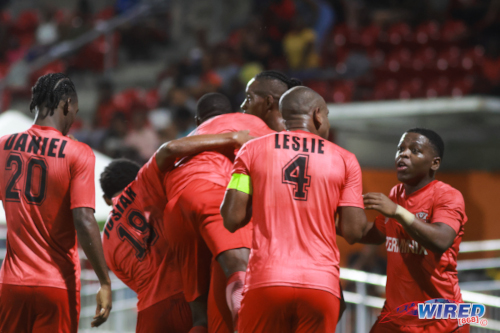 Foncette, who was one of several persons who paid tribute to Purcell in this publication, did not have the best of nights. On more than one occasion in the second half, the veteran goalkeeper was nearly left with egg on his face by Charles after being overly casual with the ball in his area.
And for Rangers' eventual game-winning item, Foncette was again beaten easily by Charles from a tight angle—with a goal that eerily mirrored the attacker's first item of the night.
Perhaps the emotions which came with the occasion were just too much to bear.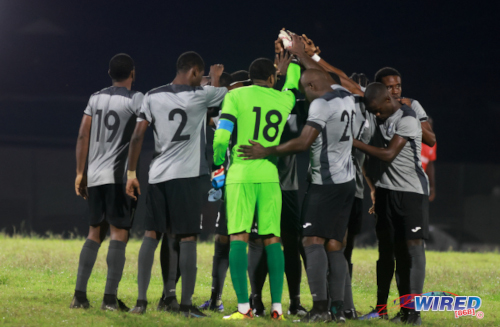 "We tried to use Kemron's passing as motivation at the end of the day to go and do it for him," said Bristol, "but in the end, the result wasn't in our favour."
After going two goals down inside 30 minutes, the Lawmen did put on a resolute showing though. And Police may have just forced the game to a penalty shootout if not for heroic saves and blocks by goalkeeper Jabari Brice and the pair of Cyrus and Thomas, who literally put their bodies on the line for the La Horquetta cause.
Police's first changes were rung from as early as the 36th minute, as veteran attacker Kareem Freitas and centre back Rakim Cabie replaced the pair of Jayden Moore and Jaron Pascall.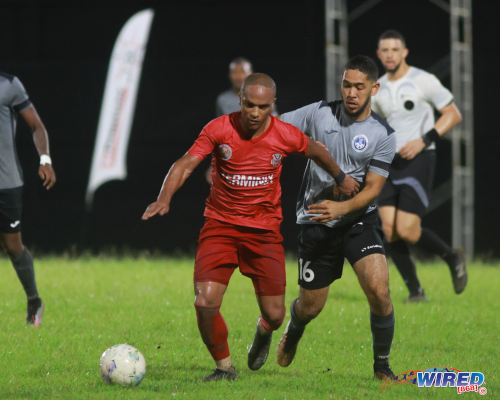 "We made some changes and spoke about some tactical changes within the second half and we saw the change in the performance," Bristol said. "Credit again to Rangers for defending well but we didn't get the desired result we wanted."
The tone for the game had been set. Rangers were content with sitting back and trying to defend in a compact shape before countering with their outlets of Charles and Isaiah Lee, while Police were hellbent on sticking to their passing and possession-based game—with Tyrese "Boy Boy" Bailey a regular threat down the left.
The open game made for a good spectacle for the healthy Diego Martin crowd, with glorious chances presented at both ends.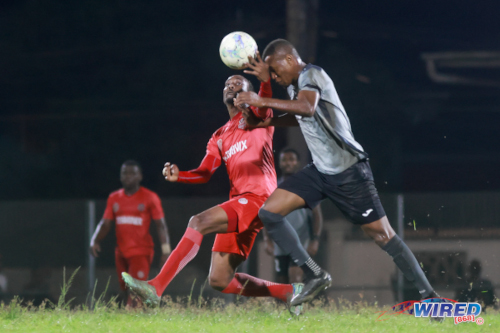 Within the span of 15 minutes in the second half, Police forward Kadeem Hutchinson missed a pair of headers, David kissed a long-range effort off the base of Foncette's post, and Thomas dramatically cleared during a goalmouth scramble in the Rangers area after a fine save by Brice.
With Rangers still holding a 2-nil lead, the tension was rising.
"I think the players have something to play for," said Quamina. "It's a knockout competition and on the day anybody could win. I think Police [have] been the form team in the League for the last eight or nine games. They've been doing well under the new coach. I think the motivation for us is just to win."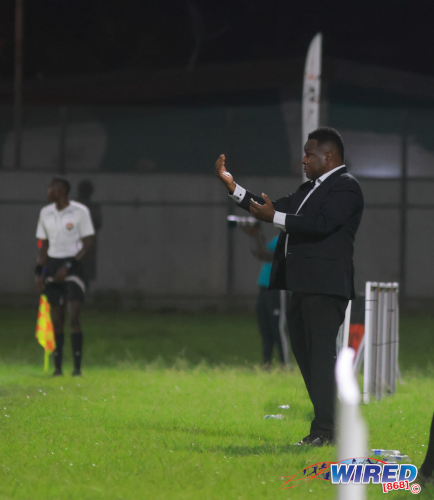 With his last roll of the dice, Police coach Wendell Joseph inserted full back Kaydon Gabriel and attacker Kidane Lewis. Quamina countered with defenders Caleb Sturge and Jesus Perez and attacker Ataullah Guerra, who replaced David, Lee and Thomas on the 78-minute mark.
Rangers held what looked like a healthy two-goal cushion. And with as many as eight red shirts camped at the edge of their own area at any given time, they were backing themselves to defend that lead.
That 'back to the wall' job became all too real for Rangers in the 83rd minute, as the lively Lewis beat Brice with a looping right-footed shot via a deflection.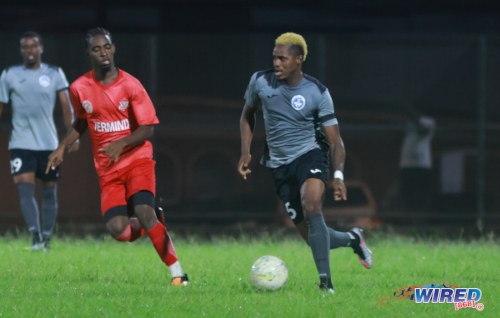 And just two minutes after opening Police's account, Lewis forced a sprawling Brice into a spectacular save with a curling right-footed shot that looked destined for the top right corner of the net.
It's uncertain if they had any warrants, but Police were threatening to knock Rangers' defensive door down.
"We know Army and Police play a similar game in terms of their physicality so our back six or back four trained for that this week," Quamina said. "We were lucky in the end but I'd say we dominated at least 80% or 70% of the game."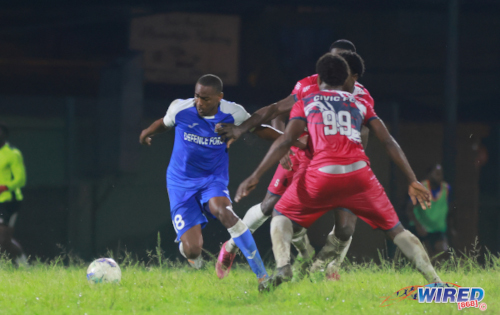 Police's new-found momentum was quickly stunted in the 87th minute though, as Charles repeated his trick from the first half with a deft right-footed effort from a tight angle. Time seemed to stand still as Charles' shot just trickled past a hapless Foncette.
Rangers created the opening with a series of intricate passes on the edge of the area involving Guerra, and Charles applied the final touch with his agonizingly slow roller.
With six minutes of stoppage time on offer, Rangers were made to sweat till the very last second, as Jabari Mitchell scored in the fourth minute of injury time following a scramble from a long throw.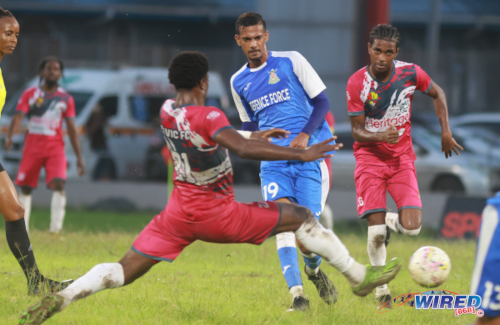 By the blow of referee Nikola Nyron's final whistle though, Rangers were the team marching on to face the League champions Defence Force in Saturday's finale.
"I think it's all about playing our game and trying to focus on our team," said Quamina. "I think the Defence Force will be focusing on their team too. Trying to keep a clean sheet will be most important.
"As you know, our team is like Dr Hyde and Jekyll. One day we could come out on and play a brilliant game, and the next day, we could play a totally different game.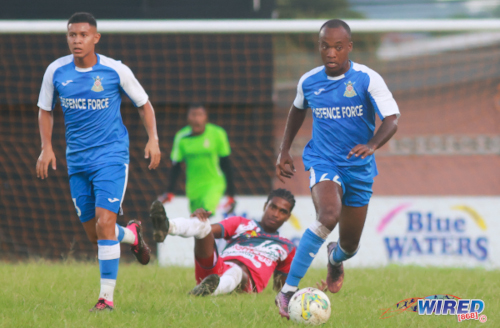 "We don't know which team will show up on the day but we are hoping that the right one shows up."
Rangers were beaten 1-nil and 4-2 by Defence Force in the TTPFL regular season but, with back-to-back knockout wins over AC Port of Spain and Police, they could claim to be peaking at just the right time.
"At some point in time, every good team has its struggles," said Quamina. "This is the first time we've struggled like this in about five years since I have been coaching this team."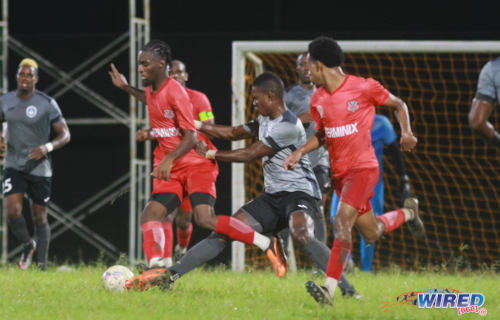 Yesterday, the Army/Coast Guard combination just about saw off Civic in the first Diego Martin semifinal, as a charging Reon Moore and goalkeeper Christopher Biggette both put in huge performances.
The wily Civic pair of Hughtun Hector and Marcus "Lobo" Joseph tried to ignite their own flame for the team battling with salary woes, but the Army/Coast Guard combination wouldn't be denied—and they had Moore and Biggette to thank for that.
Biggette saved one of two first half penalties by Lobo, while the explosive Moore scored early in the second half and was rampant down the left flank as Defence Force marched to the victory.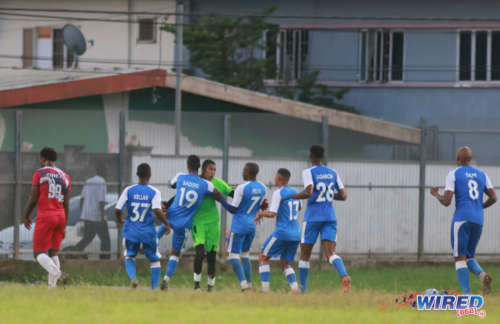 The League champions took the lead in the 14th minute through a towering header from defender Justin "Shiggy" Garcia, who has now netted a remarkable 10 TTPFL goals in the League and Cup combined!
Shiggy and Army were pegged back before the half though, as Lobo dispatched a 35th minute penalty with aplomb after Biggette sprawled to his left to deny a spot kick just 13 minutes prior.
Regular service was restored for Defence Force in the second half as Moore scored inside 40 seconds of the resumption, while Brent Sam took his Cup tally to six goals with a free header at the back stick in the 64th minute after Kaihim Thomas dug out a beautiful right side cross.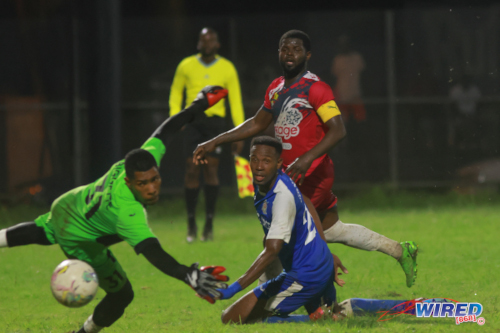 Hector then netted from close range in the 69th minute to reduce Army's lead to 3-2. But the TTPFL champions held on to surge towards Saturday's final.
It wasn't their best or prettiest display by any stretch of the imagination, but Defence Force took care of business and now are one step away from creating more TTPFL history.
On Saturday, Baba will match wits with Hoghead as the Army look to double up on their TTPFL trophies before entering the 2023 Concacaf Caribbean Cup.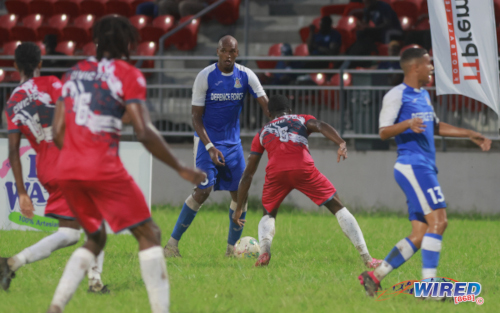 It remains to be seen if Baba's troops will be up against Jekyll or Hyde.
(Teams)
Point Fortin Civic: 1.Terrence Lewis (GK), 5.Justin Cornwall, 6.Jabari Graham, 7.Hughtun Hector (captain), 10.Tyrel Emmanuel (44.Ackeel Jacob 83), 16.Kevin Seales (24.Kyron Williams 67), 18.Jeremiah Kesar, 21.Ronell Paul, 26.Weslie John, 33.Khayyam Headley, 99.Marcus Joseph.
Unused substitutes: 50.Daniel Johnson (GK), 14.Jkwon Bailey, 25.Shivaugn Bess, 27.Tyrese Reefer, 37.Rondel Phillip.
Coach: Dexter Cyrus
Defence Force (4-3-3): 31.Christopher Biggette (GK); 37.Cassim Kellar, 23.Jamali Garcia (captain), 26.Justin Garcia, 7.Jelani Felix; 66.Kevon Goddard, 19.Justin Sadoo, 13.Rivaldo Coryat (14.Kendell Hitlal 70); 45.Kaihim Thomas (20.Jules Lee 90+6), 8.Brent Sam (11.Dwight Quintero 72), 18.Reon Moore.
Unused substitutes: 1.Isaiah Williams (GK), 24.Shaquille Holder, 27.Shem Clauzel, 31.Shirwin Noel.
Coach: Hutson Charles
Referee: Crystal Sobers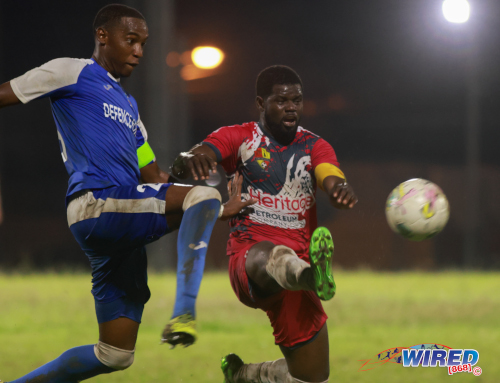 Police FC (4-2-3-1): 18.Adrian Foncette (captain) (GK); 20.Elijah Belgrave (Gabriel Nanton 71), 2.Jaron Pascall (3.Rakim Cabie 36), 24.Xavier Wheeler, 19.Christon Thomas; 7.Jabari Mitchell, 6.Simeo Bailey (21.Kaydion Gabriel 80); 14.Jayden Moore (10.Kareem Freitas 36), 25.Joevin Jones, 12.Tyrese Bailey; 29.Kadeem Hutchinson (32.Kidane Lewis 71).
Unused substitutes: 1.Raheem Lee (GK), 8.Kurdell Brathwaite.
Coach: Wendell Joseph
Terminix La Horquetta Rangers (4-2-3-1): 12.Jabari Brice (GK); 18.Emmanuel Thomas (5.Caleb Sturge 78), 27.Daneil Cyrus, 4.Leslie Joel Russell (captain), 2.Ross Russell Jr; 33.Nathaniel Garcia, 7.Jamal Creighton; 14.Isaiah Lee (13.Jesus Perez 78), 20.Daniel David (11.Ataullah Guerra 78), 19.Josiah Edwards (16.Isaiah Raymond 54 (34.Leonardo Da Costa 90+7); 15.Tyrone Charles.
Unused substitutes: 1.Jabari St Hillaire (GK), 6.Junior Assoon.
Coach: Dave Quamina
Referee: Nikolai Nyron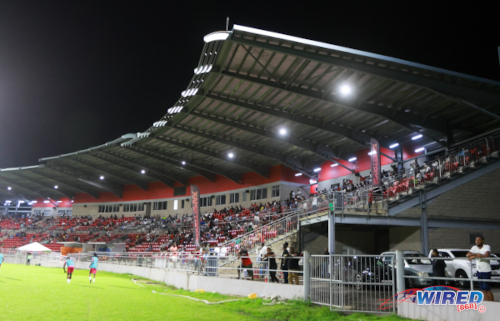 TTPFL Knockout Cup
(Semifinal results)
Point Fortin Civic 2 (Marcus Joseph 35 pen, Hughtun Hector 69), Defence Force 3 (Justin Garcia 14, Reon Moore 46, Brent Sam 64) at Deigo Martin Sporting Complex;
Police FC 2 (Kidane Lewis 83, Jabari Mitchell 90+4), Terminix La Horquetta Rangers 3 (Josiah Edwards 3, Tyrone Charles 30, 87) at Diego Martin Sporting Complex.