At the death!
Coach Hutson "Baba" Charles and his Defence Force team saved their best for the last day of the inaugural Trinidad and Tobago Premier Football League (TTPFL) season, as the "Army" men got a thrilling 2-1 win over AC Port of Spain at the Arima Velodrome tonight to clinch the title before a capacity crowd.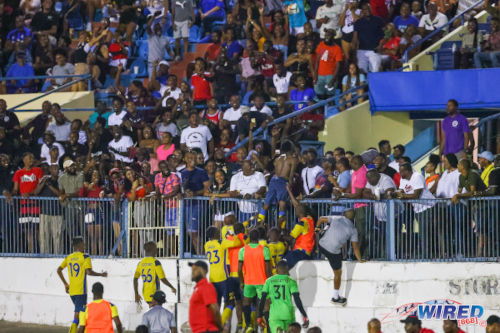 Defence Force, who suffered a 3-nil loss to AC POS on the opening weekend of the TTPFL season, trailed the "Capital Boys" by two points heading into this evening's fixture and needed all three to get their hands on TTPFL silverware.
Charles, who also copped the Secondary Schools Football League (SSFL) National Intercol title with Fatima College last year, wasn't about to play for slips.
"AC Port of Spain were two points in front of us, so we had to go at them from the beginning," Charles said. "We came here to get three points and we had to play to get the three points."
With four titles to their name in the TT Pro League era, Defence Force rose to the occasion and let their experience do the talking against an AC POS team that was without the services of goalkeeper Marvin Phillip, former Soca Warriors defender Radanfah Abu Bakr and attacker Jomoul Francois, who suffered a broken leg in training this week.
"When the TT Pro League first came out, Defence Force won it—so I told them let's create history and win this League as well and they did just that," the veteran coach said. "That's something we told the players because we couldn't afford to lose and we couldn't afford to play for a draw either."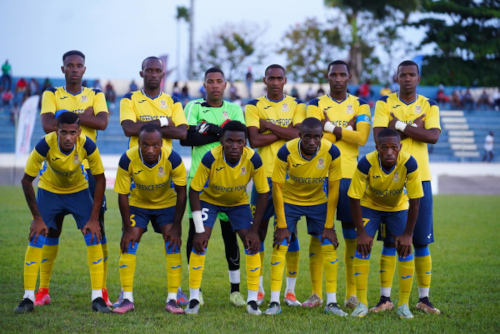 Baba's Army battalion were at it from the opening whistle, and although they had nothing to show during a first half where Reon Moore and Darius Ollivierra threatened down the flanks, the second half was a different kettle of fish.
The speedy Moore proved to be a tricky equation for AC POS right back Kerron St Cyr to solve, and the Capital Boys defender had quite a few nervous moments in the first half—with his hard and errant back pass almost leading to a free shot on goal for the Army attacker in the 26th minute.
AC's blushes were then spared by former National Under-20 defender Maurice Ford who made a dramatic clearance to stop a goal-bound effort by opposing midfielder Justin Sadoo.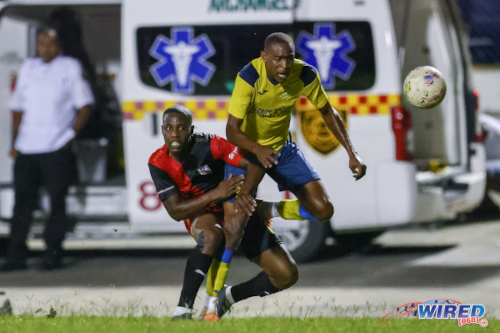 Ford and fellow centre back Robert Primus gave St Cyr a tongue-lashing, but it was clear that AC POS weren't on solid footing with Abu Bakr missing at the back.
"Abu Bakr is an instrumental player yes, but with other commitments we had no choice but to play without him in this game," said AC POS technical director and coach, Gilbert Bateau, without going into specifics. "But it wasn't about Abu Bakr per se and he would have said that.
"It was about the players knowing that this is a game we must win and we had the caliber of players to do it. But, the players had to play total football and that's all that was missing from this game."
Bateau and his charges may have to review Holland's  "total football" brand, as the Army never really allowed them to settle into their usual rhythm. Justin "Shiggy" Garcia was immense once again at the back and dealt with AC front man Sedale "Skem" McLean with relative ease, while Sadoo, Kaihim Thomas and the feisty Kevon Goddard brought the fight in midfield.
Though playing a 'number 10' role, Thomas did not shirk from his box-to-box duties and he wasn't gun-shy in the attacking third either.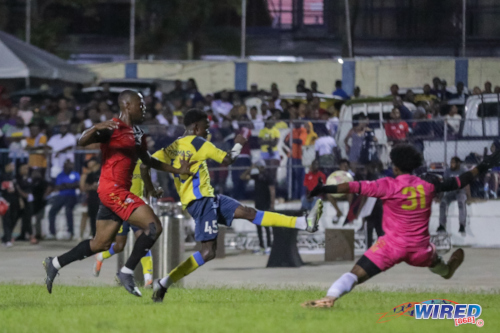 Judging by Bateau's tone, AC POS could have used some of that hustle and gusto in midfield.
"AC Port of Spain was good in attack, but in transition out of possession when the play broke down we weren't hungry enough to defend the clean sheet as it were," Bateau told Wired868. "If these guys look back at the game again they would see that their transition when Defence Force started to attack—too many of our players were still on the Defence Force side of the field.
"In a nutshell, the game was lost in transition when we were out of possession."
Both teams had close calls early in the second half. Moore deflected a low cross from Ollivierra onto the post to prompt a mad scramble in the area, while AC POS talisman Che Benny kissed a looping header off the bar after meeting a sweet lofted ball by his skipper Duane Muckette.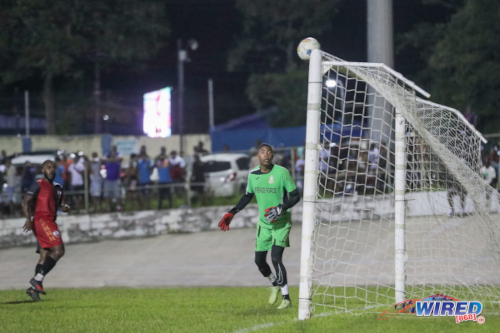 Apart from Muckette's late goal in second half stoppage-time—which turned out to be a mere consolation—he and Benny flirted on the periphery of the contest and didn't have the same impact as when they waltzed around the Army players in Malabar, during their first game of the campaign.
"It was the first game and AC Port of Spain caught us when we weren't at our best," Charles said, as he recalled their opening 3-0 loss to AC POS. "But as time went along and we got on the training field, these guys and they got to understand their roles and functions and then we started to build momentum. And you could see the end result today."
Perhaps the hard and unpredictable Velodrome surface played a part in hindering AC POS' smooth passing game, but it suited Defence Force's direct, physical and high-tempo style just right.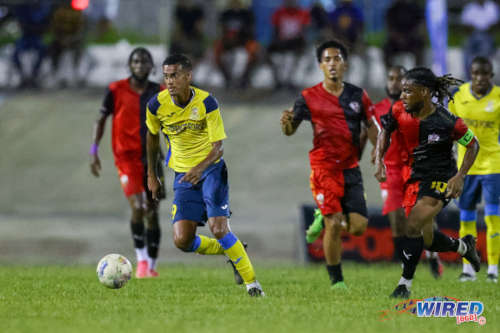 "It was all about staying disciplined and putting away our chances because we got a lot of chances in the first half and they went awry," Charles said. "We told them we're gonna get a couple more chances in the second half and we gotta try and put them away."
Without Abu Bakr's towering and commanding presence at the back, Defence Force grabbed the lead in the 64th minute as the impressive Shiggy rose highest at the back stick to head home a beautiful left-side corner by the "Cedros Conductor", Sadoo.
"Justin Garcia has been one of the standout players in the League—it's a pity he's not with the national team right now," Charles said of Garcia, who netted his seventh goal of the TTPFL season against AC. "But their loss is our gain and he has been performing consistently. Tonight, he showed up again."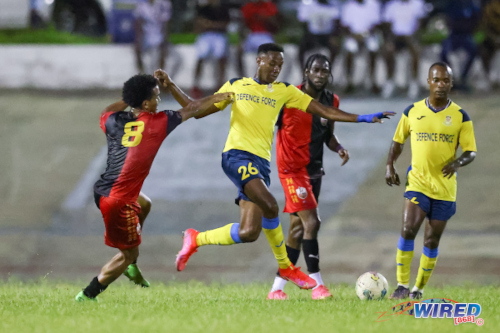 Garcia's header seemed to deflate the AC POS players and vibrant fans as it whistled past stand-in goalkeeper Jadel Poon-Lewis. And before the AC POS players could catch their collective breath, Thomas, a former Terminix La Horquetta Rangers midfielder, gave the Army a 2-nil lead in the 67th minute with a sweet right-footed finish from close range—after substitute Kendell Hitlal teased opposing left back Brandon Semper before putting in a wicked ball from the right.
Hitlal's impact was immediate, as the speedy and tricky winger had only been on the field for a matter of five minutes before setting up Army's killer item.
Thomas, who joined Defence Force during the League's mid-season transfer window, ran unto the Velodrome track and whipped off his jersey to celebrate with the jubilant Defence Force supporters, who had been suspiciously quiet all night.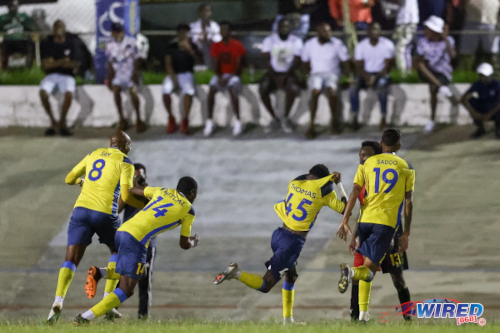 Incidentally, Thomas also netted against AC POS in Rangers' red strip, as he helped the La Horquetta team to an epic 3-2 win on 3 May at their Phase 2 La Horquetta Recreation Ground.
With Rangers (43 points) finishing the season a disappointing fourth as they fell to a 1-0 loss to fifth-placed Police FC (39 points) in the first game of the Velodrome double-header, Thomas' volley would have felt sweeter in the yellow and blue of Army.
Thomas seemed to be warming to the big occasion, and the all-action midfielder threatened to put the game to bed as he almost dismantled Poon-Lewis' bar with a rasping right-footed blast from outside the area on 82 minutes.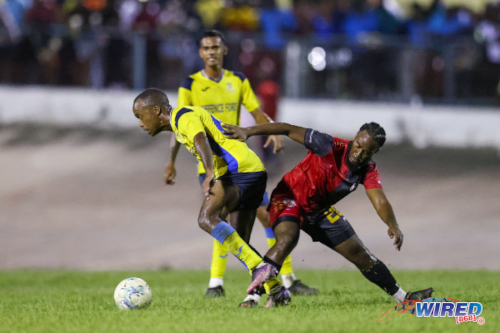 Thomas appeared to have injured himself with the velocity of his own hit, and he was swiftly replaced by veteran attacker Hashim Arcia. Answering to the nickname "Bobo", the former National Under-20 player had done his bit in Defence Force's title hunt.
There may have been some jitters in the Defence Force camp when AC POS substitute Haile Beckles banged a long range effort off the post in the 88th minute, and some eyebrows would have been raised too when the fourth official hoisted the added-on time figure.
Referee Kwinsi Williams played a whopping eight minutes of second half stoppage-time and AC grabbed a goal from Muckette, four minutes from time, as he squeezed home from close range in a scramble—after a dangerous John-Paul Rochford free kick was redirected by Ford.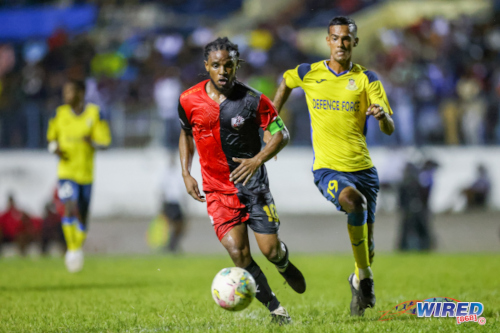 With AC now throwing the kitchen sink and then some at the Defence Force rear guard, Rochford had a dramatic opportunity to secure the TTPFL title with a long range free kick in the ninth minute of injury time. The former QRC dead-ball specialist took his time as he placed the ball down from some 28 yards out.
"We were expecting [AC POS] to at least get opportunities because they are a good team with talented players," Charles lamented. "Like anybody else, we just wanted the game to finish. When we saw the eight minutes I thought it was a little excessive. But we just had to play it out."
With the entire TTPFL season now resting on his shoulders, Rochford's right-footer had bend and swerve but Defence Force goalie Christopher Biggette moved swiftly to his left to keep out the set piece and clinch the inaugural TTPFL crown for the Army.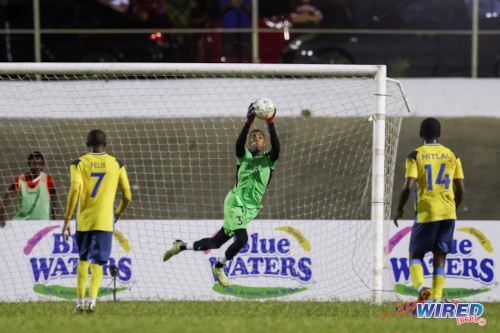 "It's a pleasure to win the first [Trinidad and Tobago] Premier League," said Charles. "[…] We set off the season with two goals: qualify for the Concacaf Caribbean Cup and the other was to win the League.
"We have achieved our goals so I must say kudos to the staff, the players and the organisation."
Rochford, Muckette and the rest of the AC POS players dropped to the ground in despair, as they watched their grip on the TTPFL trophy slip away.
AC POS led for the majority of the TTPFL campaign and only suffered defeats to Rangers and Tiger Tanks Club Sando (48 points) prior to tonight. But the race is not for the swift, and Army endured to the end to win the League by a single point.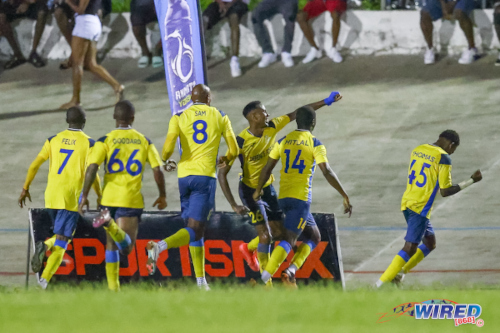 "It was a very good season for us—during the pandemic when we went into the Ascension [Invitational Tournament] nobody knew who AC Port of Spain was," Bateau told Wired868. "We were the 'yellow team' and by the time the season finished people started putting a name to the team in yellow which is AC Port of Spain.
"[…] Coming into this League, everybody would know now after today who AC Port of Spain is… I think overall football itself won. When last have you seen a crowd like that?"
Defence Force may not be the flashiest of teams, but they are fit, unrelenting, determined and built for occasions like these.
They may have left it to the death, but their 56 points trumps AC POS' 55 points and they are the TTPFL champions for 2023.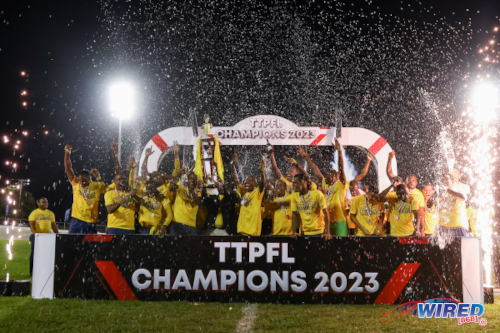 On to the Concacaf Caribbean Cup they go!
If TTPFL top-scorer Nathaniel James has his way, third-placed finishers Club Sando will join them, via the Concacaf Caribbean Club Shield.
(Teams)
Defence Force (4-2-3-1): 31.Christopher Biggette (GK); 37.Cassim Kellar, 23.Jamali Garcia (captain), 26.Justin Garcia, 7.Jelani Felix; 19.Justin Sadoo (17.Curtis Gonzales 71), 66.Kevon Goddard; 22.Darius Ollivierra (14.Kendell Hitlal 62), 45.Kaihim Thomas (10.Hashim Arcia 83), 18.Reon Moore; 11.Dwight Quintero (8.Brent Sam 62).
Unused substitutes: 1.Isaiah Williams (GK), 16.Lashawn Roberts, 24.Shaquille Holder.
Coach: Hutson Charles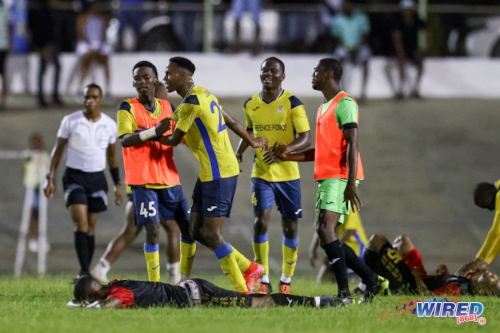 AC Port of Spain (4-2-3-1): 31.Jadel Poon-Lewis (GK); 11.Kerron St Cyr, 3.Maurice Ford, 12.Robert Primus, 13.Brandon Semper (29.Jean-Heim McFee 71); 8.Michel Poon-Angeron, 10.Duane Muckette (captain); 15.John-Paul Rochford, 20.Che Benny (16.Liam Burns 85), 22.Jameel Neptune; 7.Sedale McLean (27.Haile Beckles 85).
Unused substitutes: 4.Malik Mieres, 14.Anthony Charles, 23.Moses Jaikaran, 25.Dwight Crichlow.
Coach: Walt Noriega
Referee: Kwinsi Williams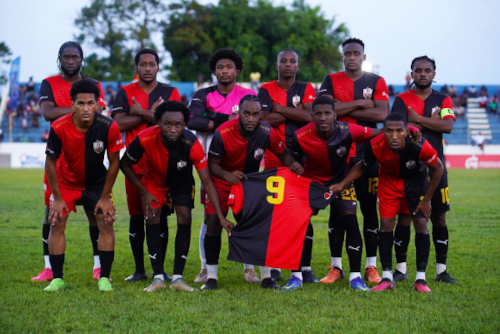 TTPFL Result
(Saturday 24 June)
Defence Force 2 (Justin Garcia 64, Kaihim Thomas 67), AC Port of Spain 1 (Duane Muckette 90+4) at Arima Velodrome.