Trinidad and Tobago Men's National Senior Team head coach Angus Eve waded into his perceived critics—and, in particular, a former football administrator, the parent of a national player and a 2021 Concacaf Gold Cup player—in the build-up to Sunday's decisive group match against the United States.
The Soca Warriors, who have three points, need a win over the host nation and defending Gold Champions to advance from Group A. USA and Jamaica have four points each, with the latter leading the group by +3 goal difference.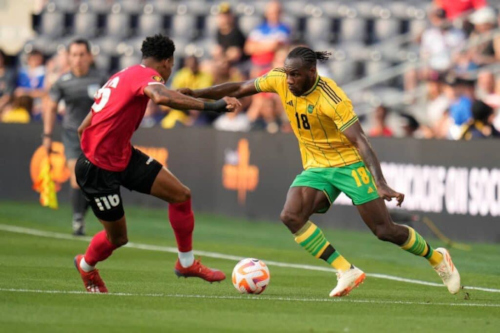 Trinidad and Tobago face USA from 7pm at the Bank of America Stadium in Charlotte while Jamaica tackle table proppers Saint Kitts and Nevis at the same time in Levi's Stadium, Santa Clara.
Eve insisted that his Warriors will play for a win, which will see Trinidad and Tobago into the Gold Cup knockout round for the first time since 2015. However, before he crosses swords with USA interim coach BJ Callaghan, Eve trained his guns on a few unnamed critics.
"Just to make a point about black coaches, there are people who talk about colonialism in football and they are guilty of only wanting to hire white coaches," he said. "[…] This is another opportunity where our own black people are fighting another black coach in myself. But I am good with that, Shaun [Fuentes]. I have no qualms about where I am as a coach.
"But what hurts me is the players are affected by the negativity. And they are already writing us off for the game against the US.
"[…] All these so-called pundits and these so-called people who keep saying they're done with football and keep going back on social media and saying all these negative things."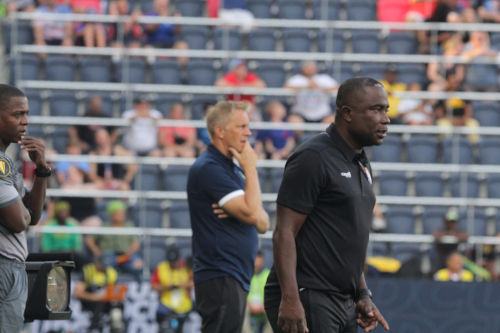 Although Eve did not name his target, the claim that the person was previously involved in the hiring of coaches suggests he was referring to a member of the United TTFA slate, which was replaced by the Fifa normalisation committee in 2020.
Next, he claimed the parent of a player who was in Trinidad and Tobago's initial 60-man Gold Cup long-list as well as a former Gold Cup player was hurting the players by their comments.
"There are even parents [of] players who were part of the 60-man squad who are going out there and trashing the players," said Eve, who is Trinidad and Tobago's most capped outfield player. "How are the players going to play with your son—if you want him to be in this environment—when they know that you are thrashing the players?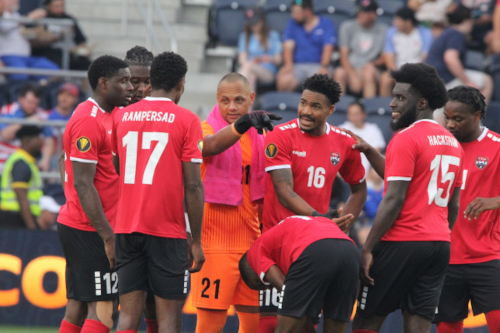 "There were even players who played in the last Gold Cup with us going in the press and thrashing the players. It hurts. It doesn't hurt me. But the kids…"
Former Soca Warriors defender Radanfah Abu Bakr did a wide-ranging interview with Wired868, in which he criticized several aspects of Trinidad and Tobago's football and also claimed to be confused by some of Eve's selections.
Contrary to Eve's claim, Abu Bakr did not criticize any national players.
Eve, who referenced his team's 10-hour trip from Missouri to Charlotte due to weather issues, insisted that his troops are "doing the very best we can do in a very difficult situation for our country".
"It's a travesty to know that your own public is against you in that way," he said. "[…] The guys understand that it is their family and friends who are really supporting the team. We are fully focused and locked in on the match. The spirit in the camp is good.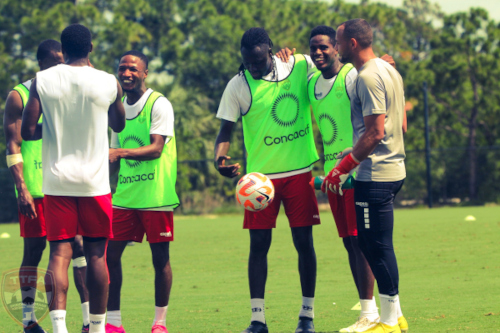 "[…] It is just disappointing that we don't feel the same love and support [from our people] that I think the boys deserve."
Whatever Eve's feelings towards his supposed critics, the former Naparima College coach has been known to successfully adopt a siege mentality in the past.
So, was he trying to get a reaction from his players in the build-up to a crucial fixture?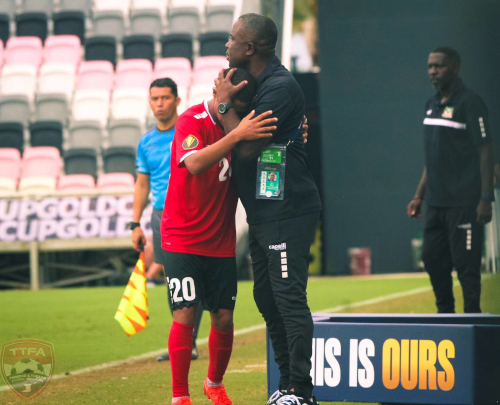 Notably, in the pre-match press conference, the Warriors head coach noted that their mental preparation may be in need of improvement as he tries to adjust their poor starts at the Gold Cup so far.
Eve claimed that Trinidad and Tobago were "excellent" in the second half of their contests against Saint Kitts and Nevis and Jamaica.
"[We want] to start with the belief that we didn't start with against Jamaica," he said. "I think for 30 minutes we looked shellshocked, but I thought after that—in the second half of the game—we settled in really nicely and started to show ourselves.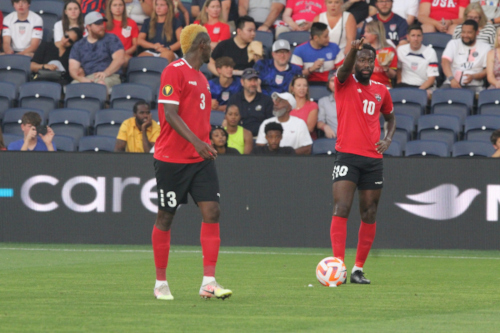 "[…] We wear (sic) them down and created opportunities when we started to believe in ourselves and your (sic) partner besides you."
Eve said he got his players going with a "kick in the arse" at halftime, during their Jamaica encounter. Beyond the pep talk, there was also the matter of the self-professed pragmatic coach sacrificing a defender for an attacking player—and the fact that Jamaica, already three goals clear, lacked the same motivation in the second half.
Will it be an aggressive or reactive Trinidad and Tobago team that face the United States in Charlotte?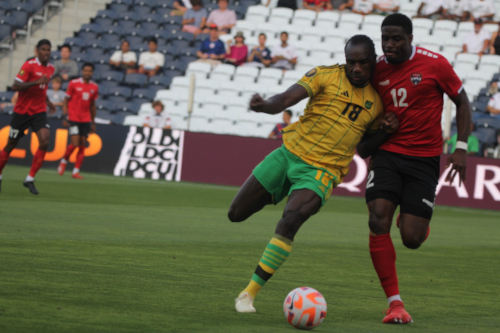 Veteran goalkeeper Marvin Phillip, who has been back-up to Nicklas Frenderup in the 2023 Gold Cup so far, said the team have it in them to upset the defending champions.
"It is not going to be an easy game," he said, "but I think once we play to our full potential we will get past the US and get into the second round."
The United States are not at full strength. But, as Eve noted, their players will be hungry for success—as they try to force their way into the national reckoning. And in any case, the "Stars and Stripes" won the 2021 Gold Cup with a "B" team.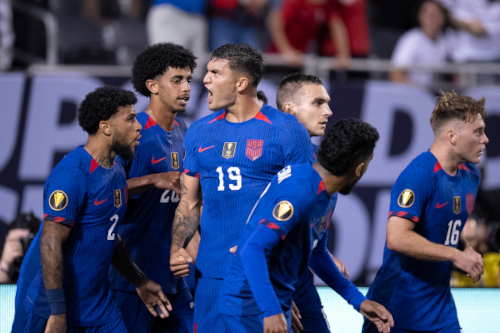 "Nobody expected us to come out of the group—nobody!" Eve said. "Because the both teams we are playing in the group (Jamaica and USA) are ranked higher than us, [have] better quality players than us. Anything that we do in this group is a bonus.
"Both teams have four points, we have three points. We are still in it going to the last game and I think that in itself is progress.
"[…] Knowledgeable people in football will understand that we are in a rebuilding phase."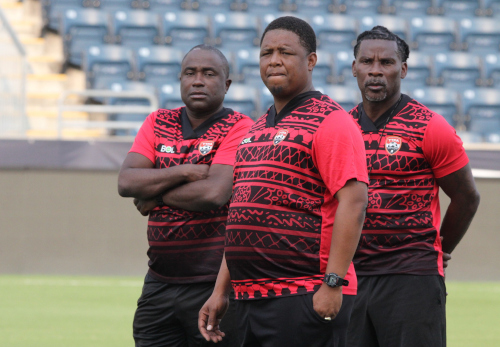 Eve insisted that their qualification for successive Gold Cups is, in itself, a sign of progress—after the Warriors' disastrous and short-lived Qatar 2022 World Cup qualifying campaign under his predecessor, Terry Fenwick.
"I think [the criticism] is nothing else except deceit from some people who have actually been in football before and have done nothing for Trinidad and Tobago football," said Eve. "They hired coaches that were inadequate and now they could come out and speak. But they don't speak when we win matches.
"They don't say anything complimentary—and if we do win it is because a team is ranked lower than us. But they don't give us the same […] empathy when we play a team that is ranked way higher than us and lose that game like the Jamaica game."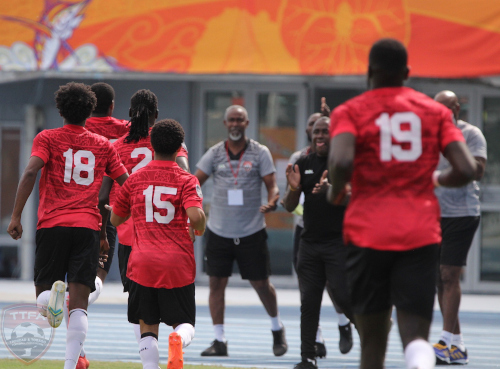 Eve hopes to emulate former head coach and teammate Dennis Lawrence by upsetting the United States in a competitive meeting.
"We feel we are in a good position to go into the game," said Eve. "They would feel they have the measure of us but they also felt that way a few years ago when they came [to Couva] for the [2018] World Cup campaign.
"Football is not about who's ranked 10th and 11th. North Macedonia [knocked] Italy out of the [2022] World Cup [qualifying campaign and] we can't call 10 players from the North Macedonia team.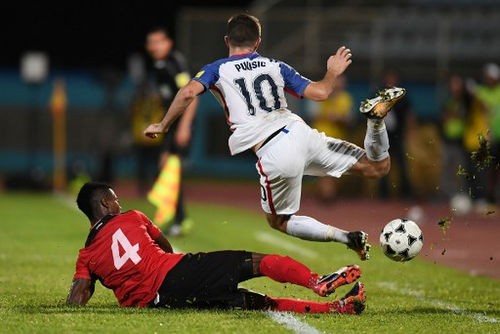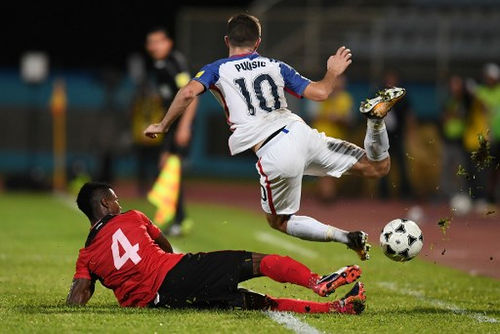 "Also, you look at teams like Curaçao who were highly touted by the same pundits from Trinidad—they are out and Saint Kitts went through. Football is a game of chance."
Eve is ready to roll the dice.