"[…] Trinidad and Tobago players are limited in their exposure to top level football [and] it makes it difficult for us to compete with teams who have players playing at that level. I don't like to get into people's selection, you can't carry everybody—but I think [Angus Eve's] selections are erratic sometimes…
"[…] From the experience I accrued around the schools league as assistant coach with [Tranquillity Government Secondary], a lot of coaches spoil young players who have better ability. They let them get away with anything in terms of their football discipline. You're not encouraged to do your defensive work and be responsible because, at age 15, you are a little more advanced than the rest; and that gets ingrained in you…"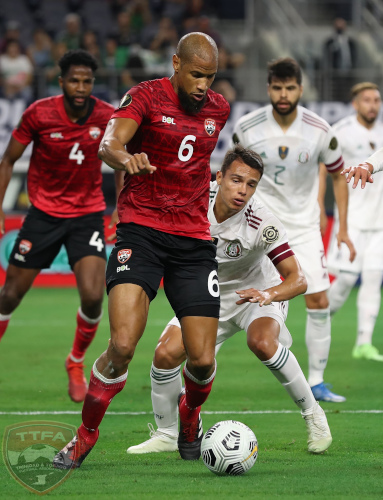 In the second of a two-part interview, Wired868 talks to 36-year-old AC Port of Spain and former Soca Warriors defender Radanfah Abu Bakr raises questions about Trinidad and Tobago's squad for the 2023 Concacaf Gold Cup, voices issues with our talent development, and suggests a role for fans in the rebuilding of our football brand:
Wired868: What are your thoughts on the selection of the Men's National Senior Team for the Gold Cup?
Radanfah: I feel if [Wired868] had covered the league more, there might have been more Pro League players in there. It is a pity that we don't have players in the top [global] leagues anymore who are coming back with that quality to lift the team, which is a function of many things including not having a Pro League for the last three years. We probably have no more than three to five players coming from big leagues.
Players are limited in their exposure to top level football [and] it makes it difficult for us to compete with teams who have players playing at that level. I don't like to get into people's selection, you can't carry everybody—but I think [Angus Eve's] selections are erratic sometimes and you wonder if there is any method to his picks. But you live and die by your choices and I really want them to do well.
Wired868: Why do you say "erratic"?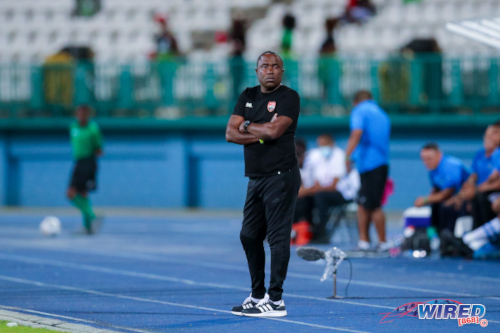 Radanfah: He is relatively conservative, which is fine. He doesn't have a [Sergio] Busquets or [Lionel] Messi, so he is making do with what he has. But sometimes you are not sure why certain players are ahead of other players. There isn't a clear selection process.
For instance at the last Gold Cup, there were a lot of local players in the squad when there wasn't even a league playing; but now there is a league and there are even less local guys in the squad. Sometimes it is hard to figure out why him instead of him. Some guys have their preferences and it isn't a criticism, but I am just saying that I don't understand some choices.
Wired868: Who do you feel should have been picked that wasn't?
Radanfah: Me! I would always back myself—I am playing, I haven't retired. But on a more serious note, "Natty" (Nathaniel James) could maybe get a look in. But then who would that have been at the expense of? Maybe Real Gill, who is a similar type player.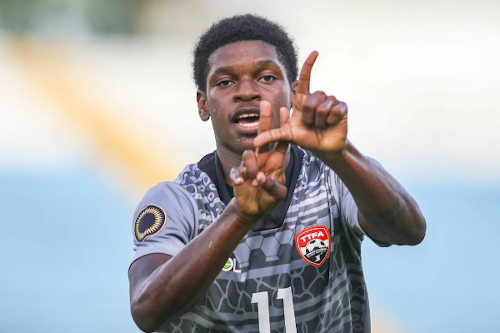 Justin Garcia did well in the international games he played in, he showed maturity and developed into a decent left-footed centre back. A lot of international coaches prefer to have a left-footed centre back because it gives you more options when you want to build out from the back.
And then we have the AC guys. Duane Muckette has been excellent this season and might feel hard-done by not to be in the squad. I think he has worked on the defensive side of the game and I think we saw a lot more running from him this season. He has really grown into that "number 8" role and I think he will feel really unlucky.
Same with Rochford, [Jameel] Neptune, [Che] Benny, and Poon. Jomoul [Francois] also. As much as we criticised Kenwyne [Jones], boy oh boy would we love to have Kenwyne now!
Jomoul has done okay as a forward and might have felt he deserved a look in, but there will always be borderline decisions. It is up to the players who were left out to prove that you should get in through your consistency. That's what I had to do.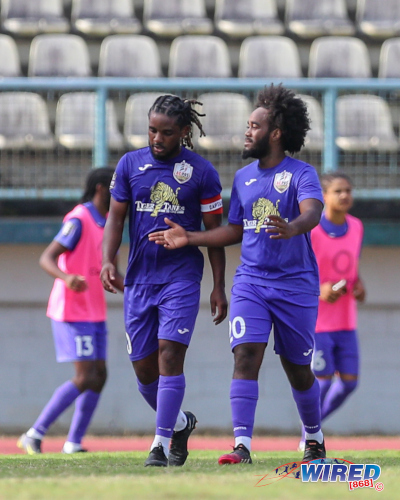 I have 40 caps and I think I have been on the bench twice as much. As a central defender you don't really come on so you have to prove you're worthy to start. You have to prove yourself and how you do it is you pull up your socks, tuck your shirt in and show what you can, over and over. It is hard to deny consistency.
A lot of guys score one or two goals and feel they should be there, but it takes more than that.
Wired868: So you think our offense is missing a centre forward?
Radanfah: Well for me, Levi [Garcia] and [Ryan] Telfer are wingers who are good coming off the side. I don't like Levi as a "9", although he is a decent finisher and jumps really, really well. But I guess that is the best we have.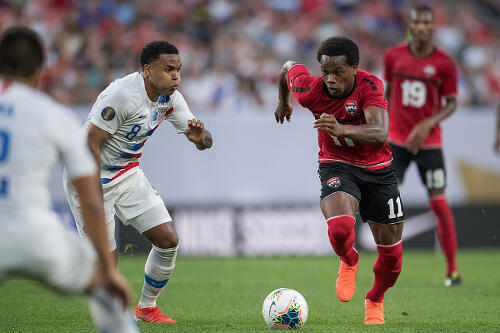 I prefer Levi as an inverted winger with a little more space to run. He is better running at you than with his back to goal, but I can't say there is a better 9 than him right now. The options there are really limited.
Wired868: What do you think about Club Sando forward Nicholas Dillon?
Radanfah: Nicholas Dillon has everything to be a good "9" but I don't know—maybe he needs to work on his killer instinct a bit more. He is strong, fairly mobile, good with his back to goal, a decent finisher. I think Natty overshadowed him a bit after he joined Club Sando, but I think he has the assets.
Wired868: And what are Natty's qualities that make him stand out for you?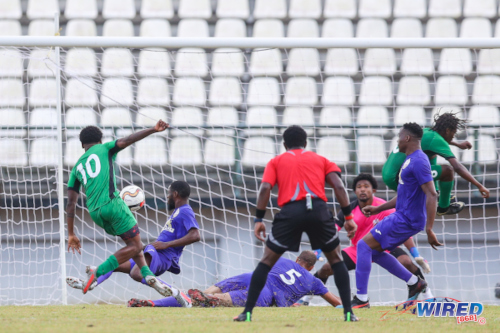 Radanfah: He is mobile, he is tricky, direct. He can shoot. He has a habit of just popping up in dangerous parts of the field. If you dive in, he can dribble around you. But if you give him any space, he gets his shot off really quickly. He is a handful!
Wired868: What do you feel are the weaknesses in our national game at present?
Radanfah: Our players are not playing at a high enough level where you have to think faster. I am not sure what [Angus Eve's] identity is and how we will approach this tournament. I know this isn't the Jamaica we played a few games ago.
I am not convinced at playing with three at the back. I am not sure our players are ready for it, and I am not sure we have the free flying wing backs we need for that. The closest thing we have to that right now is Alvin [Jones].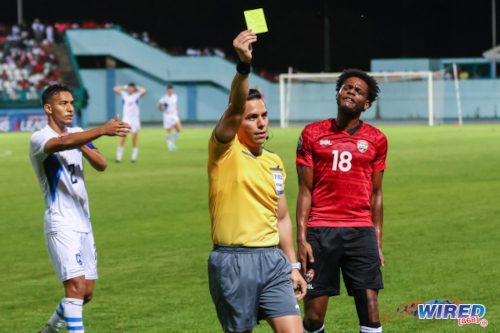 We are 104th in the world and we have the weaknesses that come with a team being ranked there.
Wired868: What do you see as the strengths in our game?
Radanfah: Always our strength is our talent—just the natural ability of our players to do things that players at a comparable age in other parts of the world cannot do. What we are lacking and what limits that potential is our mentality and the coaching those players receive.
Wired868: Can you be more specific?
Radanfah: The mentality to work hard at your craft. Often the players with the best ability work less. I am a good example of the opposite of that. There were lots of players who were more talented to me when I was a young boy, but I worked harder and kept improving myself.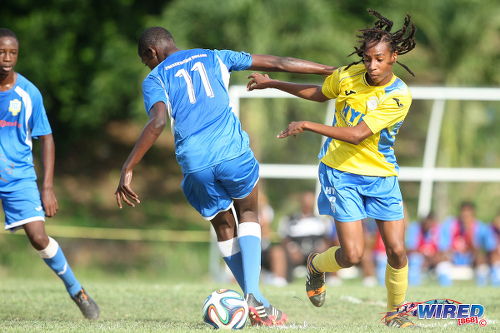 That poor mentality inhibits the potential and the growth of our players, along with the coaches being questionable at times. Some players settle for the talent and ability they think they have and the praise they get for doing something at schoolboy level and they never advance past that stage.
The fact that we are a small country is a good and a bad thing. In the US, it might be hard to find the best players because of the size of the pool. We should make having a smaller ecosystem work for us in terms of finding the best talent and getting them to work with the best coaches, so you marry that talent with a good work ethic and mentality.
Our size is a plus in the sense of it being easier to find our better players, although it is a minus in terms of simply having less players available.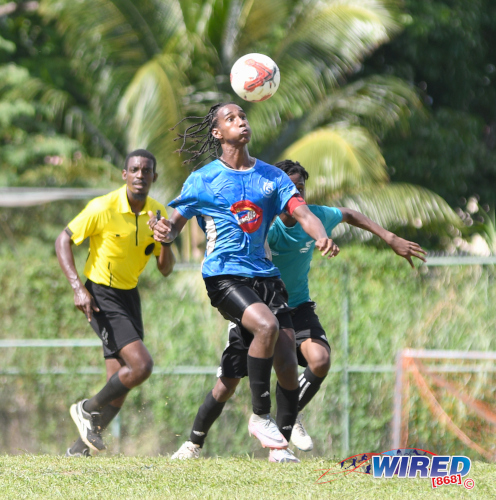 Wired868: When you speak about our players having "talent", can you be more specific there as well?
Radanfah: By that, I mean being able to do things: dribbling, running with the ball, controlling the ball, etc. I mean being competent in the fundamentals of the game early on and without much training.
But there is a limit to that because when you have to play at a higher level later and those players don't think they should work at their craft, they stay and stagnate at where they were at 13 or 14 years old—whereas other less talented boys keep working and they pass you.
Football outside isn't too much about talent. It is about how hard you work, how disciplined you are, how you can follow an instruction, how technically and tactically literate you are—not just what tricks you can do. The things that don't make the highlight reel is what helps you to stay out there, even if the highlight reel stuff might help you get there in the first place.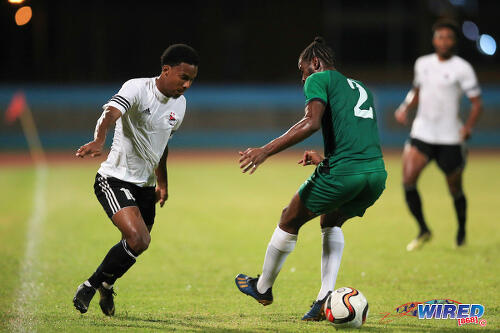 Wired868: And what do you see as the role that coaches should play at that stage?
Radanfah: A better coach will automatically give you better players. From the experience I accrued around the schools league as assistant coach with Tranquil, a lot of coaches spoil young players who have better ability.
They let them get away with anything in terms of their football discipline. You're not encouraged to do your defensive work and be responsible because, at age 15, you are a little more advanced than the rest; and that gets ingrained in you. You don't even think you should have responsibilities beyond what you feel to do!
I see a lot of players spoiled like that and it certainly doesn't cut it at the international level.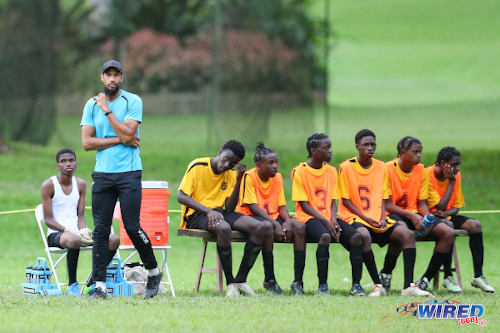 And, yes, better coaches give you better players in terms of fundamentals. A good footballer doesn't make a good coach and this is me saying that as a former national player who is aspiring to be a coach. The paper stuff is important too because you learn how to teach. It is one thing knowing what to do but being able to get that to a player who does not know what to do is tricky.
There are also coaches who focus on just winning but not on developing technique and teaching the actual game. You can shortcut it as a coach at youth level because some players are advanced [in terms of their physical attributes or early exposure to the game]—so you just recruit the advanced players and win.
Or I might have a guy who is really quick and I put him upfront and tell the players to kick it for him and he runs and scores. They are not learning the game in its entirety like that. So when they don't have a guy who is infinitely faster or stronger, then how do I break down another team?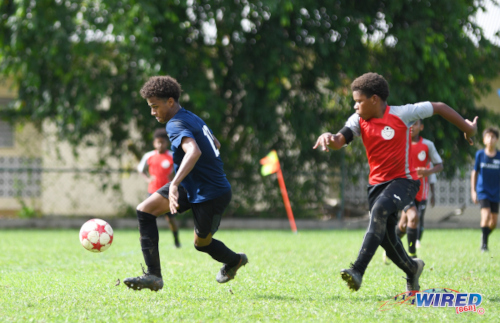 I never taught the guy who is fast or strong as a young player how to move off the ball and play, so what happens when he meets a player who is just as strong or fast?
He is so single-dimensional that he doesn't know how to do anything else. He is short on the skill sets that he needs to succeed.
We don't prioritise football either. We see about the girlfriend, the lime, etc, before we prioritise the football things like getting to the gym, eating properly, resting properly. Our entire life cycle needs to be centered around football.
I don't see enough of these younger guys prioritizing football. It is always the last thing on their agenda and you see that in their game when their performances are erratic.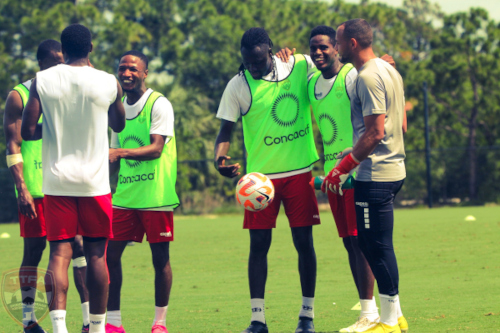 There is a quote from Mike Tyson on discipline where he said that discipline is doing what you don't like to do, but doing it like you love to do it. I think that is a good mentality for young players to have.
Wired868: Do you have anything to say to local football fans?
Radanfah: Bloody hell, come out and see what we are doing! Everybody has a favourite team in the Premiership. They have their [Kevin] De Bruyne shirt or Messi shirt. Support local too.
You want to buy a Dwight Yorke tee shirt once more don't you? I would love to say we have players in all of the top leagues again. We need to rebuild our brand and get our football passport back on the map, and it starts here.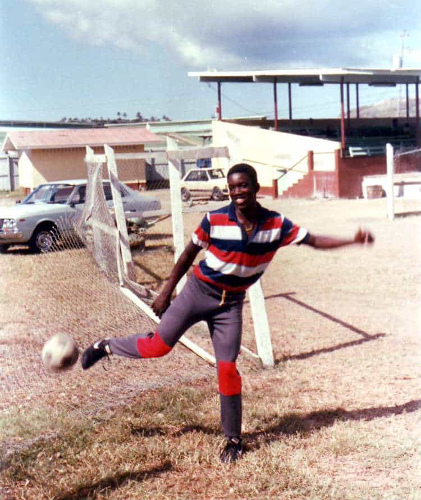 It gives you a huge lift as a player when you see 3,000 people in the stands as opposed to 300. The intensity of the game is lifted and there is accountability too because there is something at stake. There is picong in the stands, with fans telling you what they think. And there are smallies. (Laughs)
I remember going to a minor league in Maraval last year and seeing about 2,000 people around the field. And I saw [Akeem] "Garnett" Roach who I always found to be a lazy player. But if you see how hard he was running in that league!
And why? Not because they were paying him, because he would certainly have been paid better in the Pro League. It was because there are 2,000 people all around the field who he is accountable to and he would have his pride. Nobody wants to hear: "Take off that man nah boy! He is a shithong!" No player wants to be on the end of that.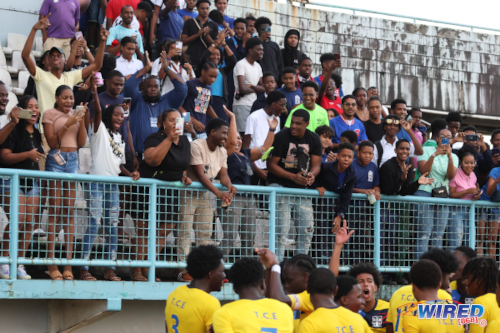 As opposed to when you reach the Ato Boldon [Stadium] for an 8pm kick off on a Wednesday. (Laughs). And there are 16 people there and eight are your relatives and the nutsman.
Don't stay home and say those players are no good. Yes, we are not there yet—as far as comparing us with the players you see on tv—but come out and hold us accountable.
Who is your favourite team? You should say Central FC and Manchester. Put the local team first. You will never meet De Bruyne and Rodrigo but you have their shirts. Why not support the fellah from your community and help him to get somewhere too?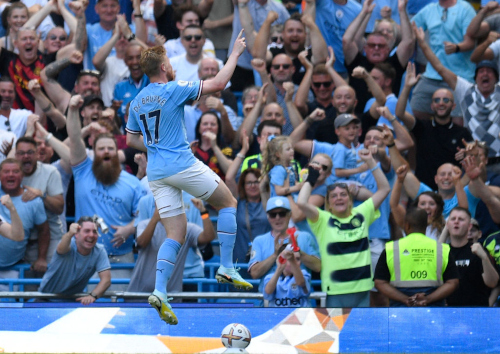 Wired868: And what's next for you?
Radanfah: I am still an active player, but I am preparing for my life after football by securing my coaching badges. (He has a UEFA B License.) I tried to do some coaching with the AC Port of Spain youth team, but because the time was clashing with my training with the senior team I could not be involved much.
I have my own academy called the Dibe Dragons in Long Circular. It is more about a social benefit than football because it is a rough area. There is some talent in there but it is mostly to civilize them. (Laughs)
I have my goals written down here. I want to play in the Concacaf Champions Cup, so that means we have to finish in the top three [in the Caribbean competition].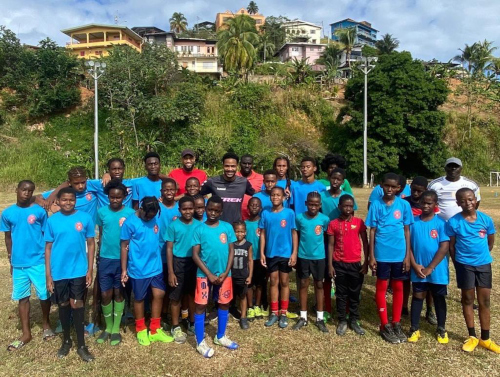 Really my goals are season to season now. I want to play as long as my body can take me—until the wheels come off. I am no spring chicken. They say football leaves you before you leave it, and that's fine. If you look at even great players like Serena Williams and so on, you know that you won't be able to do it forever.
If I can contribute in any meaningful way in and around the field and I am physically okay, then I am more than happy to do that.
Wired868: Thanks for your time, Radanfah.
Radanfah: Anytime.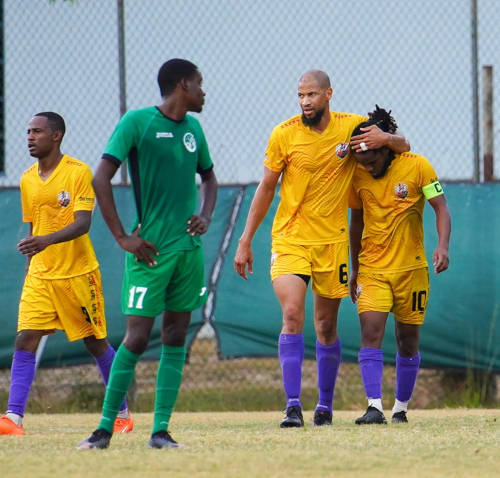 Editor's Note: Click HERE to read Part One as Radanfah Abu Bakr discusses the state of the local game, AC Port of Spain's title run-in with Defence Force and his biggest peeve with the TTPFL.