The Trinidad and Tobago Men's National Senior Team were dumped out of the 2023 Concacaf Gold Cup tonight on the back of a 6-0 thrashing by the United States at the Bank of America Stadium in Charlotte.
The Soca Warriors needed an improbable win to advance to the knockout round of the competition for the first time since 2015. Despite a few fleeting moments on the ball—usually when the gifted Levi Garcia had possession—the two-island republic never came close.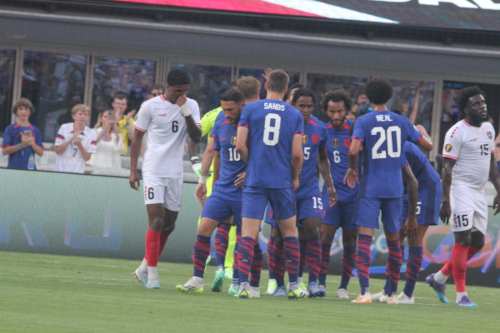 Instead, coach Angus Eve had the ignominy of matching Trinidad and Tobago's biggest ever defeat in a Gold Cup game, as the final scoreline mirrored the 6-0 hammering suffered under Dennis Lawrence in 2019.
Four years ago, Lawrence was at the wrong end of a petition by football fans after the USA mauling. But the former head coach could at least say his opponents were at full-strength, with the likes of Christian Pulisic, Weston McKennie and Jozy Altidore on the field.
Two years ago, coach Terry Fenwick kicked off his disastrous reign with a 7-0 friendly loss to the United States in Florida. The Englishman might argue that both teams were understrength though.
Tonight, though, Eve had his full contingent of players while USA fielded a "B" team—yet the game was just as much a mismatch.
So, what does that mean? Well, no matter how one might quibble over the details, there is little to suggest that Trinidad and Tobago football has improved appreciably over the last five years.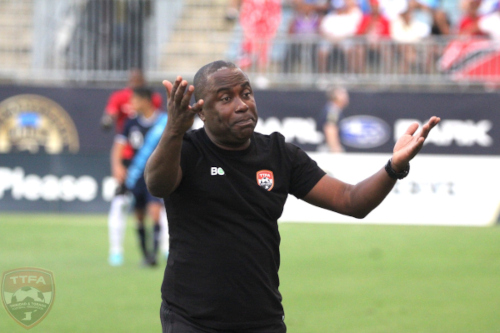 Lawrence has Trinidad and Tobago's all-time worst record as a coach and left the team ranked 104th in the world—the Soca Warriors were 78th when then football president David John-Williams sacked Stephen Hart.
Fenwick was, almost certainly, worse than Lawrence, although he left the Warriors ranked 103rd.
After two years at the helm, Eve has helped Trinidad and Tobago to 101st.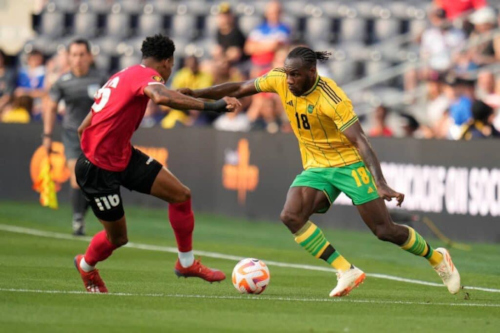 In four years, the Warriors have climbed three places. Is that a snail's pace of recovery? Or is Trinidad and Tobago getting comfortable as an also-ran?
Eve, to his credit, tried to be more proactive today.
Former national defender Radanfah Abu Bakr said before the competition that Garcia is at his best, as an inverted winger on the right flank—only for Eve to accuse his former player of "thrashing" his troops.
Yet, as Eve used Garcia in just that role, the Warriors finally had a reliable offensive outlet.
Kevin Molino was utilised behind centre forward Malcolm Shaw and, although a bit off the pace, arguably showed that he still has something to offer his country, with his close control and shrewd decision making.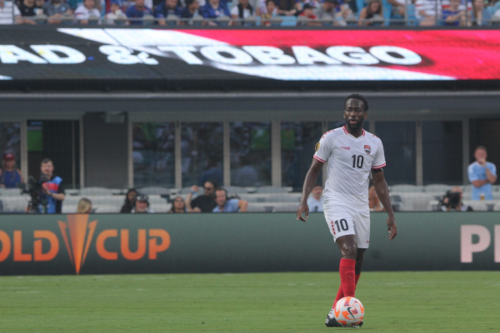 Eve's full backs—and, in particular, right back Alvin Jones—were restrained though and did not join the attack. Perhaps in the hope of providing extra defensive insurance.
"We put on the ball handlers [from the start]," said Eve. "I went against my philosophy in how I like to play a bit…"
So, Trinidad and Tobago were basically attacking with four players while six sat back. It was a half-measure that the "Stars and Stripes" exploited.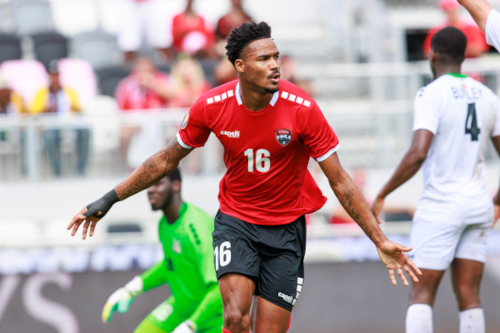 Without Jones bombing forward to his right, Garcia lacked support and had twice as much to do when he took on the opposing backline. And, if USA could play quickly past Trinidad and Tobago's front four, there was likely to be a gap between them and the back six that could be exploited.
They did just that in the 14th minute, after Trinidad and Tobago's best spell on the ball.
The Warriors weathered the storm in the first 10 minutes and got a peep at the other end, when Joevin Jones volleyed over from a Garcia cross. Two minutes later, Garcia embarrassed opposing midfielder James Sands by rolling the ball through his legs and then pirouetting away from him to win a free kick.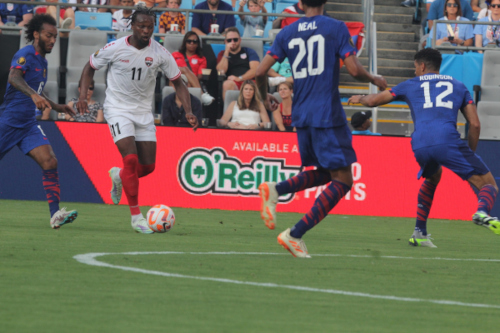 After a spell deep in USA territory, the Warriors opted to stay high and pressure after losing possession—only for their opponents to carve through them.
And, on the break, left back Dejuan Jones showed how overwhelming an attacking full back can be as he raced into the box and, granted a sliver of space by T&T defender Leland Archer, crossed for Jesus Ferreira to put the hosts ahead.
It would be a recurring theme. Garcia terrorized the opposing defence but lacked the support to capitalize on his gains. And, at the other end, USA tried to get their full backs forward quickly to double up on Trinidad and Tobago's wide defenders.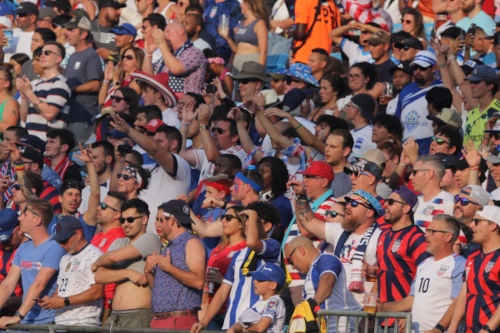 Ferreira, who scored twice in the 7-0 mauling of Fenwick's Warriors in 2021, got his second goal in the 37th minute after USA flanker Alejandro Zendejas ghosted into space and picked him out with a left-side cross.
Goalkeeper Marvin Phillip got a hand to the ball but could not hold on, and the 22-year-old forward gobbled up the rebound.
Ferreira completed his hattrick from the penalty spot in first half stoppage time, after midfielder Djordje Mihailovic lured Jones (A) into a rash tackle.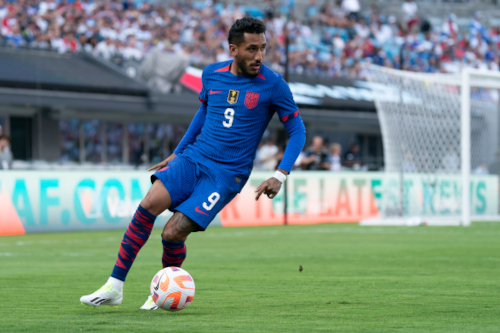 In his 21st international appearance, Ferreira had 14 goals. Five were against Trinidad and Tobago, four against Grenada and three against Saint Kitts and Nevis.
There are lifelong CIA operatives who have not overseen as much damage at the expense of Caribbean nations.
Eve, who used three different formations in as many matches, made three halftime changes again as Andre Rampersad, Shannon Gomez and Real Gill replaced Luke Singh, Jones (J) and Molino.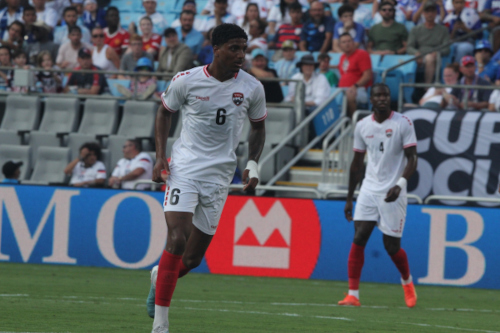 If Rampersad was available, why did Eve choose to start with a central defender, Luke Singh, alongside Neveal Hackshaw in midfield? And what exactly is Gomez's role?
Nominally a right back, Gomez played at left back, left wing and right wing in his 75 minutes on the pitch against Jamaica.
Tonight, Gomez began on the right of the midfield trio, hit the post with a speculative effort in the 61st minute, and then finished the game at left back.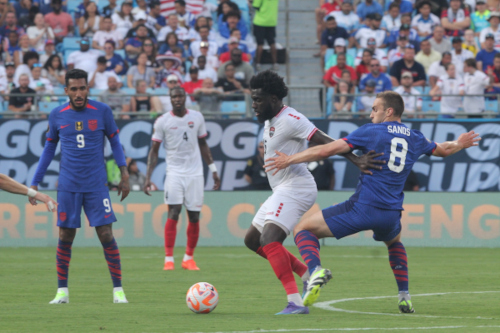 Even at the end of the tournament, does Eve have firm ideas of how he can best utilize his players? Or is it a case of tossing whatever you can against the wall, and hoping something sticks?
"We need to have more of our players playing at the highest level," said Eve, when asked about the difference between the two teams. "[…] A national coach can't get the players fit when they come here."
Trinidad and Tobago unquestionably faced two superior teams in Jamaica and the USA. But for a coach fond of using the analogy of North Macedonia upsetting Italy, one would expect that Eve's Warriors would not be brushed away as easily as they were this week.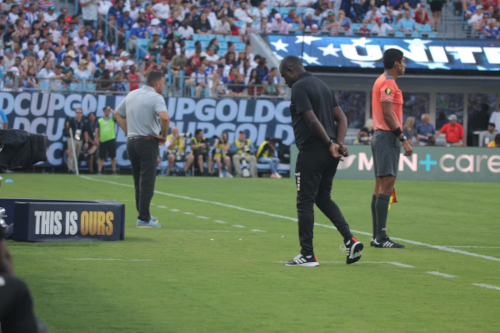 In the 64th minute, Eve replaced left back Triston Hodge with attacker Kadeem Corbin, as Gomez—three minutes after hitting the post—moved to full back. The Warriors were going for broke then.
Within seconds of coming on, Corbin created a goal. Only it was at the wrong end.
The sluggish surface at the Bank of America Stadium was slowing up the ball and Corbin's first involvement was an attempted backpass to his own goalkeeper from the halfline.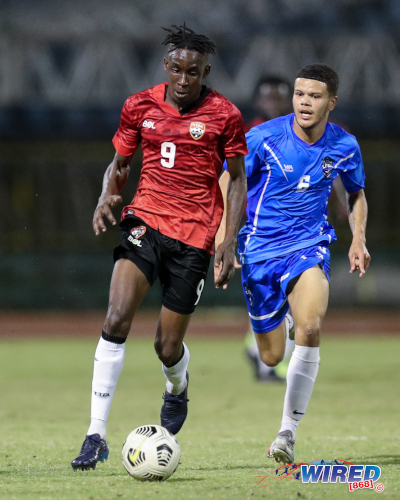 Perhaps Corbin should be forgiven for not being immediately attuned to a poor playing surface. But, ironically, USA substitute Cade Cowell had only been on the field for three minutes more than the Terminix La Horquetta Rangers players. And Cowell knew exactly what was going to happen.
Cowell picked off Corbin's pass, and danced past Phillip and Gomez for USA's fourth goal and their first of the second half.
Spare a thought for Eve who must have wondered if the gods were messing with him at that point. It certainly wasn't like he denied Jesus—as the American's first half hattrick proved.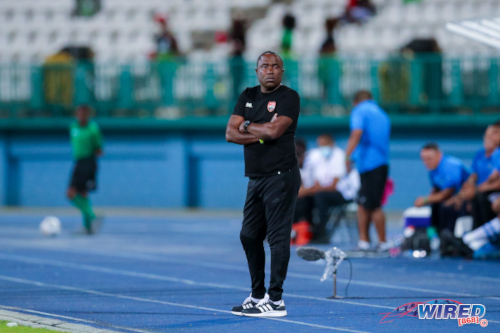 By then, Sheldon Bateau and Archer were the only things that seemed to stand in the way of a mauling, even as Garcia continued to glide past Americans in twos at the other end.
In the 71st minute, Archer made a terrific lunging stop to deny USA substitute Brandon Vazquez from close range. The Charleston Battery defender made his senior international debut in the 7-0 "friendly" loss under Fenwick, two years ago. He clearly did not want to relive that anguish.
But with the packed stadium baying for blood and interim coach BJ Callaghan urging his troops on from the sidelines, midfielder Gianluca Busio got a fifth goal for the hosts in the 78th minute—after Yedlin and Julian Gressel doubled up on Gomez down the left of the T&T defence.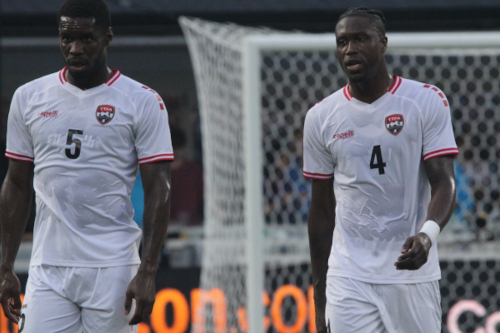 And, four minutes into stoppage time, Vazquez got USA's sixth. It was their joint record Gold Cup win and matched their scoreline against Saint Kitts and Nevis last Wednesday.
The USA treated Trinidad and Tobago like Gold Cup debutantes, Saint Kitts and Nevis. It is a sobering thought.
Eve's job, when he got the job full-time two years ago, was to get Trinidad and Tobago back into the Concacaf Nations League A. He accomplished that—in part, due to Nicaragua's error in fielding an illegal player who gave them no obvious advantage on the field.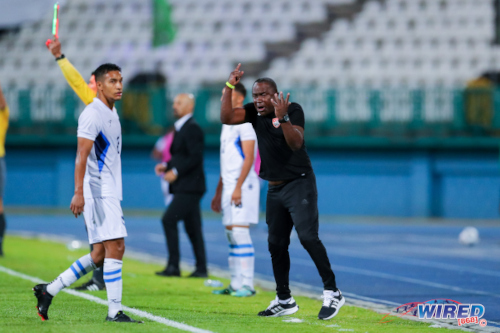 His competitive record as coach is six wins, four draws and four losses with 24 goals scored and 19 against. It is not shabby returns, but there is context.
Trinidad and Tobago's demotion to the CNL second tier meant more games against the likes of The Bahamas and Saint Vincent and the Grenadines. There is stiffer opposition to come at the A level.
Can Eve manage those tests?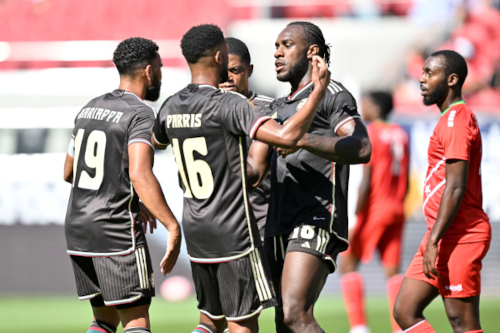 In his competitive tussles with more recognizable football nations, Eve faced Mexico, El Salvador, Guatemala, Jamaica and the United States. He did not manage a single win—not in two games against Nicaragua either.
And, in his famous draw against Mexico, El Tricolor had 30 shots: 13 off target, 10 blocked, and seven on target. It was hardly a defensive masterclass.
Can Eve continue Trinidad and Tobago's gentle upward trajectory? Does he deserve the chance to try?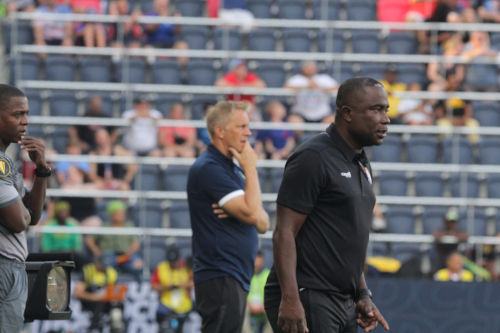 An unelected football official, Robert Hadad, will ultimately decide.
Eve did his best. And, Nicaragua technicality or not, he got the Soca Warriors promoted.
Over the past 180 minutes, however, it was not clear how he would get Trinidad and Tobago to be competitive at Concacaf's upper echelons.
(Teams)
Trinidad and Tobago (4-4-1-1): 1.Marvin Phillip (GK), 16.Alvin Jones, 4.Sheldon Bateau, 5.Leland Archer, 18.Triston Hodge (9.Kadeem Corbin 64); 11.Levi Garcia, 6.Luke Singh (17.Andre Rampersad 46), 15.Neveal Hackshaw, 3.Joevin Jones (14.Shannon Gomez 46); 10.Kevin Molino (captain) (13.Real Gill 46); 19.Malcolm Shaw (20.Kaïlé Auvray 69).
Unused substitutes: 21.Nicklas Frenderup (GK), 22.Denzil Smith (GK), 2.Aubrey David, 7.Ryan Telfer, 8.Ajani Fortune, 12.Kareem Moses, 23.Molik Khan.
Coach: Angus Eve
USA (4-1-2-3): 1.Matthew Turner (captain) (GK); 5.Bryan Reynolds (2.Deandre Yedlin 76), 12.Miles Robinson (4.Matt Miazga 46), 20.Jalen Neal, 15.Dejuan Jones; 6.Gianluca Busio, 8.James Sands, 14.Djordje Mihailovic (19.Brandon Vazquez 69); 17.Alejandro Zendejas (11.Cade Cowell 60), 9.Jesus Ferreira, 10.Christian Roldan (22.Julian Gressel 60).
Unused substitutes: 18.Sean Johnson (GK), 23.Gabriel Slonina (GK), 3.Aaron Long, 7.Alan Sonora, 13.Jordan Morris, 21.John Tolkin.
Coach: BJ Callaghan
Referee: Mario Escobar (Guatemala)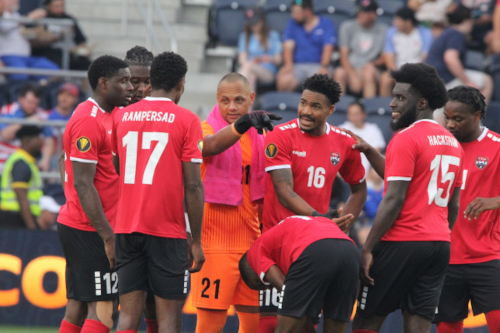 Concacaf Gold Cup
Group A
(Sunday 2 June 2023)
United States 6 (Jesus Ferreira 14, 37, 45 pen, Cade Cowell 64, Gianluca Busio 78, Brandon Vazquez 90+4), Trinidad and Tobago 0
Jamaica 5 (Julani Archibald 30 OG, Jonathan Russell 45, Di'shon Bernard 49, Daniel Johnson 72, Cory Burke 74), Saint Kitts and Nevis 0