It is safe to say that USA's burgeoning reputation as inhospitable hosts to guests from the so-called 'developing world' was only enhanced tonight.
The Trinidad and Tobago Men's National Senior Team were not merely pointed towards the Concacaf Gold Cup exit, they were tossed through the door headfirst. The final score read 6-0 to United States in Cleveland; and, if there was any illusion that the Soca Warriors' 2-1 win over USA, two years ago, might be a sign of things to come from coach Dennis Lawrence's men, six goals were more than enough to dismiss such fanciful dreams.
It goes without saying that Trinidad and Tobago's hopes of progressing at the 2019 Gold Cup edition are over, even with a match to spare—and arguably the damage goes beyond that.
The loss at Cleveland was Trinidad and Tobago's second highest defeat in their international football history, just one goal short of the seven shipped in at the Azteca Stadium on 9 October 2000. Yet there is context; apart from the obvious challenge of altitude, the Warriors were already through to the 2001 Concacaf Hex and then coach Ian Portfield opted to travel without team captain and playmaker Russell Latapy, top scorer Stern John and then Manchester United attacker Dwight Yorke.
Tonight, Lawrence, who, incidentally, played at the Azteca, 19 years ago, could have no such excuses. The one highlight of the six foot seven coach's time at the helm of the Warriors so far was that night in Couva when they shook up Concacaf with a shock 2-1 win over the 'Stars and Stripes'.

[dfp-ad]
But Lawrence—and everyone else in his dressing room for that matter—would probably shudder whenever they hear 'USA' from here on.
There was no subtlety to tonight's affair; no clever tactical rejigs or standout individual performances. There was just one bunch of players capable of keeping their heads while playing at tempo, and another group who could not.
USA pushed their full backs high and wide and did little more than move the ball from side to side as quickly as they could. For 'USA game plan' read 'tap, tap, diagonal ball' ad nauseam. It was the sort of approach that might draw sniggers from the likes of Mexico. But against a markedly inferior team, it looked so inspired as to have been dictated by a burning bush.
For the first half of the opening session, the Warriors matched their hosts in intensity, as both teams huffed and puffed without doing anything significant.
Trinidad and Tobago lost captain Khaleem Hyland to a hamstring injury after just 16 minutes but that was arguably balanced off by his replacement being the squad's most accomplished player, Kevin Molino.
The Warriors might have even scored first as a teasing Alvin Jones delivery was met with tentative responses by Molino and stand-in captain Daneil Cyrus, who were too shy to launch themselves at the ball. But by the closing minutes of the first half, the visitors were starting to tire—as evidenced by Jones' ungainly tug at opposing playmaker Christian Pulisic that provoked a yellow card.
The free kick was stopped by the T&T wall but Pulisic collected the loose ball and picked out defender Aaron Long who headed home at the far post, after being left unattended by Molino.
At halftime, the Warriors had one shot on target—from Hyland—and two attempts wide to nine attempts by the hosts who enjoyed 64 per cent ball possession. And the cracks were starting to show.
In the 60th minute, Trinidad and Tobago ought to have equalised on a splendid counter attack, only for Levi Garcia to volley wide off a Cordell Cato assist. Garcia, mind you, is on a run of 20 matches without a goal—but more on barren runs later.
Molino had a sighter in the 63rd minute with a rasping effort that USA goalkeeper and captain Steffen Zack fended away. But America continued plugging away, like a boxer circling a naive opponent and waiting for his guard to drop.
In the 64th minute, Warriors goalkeeper Marvin Phillip made a superb save from point blank range to keep Paul Arriola from turning in a Pulisic cross. But Phillip, T&T's one standout player at the Gold Cup, had no answer for the 'Yanks' in the 65th minute as right back Nick Lima headed down a lofted diagonal Bradley pass for Gyasi Zardes to knock into the back of the net from close range.
Jones forced an awkward save from Zack off a 30-yard free kick in the 67th minute, as the Warriors tried to trade punches with USA. But a second close range finish from Zardes in the space of four minutes—this time set up by Pulisic, who swerved past opposing hard-man Kevan George like a matador dancing around a bull—and Trinidad and Tobago, metaphorically and literally, were all at sea.
Zardes hit a post and then Phillip pulled off another sharp save in the 70th minute as USA kept coming. It was 4-0 in the 72nd minute as Pulisic, the kid who left Couva in tears in 2017, turned home from close range again after Cyrus carelessly conceded possession.
Well, so much for that. Not quite, actually.
United States coach Gregg Berhalter sent on Jozy Altidore from the bench, the third highest scorer in their football history with 41 goals—16 behind Landon Donovan and Clint Dempsey.
The message was clear. A comprehensive win was not enough. The Yanks wanted a humiliation.
Four became five in the 77th minute, as Arriola converted a cross from another USA substitute, Jordan Morris, after Jones was guilty of not tracking his man.
Arriola should have gotten his second in the 85th minute with a stinging right footer that almost uprooted Phillip's bar. By now, Lawrence must have been praying for the whistle or pleading with Berhalter to toss in a white towel.
And then, in the 89th minute, came the final straw. As the punch-drunk Phillip fended away a speculative attempt by Weston McKennie, Long, reacted before anyone from the Trinidad and Tobago backline to chase the sphere. And Long chested it over the goal line. Chested it.
An American defender had scored with his chest from open play. It looked like something from a Futsal match.
Hopefully by then, sensible parents had already sent their children to bed. Those who were not so lucky are advised to find them something pleasant to look at before tucking them in, so as to avoid nightmares. Like Child's Play 4.
In five months' time, bullish Trinidad and Tobago Football Association (TTFA) president David John-Williams must face the polls and a lot will be said about the lack of transparency surrounding the Home of Football, his sneaky circumventing of the Board and failure to properly implement a range of standing committees including the Technical Committee that ought to be overseeing Lawrence's work.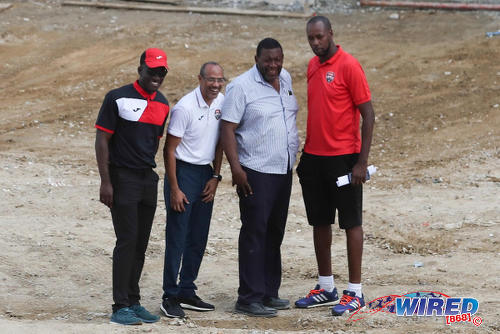 But logic and reason are not as powerful as emotion. If Board member Keith Look Loy's tenacious probing has been a tremendous bother in the media, it is the chest of Long that might ultimately do the most damage to DJW in the streets and on social media.
Under the stewardship of his predecessor Raymond Tim Kee, Trinidad and Tobago were quarterfinalists at successive Gold Cups in 2013 and 2015 with Stephen Hart at the helm. Under John-Williams, they failed to qualify under coach Tom Saintfiet in 2017 and then were embarrassed in the group stage with Lawrence in 2019. Notably, the Warriors got to this Gold Cup automatically as a result of qualifying for the last Hex, which was also accomplished during Hart's tenure.
Hart, of course, was the guy that John-Williams sacked at Ruby Tuesday.
Lawrence's Warriors have now gone seven straight games without a goal. The one consolation is that is not the statistic which will be on everyone's lips tonight.
(Teams)
Trinidad and Tobago (4-3-3): 1.Marvin Phillip (GK); 16.Alvin Jones, 5.Daneil Cyrus, 2.Aubrey David, 4.Neveal Hackshaw; 19.Kevan George, 23.Leston Paul, 8.Khaleem Hyland (captain) (10.Kevin Molino 16); 7.Cordell Cato, 11.Levi Garcia (18.Lester Peltier 76), 13.Nathan Lewis (3.Joevin Jones 66).
Unused substitutes: 21.Greg Ranjitsingh (GK), 22.Adrian Foncette (GK), 6.Duane Muckette, 9.Shahdon Winchester, 12.Carlyle Mitchell, 14.Akeem Humphrey, 15.Curtis Gonzales, 17.Mekeil Williams, 20.Jomal Williams.
Head coach: Dennis Lawrence
USA (4-1-4-1): 1.Steffen Zack (GK) (captain); 2.Nick Lima, 23.Aaron Long, 13.Tim Ream, 5.Walker Zimmerman; 4.Michael Bradley; 10.Christian Pulisic, 21.Tyler Boyd (11.Jordan Morris 60), 8.Weston McKennie, 7.Paul Arriola; 9.Gyasi Zardes (17.Jozy Altidore 74).
Unused substitutes: 12.Sean Johnson (GK), 22.Tyler Miller (GK), 3.Omar Gonzales, 6.Wil Trapp, 14.Reggie Cannon, 15.Christian Roldan, 16.Daniel Lovitz, 18.Jonathan Lewis, 19.Matt Miazga, 20.Djordje Mihailovic.
Coach: Gregg Berhalter