On the last occasion that Trinidad and Tobago and United States met on the football field, the tiny twin island republic denied the North American powerhouse the chance of representing Concacaf at the Russia 2018 World Cup.
Two years on, the United States have the chance to return the favour—albeit in the less prestigious Concacaf Gold Cup tournament—when they host T&T from 8pm tomorrow at the First Energy Stadium in Cleveland.
The Soca Warriors lost 2-0 to Panama on Tuesday evening in Minnesota while USA whipped Guyana 4-0 at the same venue. If Trinidad and Tobago lose again and Panama defeat Guyana, it would mean the Warriors are eliminated with a game to spare.
USA captain Michael Bradley played down the theme of revenge and said there only 'two or three' survivors in the squad from that famous night in Couva on 15 October 2017, when an Alvin Jones thunderbolt inspired Trinidad and Tobago to an unlikely 2-1 triumph.
[dfp-ad]
In fact, six members of the current USA squad were at the Ato Boldon Stadium on that night. Bradley, Christian Pulisic, Omar Gonzales, Paul Arriola and Jozy Altidore all played in that shock result while Tim Ream was an unused substitute.
Pulisic acknowledged that a win for the 'Stars and Stripes' wouldn't change the fact that he missed his first chance to play in a FIFA World Cup. But he admitted that it would be satisfying all the same.
"Obviously, I want some revenge [against Trinidad and Tobago]," said the 20-year-old Pulisic, who is now the most expensive American player of all time, after competing a 58 million pound move to Chelsea. "I want to beat them. The team is going to go out and give it everything. We want to win that game."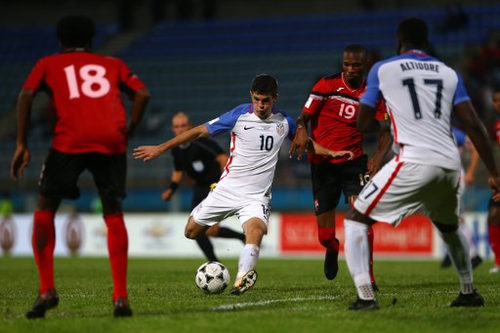 Trinidad and Tobago captain and midfielder Khaleem Hyland insisted that the feeling is mutual.
"We know how critical this game will be," Hyland told the TTFA Media. "We just have to go out there and leave everything on the pitch. We all know what is at stake.
"The fans will be against us and America and will be going all out to get a win. But we will not go in there and throw in the towel. For us, survival is the main thing and only a win will guarantee that."
Trinidad and Tobago head coach Dennis Lawrence has the services of 11 from the 14 players used in their 2017 win, with Triston Hodge, Kevon Villaroel and Trevin Caesar being the only absences.
He was coy about the chance of a repeat result.
"It's straightforward," said Lawrence. "There is a lot of history between both countries but like I said before, I want these boys to write their own history. We know what is in front of us and what needs to be done."
The Warriors are now six games without a win—a run of five losses and one draw—while they have not scored in any of those outings. However, they had lost a record seven straight games when they last met USA.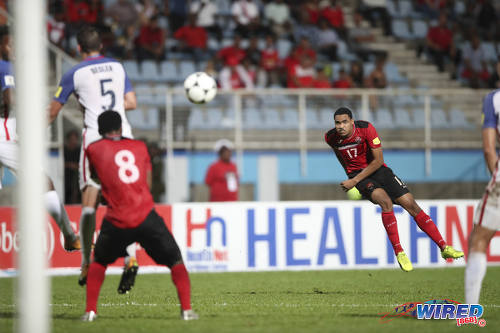 Can lightening strike twice?
"They will be coming hard at us—we know this for sure," said playmaker Kevin Molino, who did not feature in that Couva match due to suspension. "But I don't think the hype of the game will be a distraction. We know what we have ahead of us and what we need to do.
"Come game day, we have to stay focused and go all in to get the result we need."
Police FC goalkeeper Adrian Foncette was between the uprights, two years ago, although he was an unused substitute in Tuesday's loss to Panama. He acknowledged the different scenario facing the Warriors when they meet USA in Colorado.
"We need to win to stay close to the other teams in the group and [have a chance to] get out of it," said Foncette. "It is a do or die game and there is nothing else on our minds. That time around [in 2017] was completely different to now [as] we already knew our fate. We couldn't qualify for the World Cup and we had nothing to lose.
"The tables have turned now [because] this time we have everything to lose. It's win or go home."
Come kick off, it is unlikely to be a typical group stage affair.