The Trinidad and Tobago Men's National Senior Team recorded their biggest ever win in the Concacaf Gold Cup today, as they whipped Saint Kitts and Nevis 3-0 at the Drv Pnk Stadium in Fort Lauderdale.
The result moved the Soca Warriors, at least temporarily, to the top of Group A—above hosts and defending champions United States and Jamaica, who played to a 1-1 draw yesterday.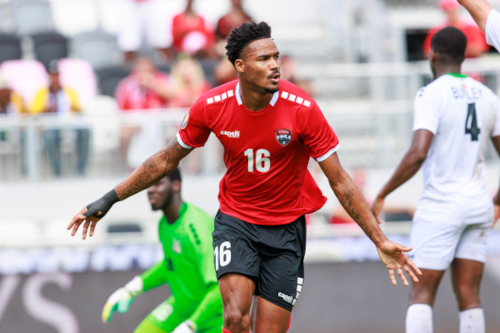 Head coach Angus Eve suggested that the result should give his players "a lot of confidence in what we are doing".
"We are taking it one game at a time," said Eve, at the post-game press conference. "We want to reestablish ourselves in Concacaf… We want to come out of the group."
It goes without saying that Trinidad and Tobago will face tougher opponents than the "Sugar Boyz". Arguably, they have never faced a weaker foe at this level.
Trinidad and Tobago's biggest margin of victory at the Gold Cup before this afternoon was by two goals, which they managed on five occasions: 3-1 over Honduras (at the 1998 Gold Cup), 4-2 over Guatemala (2000), 2-0 over Honduras (2013), 3-1 over Guatemala, and 2-0 over Cuba (both in 2015).
The first two results came under Bertille St Clair, while the latter three were during the Stephen Hart era. St Clair went on to lead the Soca Warriors to the 2000 Gold Cup semifinals, while Hart managed back to back quarterfinal runs in 2013 and 2015.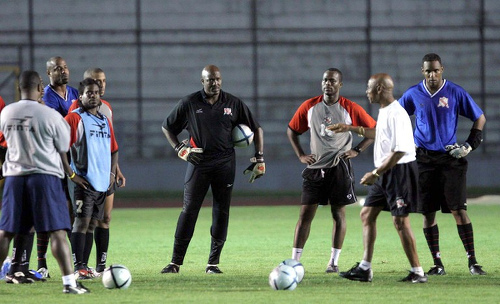 Eve hopes to match his predecessors and, towards that end, he faces a tough test on Wednesday against probably the most talented roster ever put forward by regional rivals, Jamaica.
Today, the Warriors' biggest challenge appeared to be spells of complacency as they forced Saint Kitts and Nevis on their heels for long spells—although it took more than half hour for the boys in red, white and black strip to get a clear sight of the opposing goal.
In fact, Trinidad and Tobago goalkeeper Nicklas Frenderup was called into action first, as he fended away an attempt by winger Omari Sterling-James at his near post in the 14th minute. It proved to be the only shot on target for the Sugar Boyz, who were making their first appearance in the Gold Cup group stage.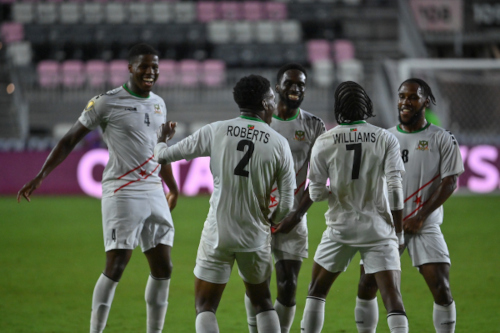 Incidentally, after flirting with a 3-4-3 shape in a 1-0 pre-tournament win over Guatemala, Eve returned to his customary 4-2-3-1 line-up today—although he gave full backs Alvin Jones and Triston Hodge license to get forward.
And there was only going to be one result once the overlapping Jones put the Warriors ahead in the 43rd minute, with a neat finish from an incisive Neveal Hackshaw diagonal ball behind the opposing defence.
Trinidad and Tobago's possession was clocked at 69% by that stage.
For Jones, it was his third international goal and his second in as many matches, after his item against Guatemala earlier this month. His first goal, remember, came six years ago in a famous 2-1 World Cup qualifying win against the United States.
Saint Kitts and Nevis, who lost all 10 previous competitive meetings with T&T, almost conjured an equaliser in the 48th minute, but attacker Tiquanny Williams failed to connect with a raking cross from playmaker Romaine Sawyers.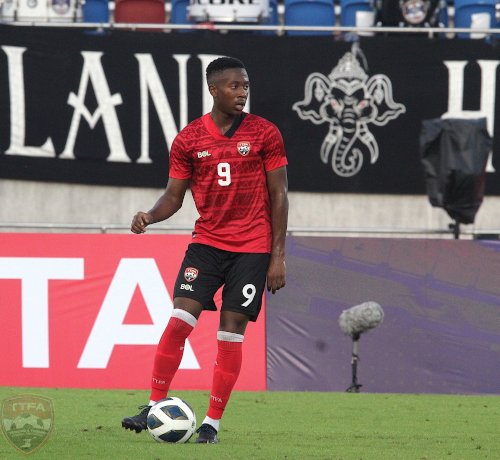 And Trinidad and Tobago pulled away for good in the 64th minute, after a glorious solo effort by 20-year-old substitute Ajani Fortune.
Fortune, an Atlanta United midfielder in the MLS, replaced captain Kevin Molino in the 58th minute and wasted no in making away an impression. He glided away from two midfielders and slalomed past a third (Yohannes Mitchum) before beating Kittian goalkeeper Julani Archibald with a shot from 20 yards.
Another substitute, forward Malcolm Shaw, thought he had a debut goal with a neat header off a Kaïlé Auvray cross in the 70th minute—only to be punished for a push on a St Kitts and Nevis defender.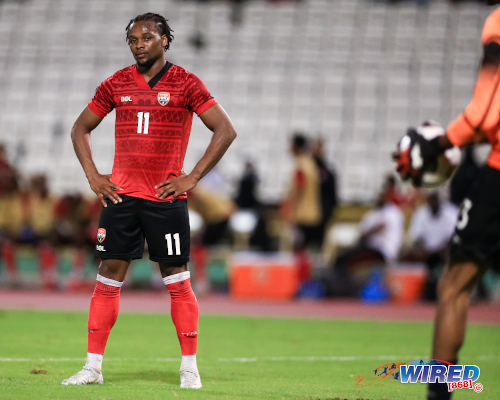 But star Levi attacker Levi Garcia completed the score summary in the 73rd minute, with a blast across the face of the goal that was inadvertently turned in by opposing defender Jameel Ible.
Eve rang in the changes, as he replaced his entire attacking line-up; and another young substitute, 20-year-old Club Sando attacker Real Gill, produced the odd thrill for the appreciative Trinidad and Tobago supporters in the stands.
However, 3-0 had to do for the Warriors in the end. It was enough to give Eve a statistical footnote among Trinidad and Tobago coaches.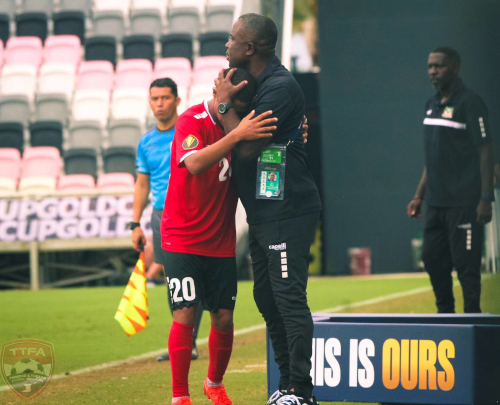 Saint Kitts and Nevis head coach Augustin Huggins promised to give USA a better challenge on Wednesday. Judging from their impotence today, that would take some doing.
But Trinidad and Tobago have their own problems.
If Eve is to steer the Warriors into the next round, Trinidad and Tobago need a win over either the "Reggae Boyz" or USA—or to claim two draws and hope that Saint Kitts and Nevis can restrict either Jamaica or USA to a win by less than three goals.
It will not be easy. But at least the Warriors go to bed as Group A leaders tonight.
(Teams)
Trinidad and Tobago (4-2-3-1): 21.Nicklas Frenderup (GK); 16.Alvin Jones, 4.Sheldon Bateau, 12.Kareem Moses, 18.Triston Hodge; 17.Andre Rampersad, 15.Neveal Hackshaw; 7.Ryan Telfer (19.Malcolm Shaw 68), 10.Kevin Molino (captain) (8.Ajani Fortune 68), 20.Kaïlé Auvray (3.Joevin Jones 83); 11.Levi Garcia (13.Real Gill 80).
Unused substitutes: 1.Marvin Phillip (GK), 22.Denzil Smith (GK), 2.Aubrey David, 5.Leland Archer, 6.Luke Singh, 9.Kadeem Corbin, 14.Shannon Gomez, 23.Molik Khan.
Coach: Angus Eve
Saint Kitts and Nevis (4-2-3-1): 18.Julani Archibald (GK) (captain); 2.Malique Roberts, 4.Andre Burley, 5.Jameel Ible, 6.Lois Maynard; 8.Yohannes Mitchum (17.Rowan Liburd), 14.Raheem Somersall (15.Mervin Lewis 72); 21.Omari Sterling-James (11.Tyquan Terrell 62), 19.Romaine Sawyers, 7.Tiquanny Williams (22.Ronaldo Belgrove 72), 16.Keithroy Freeman (10.Jacob Hazel 62).
Unused substitutes: 1.Jamal Jeffers (GK), 23.Xander Parke (GK), 9.Carlos Bertie, 12.Dijhorn Simmonds, 13.Ezrick Nicholls, 20.Raheem Hanley.
Coach: Austin Huggins
Referee: Said Martinez (Honduras)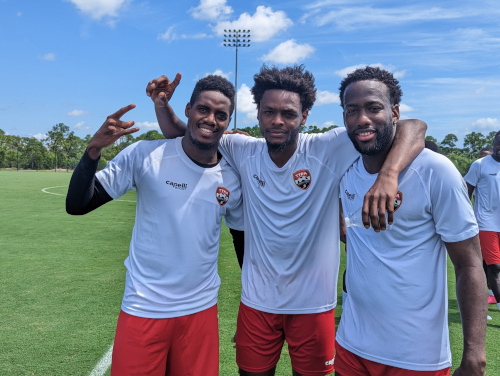 2023 Concacaf Gold Cup
Group A results
(Saturday 24 June)
United States 1 (Brandon Vazquez 88), Jamaica 1 (Damion Lowe 13)
(Sunday 25 June)
Trinidad and Tobago 3 (Alvin Jones 43, Ajani Fortune 64, Jameel Ible OG 73), Saint Kitts and Nevis 0.