Seriously, Tanty Kamla?! Seriously?!
There are a few scenarios that set off alarm bells immediately.
Jack Warner offering to provide a budget for any project, Tiger Woods hosting a bridal shower or Anil Roberts practising Spanish.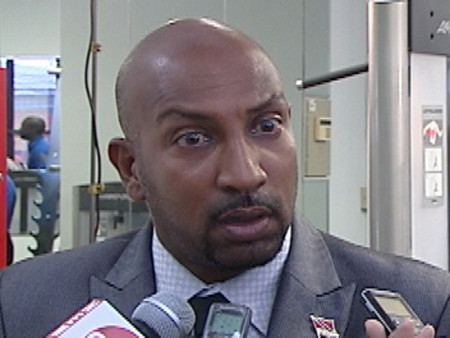 Add to that an Integrity Committee member resigning within hours of an indirect brush with Prime Minister Kamla Persad-Bissessar.
Mr Live Wire read the report that Dr Shelly-Anne Lalchan quit the Integrity Commission, just hours after the body terminated its investigation into "emailgate", and promptly got angry at himself.
To fly into a self-righteous rage at the Prime Minister for the suspicious behaviour of regulatory bodies when her name pops up, is like walking in pouring rain and being upset about getting wet.
Let us be honest about our current predicament on this two island republic. How many Government Ministers could you shake hands with and feel confident about remaining with five fingers?
From the People's Partnership's swearing-in ceremony, when the Prime Minister allowed Jack Warner to keep his post as FIFA vice-president, to today, when she has undemocratically rid the Parliament of the Opposition Leader and refuses to call an election date, Persad-Bissessar has treated the spirit of the constitution with the same grace that Akon shows to dance partners.
Trinidad and Tobago has known its share of politicians who cross the street when Honesty is in the vicinity. It is easier to picture the Lady Prime Minister ordering a minion to knee Honesty in the groin.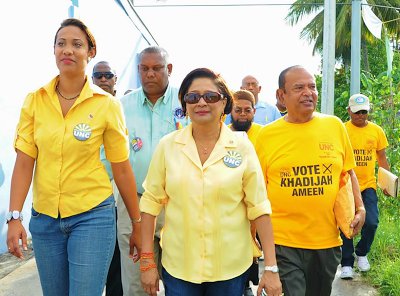 And God forbid if Transparency ever crossed their paths.
That brings us to the Integrity Commission.
There is no proof whatsoever that the Prime Minister coerced the nominally independent body to save her from the embarrassment wrought by deputy DPP Joan Honore-Paul's rebuke.
Or that the Integrity Commission's statement was released in a timely fashion so as to overshadow Friday's "Private Members Day"—the last before Parliament is dissolved—in which the Opposition plans to debate the Petrotrin scandal.
Or that the IC's decision to point out the potential perils for an internal whistleblower in a letter to the Prime Minister's lawyer, Israel Khan, might have actually been a warning to Lalchan—"any member who discloses or attempts to disclose to any person other than a person to whom he is authorised under the Act, any information or evidence received by the Commission under this Part, shall be guilty of an offence and liable on summary conviction to a fine of $250,000 and to imprisonment for five years."

That's right. An Integrity Commission whistleblower will be fined a quarter of a million dollars and jailed for five years. Whereas Lawrence Duprey only had to pay a $2,000 fine for failing to show at a CLICO enquiry to answer for his behaviour, which nearly took down the country's economy and threatened to rob thousands of citizens of their life savings.
This is not just the land of the steel band and hummingbird. It also the land of the smart man and cunning girl.
So, no, there is no proof of wrongdoing here. Yet.
But there is that nagging feeling in your gut. Like when someone mentions that Sacha Singh was at your husband's company retreat, Darren Millien texts with an idea for your money or you spot DJ Lurbz pulling out of your driveway.
If it waddles, quacks and is fond of ponds. Chances are you have just been ducked!