The People's Partnership insisted, during the last general election campaign, that they would stop foreign "smart men" from plundering the treasury and, arguably, got off to a good start by elevating home-grown smart man Jack Warner to a series of senior Cabinet positions.
But the State might have slipped back into bad, old habits after news that SNC-Lavalin, the Canadian company that won a $2.2 million contract to design the Penal hospital, is being investigated in Algeria for corruption. The engineering and construction company was also supposedly barred by the relevant Canadian state agency for unethical conduct in Bangladesh and Cambodia. It appears that bribing ministers is part of the order of business at SNC-Lavalin.
Housing and Urban Development Minister Roodal Moonilal knows just who he wants to investigate SNC-Lavalin's contract with his ministry; and it is not the Integrity Commission.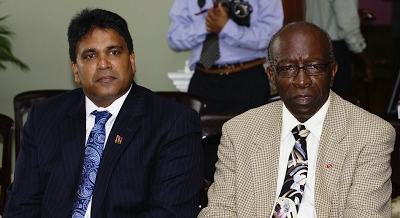 "We have asked the Canadian government to review their choice of SL to undertake works at the Penal Hospital," Moonilal told the Trinidad Express. "They are completing their due diligence and will be in touch with us in two weeks."
The Canada government, it would seem, is actually a project management company that usurps UDECoTT. Or perhaps it is a front for a financial crime unit with local legislative powers,
Mr Live would like to make a suggestion to whichever Canadian "government official" received Moonilal's request: Hire CONCACAF crackshot Sir David Simmons!