Queen's Park Cricket Club (QPCC) jumped to the top of the Trinidad and Tobago Super League (TTSL) standings yesterday evening, after whipping San Fernando Giants 4-2 in an all-action affair at St Clair.
Just over a week ago, QPCC's young charges were robbed of glory at the national youth level, after falling prey to Trendsetter Hawks in the Under-12 and Under-16 divisions of the Republic Bank National Youth League (RBNYL).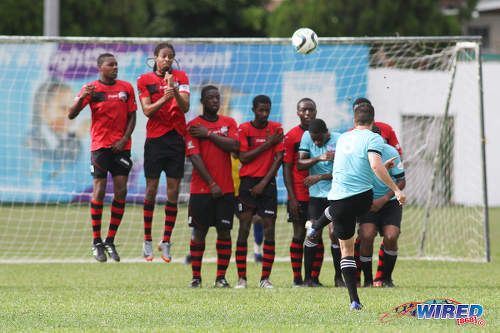 But, at the St Mary's College Grounds in St Clair yesterday, the "Parkites" stood tall and even Giants had to bow in their presence.
The San Fernando outfit, who started the match with only four points after five round of matches, had a mountain to climb against their undefeated opponents.
The Giants had veteran midfielder Andrei Pacheco within their ranks, but QPCC were not shy of individual talent with the likes of Keston George, Elton John, Yohance Marshall, Sean De Silva and Kevon Villaroel on their own team sheet. With the exception of George, all of the above-mentioned quintet have been capped by Trinidad and Tobago at senior level, while all five have tasted Pro League success before.

After just three minutes, the Giants were behind, as George slotted home from close quarters after meeting a right side cross from Kern Gardiner.
"Come on let's finish them off early!" shouted a QPCC sub, as they celebrated George's facile opener.
QPCC started like a house on fire in truth, while their southern counterparts appeared to be sleeping giants. And with better luck—or better finishing—the contest could have been put to bed in the first quarter of an hour.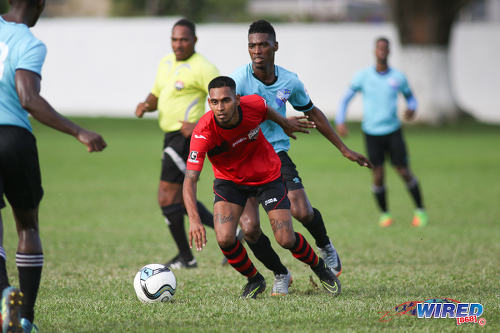 De Silva, the QPCC captain, was a constant threat in the early going and it took the brilliance of Giants custodian Jabari Gray to turn away his curling free kick in the sixth minute. While, five minutes later, De Silva's trickling effort kissed the post after rounding Gray at the end of a swift counter.
However, in a first half where defenders seemed to have taken a Sabbath, the Giants were gifted a lifeline against the run of play.
With only 13 minutes on the clock, the visitors won a penalty as QPCC goalkeeper Nicholas Dick sped off his line and clattered into attacker Tristan Khan. Dick was soon thanking his lucky stars though, as Giants striker Jeremy Primus blasted the ensuing spot kick well over the crossbar.
QPCC did not seem to learn from that error though. Just seconds after Primus' woeful miss, Khan was once again played in behind the opposing defence—with Giants' burly playmaker Sean Leoung Tat creating the opportunity—and, this time, the nippy attacker eluded Dick to tuck into the gaping net.
QPCC coach Shawn Cooper, never one to mince words, was not amused.
"We played good football in parts but we allowed very soft goals," Cooper told Wired868. "I think it's something to be much concerned about. We have been doing our defensive work but somehow some soft ones are leaking in with the lack of concentration."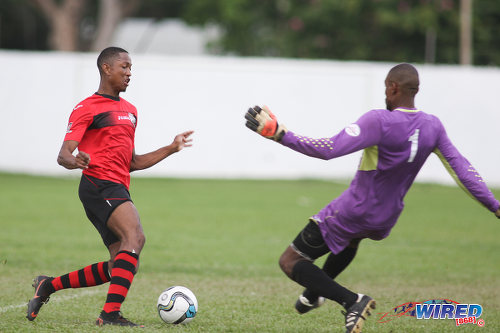 Talk about a hard task master. Before yesterday's game, QPCC had only let in four goals in their first five matches—two of which came in an enthralling 2-2 draw with Matura Re-United on the opening day of the season.
Despite the shortcomings that Cooper identified at the back, QPCC were very much on the front foot and should have regained their advantage in the 18th minute but for a woeful finish by striker Glen Walker after a cut back by George.
Walker would get a second chance though, after Villaroel dispossessed Giants flanker Ken Bhola to create a carbon copy of the previous opening. And on this occasion, Walker gleefully tapped the offering into the empty net.
Walker, a former standout performer for WASA FC, is one of QPCC's newest additions and Cooper reckons that the target man will soon find his feet after what the coach deemed a shaky start yesterday.
Just a few seasons ago, QPCC were slugging it out in the Championship Division of the TTSL. Now, boosted by the pre-season additions, Cooper wants his team to push for TTSL glory.
"We intend to win the League. We have a good bunch of players and they are training very hard and they are focused on winning the League," Cooper said. "[We have] definitely seen a difference since these veteran players have joined the squad. The whole focus and enthusiasm of the squad has risen and these guys are lending their experience.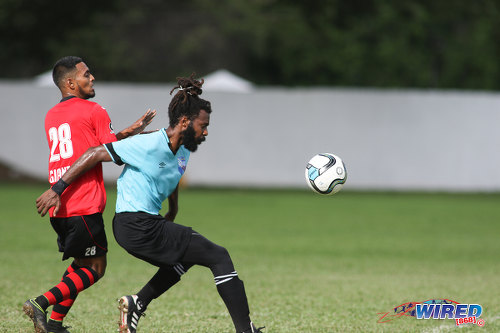 "[People] are saying that we got Pro League players but all the other teams have gotten Pro League players as well […] We have more household names on our team but, at the end of the day, football is played on the field and not [with] names."
Cooper's new veteran core certainly left their imprints on the game yesterday, with De Silva and George at the heart of QPCC's attacking thrust while Villaroel working tirelessly on both sides of the ball on the left flank.
There was no surprise then, when in the 34th minute, John tapped in from close range after a short game of keep ball with De Silva in the penalty area.
QPCC were moving the ball smartly but the Giants were architects of their own downfall for the most part.
In the 38th minute, for example, De Silva headed over bar from point blank range, after Giants defender Arvid Applewhite inexplicably conceded possession to George in his own penalty area while trying to prevent a corner.
And if that wasn't enough of an invitation, Applewhite's teammate, Jonathan Philip, gave away the ball cheaply from a free kick in his own half in the 78th minute, which allowed De Silva to counter quickly and calmly tuck past Gray.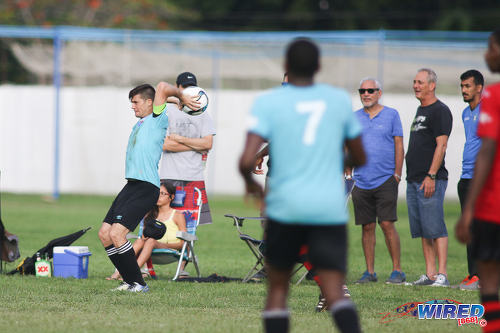 Surely that's not what coach Nicholas Gopaul rehearsed during the week. And although the Giants gave a better defensive showing in the second half, Gopaul was unimpressed with the schoolboy errors before the interval, which ultimately cost them the contest.
"Well we normally don't like to play that kind of football but for whatever reason the guys moved away from the plan we are accustomed to and you saw what happened in the first half," Gopaul said. "In the second half we changed formation and were much more organised."
In the second period, Gopaul called on the expertise of Pacheco, and the veteran did not disappoint. Dead ball specialists are few and far between in local football, but Pacheco's name should certainly be in that conversation once it arises.
In the 84th minute, he arrowed a beauty of a free kick past the wall and into the bottom corner from some 25 yards out. It was only a consolation item in the end, but it was some consolation.
The Giants are yet to win a match in TTSL action this season. But, if Pacheco continues to serve up gems like those, then he and his teammates should be standing ten feet tall very soon.
(Teams)
QPCC (4-2-3-1): 1.Nicholas Dick (GK); 16.Mylz Barrington, 5.Yohance Marshall, 19.Leslie Joel Russell, 24. Kevon Villaroel; 12.Kashif Clarke (20.Shomari Antoine 79), 6.Elton John; 18.Kern Gardiner (23.Juaval Roberts 83), 7.Keston George, 8.Sean De Silva (captain); 26.Glen Walker (27.Kevaughn John 65).
Unused Substitutes: 34.Kevin Graham (GK), 3.J'ovan Marshall, 29.Andrew Smith.
Coach: Shawn Cooper
San F'do Giants (4-3-3): 1.Jabari Gray (GK); 13.Keston Grant, 17.Karim Gibson, 14.Jonathan Philip, 12.Arvid Applewhite (29.Andrei Pacheco 58); 28.Jamal Du Barry, 27.Odell Fitzallen (captain), 10.Sean Leoung Tat (25.Kor's Mitchell 90); 31.Ken Bhola (20.Kowyn Samuel 78), 8.Jeremy Primus, 33.Tristan Khan.
Unused Substitutes: 24.Miguel Payne (GK), 7.Joel Jeremiah, 15.Jabari Francis, 22.Akiel Philip.
Coach: Nicholas Gopaul
Referee: Kern De Souza
Wired868 Man-of-the-Match: Keston George (QPCC)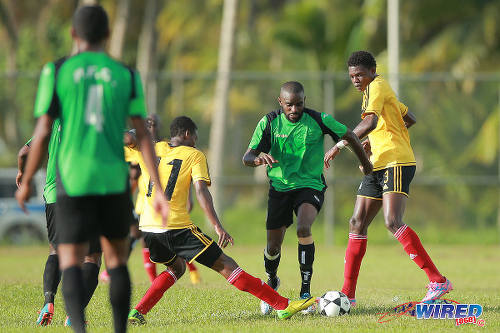 TTSL Match Day 6 Results
(Thursday 12 July)
RSSR FC 1 (Kerron Cordner 58), Cunupia FC 3 (Kevon Woodley 22, 26, 48) at St Mary's College Grounds;
(Saturday 14 July)
Club Sando FC 1 (Christon Freitas 77), FC Santa Rosa 3 (Kevon Cornwall 4, Noel Williams 11, Kishun Seecharan 85) at Dibe Rec Grd, Long Circular;
Prisons FC 2 (Nathan Julien 10, Ricardo Alleyne 58), Matura Re-United 1 (Brendon Figuera 90+1) at YTC;
Guaya United 3 (Akiel Paul 22, Garvin Samaroo 52, Carlon Hughes 78), Bethel United 0 at Guaya Rec Grd;
Metal X Erin FC 1 (Keyon Alexander 10), Police FC 2 (Jason Boodram 35, 39) at Erin Rec Grd;
UTT 2 (Kevaughn Connell 52, Cyrano Glen 78), Petit Valley/Diego Martin United 2 (Anthony Joseph 2, Calvi Grazette 81) at UTT, O'Meara;
QPCC 4 (Keston George 3, Glen Walker 30, Elton John 34, Sean De Silva 79), San F'do Giants 2 (Tristan Khan 14, Andrei Pacheco 84) at St Mary's College Grounds.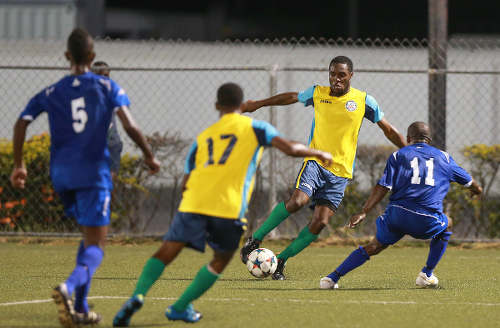 Upcoming TTSL  Fixtures
(Wednesday 18 July)
RSSR FC vs FC Santa Rosa, 5.30pm, St Mary's College Grounds;
(Saturday 21 July)
Club Sando FC vs San F'do Giants, 6pm, Dibe Rec Grd, Long Circular;
Matura Re-United vs FC Santa Rosa, time and venue to be confirmed;
UTT vs Prisons FC, 7pm, UTT, O'Meara;
Petit Valley/Diego Martin United vs Metal X Erin FC, 4pm, St Anthony's College;
(Sunday 22 July)
Guaya United vs Police FC, 4pm, Guaya Rec Grd;
RSSR FC vs Bethel United, time and venue to be confirmed;
QPCC vs Cunupia FC, 4pm, St Mary's College Grounds.