San Juan Jabloteh coach Keith Jeffrey promised to help the "San Juan Kings" to restore their past glory and a place in last night's Caribbean Club Championship final could only be seen as a step in the right direction. However, it was Dominican Republic club Cibao FC that broke new ground at the Hasely Crawford Stadium in Port of Spain.
A first half header by midfield hard-man Richard Dabas decided a tense, niggling final which saw a club from outside of Trinidad and Tobago, Jamaica and Puerto Rico lift the region's highest club prize for the first time.
Not bad for a team that is exactly 21 months old!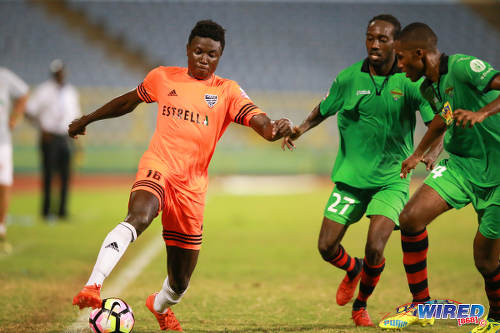 Cibao means 'rocky land', which is meant to reflect their home in northern Dominican Republic rather than their time as a professional club so far.
In August 2015, Cibao signed former Barcelona academy director Albert Benaiges on wages reputed to be US$20,000 a month—a steal for a coach with his CV but, all the same, Benaiges' salary would cover the entire monthly expenditure for most Pro League clubs.

Cibao will now by the Caribbean's sole representative in the CONCACAF Champions League while Jabloteh, Central FC and Jamaica's Portmore United are bound to the second tier, CONCACAF League competition.
Time will tell where Cibao's ambition takes them thereafter. They would not have to look far to see the potential pitfalls of rapid growth though.
Central FC were founded in 2012 with former Chelsea coach Graham Rix as technical director. Three years later, under then coach Terry Fenwick, they were Caribbean and Pro League champions and retained their crowns ever since—until this competition.
Eliminated by Cibao in the group stage, Central lost 5-3 on penalties to Portmore in the third place play off yesterday after a 2-2 draw. More importantly, the "Couva Sharks" are haemorrhaging talent and facing a growing mountain of debts.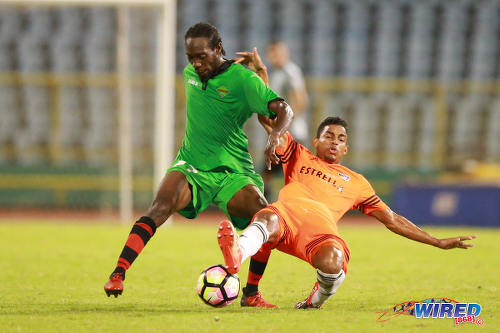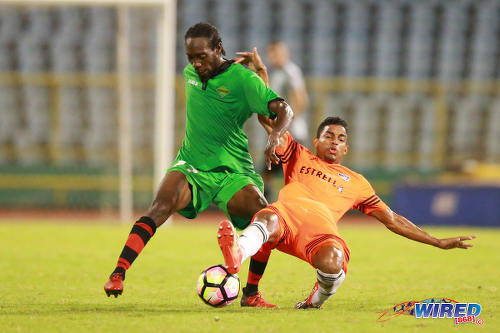 The whispers within local football are not whether Central will successfully defend their league crown. It is if they will survive at all.
Cibao, heavily reliant on foreign stars—there were six in their starting team yesterday—and overseas coaching acumen, will surely be vulnerable if their financial support dries up. But, for now, they are riding the crest of a wave and were a breath of fresh air for the small band of local supporters who turned up to watch the regional tournament.
Haiti playmaker Charles Hérold Jr, who was good enough to merit a man marker when the French-speaking islanders defeated the Soca Warriors in Couva this January, was adjudged the competition's MVP.
But remember the name Patrick Soko. He is a 19-year-old winger from Cameroon, who is fast, strong, skilful, aggressive and surely too good to be still playing in these parts in a year or two.
It was Soko's strike that eliminated Central and took Cibao to the final. And, although he did not decide yesterday's showcase even, he served notice that his early displays were no fluke.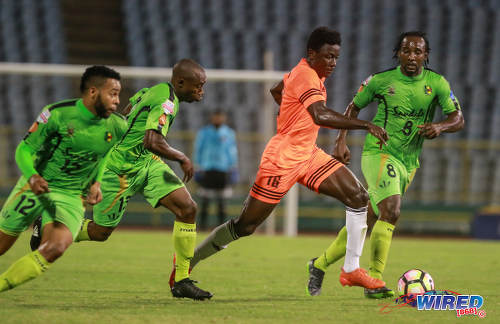 Jabloteh have a talented winger themselves. Twenty-six year old Maloney resident Nathan Lewis has been the heartbeat of the Bourg Mulatresse boys ever since he was released by Caledonia, three years ago.
And who knows how things might have worked out yesterday if Lewis did better with a free header, just 23 seconds into the match, after a Jairo Lombardo cross. But Lewis' tame, misdirected header was typical of the aerial inadequacies that abound in the Pro League at present.
Lewis' first run at Soko did not end well either. The Cameroon player brushed Lewis off the ball and then dribbled past him for good measure.
Nothing if not persistent, Lewis found his fish eventually; and it was Cibao right back and Dominican Republic native Ernesto Trinidad. He turned Trinidad inside out in the 18th minute and sped into the opposing area before splicing his cross under pressure from Dabas.
But, two minutes later, Soko topped the Soca Warriors international again as he shrugged off his full back Kion Joseph, swerved past Lewis, flicked the ball around defender Adrian Reid and crossed for Hérold, who was blocked in the area by Jabloteh defender Akeem "Battery" Benjamin.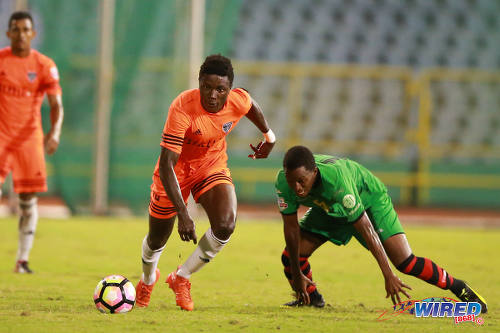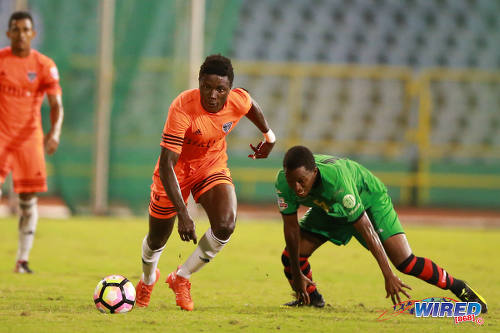 Some game this was turning out to be.
Lewis faced Trinidad again in the 22nd minute and, this time, the defender caught him with a stab at his ankle that left the attacker writhing in pain and in need of medical treatment.
When Lewis returned to the field, he switched flanks and, with Jabloteh temporarily subdued, Cibao began to dictate proceedings.
The breakthrough came after a period of sustained pressure with Jabloteh unable to clear their lines from a stream of viciously swerving corner kicks by Hérold. Dabas capitalised from that spell in the 31st minute with a header in the roof of the opposing net.
Jabloteh regained their impetus after the interval and only the raised flag of the referee's assistant denied Keithy Simpson an equaliser in the 48th minute, following an exchange by Elijah Manners and Lewis.
Lombardo, a Panamanian import, provoked a fine low save from Cibao's Argentine goalkeeper Juan Pablo Dominguez in the 54th minute too.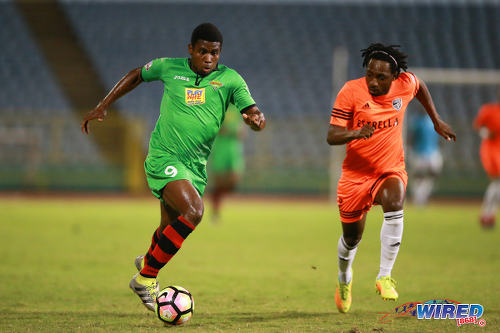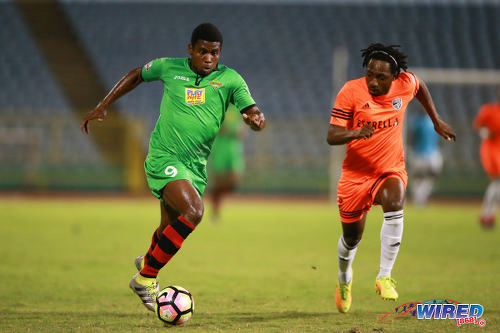 The Dominican Republic team were on their heels by then, suddenly struck by a crisis of confidence. And Jabloteh, led on by a spirited show from captain Damian Williams, controlled the ball. But the host team lacked the firepower to pull themselves back level.
Cibao were deploying two—and sometimes three—defenders to keep Lewis at bay while they fouled Jabloteh players at every opportunity, safe in the knowledge that the Trinidad club could not match their aerial ability from set pieces.
Jeffrey turned first to 31 year old utility player Kennedy Hinkson in the 78th minute, which excited the Jabloteh supporters but had a negligible effect on the game. Kadeem Corbin was next but won one free kick and did little else in his 13 minutes on the field.
Jeffrey sent on defender Josiah Trimmingham on as an auxiliary forward in the 86th minute. But it is unlikely that the former national youth player even touched the ball.
Cibao, who had five defenders and three defensive midfielders on by then, looked as though they could defend their lead for another 30 minutes if they needed to.
And, at the final whistle, the Dominican Republic club celebrated their deserved accomplishment.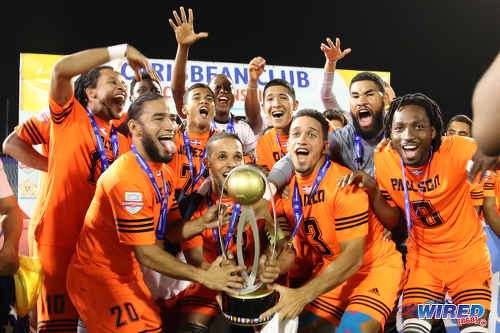 It was another humbling for Trinidad and Tobago football in general and the Pro League in particular. And, if the concerns about Central's financial vulnerability are not exaggerated, local football fans—a small and steadily diminishing number—can be in for a difficult season.
If ever the Pro League could do with a return to form from stalwarts like W Connection, Defence Force and Morvant Caledonia and a dose of devilish entertainment from Fenwick and his North East Stars outfit, it is now.
(Teams)
Cibao FC (4-2-3-1): 12.Juan Pablo Dominguez (GK); 22.Ernesto Trinidad, 3.Cesar "Danco" Garcia, 5.Jose Tafarel, 8.Paulson Pierre; 13.Rafael Flores (captain), 4.Richard Dabas; 16.Patrick Soko, 10.Charles Hérold Jr (15.Rhonard Garcia 84), 7.Woodensky "Babalito" Cherenfant; 11.Domingo Peralta (20.Edward Acevedo 88).
Unused substitutes: 1.Luis Alexander Rodriguez (GK), 6.Oscar Florencio, 17.Alexander Vidal, 18.Gerard Lavergne, 21.Jose Jaquez Jr, 23.Diego Ceara.
Coach: Albert Benaiges
San Juan Jabloteh (4-2-3-1): 1.Javon Sample (GK); 18.Jevon Morris, 24.Adrian Reid, 6.Akeem Benjamin, 12.Kion Joseph (3.Josiah Trimmingham 86); 7.Elijah Manners (10.Kadeem Corbin 81), 11.Damian Williams (captain); 16.Jairo Lombardo (23.Kennedy Hinkson 76), 9.Keithy Simpson, 27.Nathan Lewis; 17.Vurlon Mills.
Unused substitutes: 30.Shemel Louison (GK), 5.Shakiyl Phillip, 8.Micah Lansiquot, 13.Julio Noel,
Coach: Keith Jeffrey
Referee: Mario Escobar (Guatemala)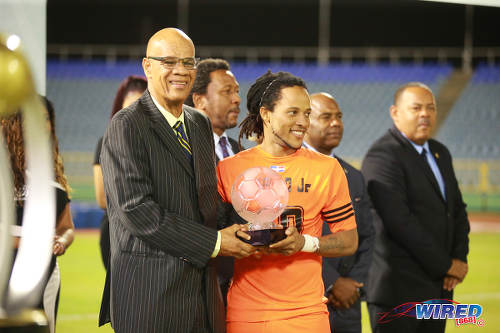 Caribbean Club Championship final
(Sunday 21 May)
San Juan Jabloteh 0, Cibao FC 1 (Richard Dabas 31) at Hasely Crawford Stadium.
Third Place Play Off
Central FC 2 (Jason Marcano 4, Keston George 90), Portmore United 2 (Maalique Foster 50, Cleon Pryce 75) at Hasely Crawford Stadium;
*—Portmore won 5-3 on penalties, after a miss by Central's Sean De Silva.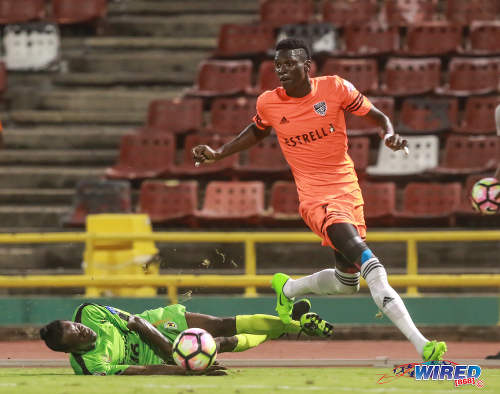 CFU Honour Roll
MVP: Charles Hérold Jr (Cibao FC)
Most goals: Woodensky "Babalito" Cherenfant (Cibao FC)—7 goals
Best goalkeeper: Juan Pablo Dominguez (Cibao FC)
Fair play award: Cibao FC