Teenager Teejay Cadiz gave Bethel United a fighting chance to avoid relegation yesterday evening, as the 18 year old winger scored a hattrick in a 3-3 draw with La Horquetta Sporting Academy at the Larry Gomes Stadium in Malabar.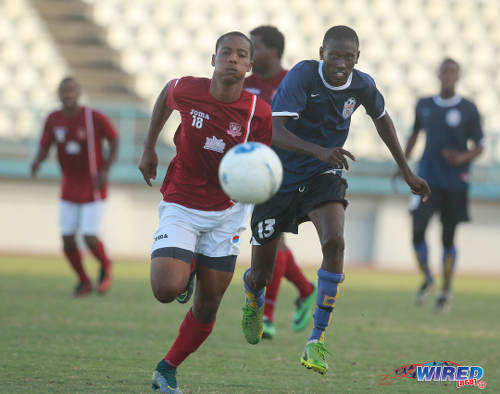 Thrice, La Horquetta led their visitors but could not shake them off in a crucial clash near the foot of the CNG National Super League (NSL) Premiership Division table.
And a surprise 2-1 win by Real Maracas FC over WASA FC meant that La Horquetta are in danger of joining Stokely Vale FC through the trap door and into the Championship Division below.
Stokely Vale hosted defending champions Guaya United yesterday and gave a hell of a fight before succumbing 5-3.
Guaya trail leaders Defence Force FC by a solitary point now and, interestingly, the Army/Coast Guard combination play Stokely Vale next.
Guaya must win and hope that "Army" draw or lose. Any other result for either team and Defence Force will be crowned the 2015/16 Premiership champions.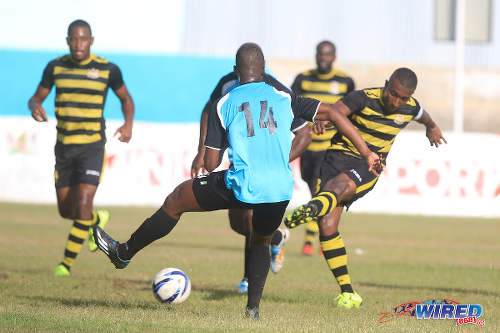 There is a royal battle taking place for the right to stay in the division too, although some teams have a more united and positive approach than others.
Real Maracas hired ex-Trinidad and Tobago national youth team coach and former Pro League Coach of the Year, Michael McComie, to help preserve their status in the country's top amateur competition.
Bethel United convinced former Trinidad and Tobago National Senior Team defender, Makan Hislop, to play through the pain of an achilles tendon injury to rescue the Tobago club while they travelled to Trinidad with 14 players and at least five officials for a 3.30 pm kick off yesterday.
And La Horquetta SA?
The club is based less than 10 minutes drive from the stadium. Yet, they showed up with only 12 players and no head coach.
Jude John, who is listed as La Horquetta's technical director and coach, has not been seen on the sidelines yet this year. Last month, manager Errol Jointe explained that John was unwell.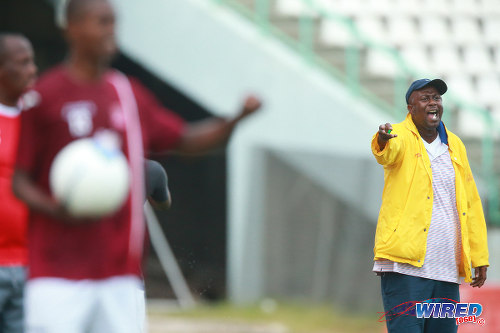 Wired868 enquired about John's health yesterday evening, as assistant technical director Aaron Greene ran the bench.
Jointe: Jude? No, he's not still sick. He's gone.
Wired868: Did he leave the club?
Jointe: Nah nah. He didn't leave the club. He's just…
Wired868: Taking a break?
Jointe: Well… Say he's still sick.
To be fair to La Horquetta, it cannot be easy to get amateur players together for a 3.30 pm kick off when their work commitments might not be flexible.
But consider how much more difficult the scenario is for players from the "Sister Isle", who must travel to Trinidad for almost every other match day.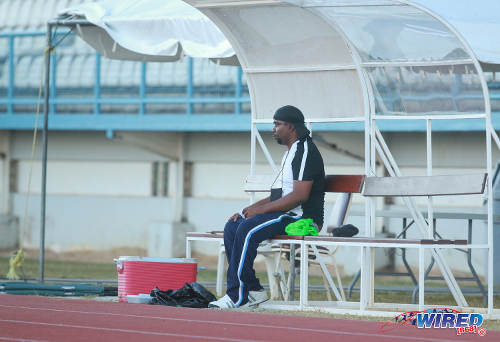 "We are totally amateur," said Bethel assistant coach Terry Johnson. "We have no stipend to give the players… So it is down to availability (on match day)."
Johnson has an ambitious proposal for the Trinidad and Tobago Football Association (TTFA), which is responsible for running the zonal leagues as well as the NSL competitions that are farmed out to All Sport Promotion.
The Bethel coach believes that the 15-team Premiership and 10-team Championship competitions have gutted the zonal leagues of clubs, playing talent and resources. But there is also financial strain for the NSL's amateur clubs, who are forced to regularly play outside of their zones.
Johnson suggested that the Premiership and Championship divisions should become the equivalent of Europe's Champions League and Europa tournaments respectively with clubs remaining in their zones while competing in an abbreviated form of the higher tier tournament.
"You will play in your zone and then (in between) you play in the Super League," said Johnson. "With the recession and the lack of funds, there will be less games and less pressure on the clubs… I think it will be a restructure that will benefit Trinidad and Tobago's football."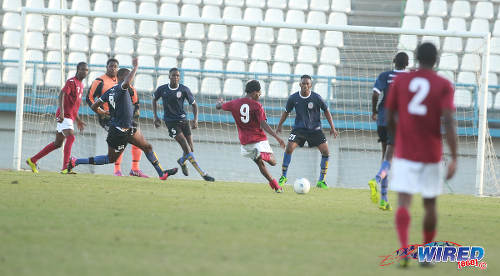 At the Larry Gomes Stadium, Bethel had a more straightforward problem: survival.
As disorganised as the La Horquetta club was—striker Wesley "Sniper" Elcock had to wear the number 23 shirt since his his number 12 was supposedly lost at the laundry—they were always the more likely team to get the three points at stake, once referee Marlon Peruse blew his whistle.
Bethel had a superior goal difference by five goals. So La Horquetta needed the win more than their Tobagonian counterparts.
By halftime, the score summary stood at 2-2 with strikes by Omeaku Barbour and Keston Jones cancelled out by two fine predatory finishes by Cadiz.
"Listen carefully, you have past tense, present tense and future tense," Johnson told his players, as they bickered over first half errors. "That is past tense. Come fellahs, we are starting from scratch again…"
Bethel almost went ahead for the first time in the 58th minute, as striker Carron Williams rounded opposing goalkeeper Kerron Jones but hit into the side netting from a sharp angle.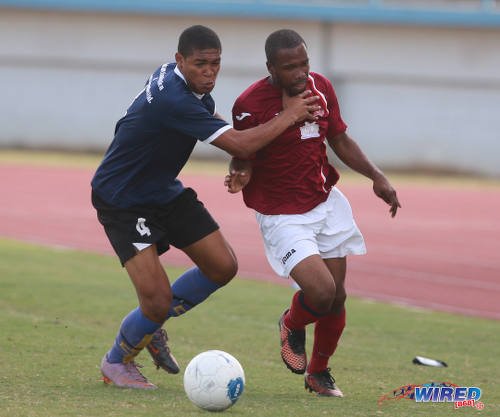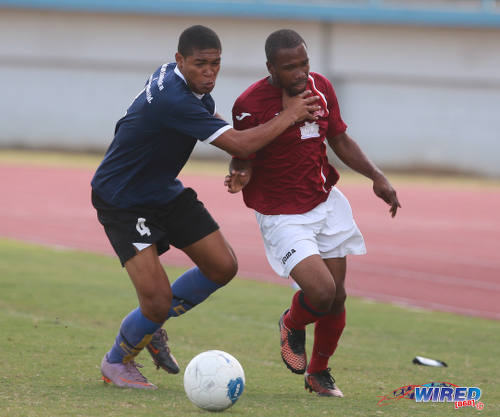 It would have been a controversial goal as La Horquetta midfielder Dion Jones went down after a sickening clash of heads in centre field, only for Peruse to wave play on and allow Bethel's counter-attack.
Jones, built like a truck, was groggy but able to continue. One can only hope that he checks into a clinic afterwards to ensure his own safety.
The La Horquetta technical staff did not even have an ice pack, much less a physiotherapist.
But maybe raw talent would see them through.
In the 69th minute, La Horquetta utility player Taje Commissiong collected a pass from teammate Andre Rampersad and decided to shoot at goal from 40 yards. The result was a stunning strike that flew past the burly Kenneil Roberts and in off the far post.
It was the sort of goal that lands a psychological blow as well.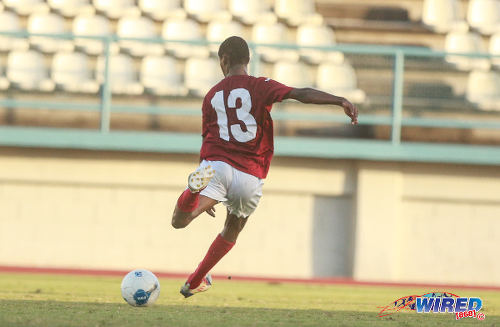 Jones and midfielder Kern Roberts should have extended La Horquetta's lead while their guests were temporarily dazed but blew excellent opportunities. And, 13 minutes from time, the alert Cadiz again found an answer for Bethel with a half volley that fizzed past Jones, following a deep cross into the opposing area.
Commissiong threatened again with a free kick, which brought a vital save from the Bethel custodian, while "Sniper" missed a sitter, despite being unmarked at the far post after a flowing move.
"Sniper boi!" moaned the crowd.
Bethel held on for the point. And there was even a rare moment of imagination, as Hislop drew "ooohs" from the crowd by using a rabona kick—when your kicking foot is swung behind the standing leg to hit the ball—to make a clearance that soared for more than half the length of the field.
Hislop, who has 34 caps for the Trinidad and Tobago Senior National Team, is not the sort of player you expect to run into at a second tier relegation battle.
The 30 year old central defender, who also represented Trinidad and Tobago in beach soccer, now works as a civil servant in Tobago thanks to a sport scholarship and degree from the University of South Carolina.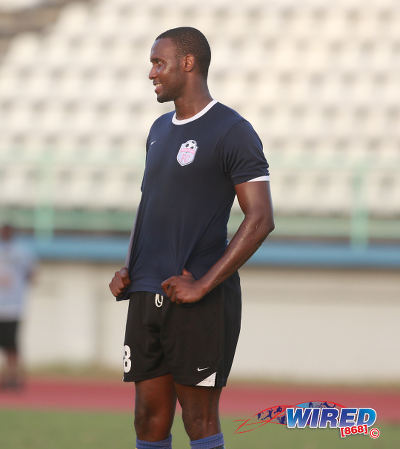 Hislop would love to return to the Pro League but explained that it has to be financially feasible. When he joined United Petrotrin, almost a decade ago, the six foot four defender got a starting salary of TT$6,5000 per month plus housing, which was subsequently increased by his employers.
However, the financial problems that plagued the domestic game since, saw teams like Petrotrin withdraw from the top flight while salaries plummeted across the board.
"For me as a Tobagonian to play in Trinidad, I need to make enough money to pay a rent and still survive," Hislop told Wired868. "A lot of teams started to pay less and less and less and that made it unfeasible for me to stay in Trinidad… Imagine there are players in the Pro League who are making $2,500 a month and from that have to get groceries and do other things.
"I would love to play in the Pro League again. But it would need to be a situation where I am not living hand to mouth, month to month, which a number of players, unfortunately, are doing in the Pro League right now."
For now, Bethel's main goal is simply saving their place in the NSL Premiership Division.
Bethel host Matura ReUnited from 4 pm on Sunday at their Montgomery Recreation Ground while Maracas host FC Santa Rosa and La Horquetta meet Guaya at the same Malabar venue.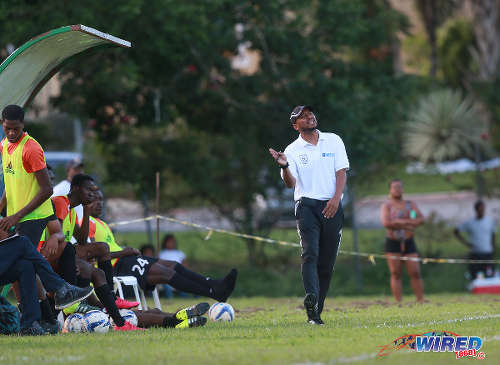 Bethel, Maracas and La Horquetta all have 24 points with goal differentials of minus 19, 20 and 25 goals respectively.
If they all get identical results on Sunday, La Horquetta will be relegated alongside Stokely Vale. Otherwise, there are a wide range of possibilities for either of the three clubs according to goals scored or conceded.
At the top of the standings, it is more simple. If Defence Force win, they will be crowned champions. Anything else and Guaya might produce a memorable finish to the competition.
(Teams)
Bethel United (4-2-3-1): 23.Kenneil Roberts (GK); 4.Daniel Craig, 18.Makan Hislop, 5.Shaquille Gardiner, 21.Christopher Hackett; 20.Anton Simon (27.Ackel Carrington 82), 9.Nkosi Chance (10.Azimodeen Leith 80); 8.Densyl James, 6.Jerome Toby, 13.Teejay Cadiz; 19.Carron Williams (31.Kareem Robley 88).
Coach: Urinton Samuel
La Horquetta SA (4-2-3-1): 50.Kerron Jones (GK); 18.Kerron St Cyr (2.Kadeem Sampson 56), 19.Ricardo Cornwall, 3.Dion Thomas, 4.Kevin Mulzac; 13.Taje Commissiong, 15.Kern Roberts; 11.Omeaku Barbour, 9.Keston Jones, 29.Andre Rampersad; 23.Wesley Elcock.
Coach: Aaron Greene
Referee: Marlon Peruse
Man of the match: Teejay Cadiz (Bethel United)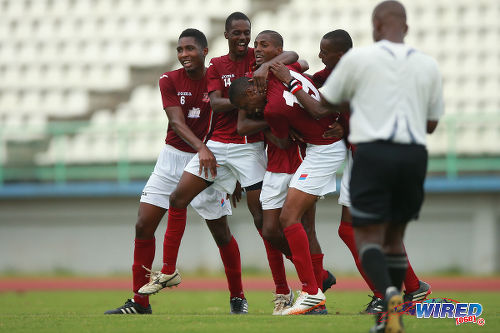 CNG NSL Premiership Division results
(Thursday February 18)
La Horquetta SA 3 (Omeaku Barbour 3, Keston Jones 31, Taje Commissiong 69), Bethel United 3 (Teejay Cadiz 17, 39, 77) at Larry Gomes Stadium;
Stokely Vale FC 3 (Jermaine Walters 11, 33, Brian Hinds 48), Guaya United 5 (Ryan Stewart 7, 64, Carlon Hughes 25, 45, Leroy Jones 90) at Plymouth Recreation Ground;
WASA FC 1 (Michael-Lee Celestine 80), Real Maracas FC 2 (Christian Thomas 8, Dillon Bartholomew 23) at WASA, St Joseph.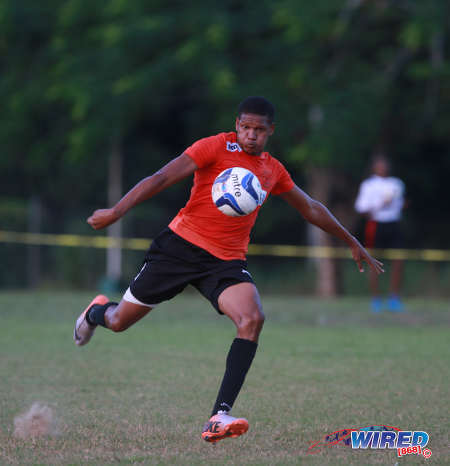 Upcoming Premiership fixtures
(Sunday February 21)
Police FC v Petrotrin Palo Seco, 4 pm, Palo Seco Velodrome;
WASA FC v Tobago FC Phoenix 1976, 4 pm, WASA, St Joseph;
Real Maracas FC v FC Santa Rosa, 4 pm, Maracas Recreation Ground;
Siparia Spurs v Club Sando Moruga, 4 pm, Petrotrin Ground, Fyzabad;
La Horquetta SA v Guaya United, 4 pm, Larry Gomes Stadium;
Bethel United v Matura ReUnited, 4 pm, Montgomery Recreation Ground;
Defence Force FC v Stokely Vale FC, 4 pm, Marvin Lee Stadium;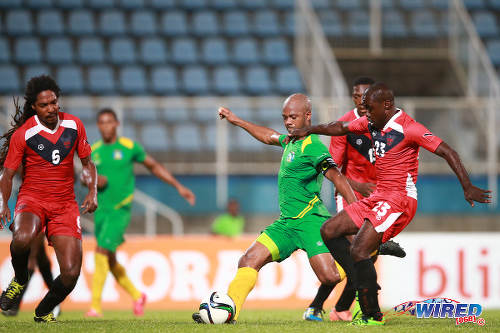 NSL Premiership Division Standings  
(Tabulated as Played-Won-Draw-Lost-Goals For-Goals Against-Points)
Defence Force           27-20-3-4-68-31-63
Guaya United             27-20-2-5-74-42-62
Tobago FC Phoenix  27-15-5-7-51-34-50
Mature ReUnited      27-13-6-8-47-48-45
Siparia Spurs              27-11-9-7-58-56-42
FC Santa Rosa            27-11-7-9-44-37-40
Marabella FCC           28-10-9-9-58-54-39
Club Sando Moruga  27-11-5-11-47-49-38
WASA FC                       27-11-4-12-39-33-37
Police FC                        27-10-5-12-54-47-35
Petrotrin Palo Seco  27-7-6-14-45-55-27
Real Maracas FC        27-7-3-17-34-53-24
Bethel United              27-7-3-17-34-54-24
La Horquetta SA        27-6-6-15-45-70-24
Stokely Vale FC          27-3-8-16-28-65-17