The London 2012 Olympic Games closed its doors three years with a cultural segue way by a Brazilian delegation, which hinted at the fun and beauty that awaits athletes and sport enthusiasts at the Rio 2016 edition.
But, for the Trinidad and Tobago 4×100 metre relay team, the interlude between London and Rio has been traumatic due to a burning feeling of injustice and neglect over a perceived daylight robbery that occurred in front of millions of viewers.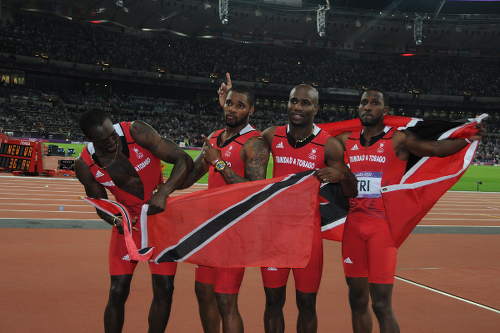 Sprinters Richard "Torpedo" Thompson, Keston Bledman, Emmanuel Callender and Marc Burns have one question for the Trinidad and Tobago Olympic Committee (TTOC), the International Olympic Committee (IOC) and everyone in between.
Where are our silver medals?
On Saturday 11 August 2012, the Trinidad and Tobago team were fourth across the line in the 4×100 metre final behind Jamaica, the United States and Canada respectively. However, officials quickly spotted that Canada's third leg runner, Jared Connaughton, had stepped across the line and his disqualification meant Thompson, Bledman, Callender and Burns were promoted to bronze.

It was another two years before the second shocking twist to the tale of this race. On Saturday 2 May 2014, American sprinter Tyson Gay admitted to using anabolic steroids during a period that included the London 2012 Olympics and handed over his 4×100 metre silver medal.
An IAAF amendment in 2003 means that a relay team will be disqualified if a member fails a doping test. Ironically, this rule change became necessary after another drug scandal involving a US team as disgraced sprinter Marion Jones tested positive but her teammates kept their their 2000 Olympic gold medals after an appeal to the Court of Arbitration for Sport (CAS).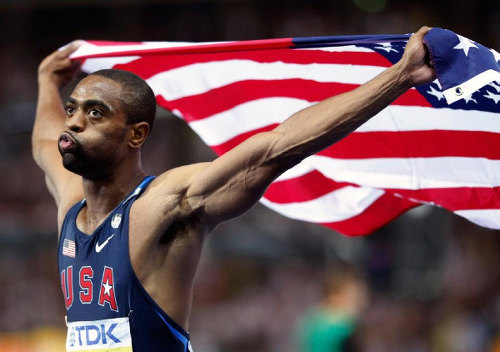 But, a year after Gay was outed, the Trinidad and Tobago quartet is still waiting word on the silver medals that they believe to be their just due.
"I believe we should get our silver medals," said Callender, who also got relay silver at the Beijing 2008 Olympics, "because I ran out there with my natural God-given ability (and) with much hard work to make it to the Olympic finals. The sport has been tainted by performance enhancing drugs and I choose to stay away from it.
"If anyone is caught taking it they should be stripped of their medal immediately after being found guilty."
Thompson, who got two silver medals at the Beijing 2008 Olympics, agreed and suggested that United States 4×100 metre sprinters Justin Gatlin, Ryan Bailey and Trell Kimmons should not need to be told to return their medals.
"The circumstances are obviously not the way we want to win medals," Thompson told Wired868. "We always hope to line up and overcome a fair field. However, we didn't line up against a field that played by the rules.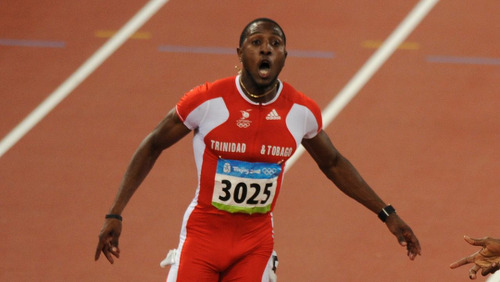 "They competed with someone who gave them an unfair advantage and, as a result, the other members of the US team shouldn't even be asked to return their medal. They should give it up voluntarily and allow us to be upgraded."
Enter the sporting administrators…
Wired868 telephoned the IOC's press office and, at the latter's request, submitted the following questions by email:
"Is a process in motion to determine whether London 2012 Olympic silver medals would be given to Trinidad and Tobago's 4×100 metre relay team? If so, can you inform me: At what stage is this process at? Is there any timeline for its completion?"
Up to the time of publication, the IOC press office had not responded.
The Trinidad and Tobago sprinters believe they did their part on the track and it is time for the local sport administrators to support them off of it.
"I personally have not spoken to (TTOC president) Brian Lewis or (NAAA secretary) Allan Baboolal about the matter," said Thompson. "However, it's part of their responsibility to handle matters of this nature given the posts they hold.
"I've recently seen Mr Lewis openly tweet that he hasn't heard anything from the IOC regarding the matter. But it's been over a year now. So I think it's necessary that we reach out to them about it."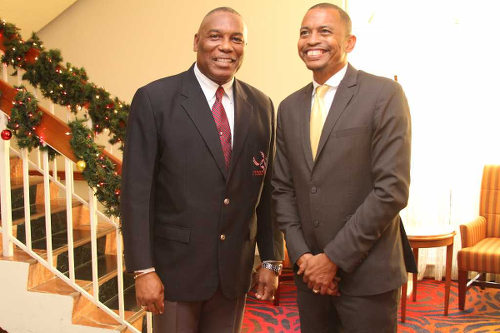 TTOC president Brian Lewis countered that there was simply nothing he can do but wait at this stage. He told Wired868 that he had enquired on behalf of the quartet.
"The responsibility for that matter is squarely in the hands of the International Olympic Committee," said Lewis. "The usual procedure is they will address the issue and make a deliberation. My understanding of the process is that a ruling has been made and even the IAAF has said is it in the hands of the International Olympic Committee…
"It is not unprecedented that these things, for reasons best known to IOC and WADA, go through a very protracted period."
There is the hint—from track observers—that the supposed leniency of Gay's one-year ban suggest that a boardroom deal might have been struck.
Might horse-trading behind closed doors have affected the case of Trinidad and Tobago's 4×100 metre team?
Lewis declined to speculate on the machinations of the relevant sporting bodies on the matter. However, he pointed out that CAS has returned medals to punished athletes in the past, which might have led to increased caution by the IOC.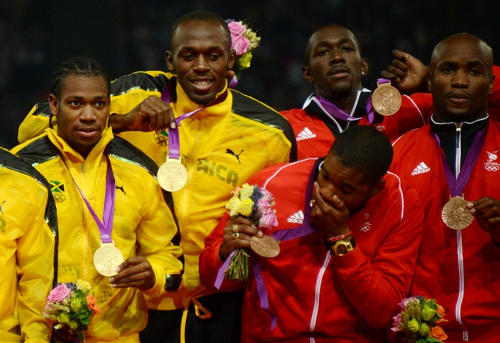 "Being a signatory to the WADA code, we are obliged to respect the code as it deals with confidentiality, public exposure, etc," said Lewis. "It is not a matter in our jurisdiction, so we have to be careful how we go into the realm of speculation.
"From what I have seen in the public space, there seems to be interesting aspects between what has been agreed to between the US Anti-Doping Agency, the IAAF and Tyson Gay. In the absence of that information, I cannot speculate as the president of the TTOC.
"My expectation is the matter is receiving their ongoing consideration."
There is more. Thompson, Burns, Callender and Bledman argue that, since the Trinidad and Tobago Government rewarded them for a third place finish at the Olympics, an improved placing should also mean enhanced recompense from the Government.
"It's visible to the entire country that a precedent has already been set for each colour medal," said Thompson. "We have confidence that the current Government will respect it as such and grant us the monetary upgrade along with the medal when it's finalised."
Callender agreed and pointed out too that the sprint team is yet to receive any returns from the State for second place at the Berlin 2009 World Championships.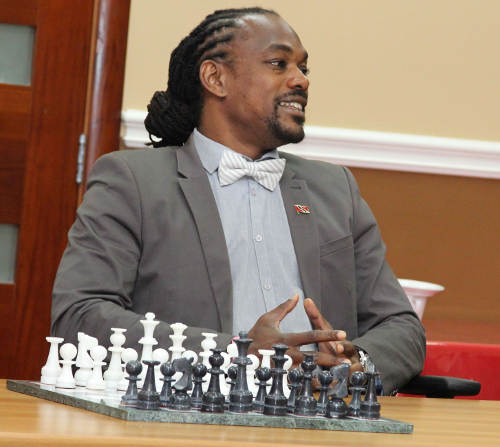 New Sport Minister Brent Sancho, in a recent interview with Wired868, proposed that a committee be set up to look into the needs and reward system for the various sporting disciplines.
However, Sancho was noncommittal as to whether rewards for national athletes should be standardised so as to avoid confusion about what they deserve for feats in red, black and white strip.
"Obviously it is at the Prime Minister's will to deliver what he or she sees as a just reward," Sancho told Wired868. "As much as I would like to standardise it, it will always come down to what they want and the emotions of the country at that point in time. So there is always a challenge to say we can standardise it because circumstances vary…
"Some may argue if another team were to qualify for the (FIFA) World Cup, obviously it would not have the same impact as the 2006 team. So we need to take all those things into consideration and give it some flexibility so that, if the Prime Minister of the day wants to add or decrease, they should be able to do so."
Sancho promised to look into the sprinters' case.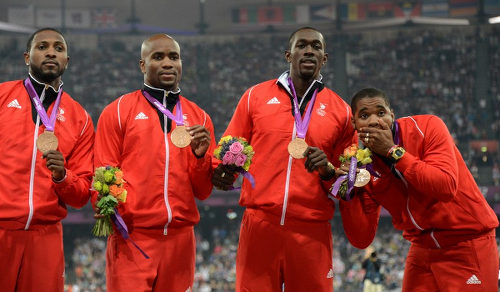 "I am only guided by what has happened and transpired in the past and obviously I will have to talk to the Permanent Secretary and deputy Permanent Secretary on how they see fit (to deal with it)," he said. "Money will always be an issue here… I am dealing with taxpayers' dollars and I cannot spend it frivolously and willy-nilly. But at the same time, I believe rewards should be given to those who deserve to be rewarded."
Lewis is unimpressed by the present inconsistency that athletes endure, though. The TTOC president recently launched his "10 or more Olympic gold medals by 2024" programme, which aims to improve the country's Olympic efforts in terms of preparation, performance and marketing.
He pointed out that the Ministry of Sport has a habit of creating procedures and guidelines only to subsequently ignore them and restart the entire process under successive Ministers. One such initiative, he claimed, was a proposed guideline on rewards that is already 13 years old.
"It takes 10 to 13 years to develop an Olympic athlete," said Lewis. "If we implemented and executed some of those documents, policies and guidelines and monitored and evaluated them, sport would be much further ahead than it is right now…
"We have had programs drawn up after extensive input and consultation by stakeholders through the length and breadth of the country. But, before it is implemented, we hear about someone wanting to reassess and then we are starting over again.
"You are asking a valid question (about having standard rewards for athletes) but that document is in the Ministry somewhere and then you will hear about it being reviewed when it wasn't executed in the first place."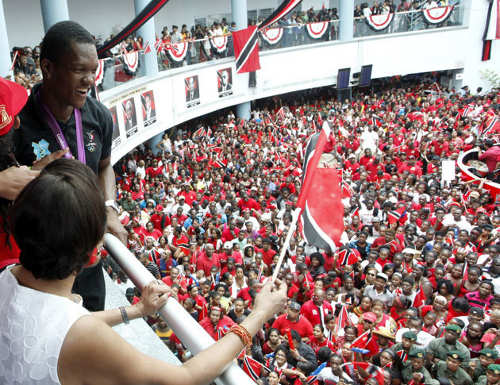 For the first time, the TTOC plans to introduce a medal bonus program for its athletes, which will start at the Toronto 2015 Pan Am Games and carry on into Rio 2016. This incentive is not meant to replace Government rewards but to further complement them.
Either way, Thompson vowed that he and his teammates would not be distracted as they prepare to do battle again in national colours. His hope is they will face a clean field in Brazil.
"I wouldn't say (the outstanding medals and bonuses) play on our minds," said Thompson. "As much as we are aware of it, we cannot let it distract us from achieving what we want to in the future. Our goal is always to be the best that we can be and we can only do that by focusing on ourselves.
"There are anti-doping agencies to find those trying to beat the system. We expect that they will do their job to eliminate issues like what we're dealing with now."
Callender had the final word for drug cheats and those who benefitted from them.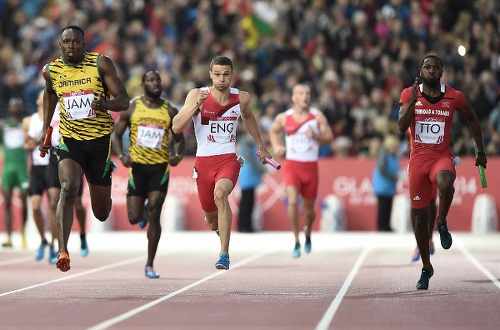 "It takes four individuals to run a relay," said Callender. "If one drops the stick, then all are automatically disqualified due to a violation of the rules. So in this case, I believe Tyson Gay dropped his baton and his national pride.
"We deserve what belongs to us."