One world record throw by 24-year-old Trinidad and Tobago Paralympic athlete, Akeem Stewart, and, hopefully, an equally seismic blow on behalf of the country's differently abled.
Stewart, who is from Tobago, broke his own world record twice yesterday en route to Rio 2016 Paralympic gold in the javelin event. And Trinidad and Tobago Olympic Committee (TTOC) president Brian Lewis expressed hope that Stewart's remarkable accomplishment will start a much needed conversation about his countrymen who live with disabilities.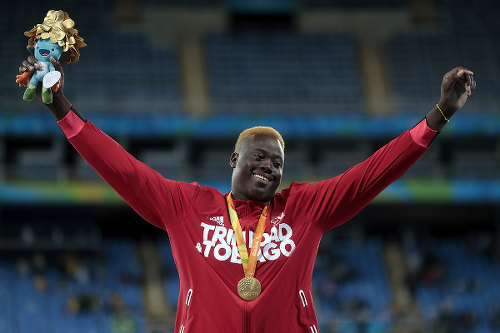 Stewart, who will seek a second gold medal in the Paralympic discuss final on Friday 26 September, competes in the F42-44 category for athletes with lower limbs affected by limb deficiency, leg length difference, impaired muscle power or impaired range of movement.
"It is a tremendous achievement and it is a game changer in terms of the Paralympic committee," Lewis told Wired868, "and it is a platform for a different discussion on how we treat with Paralympic athletes [as well as] a broader discussion in terms of our society and how we treat with the differently abled, whether in terms of facilities and amenities.
"It is an opportunity not only for a conversation about sport but a discussion about equality and inclusiveness in terms of how the society treats with the different ability."
Trinidad and Tobago managed a solitary bronze medal at the Rio 2016 Olympics through javelin star Keshorn Walcott. But, despite sending just three representatives to the Rio 2016 Paralympics, Lewis suggested that the medal potential was always at least as high in the second competition.
Stewart has set world records in the javelin, discuss and shot put events over the past 15 months and became Trinidad and Tobago's first gold medalist at the Parapan American Games in the F44 discuss competition last year.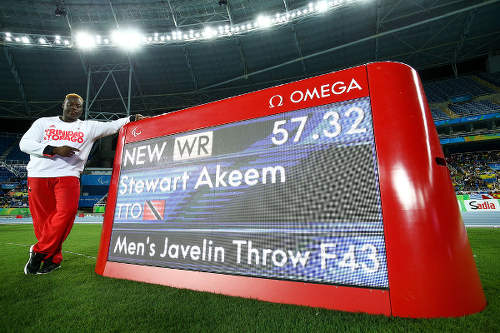 On his first attempt yesterday, Stewart threw 57.23 metres, which eclipsed his own record mark of 54.77. He had already secured gold when, on his final throw, he set a new world record of 57.32.
Canada's Alister McQueen was second with 55.56 followed by New Zealand's Rory McSweeny with 54.99.
Sport Minister Darryl Smith hailed Stewart's golden arm.
"We are tremendously proud of Akeem [Stewart], becoming the first man to medal at the [2016] Paralympic Games for Trinidad and Tobago and doing so with record throws," said Smith, via a press release. "Akeem is a gifted athlete and worthy ambassador for Paralympic sport. He has distinguished himself among the world's best in the throwing events, and in doing so, positions Trinidad and Tobago as a force to be reckoned with.
"We congratulate Akeem on his achievement and look forward to what he will produce in his favoured discus event next week."
Already Stewart's accomplishment has assured the Tobagonian of a US$10,000 medal bonus from the TTOC, although his golden return will not go towards Lewis' vision of 10 gold medals by 2024.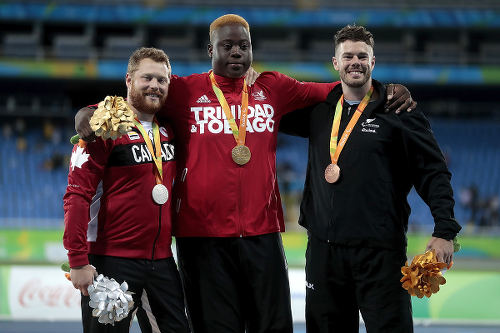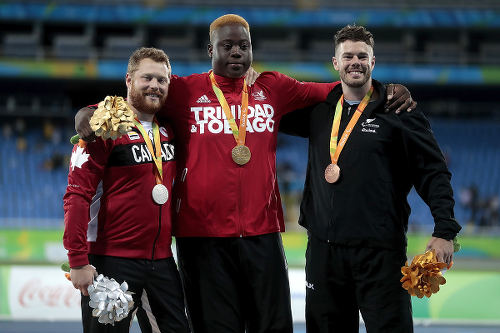 "We included the Paralympic athletes in our athlete welfare program because I believe in equality," said Lewis, "but this does not go towards the 10 gold for 2024 [plan] because we are different entities. There is a Trinidad and Tobago Paralympic Committee and they would have their own aspirations…"
Lewis said he initially projected that the TTOC would need to pay out medal bonuses four times for the Olympic and Paralympic Games each.
Walcott was the country's lone Olympic medalist but there is a chance for more precious metal at the Paralympic competition where Stewart is due to compete again as well as his teammates Shanntol Ince and Nyoshia Cain, who will challenge in swimming and track respectively.
Stewart is Trinidad and Tobago's second Paralympic gold medalist after Rachael Marshall won the L5 women's javelin and shot put crowns at the 1984 Paralympics.