There is no sugar coating this. When your Finance Minister is afraid to answer questions on financial transparency and conflicts of interest from, of all people, Jack Warner, you know that you're in way too deep.
If Larry Howai thinks his reputation—or what remained of it after his $10 million First Citizens Bank parachute—could not withstand a little Parliamentary cut and thrust with a man once accused of diverting aid money for earthquake victims in Haiti…
Well, all Mr Live Wire can say is that Warner finding a person who cannot look him in the eye to talk about money is surely one of the signs of the Apocalypse.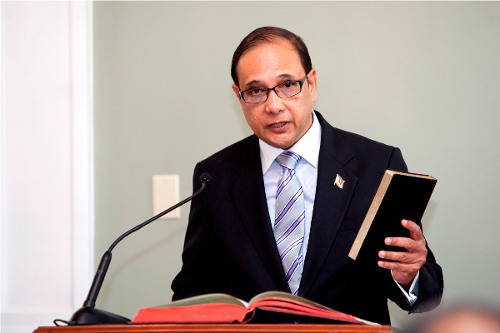 Can't I just give my taxes to the guy who emailed to say he lost his wallet at a hotel in Bulgaria on a vacation he forgot to say he was going on? I would feel safer giving him my hard-earned money than Minister Larry Houdini.
God knows what Howai is hiding considering the sort of answers we already get from politicians. Case in point was Minister of Planning and Sustainable Development Dr Bhoe Tewarie, who is a former Minister of Industry, Enterprise and Tourism and UWI principal.
PNM Senator Lester Henry wanted to know how soca star Machel Montano's Government-funded "Going for Gold 50th Independent Anniversary" album did.
Tewarie replied that the Government spent $5 million to produce the album and it earned $175,000. The Trinidad Express, whose editor must have attended the same business school as Tewarie, wrote that the album has "thus far yielded a profit of $175,000."
Needless to say, by that yardstick, Wired868 can guarantee the Government a much better and faster return on its investment. Just give Mr Live Wire $5 million and he will immediately hand you back $1 million.
Call that profit if you like. The Express would probably agree.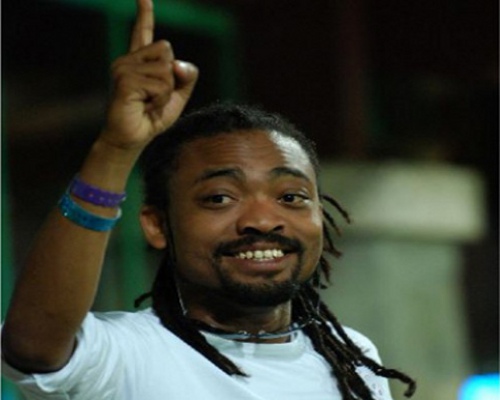 Ever so often, it is good to investigate the breeding ground for the Tewaries of tomorrow. So, Live Wire would like to pay tribute to the Couva/Tabaquite/Talparo Regional Corporation (CTTRC), which is chaired by Harry Awong.
The CTTRC, according to Awong, aims to use a retreat to develop "an action plan" and take a "holistic approach towards the organisation." Awong told the Express that this retreat will "look at where you could cut, where you could trim, how you could get the work done, utilising less resources and all kind of things like that."
And this retreat, aimed at devising cost cutting measures for the regional corporation, will be held at the Cocoa Reef Resort and Spa in Tobago from March 19 to 22 with costs of $260,000 (hotel accommodation), $14,578 (airfare), $5,500 (ground transportation) and $25,000 (consultancy fee).
Incidentally, this will be the second high powered Tobago retreat for the CTTRC in under a year after Awong and his merry men spent over $261,000 on an excursion to Le Grand Courlan Spa Resort in May 2014.
Awong explained the need for the two retreats.
"Last year we went and we developed the strategic plan," Awong told the Express. "For the first time in a long time we developed a strategic plan. Coming out of this strategic plan, you are supposed to have an action plan in order to achieve the goals outlined in the strategic plan."
Naturally. Well, go do your action plan then, Sir. But, leaving aside the many possible questions on your planning process, can we trouble you to ask why Tobago though?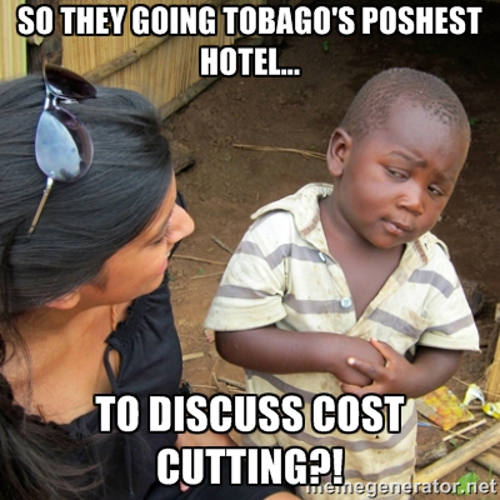 "It is very difficult for councillors to sit down in Trinidad and plan at that level," said Awong. "We have tried retreats in Trinidad and during the retreat, a councillor would get a call that somebody house probably burned down or somebody place flood or something to that effect where something happens and the person calls the councillor."
Awong and the Couva/Tabaquite/Talparo Regional Corporation will be delighted to know that Mr Live Wire is about to save them $280,078:
Host the retreat in the corporation's boardroom, order Subway sandwiches and have everyone turn their cell phones off.
Please email editor@wired868.com to find out where to send that $25,000 consultancy fee.