Trinidad and Tobago's first Prime Minister Eric Williams said the country's future lies in our children's bookbags.
If so, then pray.
In the "Trinidad & Tobago Social Studies for Primary School: Standard 2" book, author Kevin Jeanville listed crime shows and letters to the editor among the country's viable solutions to crime.
And there, like Big Brother, stood a photograph of Ian Alleyne in a bullet-proof vest with Crime Watch's email address and the message: "Ian Alleyne and crime watch… Hotting up De Place!"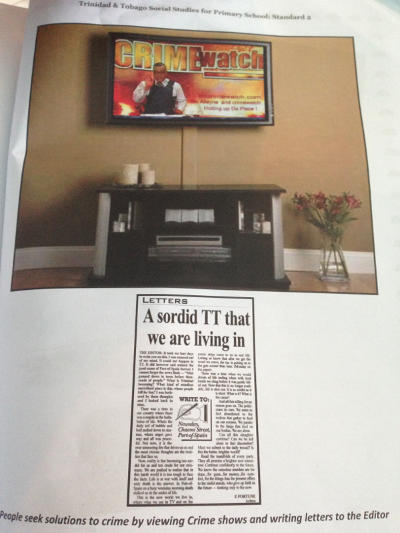 Is the Trinidad and Tobago Government, through our tax dollars, teaching every child between the age of seven and nine that an unusually flamboyant man who loves poking around dead bodies and uses his cell phone while driving is considered an answer to crime?
If ever there was a case against State-sponsored education that was probably it.
What next? Will home economics students be asked to watch "Desperate Housewives?"
Are we now in a world where Crime Watch is considered a mainstream, positive programme? Is Alleyne our great hope for a law abiding society?
No wonder sex and drugs are on the rise in the schools. The little buggers are trying to cope with the messed up world they are about to inherit.
Either that or they are auditioning to replace Chandresh Sharma and Anil Roberts in Cabinet.