Housing Minister Dr Roodal Moonilal demonstrated his earthiness and grasp of the issues relevant to Chaguanas West voters yesterday by suggesting that former MP Jack Warner wants constituents to give up their Range Rovers and return to "bull-carts."
"I driving the same vehicle for two years, a Rover SUV and is only when the campaign start and Jack Warner start campaigning they start attacking me for the vehicle," said Moonilal, in today's Trinidad Express. "… I must still be on the bull-cart… What he is saying now in 2013 is put you back on that bison.
"They want you back there and want to use different strategies."
Mr Live Wire is uncertain whether Moonilal's statement suggested he was so self-absorbed that he forgot he was in the midst of a campaign, which was ostensibly about the needs of others and not his own luxury. Or if he was attempting to appeal to the Chaguanas West voters who own Range Rovers and are petrified of bisons.
The self-declared man of the people did not say whether he stopped using his Range Rover because Chaguanas West voters recognised it and started begging him for a short drop.
Moonilal, who is also the UNC deputy political leader, further revealed that Warner was happily accepting "malas" (garlands) from his supporters but had not applied for houses for anyone named Mala.
"They put about 20 mala on him, you couldn't see his face," said Moonilal, who is also the Housing Minister. "But when I look through the list of people recommended (in Chaguanas West) for housing I didn't see anybody named Mala, you know."
On the face of it, being named 'Mala' seems like an odd plus to have on an application for a Government house. Or was 'Mala' code for a specific type of person? And were there only 'Malas' residing in Chaguanas West?
Should all future applicants to HDC write "Mala: wink wink" on their forms? And what did 'non-Malas' deserve from the Government exactly?
But Moonilal, who spoke after attending service at the Devi Temple on Maha Sabha secretary general Sat Maharaj's invitation, was only focused on the constituency's Range Rover-aspiring 'Malas' on Sunday.
He had news too of "an undercurrent of an attack on the Hindu community", which the discerning but mostly divisive and slightly deranged mind would have cleared spotted in allegations of corruption thrown at the feet of ministers Suruj Rambachan and Chandresh Sharma.
"We will not see it at first sight," said Moonilal, "… You don't see the undercurrent so sometimes you can participate in your own denigration without knowing. It is not coincidental that there is an attack on the (children of Dr Suruj Rambachan and Chandresh Sharma)—a Hindu child.
"What they are trying to develop is the idea that if your children are successful they thief to get there… It is a way to demonise your community."
But why would Warner, who is as devout a Hindu as he is a God-fearing Christian, disciple of Allah and, last but not least, firm believer in other people's money, attack one of his own religions?
Or was Moonilal, so soon after saying prayers with Maharaj, questioning Warner's Hindu credentials? Had Warner resigned his post as auxiliary Hindu too? Is that one of the secrets that the Prime Minister is holding on to with the silent complicity of the Maha Sabha's general secretary?
Or did Warner not have enough 'Mala' in him to have been considered a Hindu in the first place? And, if so, where does that leave UNC candidate Khadijah Ameen?
Was she another pretend 'Mala' that would only receive Maharaj's good grace once the likes of Persad-Bissessar and Moonilal allow it?
"The people of Chaguanas West have always voted for everyone we have ever selected," said Moonilal. "Today (Warner) is saying forget that history, forget your values and vote for (him) because I did give yuh a few box drains."
Was Moonilal's reminder that Chaguanas West always did as it was told meant as a compliment, particularly since it left voters so well off that they could feasibly be bought by box drains and were apparently one step away from returning to bull-carts?
And, most importantly, what did Ameen think of all this campaign help she was receiving from Moonilal?
Live Wire cannot confirm that Ameen has asked Ashworth Jack to keep the spare room vacant in his pumpkin and cucumber mansion, just in case. And that Moonilal might be the first politician in history to make Warner seem ethically superior.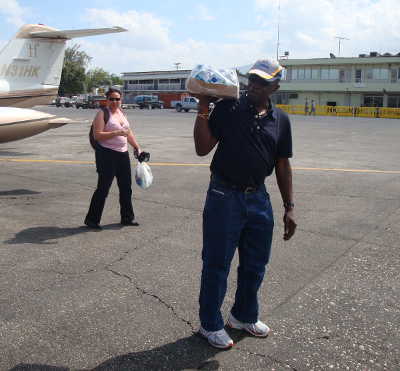 If being the least moral person with access to the local media was Warner's trump card, then he needs to act fast. Live Wire suggests a quick fundraiser for Haiti could do wonders for regaining the low ground.
But if the disgraced football official would settle for being the second-most despicable choice available to Chaguanas West, he only needs to get Moonilal more interviews.