Arima North Secondary continued their dazzling return to the Secondary Schools Football League (SSFL) spotlight last night, as they defeated defending East Zone Intercol champions Trinity College East 3-0 at the Arima Velodrome—in the second game of a semifinal double header.
The result means that a new champion will be crowned in the zone next Tuesday at the Larry Gomes Stadium.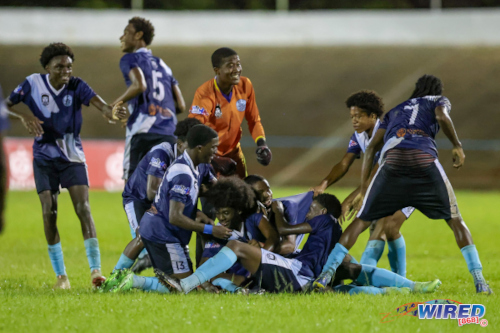 But the favourites will be San Juan North Secondary, who sashayed their way to the East Intercol final with a comprehensive 5-0 spanking of East Championship Division winners, St Augustine Secondary.
Before Jaheim Faustin lifted Trinity East to an improbable 1-0 win over San Juan North in the 2022 East Zone Intercol final, the boys from Bourg Mulatresse were on a run of four straight knockout title wins.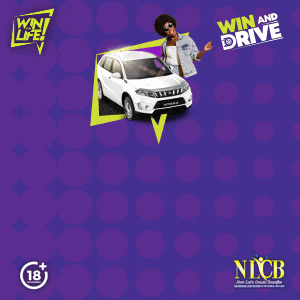 This year, coach Jerry Moe has a team capable of returning San Juan North to the top—with a spine that includes experienced goalkeeper Xavion Haynes, captain and central defender Joshua Lewis, versatile midfielder Nathan Quashie, and, last but not least, enigmatic front-man Lindell Sween.
It was too much for the "Green Machine", who started well but struggled to keep up once San Juan shifted gears.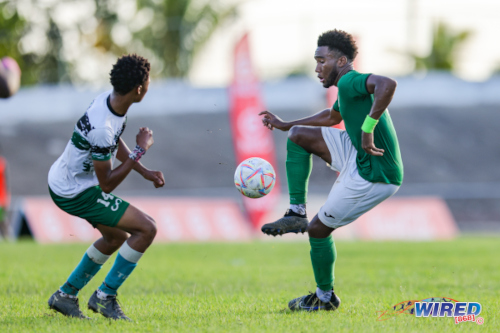 In captain Tyrese Andrews, midfielder Giovanni Hospedales and utility players Ethan Friday and Marcel Valentine, St Augustine might boast enough talent to return to the top flight. But a San Juan team that finished third in the Premier Division were a bridge too far and Sween and Quashie always looked in a class of their own yesterday afternoon.
Despite the final scoreline, things were much closer in the second affair between the "Dial Dynamos" and the "Blue Hawks".
It was, incidentally, Arima North's fourth top flight game at the Velodrome this season. And, despite a successful season overall that saw the Dynamos finish sixth, there were just two goalless draws and a 1-0 loss (to San Juan) to show for their previous trips to the venue in 2023.
Nobody apparently alerted the Arima Borough Corporation's electrician that there was an Intercol double header on at the Velodrome. Or maybe he felt there was nothing worth seeing.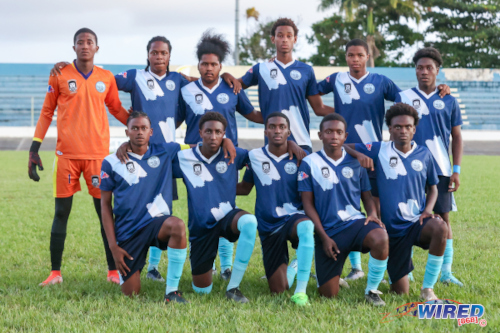 Either way, it was poor judgement as the lights remained off at the designated kick-off time. Supporters who stuck around for the delayed start were treated to a tense, intriguing affair and, finally, goals for the home team.
Both teams played to a 1-1 draw at UTT Campus in O'Meara in September and, again, the first half might have gone either way.
Trinity East defended well down either flank and unsettled Arima North's passing game whenever possible—thanks to the industry of attacking midfielder Jeremiah Frank-Williams and forward Daniel Hope.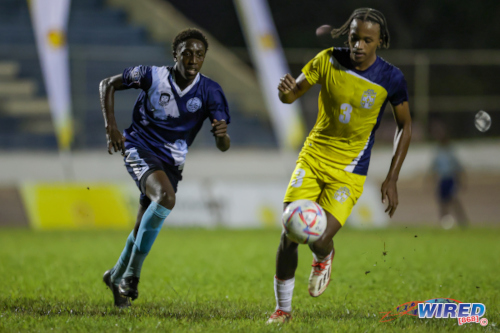 However, at the other end, Arima's 15-year-old defender Stephen Ollivierie nullified Trinity's most potent attacking weapon, Khaleem Prince, while, at Ollivierie's side, Ability Hazel, Akil Henry and goalkeeper Isaiah Diaz barely put a foot wrong.
Goalless at the half, Trinity East emerged livelier after the interval and came within inches of the opener in the 61st minute—only for Prince's low 20-yard shot to strike the far post and rebound into play.
Who knows what the result might have been if Prince had aimed a fraction to his right?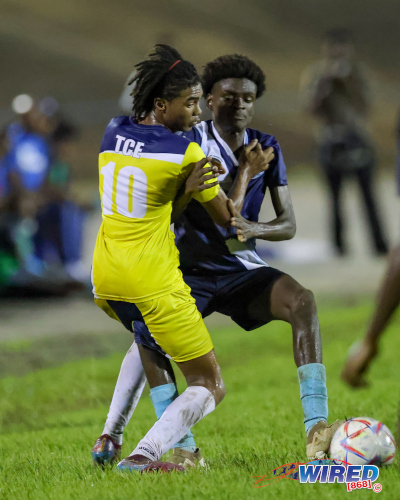 Instead, eight minutes later, it was the Dynamos who celebrated as forward Tyrell Stapleton roofed a straightforward chance after the Hawks missed two chances to clear a Jemaul Ashing corner.
It was Stapleton's second goal of the Intercol tournament and his 11th of the competition—and belief flooded into the Arima team.
Ten minutes later, the hosts doubled their lead after Trinity again failed to properly clear their lines off a set piece.
Stephano Christopher took the corner kick and the headed clearance from the visitors fell invitingly to substitute Tyler Ayers, whose low rocket took a decisive deflection to beat goalkeeper Alexis Ambrose.
And on a rainy night in Arima, the indignities poured down on Trinity when Ambrose horribly misjudged a spliced Ollivierie free kick from an outrageous angle to add gloss to the scoreline.
The Dial Dynamos were home and dry now.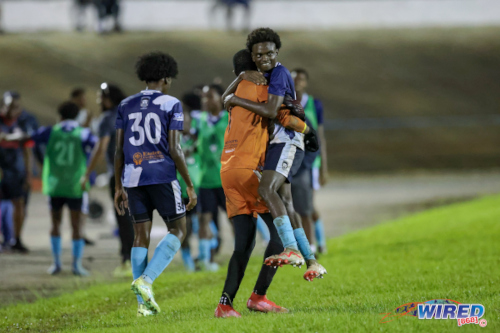 It has been 12 years since Arima North lifted the East Zone Intercol title. They will have the chance next Tuesday.
But San Juan North, paced by the classy duo of Sween and Quashie, are not easily contained. And coach Moe would think it's high time they resumed stockpiling top flight trophies in Bourg Mulatresse.
(Teams)
Arima North Secondary (4-1-4-1): 1.Isaiah Diaz (GK); 24.Zwade Alleyne (30.Tyler Ayers 70), 22.Stephen Ollivierie, 16.Ability Hazel, 5.Akil Henry; 13.Theron O'Brien (27.Agyei Des Vignes 87); 17.Jemaul Ashing (captain), 10.Darion Marfan (15.Darren De Four 65), 11.Stephano Christopher (6.Jeremy Joseph 89), 7.Mark Thomas (18.Zion Metivier 84).
Unused substitutes: 12.Josiah Thomas (GK), 2.Jeremiah Vance, 4.Garrick Thomas, 19.O'Neil Dyer, 21.Ezekiel Ramdialsingh, 29.Jaydon Critchlow, 34.Naeem Crichlow.
Coach: Wayne Sheppard
Trinity College East (4-2-3-1): 22.Alexis Ambrose (GK); 3.Joshua Figaro, 6.Hasheem Hill, 4.Nicholas Whiteman (captain), 19.Josiah Daniel; 5.Dexter Croal (13.Jehrell Ignatius 76), 8.Tayshaun Cummings (11.Seretse Browne 82); 7.Deisean Plaza, 14.Jeremiah Frank-Williams, 10.Khaleem Prince; 20.Daniel Hope (9.Keslon Pierre 66).
Unused substitutes: 1.Jadon Pollard (GK), 2.Nathan Prowell, 12.Anderson Barnwell, 15.Jean-Luc Romero, 17.Kaliq Cook, 18.Jonathan Emrith, 21.Ethan Fortune, 24.Nathan Pascall, 25.Josiah Thompson.
Coach: Dwayne Davis
Referee: Joel Davidson
Man of the Match: Stephen Ollivierie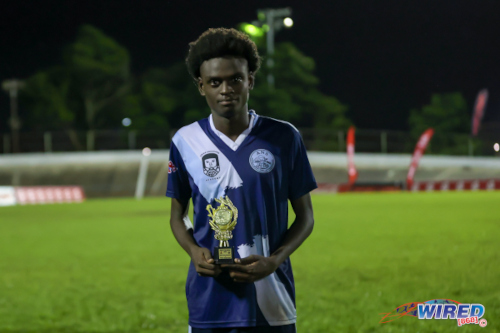 East Zone Intercol semifinals 
(Wednesday 15 November)
San Juan North 5 (Jahdel Chase-Charles 11, Nathan Quashie 34, Lindell Sween 68, Mathyyas Charles 71, 78), St Augustine Secondary 0 at Arima Velodrome;
Arima North Sec 3 (Tyrell Stapleton 69, Tyler Ayers 79, Stephen Ollivierie 88), Trinity College East 0 at Arima Velodrome.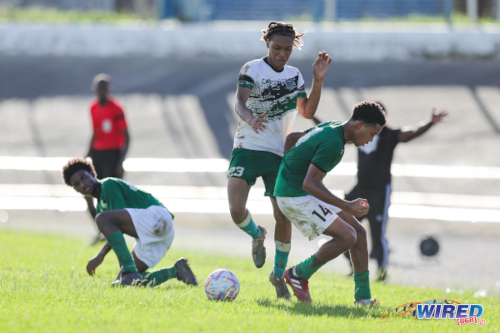 Upcoming Intercol fixtures
(Thursday 16 November)
St Anthony's College v East Mucurapo Sec, North Semis, 3.30pm, Hasely Crawford Stadium;
Fatima College v QRC, North Semis, 5.30pm, Hasely Crawford Stadium;
(Friday 17 November)
St Benedict's College v Pleasantville Secondary, South Semis, 3.30pm, Mahaica Oval;
Presentation (San F'do) v Naparima College, South Semis, 5.30pm, Mahaica Oval;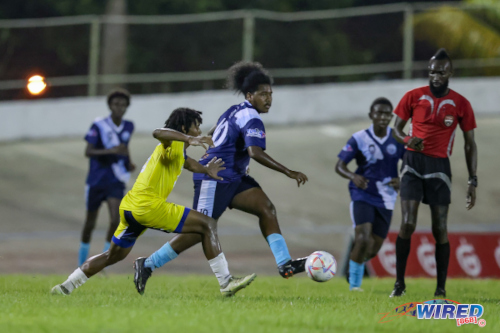 Zonal Intercol finals
(Monday 20 November)
Chaguanas North Sec v Miracle Ministries PHS, Central finals, 3.30pm, TBA;
(Tuesday 21 November)
San Juan North v Arima North Sec, East finals, 3.30pm, Larry Gomes Stadium;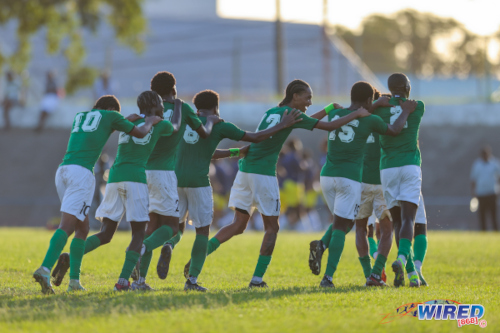 (Wednesday 22 November)
Speyside High v Bishop's High/ Signal Hill, Tobago finals, 5.15pm, Dwight Yorke Stadium;
(Thursday 23 November)
Fatima College/ QRC v St Anthony's/ East Mucurapo, North finals, 3.30pm, Hasely Crawford Stadium;
St Benedict's/ Pleasantville Sec v Naparima/ Presentation (San F'do), 5.30pm, Hasely Crawford Stadium.