The race for the 2018 Secondary Schools Football League (SSFL) Premier Division title will go down to the wire, as two-time champions Naparima College stayed hot on the heels of leaders and defending champions Presentation College (San Fernando) with a 1-0 victory over Queen's Royal College at Lewis Street, San Fernando this afternoon.
At the Mannie Ramjohn Stadium in Marabella, the 'Pres Lions' (32 points) maintained their slender one point lead over Naparima with a 3-1 victory over St Anthony's College.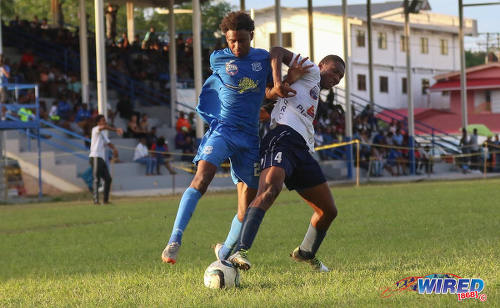 Elsewhere, San Juan North Secondary (29 points) retained a mathematical shout of copping the title after their bulldozing skipper Renaldo Boyce grabbed a second half item to secure a 1-0 victory over St Benedict's College in Bourg Mulatresse.
San Juan North can decide the Premier Division title race on Wednesday when they host Presentation; but not in the way they would have hoped.
The boys from Bourg Mulatresse would need to win by five clear goals and rely on Trinity College (Moka) defeating Naparima to have a chance to become champions. For that, they might need Santa Claus upfront and Jack Frost in goal.

More realistically though, San Juan North might eke a narrow win or draw that would allow 'Naps' to pinch the title on the final match day.
At the other end of the table, Fatima College were relegated today as Valencia Secondary's 3-0 win away to St Augustine left the former school with no chance of escaping the drop zone. However, Fatima can do their brother school, St Mary's College, a favour with a draw or win against Valencia on Wednesday.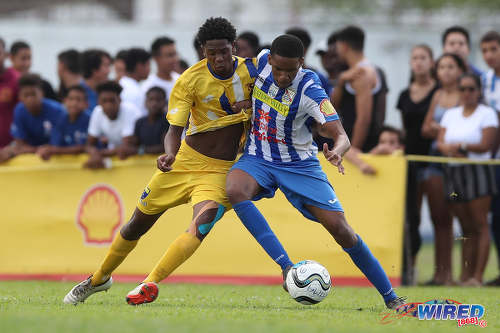 At present, St Mary's are one point shy of Valencia with two games in hand. By Wednesday evening, either Valencia or St Mary's will join Fatima and Bishop's High School (Tobago) down the chute and into the zonal divisions.
The Frederick Street 'Saints' play away to St Augustine on Monday before hosting Trinity College East on Wednesday.
At Lewis Street, Angus Eve's Naparima charges—who downed the Pres Lions 3-1 in midweek—were chasing their third Premier Division title in five years.
Ironically, it was a former San Juan student, Nathaniel Perouse, who was Naparima's main conductor in the first half, as he effortlessly sprayed passes out to wingers Isa Bramble and Ezekiel Kesar.
Attacker Seon Shippley put Naps ahead in the 22nd minute, as he calmly slotted away from close range after meeting a Bramble cut back. But the tireless Perouse was the architect, as his floated diagonal pass absolutely took QRC left back Rawle Felix out of the game before the Naparima frontmen combined.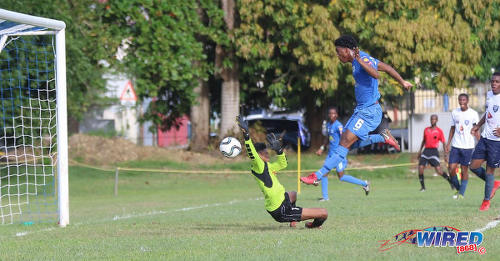 Thereafter, QRC escaped a few close calls as Naparima midfielder Shoaib Khan missed a tap in at the back stick in the 26th minute, while burly centre back Tyrike Andrews was denied from close range on a couple occasions—with Felix effecting a goal line stop in one instance.
Naps' energy and intensity dropped off badly in the second half, and Eve later suggested that the fiercely contested southern derby with Presentation had taken a toll on his players.
"I thought they gave a tremendous [effort] actually," Eve said after the match. "I always knew that today would have been a bit of a struggle simply because of the effort and the emotions of winning a derby game. It was always going to have a strain on the boys."
The after-effects of Naparima's intense back-to-back battles with San Juan and Presentation allowed the visitors to belatedly assert themselves on the contest. Content with striking on the break in the first period, the "Royalians" tried to take it to their hosts in the second.
At least one Naparima fan was feeling the heat.
"Come on Naparima defend it!" a male supporter shouted, as the tension grew.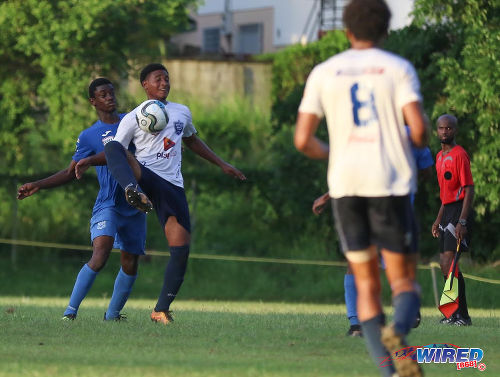 On the pitch, Naparima goalkeeper Levi Fernandez was gobbling up just about everything that came into the area. And what Fernandez couldn't get to, Andrews had for meat and drink, as QRC's diminutive front man, Darius Dickson, had a cruel time in aerial duels with Andrews and Asukile Christopher.
In the 77th minute, Fernandez misjudged his only cross ball for the day, but opposing midfielder Darlon Guppy couldn't capitalise, as his header went just over bar.
"The boys stood up well and the game could have been a lot easier if we had taken our chances," said Eve. "We had a few one on ones with the keeper and credit to him for making a couple saves. The difficult aspect of this game was motivating them after what we did a couple days ago."
Six minutes after Guppy's miss, Fernandez, time, and all of the Naparima faithful seemed to stand still, as QRC's energetic midfielder Kalev Keil spanked a dangerous left-footed volley just wide of the mark.
And in injury time, Fernandez had Andrews to thank for deflecting a goal-bound Dickson effort over the bar.
"The idea of the Premier Division was that no game would be an easy game and you saw that with QRC today as they put up a sterling fight," Eve said. "Every game is a tough one. You are seeing the kids trying their best and the level of the football is raising because of that."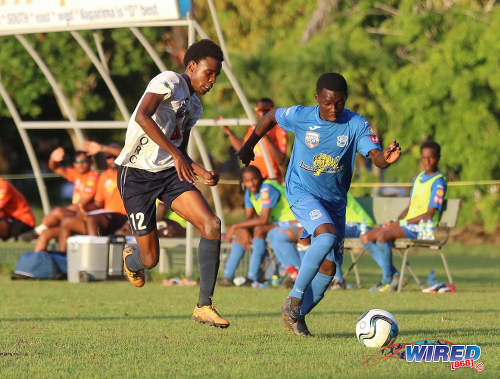 In the end, Eve and the anxious Naparima fans did not live to regret their own missed chances during their dominant first half showing. And they might be grateful that referee Cecile Hinds turned a blind eye to a handled ball in the penalty area by Christopher in the ninth minute as well.
On Wednesday, Eve will hope to put his hands on some silverware and remind coach Shawn Cooper and his Presentation team about who the real juggernauts are once more.
Naparima will need San Juan North's help for that though.
(Teams)
Naparima College (4-2-3-1): 1.Levi Fernandez (GK) (captain); 5.Daquon Foster, 4.Tyrike Andrews, 12.Asukile Christopher, 8.Kodel Frontin; 17.Nathaniel Perouse, 6.Shoaib Khan (24.Jabari Lee); 19.Isa Bramble, 10.Decklan Marcelle (18.Caleb Gaspar 80), Ezekiel Kesar (13.Jeron Pantor 62); 20.Seon Shippley.
Unused Substitutes: 30.Enrique Changiah (GK), 11.Kern Cedeno, 14.Molik Khan, 15.Marvin Waldrop.
Coach: Angus Eve
QRC (4-4-1-1): 1.Jacques Poon-Lewis (GK); 12.Jabari McKell, 17.Donnell Claxton, 4.Anfernee Stokes, 6.Rawle Felix; 14.Miguel Cross (25.Jaheim Granderson 62), 20.Marc Robertson, 3.Darlon Guppy (9.Renaldo Mullings 79), 7.Darian Bradshaw (18.Nathaniel James); 8.Kalev Keil; 19.Darius Dickson.
Unused Substitutes: 30.Jumaane McNeil (GK), 5.Jakeem McNeil, 10.Naeem Bisnath, 16.Nathaniel Brown.
Coach: Kenwyne Jones
Referee: Cecile Hinds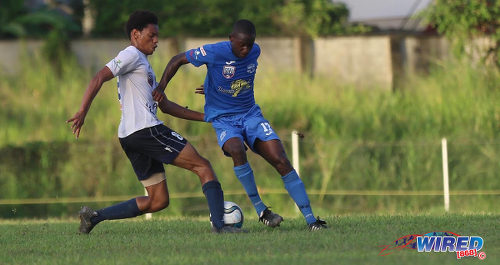 SSFL Premier Division results
(Saturday 3 November)
Bishop's High School 0, East Mucurapo 5 (Jelani Ferry [2], Shakime Wickham, Daniel David, Malachi Celestine) at Plymouth Recreation Ground;
Carapichaima East 1 (Luke Charles), Trinity East 0 at Carapichaima;
Naparima College 1 (Seon Shippley 22), QRC 0 at Lewis Street, San Fernando;
Presentation College (San F'do) 3 (Jaiye Sheppard 65, Jordan Riley 78, Jadel Sinclair 90), St Anthony's College 1 (Kiron Manswell 85) at Mannie Ramjohn Stadium;
San Juan North 1 (Renaldo Boyce), St Benedict's College 0 at Bourg Mulatresse;
St Augustine Secondary 0, Valencia Secondary 3 at St Augustine;
Trinity College (Moka) 1 (Mulik Duke 5), St Mary's College 5 (Kyle Carrington 6, 9, 33 pen, Michel Poon-Angeron 41, Tyrese Spicer 80) at Moka;
Fatima College are on a bye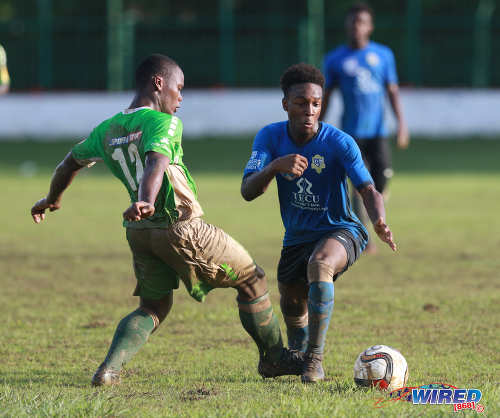 Upcoming fixtures
(Monday 5 November)
St Augustine Secondary vs St Mary's College, 3:40pm, St Augustine;
(Wednesday 7 November)
St Mary's College vs Trinity College East, 3:40pm, Serpentine Road;
East Mucurapo vs St Anthony's College, 3:40pm, Mucurapo Road;
QRC vs Carapichaima East, 3:40pm, QRC;
San Juan North vs Presentation College (San F'do), 3:40pm, San Juan;
St Mary's College vs Trinity College East, 3:40pm, Serpentine Road;
Trinity College (Moka) vs Naparima College, 3:40pm, Moka;
Valencia Secondary vs Fatima College, 3:40pm, Larry Gomes Stadium, Malabar;
Bishop's High School are on a bye
2018 SSFL Premier Division
| Pos | Club | P | W | D | L | F | A | GD | Pts |
| --- | --- | --- | --- | --- | --- | --- | --- | --- | --- |
| 1 | Naparima | 14 | 10 | 4 | 0 | 27 | 9 | 18 | 34 |
| 2 | Presentation | 14 | 10 | 3 | 1 | 30 | 12 | 18 | 33 |
| 3 | San Juan | 14 | 9 | 3 | 2 | 25 | 15 | 10 | 30 |
| 4 | Carapichaima | 14 | 7 | 3 | 4 | 25 | 22 | 3 | 24 |
| 5 | St Benedict's | 14 | 6 | 3 | 5 | 22 | 21 | 1 | 21 |
| 6 | QRC | 14 | 5 | 5 | 4 | 19 | 12 | 7 | 20 |