The Trinidad and Tobago National Under-20 Team made it two wins from as many matches at the Concacaf Under-20 Championship today, as they whipped Puerto Rico 5-1 at the IMG Academy in Bradenton, Florida.
On Thursday afternoon, the young Soca Warriors snatched two stoppage time goals to edge St Vincent and the Grenadines 3-2 but they didn't require such dramatics against an outclassed Puerto Rico outfit.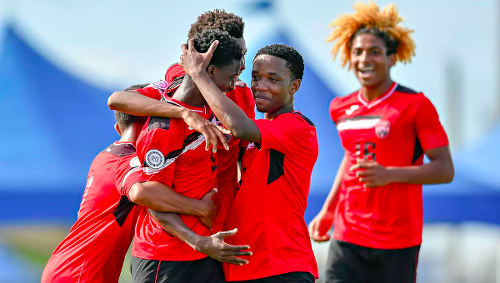 Coach Russell Latapy made six changes to his starting team with Isaiah Lee, Mark Ramdeen, Ethan Bonaparte, Jabarry Francis, Matthew Beal and Luke Singh replacing Jaydon Prowell, Nickel Orr, Judah Garcia, Shaqkeem Joseph, Mikel Mieres and Kerdell Sween respectively.
With a match every 48 hours, Latapy had plenty of practical reasons to freshen his team up. But it augured well that some of his changes took their chance with aplomb.
Lee scored twice and threatened throughout while Singh added steel to the backline and Francis capped a fine midfield display with a late goal.
The result would have boosted morale for a Trinidad and Tobago team short on support from their own association. Latapy's pre-tournament work lasted barely six days and it was only on Friday—a day after the start of the competition—that he finally had all 20 players for a training session.
But then Puerto Rico have their own problems, as the island remains in recovery phase after the devastation of Hurricane Maria in 2017. Resources have been short for the Spanish-speaking American colony and their football programme has suffered.
On the field, the Warriors' job was to add to Puerto Rico's pain and it was mission accomplished today.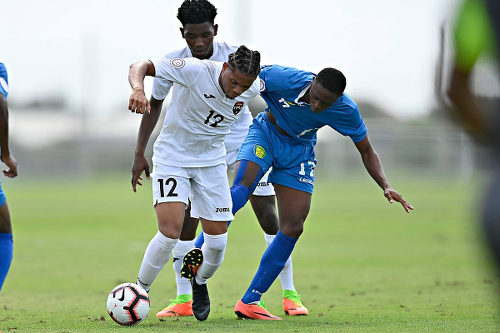 Captain John-Paul Rochford got Trinidad and Tobago's opening goal in the 24th minute with a shot that squirmed below the wrist of opposing goalkeeper, José Calderón, after a right side Kishon Hacksaw cross.
It might have been 2-0 in the 37th minute, as Hackshaw pinched the ball from a dozing defender but saw his angled effort fended away for a corner with Lee, unmarked and better placed, begging for a pass.
Lee and Hackshaw patched up quickly though, as the latter again broke down the right flank and Lee converted his cross on the second attempt.
Trinidad and Tobago looked dangerous with virtually every possession but, despite a fine individual contribution from Singh, remained scrappy at the back. And Puerto Rico pulled a goal back in the 53rd minute, as midfielder Gerald Díaz surprised Warriors goalkeeper Denzil Smith at his near post.
No matter, the Warriors dusted off the setback with Lee's second item, which was the goal of the affair.
Rochford took possession near the half-line and delivered a beautifully weighted angled cross into the path of Lee, who caressed the ball elegantly before banging home on the half volley. Fast, intelligent and industrious, if Lee did not have an agent before this afternoon's affair, he might consider getting one now.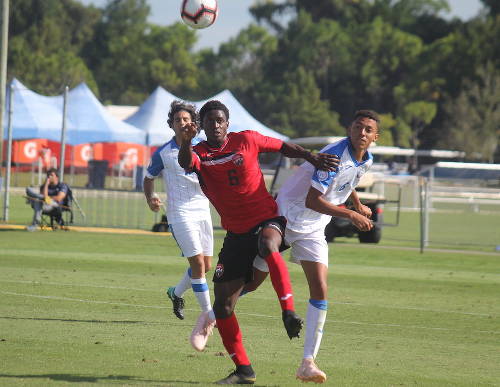 "It was a good opportunity for me to get into the starting team today and I was pleased to be able to deliver with two goals," said Lee. "It's a good feeling to get on the scoresheet for your country in a tournament like this and hopefully I can build on it. Hopefully we can keep growing as a team as well for the remaining matches."
Spare a thought for Rochford too, whose pass to Lee was already his third assist of the tournament. And, remarkably, he created Trinidad and Tobago's remaining two goals as well with feeds to Sween and Francis—although Sween's item owed much to an error by the overworked Puerto Rican goalkeeper.
Che Benny got his first taste of action as a second half substitute while Shaqkeem Joseph—a Moruga midfielder who managed to break into the national team without playing top flight Secondary Schools Football League (SSFL) or Pro League competition—gave another sign of his ability on the ball.
Francis' performance justified the argument of Tobago coaches in more ways than one, as the former Signal Hill Secondary student not only proved there is national quality on the "Sister Isle"; but that such players have to move to Trinidad to succeed. The versatile midfielder is registered to Pro League outfit, Club Sando, at present.
More importantly, it was a good outing for Team T&T after a tumultuous preparation. Latapy expressed delight with the result and individual performances, although he did sound a note of caution.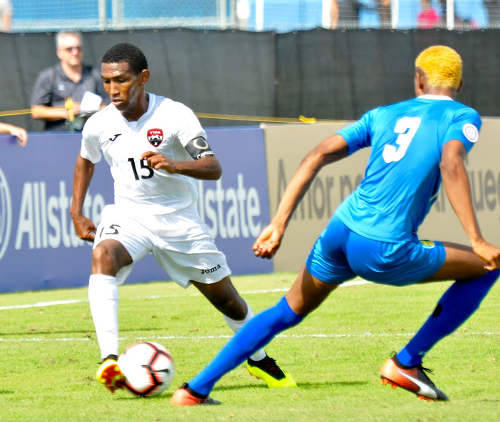 "I think there is a lot that we still need to improve on, in particular, we need to be able to see games out better," Latapy told the TTFA Media. "I felt that we were a bit back against the wall in the last twenty minutes when we were leading comfortably. I just want us to understand how to stretch the game when we are winning games and pick teams off.
"But there were some very solid performances today. The expectations coming here weren't very high based on our preparations but as the tournament goes on, expectations are changing."
The Warriors are back in action on Monday night when they play host nation and defending champions, the United States, from 7:45pm at the same venue.
To a man, it will be the biggest game so far in the careers of Latapy's 20 players.
(Team)
Trinidad and Tobago (4-1-4-1): 1.Denzil Smith (GK); 5.Justin Homer, 16.Luke Singh, 17.Matthew Beal, 3.Derron John; 8.Jabarry Francis; 12.Kishon Hackshaw (18.Kerdell Sween 75), 14.Ethan Bonaparte (19.Shaqkeem Joseph 54), 15.John-Paul Rochford (captain), 7.Mark Ramdeen (11.Che Benny 65); 6.Isaiah Lee.
Unused substitutes: 20.Jabari Brice (GK), 2.Mikel Mieres, 4.Jerrin Jackie, 9.Jaydon Prowell, 10.Judah Garcia, 13.Nickel Orr.
Coach: Russell Latapy
Concacaf Under-20 Championship
(Saturday 3 November)
Trinidad and Tobago 5 (John-Paul Rochford 24, Isaiah Lee 39, 56, Kerdell Sween 80, Jabarry Francis 89), Puerto Rico 1 (Gerald Díaz 55).