Sprinter Jereem Richards this morning earned a second sprint  medal for Team Trinidad and Tobago in the 2018 Commonwealth Games in Gold Coast, Australia, taking gold in the 200m final
The gold medal moves T&T's tally at the Games to three, two golds and a silver.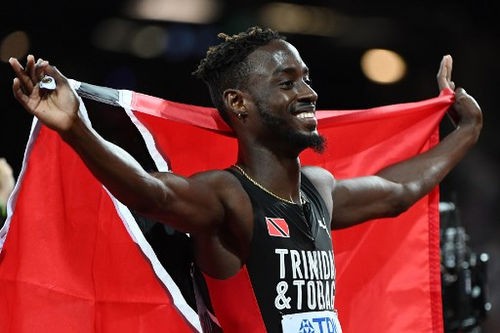 Dylan Carter had already captured 50m butterfly silver in the pool last Friday while Michelle-Lee Ahye won gold in the 100m on the track on Monday—both firsts in their respective categories.
The 24-year-old Richards displayed tremendous finishing speed to close a wide gap and cross the line in the same time (20.12) as race leader Zharnel Hughes of England, who was declared the winner. At first. Canada's Aaron Brown (20.34) finished in third spot while Northern Ireland's Leon Reid (20.55) took fourth. T&T's other representative, Kyle Greaux, finished in seventh spot but was promoted to sixth after the disqualification.
Mere metres from the finish, the hands of the two runners became entangled, throwing Richards temporarily off his stride and causing him to stumble. The split-second lost in that stumble was enough to allow Hughes to keep his nose fractionally ahead of Richards' at the line.
But official review of the race footage showed that Hughes, in lane three, had been in the extreme left of his lane and the point of contact between his left hand and Richards' right hand had been inside Richards' lane. It led to the Englishman's subsequent disqualification and Richards' promotion to the gold medal spot.
An appeal by Team England against the disqualification was dismissed.
Richards won 200m bronze for T&T at the 2017 IAAF World Championships in London last August. He was also a major contributor to the stunning 4x400m gold medal run in those Championships, where he teamed up with Jarrin Solomon, Machel Cedenio and Lalonde Gordon to get the baton around quickly and efficiently and deny the highly favoured US team.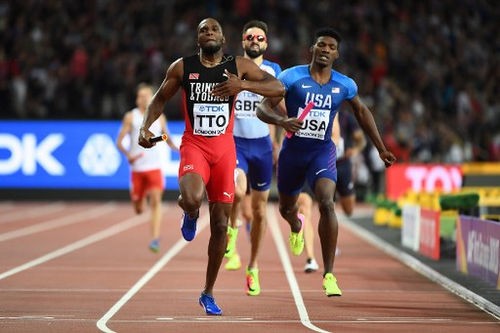 In the women's 200m, T&T's sole representative, Semoy Hackett, failed to get among the medals, finishing last in the eight-runner field. She too was moved up one place after a disqualification. The race was won by Bahamian Shaunae Miller-Uibo (22.09) with Olympic double-medallist Elaine Thompson (22.30) finishing out of the medals in fourth spot behind compatriot Shericka Jackson (22.18) and England's Dina Asher-Smith (22.29).
T&T must now look to the relays for any further medals, with the best chance of adding to the tally expected to be in the Men's 4x400m. Gordon was eliminated in the first round of the Men's 400m, raising concerns about his fitness but Renny Quow and Cedenio both progressed.