The W Connection Football Club last night became the latest in a line of Trinidad and Tobago football representatives to be embarrassed in regional competition, being eliminated in the group stage of the Caribbean Club Championship at the Ato Boldon Stadium in Couva.
Connection only needed a draw to advance to the semifinal round of the Caribbean tournament. Instead, they were spanked 3-0 by Dominican Republic outfit, Club Atlético Pantoja, who did not even need the three points.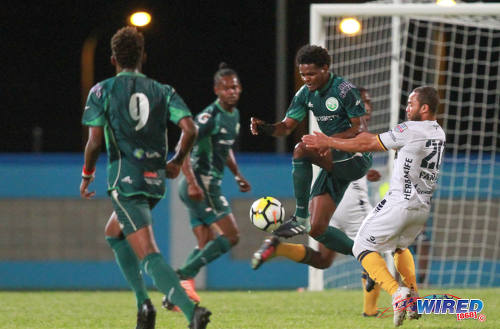 The result meant that Connection finished bottom of Group A—despite home advantage—with Pantoja and Jamaica's Arnett Gardens going on to the next round while Haiti's Real Hope Football Academy finished third based on the head-to-head tiebreaker.
The Dominican Republic's professional league is only four years old. Real Hope FA were formed just four years ago and made their regional debut against Connection—a match the Haitians won 1-0—while Jamaican top-level football is semi-pro.
In contrast, Connection are three-time Caribbean winners and never failed to contest the final of any tournament they participated in while Trinidad and Tobago clubs have won nine regional titles since 1997 with the Jamaican league second-best with just three.
"We are falling behind," Connection assistant coach Earl Jean told Wired868. "I spoke to [Pantoja attacker and ex-W Connection player Jonathan] Faña and he said they are investing heavily in the Dominican Republic league and [Pantoja] just finished building their own facilities while a lot of their teams are importing players.
"[…] Football is evolving in the Caribbean and they are passing us. We have to make up our minds if want to be amateur or professional."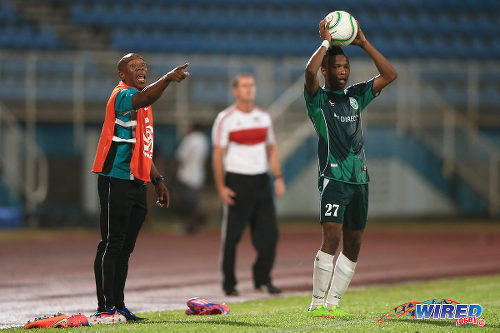 The Trinidad and Tobago Pro League is in its bleakest period to date and there has been much debate about the government subvention of TT$50,000 per month for each club, which almost certainly will not be on offer in the upcoming season. But finances are only a part of the problem.
Connection headed to Couva on Sunday knowing that they were playing for their survival—yet, when you subtract the 55 players and coaching staff present from Arnett Gardens and Real Hope, there were fewer than 100 people at the Ato Boldon Stadium.
How is it that one of Trinidad and Tobago's most successful Pro League teams—and one that has been in existence for 19 years—cannot even motivate 200 people to show up and cheer for such a challenging outing in their backyard?
What does that say not only about Connection's relationship with the surrounding communities but also about the club's ability to maintain a relationship with their past players as well as with parents and relatives of current employees?
If each player and staff member from just one Connection youth team had turned up yesterday with a guest in tow, the attendance would have been doubled.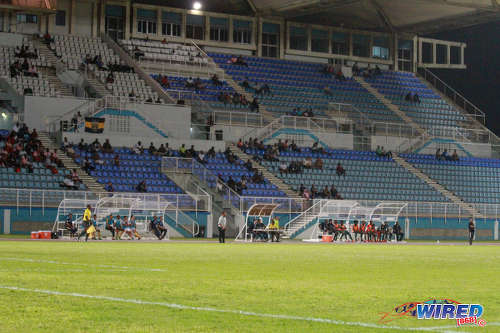 If Pro League clubs continue to struggle for buy-in from even their own employees and players, how can they reasonably expect it from the wider public and the Treasury?
Presumably, things will only get worse now that results on the field are deteriorating too.
In the opening match of yesterday's double-header, Arnett Gardens thumped Real Hope 4-0—a result which suited Connection to a tee. Since head-to-head results would be the first tiebreaker and the hosts had defeated Arnett Gardens on Friday night, it meant Connection and Pantoja knew at kick-off that a point would see them both safely through to the next stage.
Neither side seemed particularly interested in playing for a stodgy draw, though. And, as it turned out, Connection's tactical ambition was woefully misplaced.
Connection coach Stuart Charles-Fevrier began with a 3-4-3 formation which employed Marcus "Lobo" Joseph, Akeem "Froggy" Garcia and Dimitri Apai up front with Kadeem Corbin as an offensive central midfielder and Kurt Frederick and Alvin Jones as buccaneering wing-backs.
After barely 15 minutes, Joseph and Corbin switched places before, in the 28th minute, Fevrier abandoned his aggressively offensive ploy altogether and replaced Corbin with workmanlike midfielder Kevon Goddard. But, by then, they had already fallen behind to a Luis Espinal strike.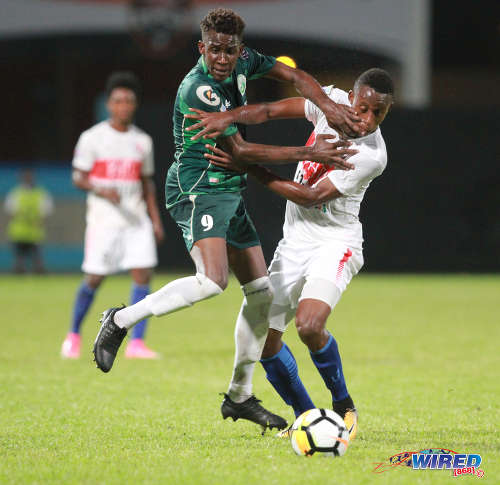 "Corbin was getting outmuscled in central midfield so we tried to adjust it by putting him higher up the field," Jean explained. "But we were still getting problems, so we had to make the change. We felt they were much stronger than our players."
It was a sad indictment of Corbin's progress. Four years ago, the graceful attacker was adjudged the Caribbean's most outstanding player at Under-20 level in a tournament that included the precocious Levi Garcia.
Garcia and Corbin both headed to the Netherlands together in 2004 for trials with Eredivisie clubs. But while Garcia—who was 17 and a year younger—ticked all the right boxes, Wired868 was told then that Corbin had one obvious weakness; he lacked upper body strength.
So, Corbin was sent home with instructions to undergo a weight programme if he wanted to turn professional. Yet, four years later, he cannot even hold off unheralded Caribbean opposition.
That said, only 23-year-old Dominica international midfielder Briel Thomas, St Kitts and Nevis international Gerrard Williams and Connection captain and Trinidad and Tobago right-back Alvin Jones looked able to physically match their visitors.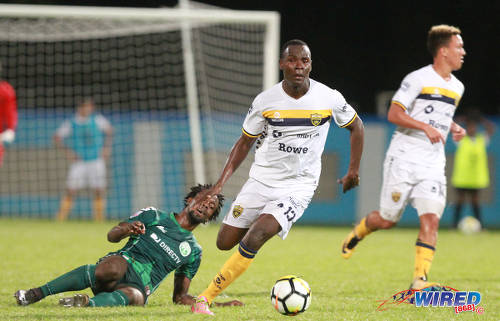 The others struggled at times or simply failed miserably.
Fevrier's decision to replace Corbin changed little. By the 31st minute, Pantoja had doubled their lead as Espinal teed up his strike partner, Armando Maita, for a simple close-range finish after a deep cross-field pass. There had been no discernible defensive pressure on the ball.
"We conceded too many soft goals," said Jean. "Our players don't like to track back and stay with their players. They want to play with the ball but, essentially, they don't like to defend."
Jean's explanation might have been easier to accept if all 11 Connection players on the field for much of the game—Corbin and late substitute Jevaughn Humphrey apart—had not been at the club already for between three to seven years.
But, as always, there were other issues which made it more difficult for coaches to get through to their players.
"We had three weeks' training and we had to get in fitness work and ball work at the same time," said Jean. "We had a few issues with sorting out contracts and sometimes players were missing training and so on."
Without the financial ability to give players the security of long-term contracts, Pro League coaches must essentially build a team from scratch in every pre-season. And when clubs do not invest in the long-term well-being of players, those employees sometimes return the favour.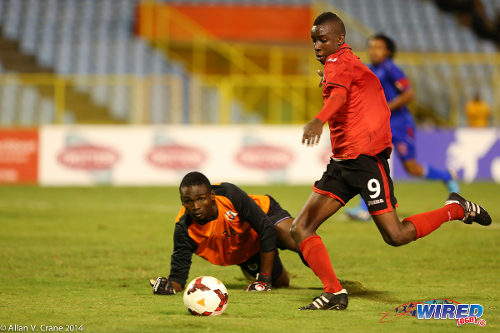 Then, as Corbin might admit, there are also players who appear incapable of even looking after their own interests.
It is that combination of woes that has led to the gradual decline in standards of a league which once exported players who could step off a plane and compete in the Scotland First Division or the England Third Division competitions
Yesterday, Connection never stood a chance against ordinary but street-wise and tactically disciplined opposition. And the hosts were lucky to keep all 10 outfield players on the field as the Dominican Republic side, which included five South American players and one Haitian among their starters, provoked battles and play-acted at every opportunity.
The match was truly over in the 64th minute as Joseph conceded possession cheaply in midfield and then gave away a penalty in a clumsy effort to regain possession from Espinal.
Pantoja midfielder Jean Carlos López hammered in the final nail with an emphatic spot kick that put the visitors three goals clear.
It is hard to feel the tide has not turned. After San Juan Jabloteh and Central FC were comfortably second-best to the Dominican Republic's Cibao FC in the Caribbean Championship last year, Cibao did not even earn the right to represent their nation in 2018.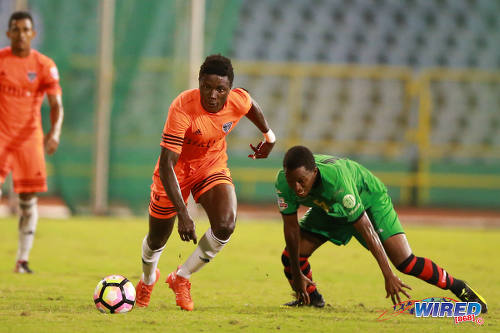 The "Couva Sharks" are still alive and start their own campaign in the Dominican Republic on Wednesday. But rookie coach Stern John has an unenviable task in trying to get results on foreign soil with a pick-up team of players on three-week contracts.
The Pro League's struggles at regional level come after Trinidad and Tobago's Under-17 boys and women's teams were both eliminated at Caribbean level while the Under-20 men and women and senior "Soca Warriors" all finished bottom of their CONCACAF groups.
If Trinidad and Tobago's football is not in crisis at present, then this is surely close enough.
(Teams)
W Connection (3-3-1-3): 18.Julani Archibald (GK); 5.Triston Hodge, 3.Gerard Williams, 15.Jesus Perez; 16.Alvin Jones (captain), 19.Briel Thomas, 2.Kurt Frederick; 9.Kadeem Corbin (6.Kevon Goddard 28); 7.Akeem Garcia (17.Jevaughn Humphrey 62), 99.Marcus Joseph, 10.Dimitri Apai.
Unused substitutes: 33.Jason Belfon (GK), 8.Jameel Antoine, 14.Quinn Rodney, 23.Kennedy Hinkson, 26.Isaiah Garcia.
Coach: Stuart Charles-Fevrier (St Lucia)
Club Atlético Pantoja (4-2-2-2): 23.Odalis Baez (GK); 3.Pedro Muñoz, 21.Nicolás Rebollo, 32.Eduardo Centeno, 4.Yefferson Moreira; 13.Jean Waines Innocent, 14.Jean Carlos López; 20.Jonathan Faña (16.Robert Rosado 77), 8.Jesus Quintero (9.Darly Batista 81); 17.Armando Maita (15.Dany Guillen 88), 7.Luis Espinal.
Unused substitutes: 1.Wisaldy Rivera (GK), 10.Leandro Silva, 18.Brian Calabrese, 28.Ronaldo Vazquez,
Coach: Lenin Bastidas (Venezuela)
Referee: Juan Gabriel Calderon (Costa Rica)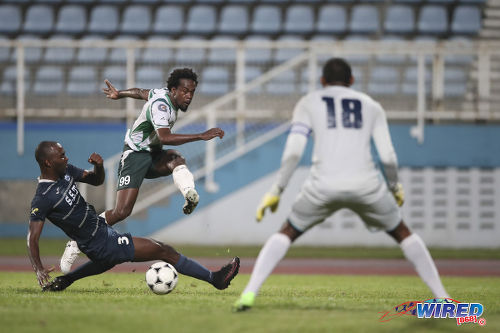 Caribbean Club Championship 2018
Group A
(Sunday 4 February)
Arnett Gardens FC 4 (Fabian Reid 65, 86 pen, 90+2, Leon Strickland 89), Real Hope Football Academy 0 at Ato Boldon Stadium;
W Connection FC 0, Club Atlético Pantoja 2 (Luis Espinal 27, Armando Maita 31, Jean Carlos López 65) at Ato Boldon Stadium.
(Friday 2 February )
Real Hope Football Academy 0, Club Atlético Pantoja 3 (Luis Espinal 35, Armando Maita 40, 59) at Ato Boldon Stadium.
W Connection 2 (Marcus Joseph 2, 13), Arnett Gardens 1 (Fabien Reid 61) at Ato Boldon Stadium.
(Wednesday 31 January)
Club Atlético Pantoja 0, Arnett Gardens 0 at Ato Boldon Stadium;
W Connection 0, Real Hope Football Academy 1 (Jeudy Johnson 2) at Ato Boldon Stadium.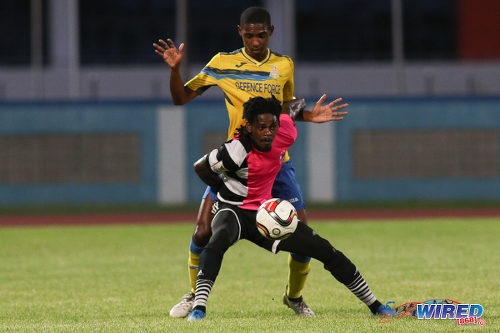 Group B
(Wednesday 7 February)
Central FC vs Portmore United FC, 6pm, Estadio Cibao, Dominican Republic;
Atlantico FC vs Racing FC, 9pm, Estadio Cibao, Dominican Republic.
(Friday 9 February)
Racing FC vs Central FC, 6pm, Estadio Cibao, Dominican Republic;
Atlantico FC vs Portmore United FC, 9pm, Estadio Cibao, Dominican Republic.
(Sunday 11 February)
Portmore United FC vs Racing FC, 6pm, Estadio Cibao, Dominican Republic;
Atlantico FC vs Central FC, 9pm, Estadio Cibao, Dominican Republic.