"For me it wasn't about qualifying [when I accepted the job as women's coach], it was about stability," said Trinidad and Tobago Women's National Under-20 Team head coach Jamaal Shabazz. "It was about creating what we created back then, which was a framework for players to go on scholarship and develop.
"[…] The public's emphasis is they want the team to qualify. And I want that too but laying the framework with these limited resources and building that foundation again so we can produce players is the kind of stability (I can offer)."
Trinidad and Tobago hosted the CONCACAF Women's Under-20 Championship in Couva last month but, despite home advantage and scoring first in each match, the hosts lost all three group games to Haiti (2-3), Canada (1-4) and Costa Rica (1-2).
In the first of a two-part series, Shabazz talks one-on-one with Wired868 about his role in developing Trinidad and Tobago women's golden era and his current aims and vision for the programme: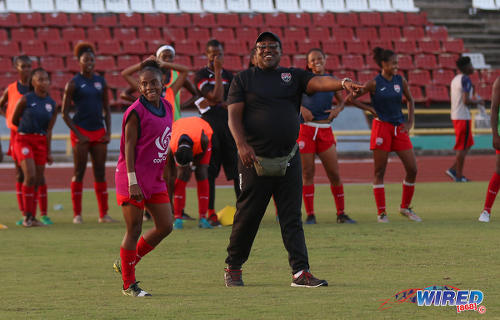 Wired868: So what are your thoughts on the just concluded tournament?
Jamaal Shabazz: The tournament has shown that the pendulum is swinging. I am impressed with where the women's game has reached since my last outings in the game—especially with the way that Mexico and Haiti in particular have performed.
We have come to expect dominance from USA and Canada and even, in the past, Costa Rica was an emerging force. But now, you see Haiti's programme bearing fruit and Mexico, with their local league. When I look at the (Mexico) roster, all their players are with clubs and it is bearing fruit.
Maybe 15 years ago, Trinidad and Tobago and Jamaica were the forces in women's football in the Caribbean, with Haiti running a distant third. Now they have gone past us.
Wired868: What do you attribute that to?
Shabazz: I think it is emphasis. Even in the (Jack) Warner days, he would ensure participation in the women's game. Back in 1991 when women's football was relatively new to the region, Trinidad and Tobago would beat Mexico… From that time to now, Mexico have tried to move their programme from participation to competing and, in the last number of years, to qualifying.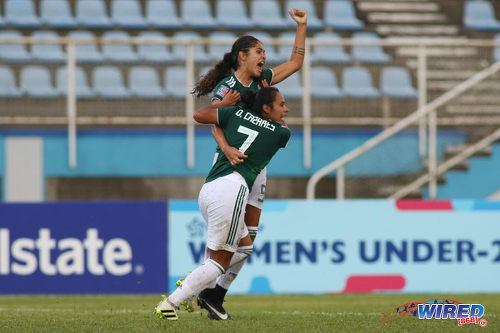 That takes a certain level of commitment from not just players but administrators across the board. After Warner, we had [Raymond] Tim Kee, who had a difficult economic period, so the development aspect of the women's game was absent.
Our revolution started in 2000 when we went to CONCACAF and were slaughtered by USA (0-11) and Brazil (0-11) and drew with Costa Rica (2-2). We saw then that there was need to develop a new cadre of players and we had screening sessions across the country. This was not the Federation; this was a group of people concerned for the women's game…
Wired868: Who was in that group?
Shabazz: People like Abdul Rasheed in St Madeleine; he is deceased now. And Marlon Charles, Kester Lendor, Jinelle James, Izler Browne… We would go to the primary schools every year and we recruited a bunch of players who we would train four days a week—outside of the Federation (programme)—until they reached the Under-15 bracket. So these players came through some kind of development programme.
This programme went on until about 2011/2012 [when I went to coach in Guyana]. So until the establishment of the TTFA's Elite Development Programme (in 2017), there had not been a specific group doing technical development with female players. And remember with our female players, we are already starting well behind North America because of the age that they start to play…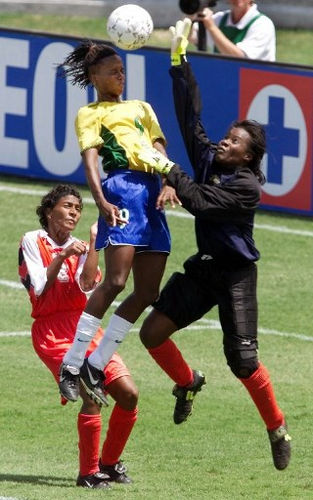 Wired868: When you say "across the country," can you be more specific? Did we have someone in Tobago? How did we get a Kennya Cordner? And how was this funded?
Shabazz: We had Corbin Cooper in Tobago and Arnold Murphy in South. We had Slim Andalcio in Toco. We had point people across the country who had a common interest and a common desire to develop the women's game. For six months in 2000, we trained four days a week just doing technical development.
The biggest problem was transport to get the children to come to training. We used to train at Carib Ground and at UWI. We approached (former Director of Sport and Physical Education at UWI) Dr Iva Gloudon and she brought everybody together and made us develop a strategic plan and then she went and found the money for meals for the girls after training. Also some of the senior players like Izler would put money for transport and we would tell the girls if you don't have the money for transport, borrow the money.
This is where we saw girls like Maylee Attin-Johnson, Tasha St Louis, Dernelle Mascall and Ahkeela Mollon emerge. They never missed a session. We trained four days a week from 4pm to 6pm and three months would pass and they would never miss a session.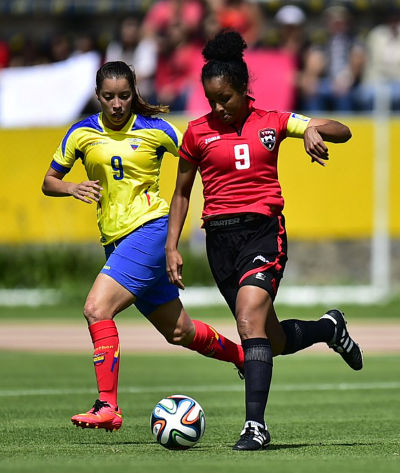 Maylee was 13 years old then, some were 14. None were over 15. We contacted Bertille St Clair in Tobago and he put us in touch with Corbin Cooper. And this is how we got the Forbes sisters, who came as two 12-year-olds. They would come on a weekend and stay at my home. There were seven Tobago players. There was Candice—I can't remember her surname—Karyn Forbes, Kimika Forbes, Kennya Cordner and several others. One or two of them had a place to stay in Trinidad and the rest would stay by me.
I remember that, to get them to come, the former head of the THA, Orville London—he was a journalist then—went and spoke to their parents because they didn't want to send them to Trinidad at first.
Wired868: Did the THA pick up the costs?
Shabazz: Dr Gloudon would find the money. (Laughs). She was a phenomenal person in terms of getting things done. After about a year, the TTFA started to get involved with the team. In 2001, (Brazilian coach Rene) Simoes came and took over the whole men's programme. When I asked Mr Warner if they would help us, he said they didn't come for women's football. But then we played the Men's Under-17 team a practice game on the Hasely Crawford Stadium training ground and lost 5-1.
After that, they asked for a meeting with our staff and Simoes suggested that Professor Leal be put over us to take over the women's programme because it had potential. So that was the first time I had to bow to the master. (Laughs)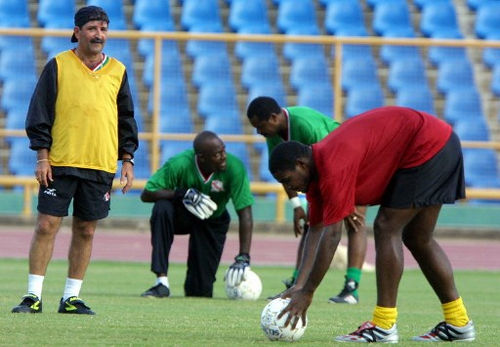 Wired868: That is how you saw it? 'Bow to the master'? (Shabazz laughs again) What do you think Leal brought to the team?
Shabazz: He brought a tremendous amount of knowledge and know-how. I had been trained in [courses in] Brazil in '88 and '89 but what they brought was the practical application of how to do a programme—on and off the field. Things like nutrition and how the staff should operate as a group rather than one man and his dog kinda thing.
Leal was phenomenal. That's why I say he was the first master because we really, really learned. It was funny. People would pass and say 'Jamaal, you're licking the Brazilian's bottom.' (Laughs again) But it was a real eye-opener. I remember Dr Gloudon talking to me and encouraging me to submit because if I submit the other coaches [on the staff] would submit.
Wired868: So there was friction?
Shabazz: Well, there were coaches who felt that these people now come and why are we giving them the programme. But they showed us how to build. They spent about a year with the team and then they left not long after. The girls had a nice CONCACAF Under-20 under Leal, which excited the nation and was the first tournament for Maylee and the likes of Avian Douglas.
Before they left, Leal told Marlon and myself that what we did in training those girls for four days a week and focusing on technical development laid a tremendous foundation and these girls one day will go to the World Cup.
And we knew because when we started them in 4v2 and 5v2, they couldn't even warm up properly. And then when we went in the middle—Marlon and myself—we couldn't even keep up with them. And we brought in people like Denzil [Theobald] and the Caledonia players. We would make them play two touch or one touch against the girls and they would help and this is where we saw the improvement. and when we put guys in there with them, they would keep the ball.
[…] Then we went to the CONCACAF Gold Cup and the first game was against Panama and we had a player sent off—Leslie James—and they outscored us 4-2. The second game was against USA and everybody expected us to be slaughtered but we parked the bus and, at the end of the first half, they were leading 1-0 which was unheard of in CONCACAF. We lost 3-0 in the end and we got three chances.
(Editor's note: USA defeated Panama 9-0 and Costa Rica 7-0 in their other group matches).
Our goalkeeper at the time, Lisa-Jo Ramkissoon, was so excited after the game in the press conference that, when they asked her how she felt, she said, 'Well it is a tremendous feeling to win this game.' I had to kick her under the table to remind her that we lost. (Laughs)
But to lose 3-0 after scores of 12 and 17 over the years, it was a great feeling for all of us. But I had made a pledge that never again would a Trinidad and Tobago team get double figures against the US and these teams.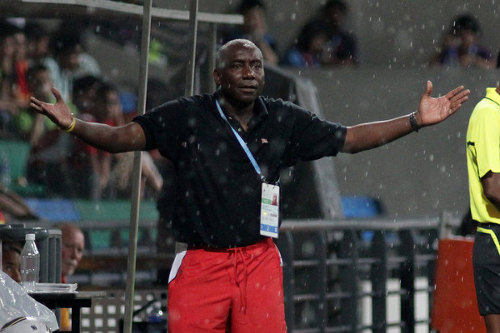 Wired868: How did you feel two years ago then when we lost 22-0 with our Under-15 team, coached by [your current assistant] Marlon Charles?
Shabazz: I felt if even Pep Guardiola coached that team, the scoreline would remain the same. Those players were not ready to play teams like the USA and Costa Rica. When the administrators entered the team, they didn't understand that most of those players had started playing three and four months (earlier). But then they said that the TTFA would have gotten a fine if they didn't carry a team…
People blamed the coach but, if that team had any of the ten top coaches from Europe, the score would be the same; they were not developed. Most of that team was used at U-17 level in Haiti [last year] and there is so much to teach because they are beginner players.
Wired868: What happened to the developmental programme when you left to coach Guyana in 2011?
Shabazz: This was immediate post-Warner and there wasn't much funding. Tony Harford came in under Lennox Watson and started to get things going but then, after Watson left, the Tim Kee Administration was forced to make priorities and the senior men's team became the priority. You needed a drive too because I picked up where Dr Gloudon left off. Her attitude was 'You can find a way.. I think that the others just didn't continue to do it on their own and it fell by the wayside and here we are today.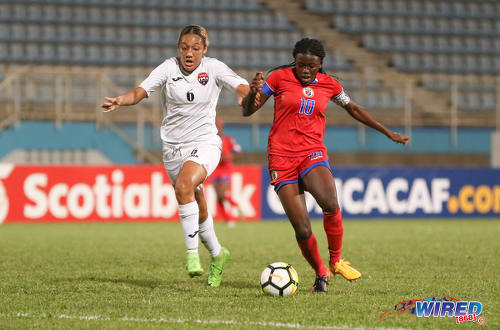 […] I remember I was in Haiti in 2013 with [Pro League team] Caledonia AIA and at 5am in the morning I went to walk and I saw these little girls jogging […] and I found that they were Haiti's Under-13 team. They were living in this Goal project centre, which had 80 girls and 120 boys and they would train in the morning, have breakfast, go to school and come back and train in the evening. […] That (sort of developmental work) is what we did with Maylee and them. When (American) Randy Waldrum was the coach, he got a bunch of players that were well formed. We took all the beating because the pioneers does get the snake bite and the nail jook and the mosquito bites but the future generation of coaches who worked with Maylee and St Louis and them got players who can play and with an insight into the game. If you listen to Maylee, she knows too much. (
Laughs
) Listen to Mollon, she knows everything.
Wired868: So administrators let down the women's programme?
Shabazz: I'd say over the years, yes. But to be fair to Jack Warner, he always ensured the team participated. I remember Lincoln Phillips brought in Randy Waldrum to coach a youth team […] and we had to lose by six goals or less against USA in the last game for a play-off spot and we get nine. And Jack Warner rewarded that team by sending the staff and the girls to Tobago for a week. And I said 'What is that one? When we come back from tournaments we never got any of that.'
And you know what he said? He said 'If it was a local coach, they would have gotten 10!' (Laughs)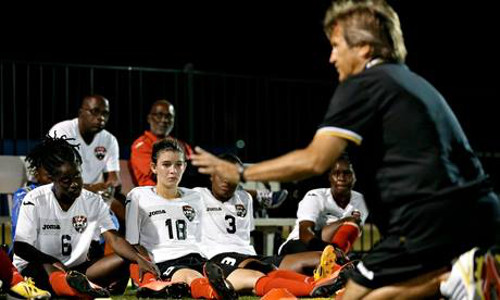 Waldrum came within one point of qualifying [for the 2015 Canada World Cup] although we forget that team got four bites of the cherry and still didn't qualify. We felt that [relative success] was off of our backs.
Wired868: Apart from Leal and Waldrum, Norwegian Even Pellerud was the other foreign coach in the women's programme. What did he bring?
Shabazz: Pellerud was here from 2008 to 2011. The first thing Pellerud brought was the colour of respect.
Wired868: The 'colour of respect?'
Shabazz: Yes. I remember before his first meeting with the parents, he told me he wanted to train six days a week and every third week he wanted to do seven. I found him to be naive at the time. I told him with Maylee and their team, I tried to get them to train five days a week and the parents kicked up against it so we ended up with four. And lo and behold, the first meeting he had with the parents he asked them for six and there was not a single dissenting voice. (Laughs). And I am talking about people coming from La Brea, Guayaguayare… This was the next master. He got total support.
I was then the assistant director of the women's game and I was there at every session, learning from him. His emphasis was purely on fitness and pressing. He didn't spend a lot of time on technical development. His philosophy was intensity (slaps hand) and running the opponent out of the park by intelligent pressing movement. His methods were based on aggression in training. He got the girls to respond very well but they were not a team to make five (consecutive) passes; they were a team to work hard and get behind the opposing defence.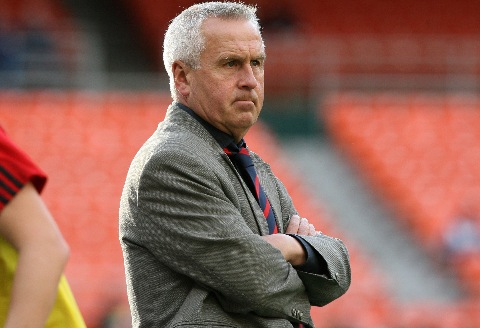 Wired868: How much of that aggression remains or did you try to keep in our sessions?
Shabazz: Coming back into the women's game last August, there were three weeks before the Under-17 qualifying tournament. I was looking for a coach because I was brought in to coach the seniors and U-20s. We spoke to Richard Hood and basically he and the (TTFA) didn't agree on financial terms. So (technical director Muhammad) Isa suggested that I hold the team.
I did more technical work with the team. I believe this is football and, while you need to be aggressive, I think if I have to choose in developing an aspect, I would go with technique. So the period we had, we tried to focus on technique. In the small-sided games, we encouraged them to squeeze and press but it was alien to them. Even with the Under-20s, the time they spent with the Italians was more technical-oriented.
In the football world now, we see people use more football training for fitness training. So with limited guidance, we tried this for six weeks with the Under-20 girls but we learned afterwards that the intensity wasn't there (in the sessions).
After one week together, we played Jamaica but we had hoped to get three games against Chile in December, which the Federation didn't get because they didn't have funding for it. We felt if we had gotten these games, it would have better schooled us as to where we were in terms of our ability to compete in January.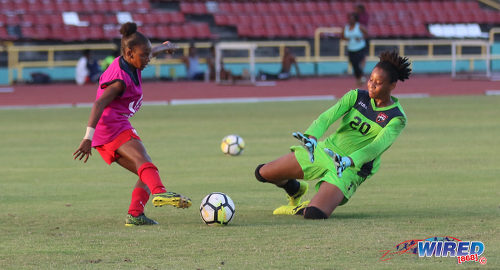 Wired868: And where did we fall short in January?
Shabazz: I think our inability to do repeated football actions. We scored all the time but we were not able to keep that action—to stay compact as a team, to be able to squeeze and press them, to be able to just keep our legs…
Wired868: How could a team that was together for months be unfit?
Shabazz: Well, I think they were together from March and then they had a three-week break just around July/August. And then that was the time I was with the U-17s and there was also school football. So there wasn't that emphasis.
I was focusing on the Under-17s at the time, so we had them under some coaches like Ayanna Russell and Dernelle Mascall who had C licences. Marlon Charles would take them occasionally and Anton Corneal but the emphasis was on teaching them aspects of the game (like) possession, closing the ball down; the emphasis was not on the conventional running, fitness…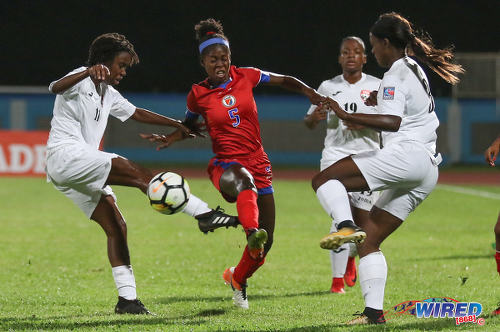 Wired868: Was there a clear philosophy during the time they were under so many different coaches?
Shabazz: Yeah. We focused on keeping the ball and trying to play the ball over the top to the flanks because we recognised we had quick strikers. We knew that (Dennecia) Prince would be a force, the big one. But she is anaemic and that is something that affects the women's programme. We did tests and we found that six of the best players on the Under-17 Team were anaemic and three on the Under-20 Team. They have to focus on building up their iron and on their diet but, according to Dr Zaida Hassanali, it would take about three months (for us to see results from that).
Wired868: If the Italian contingent got about US$24,000 or US$27,000 a month, why could the TTFA not agree personal terms with Richard Hood?
Shabazz: Well, that is a question you will have to ask the administration; I can't answer that.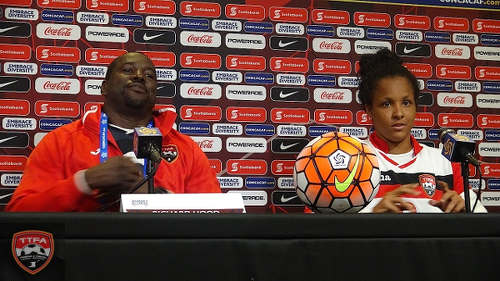 Wired868: You understand that the public might feel the interest in this team and the investment from the TTFA seemed to fall away as soon as the Italians left?
Shabazz: The financial aspect of the TTFA's dealings is not (within) my purview. I recommended Hood and he outlined some stuff and it didn't materialise…
If we were able to get those friendly matches in December, I think the reality of the team would have been better served.
Wired868: You'd say your expectations when you accepted the job were not met?
Shabazz: I felt we would have gotten more resources but I was told the resources just were not there. So we continued to work. This is the difference between the local coach and maybe the foreign coach. I felt one of the reasons Morace left—this is my opinion; this may not be the fact—is that when they looked at the pool and the players they sidelined and the resources they needed (to succeed), I don't think they were seeing it.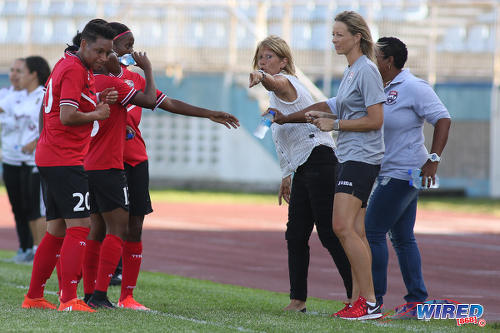 For me, it wasn't about qualifying [when I accepted the job as women's coach], it was about stability. It was about creating what we created back then, which was a framework for players to go on scholarship and develop.
[…] The public's emphasis is they want the team to qualify. And I want that too but laying the framework with these limited resources and building that foundation again so we can produce players is the kind of stability [I can offer], getting coaches working together and, more importantly, developing a cadre of female coaches from among the ex-players who understand the passion and commitment.
Wired868: You mention developing a new cadre of coaches but I am seeing the same old names on your staff, like Marlon Charles…
Shabazz: Well, when a coach goes to work, he brings the people who he feels he is comfortable  working with. I didn't hear anybody say anything when Simoes brought his people or Morace brought her people…
Wired868: But you spoke about developing new coaches…
Shabazz: Well, I can show you. We have Ayanna Russell, Dernelle Mascall, Janelle Noel, Ahkeela Mollon, who are working as developmental coaches within the elite programme. So there are a cadre of female coaches being developed and I have evidence of that.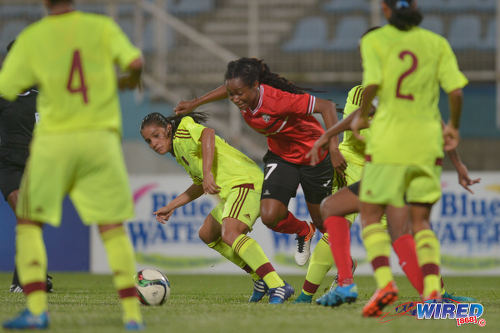 I don't see how we could question Marlon's credentials as a coach. Are we basing it on the fact that he took a team that got 21 and 22 when any coach that took that team would have gotten the same results?
Wired868: Well, I am referring to your comment about bringing through fresh blood. But, as you mentioned Marlon, how do you think you complement each other and what does each of you bring to the team?
Shabazz: I think Marlon's patience and his ability to improve technique is one of the pluses with the drills he uses and his insight into the game. I think I complement him by bringing a bit more aggression and animation in the exercise…
This is the relationship we have since 1984 when we travelled as players and shared a room together with ASL and the Alvin Corneal Coaching School. I marvel at what people say about him without seeing him work; it is hilarious for me.
[…] I think Marlon Charles has been ill-treated and disrespected by the former TTFA Administration but he showed resilience. He has not uttered a negative word and he shows a kind of patience that is admirable. I don't have that kind of patience. I like working with him and I think we work very well together.
If people are going to judge us on the Under-20 and Under-17 teams not qualifying, that's fine; they are entitled to that. But I am here to provide stability and that stability is to build the programme.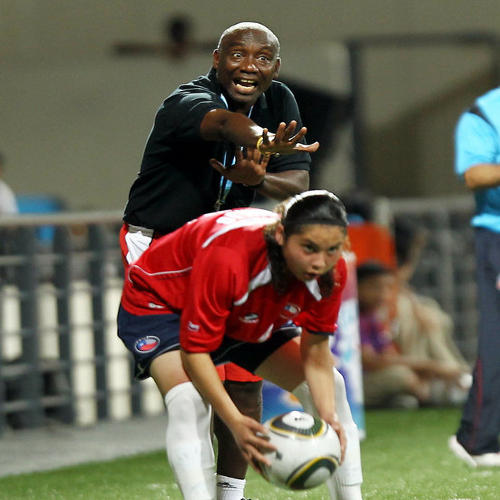 Wired868: So what should we judge you on? What would you consider success?
Shabazz: I think people could form their own…
Wired868: (Interrupts) No, what do YOU think is a fair way to gauge the success of your work?
Shabazz: The way to judge my work is (to see if we can) produce players that can play with A1 schools in the US and can get into professional teams in two or three years' time. How we are able to narrow and deal with the deficiencies we see now and how it is addressed over that period of time before the next Under-17 and Under-20 tournaments.
I would judge myself and my work if we go to the next U-17 and U-20 tournament and are slaughtered. And also how many youth players now can go in the Senior Team and hold their place.
Everybody is saying now that (the France 2019 Women's World Cup qualifiers) is another bite of the cherry. I am not saying that. I am saying the Maylees and Tasha St Louis and that crew are on the last of their legs. When Izler Brown and Ricarda Nelson and them were on the last of their legs in 2002, we injected Maylee and them and got a lot of criticism for bringing seven or eight youth players into the senior team and going to CONCACAF. I see this as a similar period here.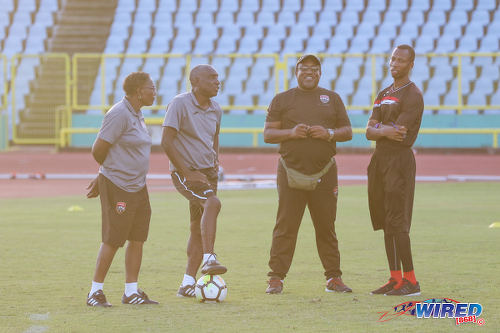 Wired868: Wasn't the priority always to qualify for the France World Cup when we brought in Carolina Morace? We came within a whisker under Randy Waldrum, so isn't the priority now to qualify?
Shabazz: The priority was that under Carolina but, under me, my priority is stability. I've to think beyond a foreigner. I've got to think about what happens when the tournament is finished.
Wired868: You talk a lot about development, would it have been better for you then to stick to the developmental side rather than to be head coach? You said before that you were not interested in coaching anymore, so what made you go back?
Shabazz: We need to provide that stability. There was a lot of uncertainty with the leaving of Ms Morace. And I felt my presence on the field would help because these—in particular the senior girls—were our girls. Of course I have no problem in being judged by the results. People like to say coaches need time but when a coach accepts a job he understands fully the implications.
[…] Time is important but the courage to start a process to me is more important always.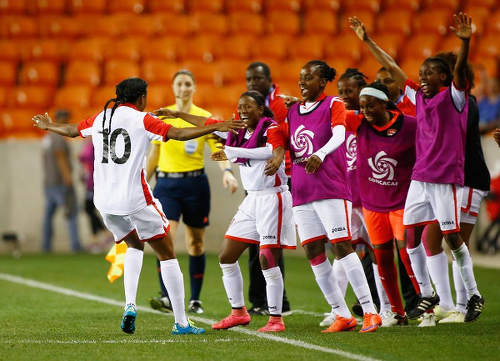 Wired868: Hood coached a lot of these women before and the women once mentioned Angus Eve as a coach they would like to have. You don't think anyone else could have brought stability to the women's programme and done the job?
Shabazz: Those questions are questions for the administrators. I was approached and I had to make a judgment call based on the scenario and I accepted. They didn't choose to approach anyone else. So I think that question would be better for them…
Editor's Note: Click HERE for Part Two as Jamaal Shabazz shares his vision for the "Women Soca Warriors", what went wrong with the U-20s, why he would withdraw the U-15 Team from competition and fires back at the "Pro League haters."