The Trinidad and Tobago Men's National Beach Soccer Team will be playing for an inaugural spot at the Bali 2023 World Beach Games tonight when they face the United States from 7.15pm at the Costa del Sol National Stadium in El Salvador.
It will be the second of two meetings between the respective nations this evening as the Trinidad and Tobago and United States women clash from 6pm at the same venue in the Concacaf qualifiers.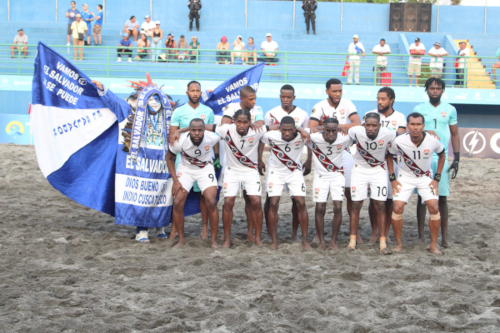 The local women's team failed to hang on to a 2-1 lead yesterday, as they fell 5-2 to hosts El Salvador in their opening match. In a four-team round robin competition with two qualifying berths up for grabs, the Tenesha Palmer-led troops need a result tonight to retain a mathematical chance of progress by the time they close their campaign against The Bahamas this weekend.
The equation is more straightforward in the men's competition, which is knockout. Win and you advance.
Yesterday, the Trinidad and Tobago Beach Boys held off The Bahamas 3-2 to move to this evening's semifinal round and head coach Chad Appoo is excited.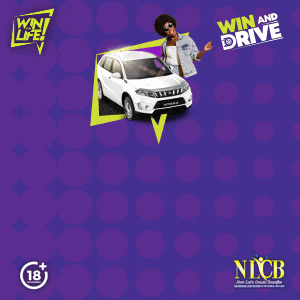 "I think for the country, it is the biggest game we will ever play as a beach soccer nation," said Appoo, a former national beach soccer stand-out and one-time Europe-based professional. "We are into the semifinal, [so] we have created some history there. We have never made it to the semifinal of any tournament before.
"So, the guys are all fired up."
True to form, the Trinidad and Tobago men have had to do things the hard way. For starters, Appoo is without one third of his roster due to the unwillingness of several TT Premier Football League (TTPFL) teams to release players for the week.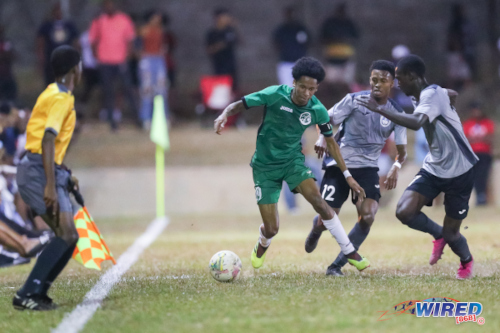 Winger Jordan Riley, midfielder Joash Baird and attacker Akinola Gregory stayed in Trinidad with W Connection while Point Fortin Civic also did not give forward Omri Baird their blessings to represent his country in the beach soccer tournament.
Riley and Baird, in particular, are impressive on the sand.
"We had some challenges even getting here, especially the guys with no visas who had to fly for almost 30 hours," Appoo told Wired868. "They just got in one day before the tournament, so there was a little jetlag in our official practice session."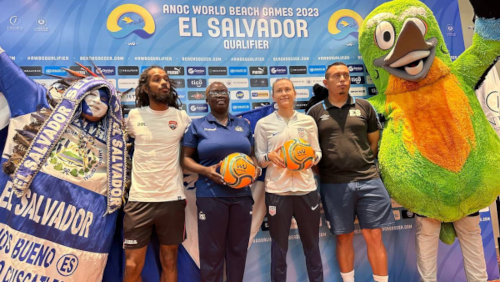 A design flaw at the Trinidad and Tobago Football Association's Home of Football—the legacy project of late former TTFA president David John-Williams—is more harmful though.
"It is not the correct type of sand, and it is not the correct dimensions," said Appoo. "So it takes some time for our players to get accustomed to it."
It would be the equivalent of the Soca Warriors preparing on a peewee grass field before jetting off to play international competition on full-size turf pitches.
Trinidad and Tobago Beach Soccer head of delegation Dr Oba Gulston, a veteran physiotherapist for Cricket West Indies and a member of Leo Beenhakker's staff for the 2006 World Cup, explained further.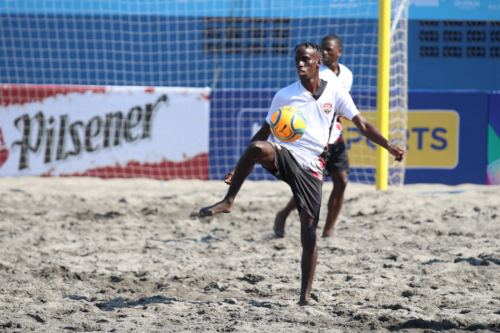 "Although a facility was built for beach soccer at the Home of Football, it was built too small—so we can't play official football there," said Gulston. "So [when Trinidad and Tobago goes to international beach soccer tournaments], we spend the first two or three days acclimatizing to a proper pitch size.
"That is an issue that affects our ability to hold a league in Trinidad or invite teams over to play us; and in terms of preparation it would affect things like fitness, etc.
"[…] Credit to [Normalisation Committee chairman] Robert Hadad and Amiel Mohammed who have started digging out the pitch to try and get it to an international size. Hopefully that is sorted very soon and we can then run a league and bring international matches to Trinidad and Tobago."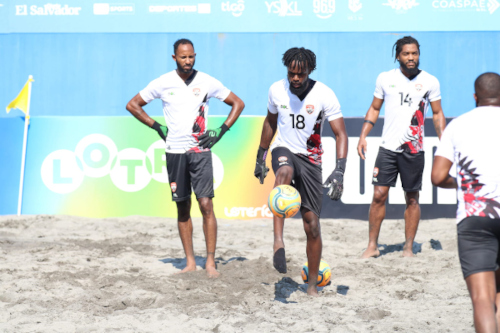 Yesterday evening, captain Jesse Bailey and his troops tried to put their issues aside in a do-or-die clash with The Bahamas. Unlike in the 11-a-side game, the Bahamas are better than decent on the sand.
The Bahamas are the Caribbean's highest ranked team at number five in Concacaf—Trinidad and Tobago are eighth in the confederation and second in the region.
"We wanted to be more in control of the game and play to our tempo [against the Bahamas]," said Appoo. "But at the start of the game that definitely wasn't the case."
Wood Julmis, who played against the Soca Warriors in the Concacaf Nations League, put the Bahamas ahead after just eight minutes—as Trinidad and Tobago were forced to chase the ball.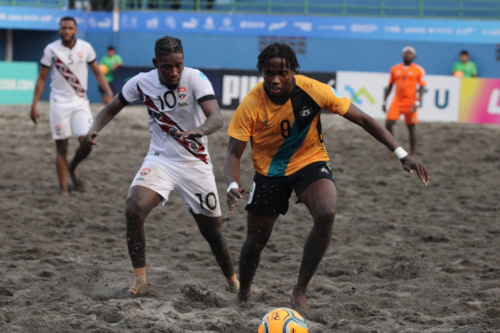 However, Bailey's gang hung in there.
"As the game progressed, we got more comfortable and settled in and were able to create lots of goal scoring chances," said Appoo.
Anderson Peters equalized for Trinidad and Tobago before the end of the first third, while Hakeem King put the Warriors ahead with a clever chip in the second 12-minute period.
Goalkeeper Jabari Gray opened up a two-goal lead with a long-range blast in the final third while Dominic "Munchin" McDougall could have put them out of sight from the penalty spot—only to strike the crossbar.
And a late Bahamian goal from Gavin Christie created some anxious flutters.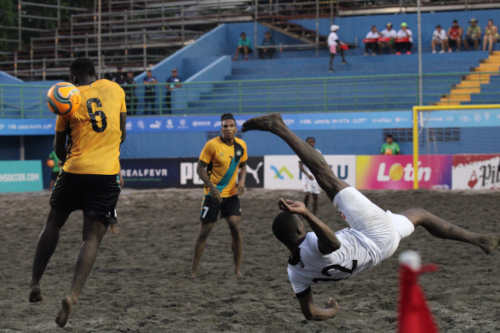 It is worth noting that, although Riley and Baird are not with the Beach Soccer team in El Salvador, there were other TTPFL teams who were more receptive to Appoo's call.
Club Sando, who are third in the 12 team standings at present—four points above Civic and W Connection—released tricky winger Kevon Williams and midfielder Jay-son Joseph to beach soccer. Central FC, who are second, also allowed Shane Hospedales to travel to El Salvador.
All three played their part against the Bahamas, with Joseph (J) numbered among three players, including Tevyn Gill and Kairon Joseph, who made their competitive beach soccer debuts in yesterday's fixture.
"At 3-1 up, we should have managed the game better," said Appoo. "[…] We didn't do that very well and we let them back in the game and allowed for a nervous ending. [But] we did take some of our chances and that allowed us to get over the line."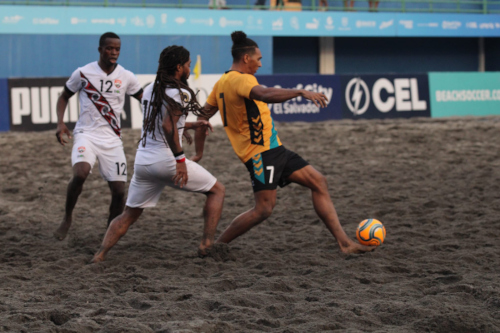 It was the opposite scenario for the Trinidad and Tobago women, also coached by Appoo, against El Salvador yesterday.
"For the ladies, it was a tough result to swallow—especially after leading the game 2-1," said the Trinidad and Tobago coach, "but all credit to El Salvador for showing their experience. There was a five or six minute period where they scored all of their goals.
"[…] Our women's programme only started six months or so. For a lot of the ladies, this is their third ever beach soccer game and we also had three ladies (Chrystal Ann Taylor-Lewis, Selina Isaac and Ketara Munroe) make their debut."
The Trinidad and Tobago Women's team caused a stir when they won the Bahamas Beach Soccer Cup in Nassau last year. Appoo was without captain Nia Honore due to exams, but the core of that team is in El Salvador at present.
With few professional options open to Trinidad and Tobago's outdoor women's footballers, several, like Honore, have turned to beach soccer.
Former National Under-20 Team defender Shaunalee Govia is a key component of Appoo's squad.
"I think Govia is our most complete player in terms of her ability in defence and offence with her physique and balance," said Gulston.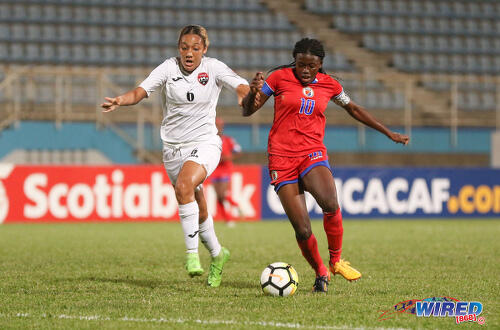 Stand-in captain Tenesha Palmer was a member of the Women Soca Warriors team that just missed out on a place at the Canada 2015 Women's World Cup, while Aaliyah Prince and Summer Arjoon looked set to shine at national senior level and Alexcia Ali was a promising national junior player.
"We have a really, really talented bunch of girls," said Appoo. "There are a lot of names that Trinidad and Tobago fans are familiar with because they played in the grass game: Aaliyah Prince, Alexcia Ali, Summer Arjoon.
"[…] They are a really talented bunch of ladies and very professional in the way they carry themselves."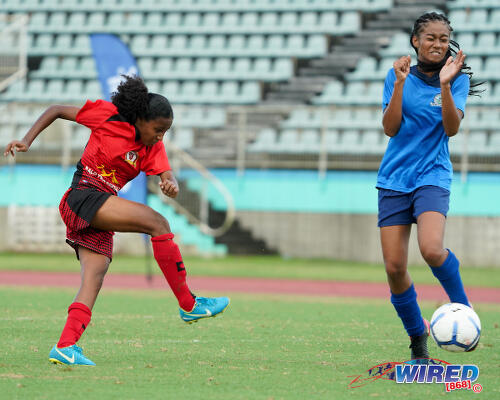 Gulston gushed too at Trinidad and Tobago's potential in the women's game.
"Alexcia is quite small [for a beach soccer player] but she is a goal scoring machine," he said. "She is tiny but she can stand her ground… I think a quality that the grass players tend to bring is composure, which is very important as there are many bad bounces on sand."
The ladies have their work cut out for them this evening against the United States—so too the men.
Two years ago, the United States men trounced Trinidad and Tobago 9-3 in this competition en route to a place in the Doha 2019 World Beach Games.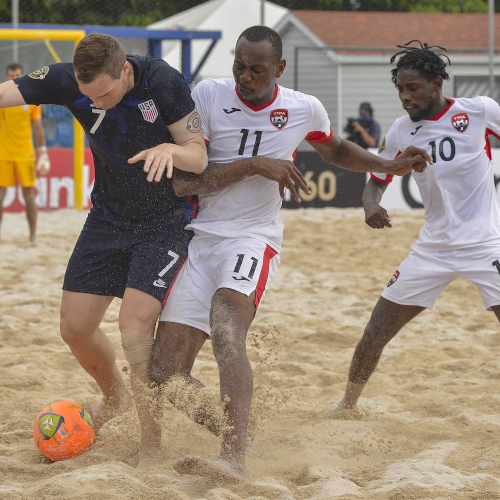 However, Appoo is optimistic about this evening's contest and expects that his squad will rise to the occasion.
"We didn't particularly play as we planned [against the Bahamas] but we got the result we wanted and I'm very optimistic about today," he said. "[…] We are one game away from qualifying for the World Beach Games in Bali. It is a big deal for a lot of the guys—it's the biggest game of their careers, most definitely.
"[…] I don't need to do a lot of motivation where that is concerned. We just need to tweak a couple things tactically and get ready to go.
"[…] We plan to play a lot more attacking and exciting football against the US."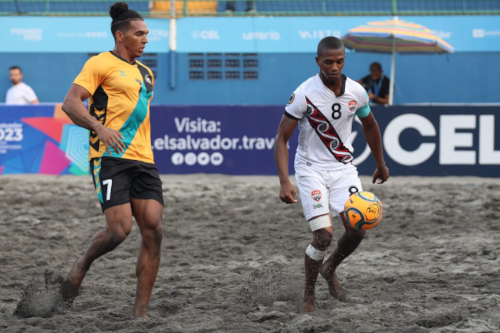 As families across the two-island republic head for the beaches this Easter, spare a thought for the Trinidad and Tobago contingent who are doing it better than any other group in the Caribbean.
Now if only they can pull the toe of a global superpower.
Editor's Note: Trinidad and Tobago's hopes of qualifying for the Men's and Women's World Beach Games were extinguished by United States on Friday 7 April, as they lost 7-2 in the women's game and 5-0 in the men's game.
(Trinidad and Tobago Women's Beach Soccer Team)
T&T: Tenesha Palmer (GK) (captain), Tsai Anne Fernandez (vice-captain), Crystal Ann Taylor-Lewis (GK), Shauna Lee Govia, Alexcia Ali, Aaliyah Prince, Adanya Phillip, Tisha Belfon, Summer Arjoon, Selinia Isaac, Ketara Munroe, Daniella Findley.
Staff: Chad Appoo (coach), Keston Guy (assistant coach), Arlene Paul (team manager), Shanelle Greaves (physiotherapist).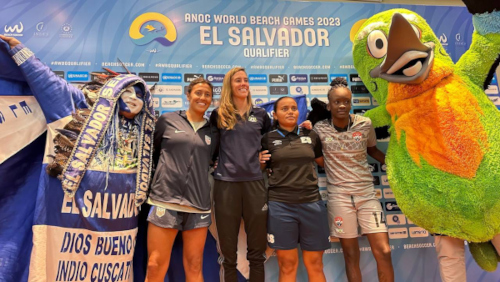 (Trinidad and Tobago Men's Beach Soccer Team)
Jesse Bailey (captain), Jabari Gray (GK) (vice-captain), David Dominic Mc Dougall, Zane Coker (GK), Anderson Peters, Shane Hospedales, Tevyn Gill, Hakeem King, Jay-son Joseph, Kevon Williams, Kareem Perry, Kairon Joseph.
Staff: Chad Appoo (coach), Keston Guy (assistant coach), Yuri Chapman (team manager, Joel Caresquero (physiotherapist), Dr Oba Gulston (head of delegation)