Dazzling free kicks, goalkeeping blunders and some roaring "Golden Lions" were on the loose yesterday, as the 2023 edition of the Republic Cup National Youth Football League (NYFL) All-Star weekend concluded at the Republic Cup Sports Ground in Barataria.
Is anyone on the hunt for a dead-ball specialist?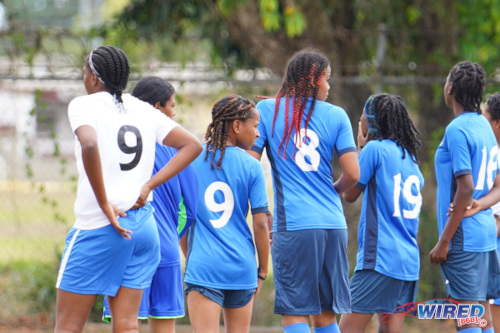 AC Port of Spain maestro Che Benny caused some havoc—and created history—on the weekend, as he scored the first hat-trick in the inaugural Trinidad and Tobago Premier Football League (TTPFL) season.
But had the ex-National Under-17 midfielder ventured east to 8th Avenue in Barataria after his Sunday lunch, he would have been mightily impressed with at least two free kick offerings.
As another bright and sunny day graced the two-island republic, the Power to Make a Difference XI pair of Lillian Selvon and Jillanda Sandy both struck home beautiful free kicks as their team romped to a thumping 6-0 win over the Right Start XI in the NYFL Girls All-Star matchup.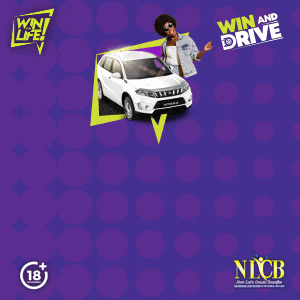 In an exhibition match that boiled down to a nine-a-side affair split into three 20-minute thirds in the scorching Barataria sun, poor Right Start XI goalkeeper Kimberlynn Rampersad must have felt as though she was going through literal hell.
Rampersad would have needed stilts to come near to the efforts by Sandy and Selvon, which arrowed like spears from their right boots straight to the top corner. And by the time opposing goalkeeper Nyasha Cox nonchalantly stepped up to the penalty mark to round off the scoring in the final third, a weary Rampersad may have felt like requesting a transfer.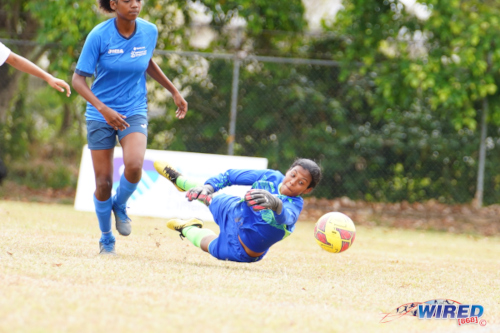 The mild-mannered Cox may have been wondering what all the fuss was about, as she barely lifted a finger in what seemed to be a breezy afternoon stroll between the uprights for the Power To Make A Difference XI.
"It's always a great initiative for sponsors and corporate T&T to get behind sport and development, especially football," said Defence Force Under-20 coach Stephen "Bison" Williams, who was one of the two coaches assigned to oversee the Boys All-Star game. "It really augurs well for the development of the youth. I think it went well, based on the limited feedback I have gotten.
"Some of the players actually got a look in and got offers. Hopefully, they can take up on it and make something for themselves and we will have more scouts coming to Trinidad. And we'll have more showcases like these where boys and girls could… get opportunities to better their careers in football."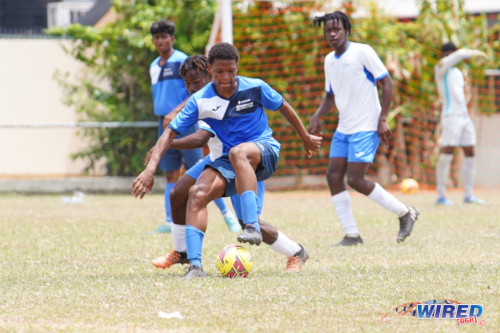 Bison, who is also Fatima College football manager, took charge of the Power to Make a Difference XI yesterday, as he and Premier SC's coach Sharaaz Ali swapped teams from Saturday's exhibition game.
Their respective roles during the All-Star proceedings were more supervisory than hands-on though, as the foreign coaches and scouts invited by Gateway Athletics went through the paces with the players from Thursday's screening sessions straight to the culmination of the second All-Star game.
With just about three match days gone in the 2023 NYFL season, the timing of the All-Star showcase was a bit peculiar. Gateway Athletics managing director Shem Alexander said it was the most opportune time to capture the attention and availability of United States college coaches who are in their recruitment drive.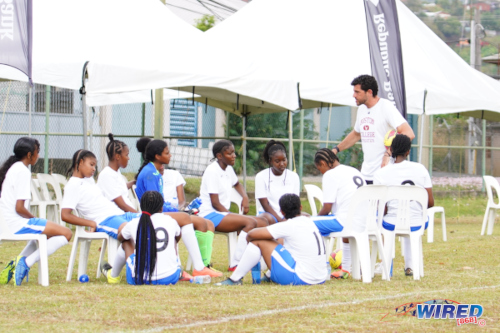 "This year we are catering to the professional side as well," Alexander told Wired868. "It's a bit tricky in terms of us having it during the season. We are doing it solely because this is the time of year that college coaches recruit for the fall season, which is from August.
"Anywhere from January to the end of March/April will be their main recruiting time. We would have decided to have the showcase mid-season so that players could be eligible to get scholarships for the fall of 2023."
With the League pinpointing players for All-Star selection, and Under-20 coaches also asked to send their three best players for screening, a player pool of approximately 112 players was narrowed down to 40 for the two All-Star games.
"We went with [the Under-20] age group because a lot of the coaches are looking to recruit this year and the age has to be 17 and above to go abroad," Alexander said. "You would find an exceptional 15 year-old per se, but they won't be ready for college just yet. That's why we would've narrowed the focus to the Under-20 age group."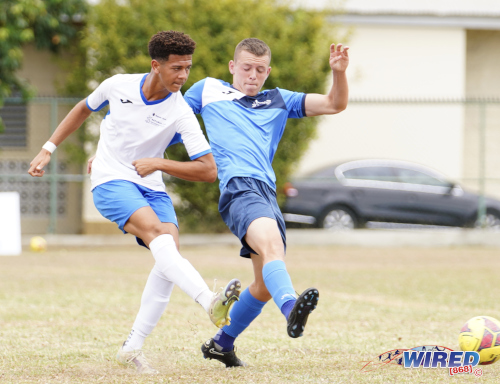 Roughly 10 national youth players featured in the all-star weekend alongside 2022 Secondary Schools Football League (SSFL) stand-outs like Brandon Dalrymple, Jesse Hospedales, and Larry Noel.
The Sister Isle got their piece of the pie today, as the NYFL All-Star exercise moved to the Signal Hill Recreation Ground.
Observing the proceedings are Gaye Diadie (Chicago State University), Franchesco Agustino (Boston College), Karmo Bolay (CCBC College), Colton Ditches (Averette University), Chris Saul (IFE), Quinton Washington and Andreas Pilotski (both Next Level Talents).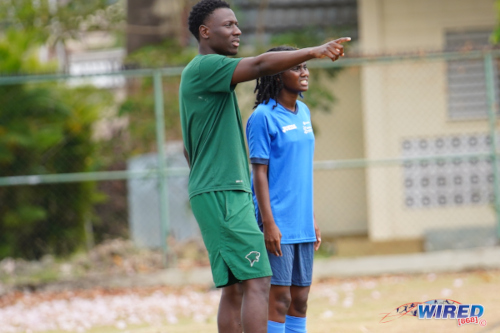 "This year is a bit different in terms of the coaches' involvement," said Alexander. "In the past, we would've had showcases where the coaches just come and sit and choose who they like. We wanted to give the players a first-hand experience with top-level coaches.
"Throughout the entire weekend, they would've played a big part in the sessions and talking tactics and so on."
There were, according to Saul, upwards of 24 additional coaches with access to live-streaming of the All-Star matches.
Alexander noted that the presence of German-based recruitment agency, Next Level Talents, was meant to cater for players who "may not be quite interested in the academic side of things but could be available to play pro".
Teenaged flanker Micah Cain, who represented Trinidad and Tobago at the 2022 Concacaf Under-20 Championship, was managed by Next Level Talents. And Saul, the operations director of Next Level Talents, was on the lookout for players with similar potential.
Saul also runs International Football Experiences (IFE), whose stated goal is "to give opportunities and experiences to athletes across the world to go to college in the States".
"I was hired to bring a staff out here that would kinda replicate those ideas and give exposure to the kids to go overseas for college," said Saul, who had a brief professional stint as a player in Sweden, "and then to manage the process of the players going to college and making sure that it's done properly.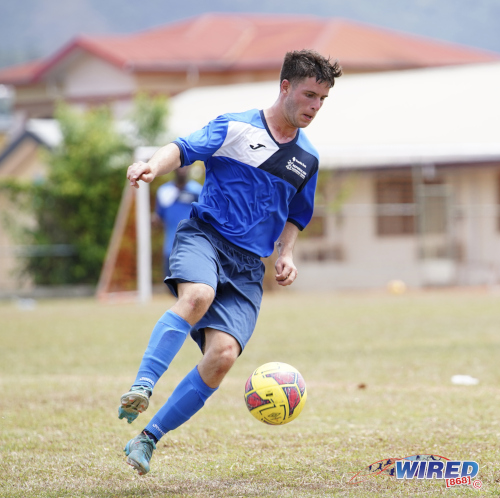 "[…] Players may not satisfy the criteria due to financial or academic [reasons]. Our job is to match the kids up with schools that fit their specific needs."
And what about the professional avenue? How does the process work for Saul and Next Level Talents?
"For the professional route, what we look to provide is exposure to Europe and Germany and give kids the opportunity to come out there and we'll train them and set their trials up," said Saul, who noted that a few players had caught the eyes of his team. "That doesn't mean that a kid is going to be a pro. It just means we give them the opportunity at that point.
"If we don't think the kid has what it takes, then we would still push them to college."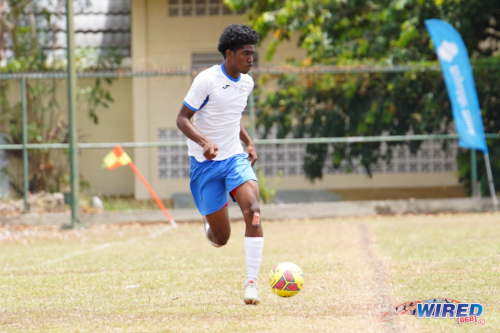 Saul was tight-lipped on the players who stood out in the All-Star showcase, although Wired868 had its own picks.
Unsurprisingly, a few national youth players dazzled, as Christian Bailey terrorized on the wing, attacker Malachi Webb pressed and bullied defenders like a man possessed, and Josiah Ochoa looked as smooth as silk in central midfield alongside Theron O'Brien.
Tricky St Anthony's flanker Theo Cravador got the show on the road after just seven minutes though, as he opened the scoring for Right Start XI with a tidy effort from a tight angle after rounding goalkeeper Jerrel Thorne.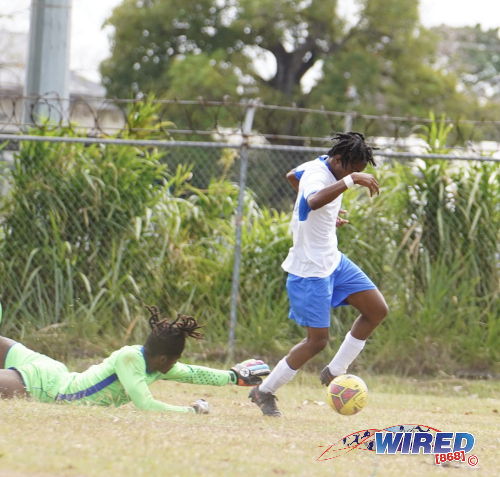 Cravador's party tricks seemed to be the undoing of Trinity College East central defender Andre Providence, who exited the event after the opening goal with some heavy strapping on his right ankle.
"It's just four days and the players' mentality and their attitude were great," Saul said. "I could see on the fourth day [that] they could be really tired but they didn't really complain. They were persistent, worked hard and showcased their ability."
Maybe the four-day exercise got to the goalkeepers first. There were a few soft items conceded in the Boys All-Star event yesterday—and that's putting it nicely.
Thorne and Tor Fletcher both gave up cheap goals for Power To Make A Difference in the second and final thirds of the 90-minute game, with Fletcher literally dropping a regulation catch at the feet of St Benedict's College winger Jeremiah Niles for the easiest of tap-ins.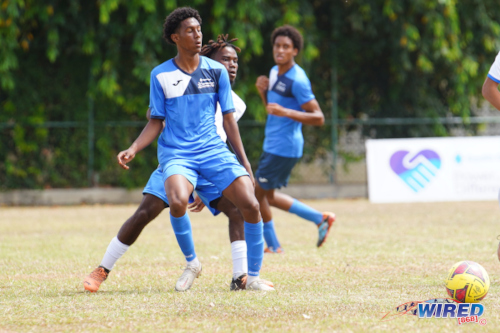 Meantime, Right Start's Dalrymple seemed to be outfoxed by a leg break or a bad bounce in the 21st minute, as a tame volley by Vaughn Clement crept in to make it 1-1 at that time.
There was no mental or physical fatigue hindering the bustling Webb in Barataria though, as—on a hot Sunday morning—the forward chased loose balls with the same intent and vigor that he showed at this year's Concacaf Under-17 Championships.
Power to Make a Difference defenders Russell "Boyo" Francois and Tyrell Inniss felt the brunt of Webb's running, particularly with limited options available to Bison on an ever-dwindling bench.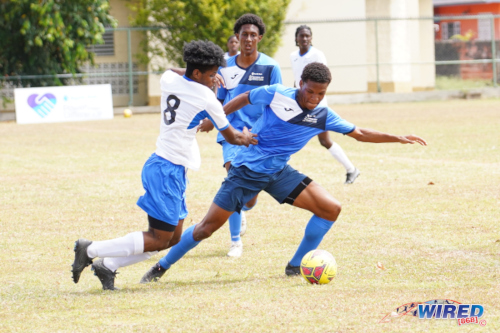 Webb was rewarded for his industry with a pair of goals, as he swept home from a Bailey cross to make it 3-2 in the 56th minute. And for his second item, he scored from a ridiculously tight angle on the right, after he caught Thorne napping at the back stick.
Earlier, Noel offered a sweet finish from another Bailey service to contribute to Right Start's eventual 5-2 triumph.
Webb was not the only St Benedict's College attacker on the scoresheet though, as Jaden Grant got a consolation item for Power To Make A Difference to remind everyone of the Golden Lions' available firepower for the 2023 Secondary Schools Football League (SSFL) season.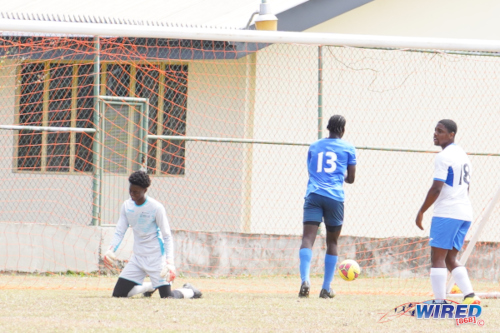 If Gateway, Republic Bank and Next Level Talents have their way though, the SSFL and NYFL will not be the pinnacle of these players' careers.
"There is a pathway for everyone," said Saul, as he discussed potential future opportunities for the all-stars. "We'll make sure that we try and see them through the entirety of the process."
Republic Cup NYFL All-Star Game  
(Sunday 2 April)
Boys Under-20
Right Start XI 5 (Theo Cravador 7, Larry Noel 44, Malachi Webb 56, 69, Jeremiah Niles 59), Power to Make a Difference XI 2 (Vaughn Clement 21, Jaden Grant 31) at Republic Bank Sports Ground;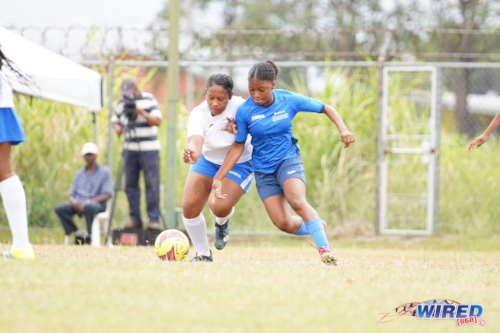 Girls Under-20
Right Start XI 0, Power to Make a Difference XI 6 (Sharne Williams 4, Lillian Selvon 18, 33, Elianna Petit Dyett 19, Jillanda Sandy 30, Nyasha Cox 44 pen) at Republic Bank Sports Ground;
(Teams)
Boys Under-20
Power to Make a Difference (Blue) (4-2-3-1): 1.Jerrel Thorne (GK); 3.Jesse Hospedales, 18.Russell Francois, 6.Andre Providence, 12.Tyrell Inniss; 19.Jabari Ahing, 16.Keyel Morris; 9.Josiah Connell, 15.Dante Cooper, 11.Vaughn Clement; 13.Jaden Grant.
Substitutes: 21.Tor Fletcher (GK), 4.Adam Pierre, 5.Dejon Lezama, 7.Harrison Parks, 10.Aalon Wilson-Wright, 14.Logan Maingot, 17.Michael Chaves, 20.Philip Tinto.
Coach: Stephen Williams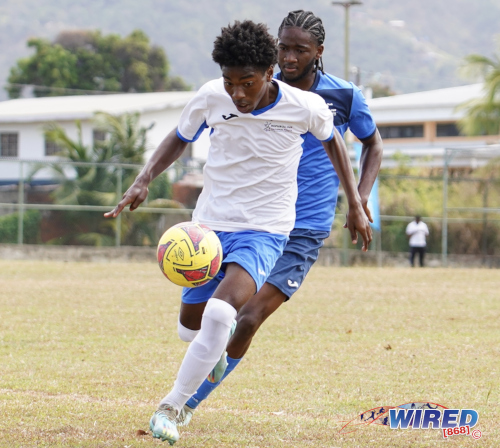 Right Start (White) (4-2-3-1): 21.Brandon Dalrymple (GK); 19.Daniel Rose, 18.Jamali Lynch, 20.Jeremiah Daniel, 6.Joshua Kanhai; 16.Theron O'Brien, 12.Josiah Ochoa; 15.Kade Collier, 7.Derrel Garcia, 3.Theo Cravador; 8.Malachi Webb.
Substitutes: 1.Tristan Edwards (GK), 21.Xavion Haynes (GK), 2.Christian Bailey, 4.Jaden Williams, 5.J'sean Batson, 9.Lendelle Baptiste, 10.Aiden DeGannes, 11.Jeremiah Niles, 13.Larry Noel, 14.Aydon Caruth, 17.Ishmael Lewis.
Coach: Sharaaz Ali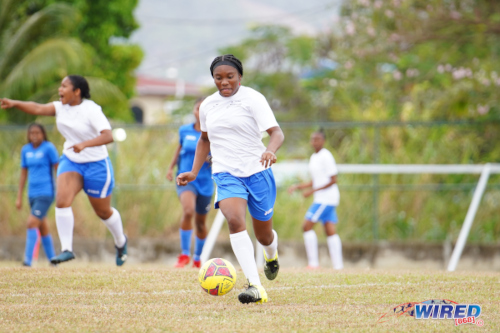 Girls Under-20
Power to Make a Difference (Blue): 1.Nyasha Cox (GK), 3.Afiya Jacob, 4.Jaime Sandy, 6.Jada Cummings, 7.Abigail Marchan, 8.Makeba Morang, 9.Lilian Selvon, 10.Kayla Baboolal, 11.Elianna Petit Dyett, 16.Sharne Williams, 17.Jillanda Sandy, 19.Shurella Mendez.
Right Start (White): 1.Kimberlynn Rampersad (GK), 3.Janaya Charles, 4.Jordanne Antoine, 6.Sheneil Findley, 7.She Dudley, 8.Jada-Marie Joe, 9.Jewel Benjamin, 10.Nariah Harvey, 11.Jada Perreira, 12.Diamond Baptiste, 14.Shania Edwards, 19.Celene James.