The United States and Mexico booked their final dance partners today as the CONCACAF Women's Under-20 Championship enters its business end on Friday at the Ato Boldon Stadium in Couva.
USA, who won the last four successive CONCACAF Under-20 tournaments and five of the Confederation's seven competitions at this level, will face Haiti from 4pm while Mexico are scheduled to meet Canada from 7pm at the same venue.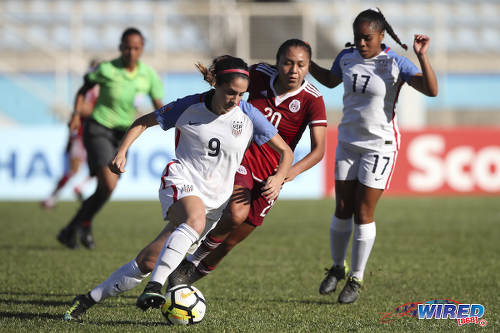 Canada, who have two all-time CONCACAF titles, are the only other nation to win this competition although their last triumph came ten years ago at the 2008 edition in Mexico.
Judging from what has already occurred, it is likely to be a gripping finale.
There are three spots available for the France 2018 Women's Under-20 World Cup. So the two semifinal winners qualify automatically while the winner of the third place play-off also advances.

This evening, the top two Group B teams opted to pace themselves with their eyes firmly on the prize.
Both coaches ensured that their previously uncapped players in the competition played from the start—remarkably then, all 20 players for the United States and Mexico have started at least one game at Couva.
If anything symbolises the gap between CONCACAF's giants and the challengers, it would be their ability to treat the group matches as warm-ups rather than blood-and-thunder stuff.
Haiti did attempt to follow suit in their final group match yesterday as they had already booked a semifinal berth for the first time. But it didn't work too well; they were thrashed 4-0 by Canada.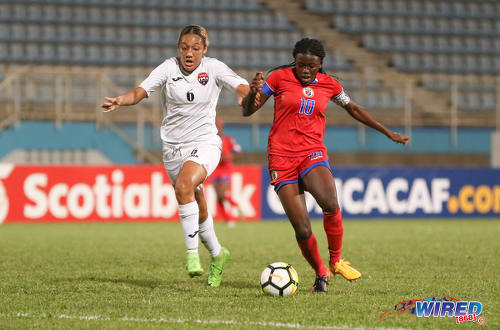 Haiti coach Marc Collat would be relieved to have the gifted duo of striker Nérilia Mondésir and midfielder Melchie Dumornay working in tandem on the pitch again on Friday. It is hard to imagine that either player would look out of place on a football field—no matter the calibre of the opposition. But whether their combined individual ability can make a meaningful difference is another matter entirely.
Facing the USA Under-20 Women does not feel like a proposition of 11 versus 11. It is more like trying to hold off an army of 323 million-strong.
Press, pass, cross, shoot. Repeat.
Coach Jitka Klimkova's team pushes opponents to the brink of their comfort zone. You might hold out for the opening 10 minutes. Or 20. But by the 30th minute, you find yourself doing a head count, just to be sure the Americans didn't sneak some extra players on the field.
It was precisely on the half-hour mark that USA took the lead this evening, as pacy attacker Abigail Kim—in her first start of the tournament—slipped behind the Mexican defence to latch on to a through pass before beating opposing captain and custodian Emily Alvarado with a composed finish.
Nine minutes later, attacker Ashley Sanchez doubled their lead, converting a right-side Sophia Smith cross.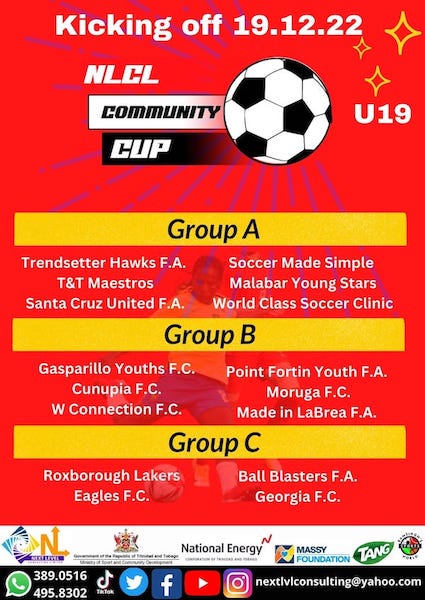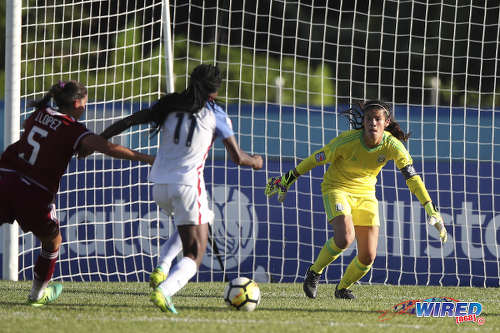 Sanchez, who is in her second CONCACAF Under-20 campaign and has already competed at two FIFA tournaments, has 23 caps at this level, including games against Brazil, Germany, England and France. That is not even enough to make her the most capped player on her team, which honour goes to Savannah DeMelo with 26 outings.
In contrast, Trinidad and Tobago do not have a single player with even 10 caps while three members–or a quarter–of the host team had never played a competitive Under-20 game before last week.
Mexico did halve the deficit in the second half through substitute Katty Martinez but both coaches appeared happy enough to hold something back for when the real action starts.
Klimkova has not even used one of her best players yet. Central defender Tierna Davidson played for 90 minutes for USA's senior team on Sunday in a friendly against Denmark, which they won 4-1. Davidson did not come off the bench today but there is a high probability that she will be on the pitch on Friday, as the defending champions bid to master Mondésir.
In the closing match, Jamaica and Nicaragua both went full strength in an effort to leave Trinidad with three points. But they were forced to share the spoils.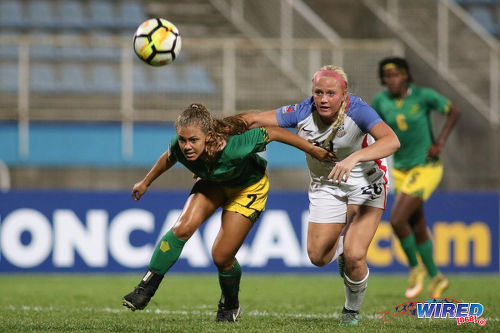 Twice, the "Reggae Girlz" took the lead through the lively Olufolasade Adamolekun and substitute Jazmin Grant, only for Nicaragua to hit back each time via a Jaclyn Gilday penalty and a low Yessenia Flores strike.
Incidentally, their draw meant that Trinidad and Tobago were the only one of the eight competing teams not to secure at least a point in the CONCACAF tournament.
From Friday evening, there will be a lot more at stake in Couva.
(Teams)
United States (4-1-2-3): 12.Amanda McGlynn (GK); 17.Kiara Pickett, 4.Naomi Girma, 14.Karina Rodriguez, 5.Isabela Rodriguez; 18.Jaelin Howell, 9.Savannah DeMelo (captain) (15.Viviana Villacorta 46), 10.Samantha Coffey, 11.Abigail Kim, 3.Sophia Smith (20.Civana Kuhlmann 65), 2.Ashley Sanchez (7.Taryn Torres 74),
Unused substitutes: 1.Laurel Ivory (GK), 6.Zoe Morse, 8.Brianna Pinto, 13.Tara McKeown, 16.Kelsey Turnbow, 19.Tierna Davidson.
Coach: Jitka Klimkova (Czech Republic)
Mexico (4-2-1-3): 1.Emily Alvarado (GK) (captain); 2.Ashley Soto, 3.Miriam García, 13.Mia Villegas, 5.Jimena López (15.Samara Alcalá 63); 6.Andrea Hernández, 14.Natalia Villareal (7.Dayana Cazares 76); 10.Katty Martínez; 17.Bélen Cruz, 18.Norma Palafox, 20.Montserrat Hernández (11.Jacqueline Ovalle 71).
Unused substitutes: 12.Miriam Aguirre (GK), 4.Kim Rodríguez, 8.Alexia Delgado, 9.Daniela Espinosa, 16.Maricarmen Reyes, 19.Gabriela Juárez.
Coach: Christopher Cuellar (USA)
Referee: Tatiana Guzman (Nicaragua)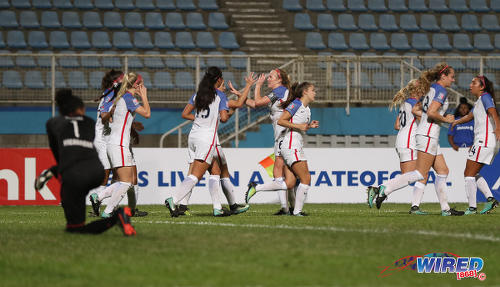 CONCACAF Women's Under-20 Championship
[All Matches played at Ato Boldon Stadium in Couva]
(Tuesday 23 January)
United States 2 (Abigail Kim 30, Ashley Sanchez 39), Mexico 1 (Katty Martinez 75), Group B;
Jamaica 2 (Olufolasade Adamolekun 6, Jazmin Grant 63), Nicaragua 2 (Jaclyn Gilday 23, penalty, Yessenia Flores 82), Group B.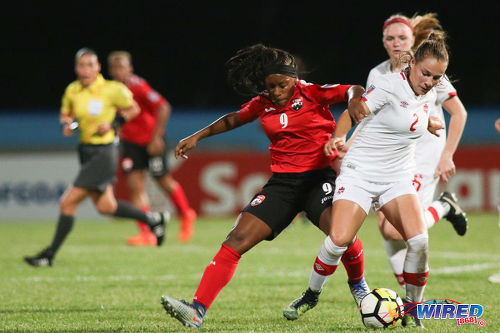 Upcoming Fixtures
(Friday 26 January)
United States v Haiti, Semifinals, 4pm;
Canada v Mexico, Semifinals, 7pm;
(Sunday 28 January)
Third Place Play-off, 2pm;
Under-20 Finals, 5pm.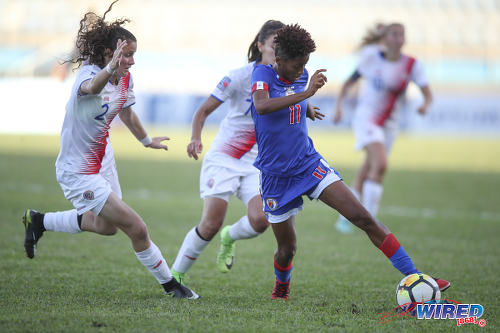 Goal Scorers
5—Jordyn Huitema (Canada),
3—Shana Flynn (Canada), Nérilia Mondésir (Haiti),
2—Gabby Carle [1 pen] (Canada), Hillary Corrales (Costa Rica), Katty Martinez, Belén Cruz (Mexico), Dennecia Prince (Trinidad and Tobago),
1—Tonya Boychuk (Canada), Catalina Estrada, Daniela Coto, Fabiola Villalobos [pen] (Costa Rica), Roseline Eloussaint, Nelourde Nicolas, Melchie Dumunay (Haiti), Olufolasade Adamolekun, Jazmin Grant, Jadyn Matthews (Jamaica), Jacqueline Ovalle, Dayana Cazares (Mexico), Jaclyn Gilday (Nicaragua), Kedie Johnson, Aaliyah Prince (Trinidad and Tobago), Taryn Torres, Civana Kuhlmann, Sophia Smith, Jaelin Howell, Abigail Kim, Ashley Sanchez (USA).