The United States held off a feisty Haitian outfit to qualify for their eighth straight CONCACAF Women's Under-20 Championship final at the Ato Boldon Stadium in Couva tonight. But only just, as they defeated a 10-member Haiti squad 3-0 on kicks from the penalty spot after a 1-1 draw in regulation time.
They will face Mexico for the second time in this tournament after "El Tricolor" also did the business via the shootout,  edging Canada 4-3 following a 1-1 tie. In the group stage of the tournament on Monday, the Americans had edged out their Mexican neighbours 2-1 although neither side was at full strength.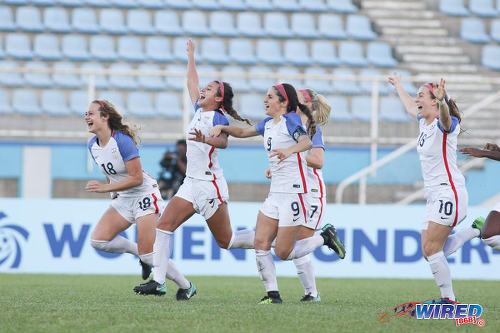 Tonight's results mean that United States and Mexico will represent CONCACAF at the France 2018 Women's Under-20 World Cup, which kicks off in France on 5 August. The North American neighbours will also meet in the Confederation final of this age-group for the third time on Sunday when they square off from 5pm at the Couva venue.
There is still one more World Cup spot at stake and Haiti and Canada will fight over it in the third place play-off from 2pm on Sunday.
Fans and stakeholders willd hope that there is no more time juggling after today's opening semifinal kicked off a half-hour earlier than originally announced.
Wired868 understands that CONCACAF informed the Local Organising Committee (LOC)—headed by Carol Ayoung and Sharon O'Brien—of the time change but this information never made its way to the public.
It was a rare blip, though. Most importantly, the surface of the Couva venue has held up really well to defy initial pessimistic forecasts—a fact that Trinidad and Tobago Football Association (TTFA) president David John-Williams has seized every opportunity to throw in the faces of the naysayers.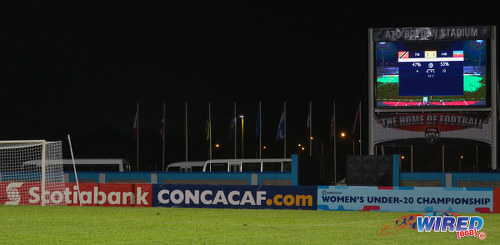 Reviews of the ground's quality were mixed, though.
Canada coach Beverly Pressman said she never even noticed what her players were running on.
Mexico coach Christopher Cuellar said it was slower and heavier than he is accustomed to but he had no complaints.
USA coach Jitka Klimkova described the field as "really different grass, a little bit harder for us compared to the fields that we are used to but […] fine."
But Haiti coach Marc Collat was less diplomatic.
"The field was not good at all," said Collat, via a translator. "[It was] deplorable."
Well, most importantly, the football has been memorable—even though the local team did not advance from their group.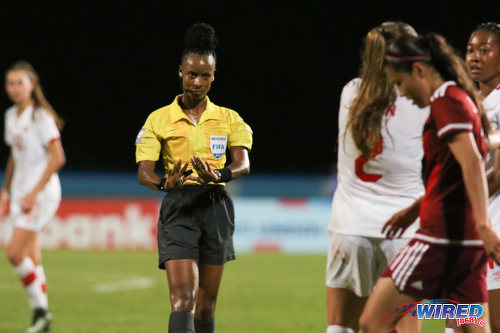 The Haitians have been a big part of that excitement as they continue to chase a historic berth as the region's first World Cup qualifiers in this tournament.
Five-time tournament champions USA have not lost a game at this level in 10 years. Yet, despite being a player short, Haiti pushed them hard. And it took penalty kicks to separate the nation with the largest economy in the world from, well,everyone knows by now how little the US President values the French-speaking island.
Tonight in Couva, though, Haiti earned the respect of their illustrious opponents, as they stood up to the empire and—to paraphrase King Leonidas in the action movie 300—they made a CONCACAF god bleed.
"We knew they have a lot of good technical players and we know they can go behind us, so we were prepared for that situation," said Klimkova. "We knew we can go behind them too. So we were calm and confident."
It was a spiky, competitive affair, fast and compact. USA pressed high in their usual suffocating style in a bid to peg back their opponents. But Haiti countered by going directly to their frontline so as to avoid costly turnovers and make the most of their athleticism.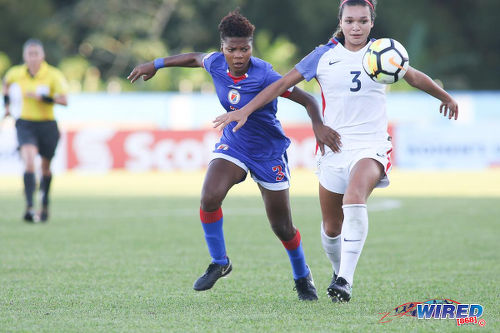 By halftime, Haiti had had six shots to four from USA, with both goalkeepers doing brilliantly to deny Haiti midfielders Sherly Jeudy and Melchie Dumornay and USA winger Sophia Smith respectively.
The best chance fell to Smith in the 26th minute but, after rounding Haiti custodian Kerly Theus, she contrived to miss the gaping net.
The US did get the opening goal, though, and it came via a typical move. The Haitian defence had  given up precious little in their own half during the first 45 minutes, But just over half an hour into the second half, Haiti midfielder Dougenie Joseph was caught in possession and Jaelin Howell seized the chance to rush clear and score on the second attempt.
The defending champions were ahead at last and, four minutes later, Haiti defender Emeline Charles was ejected for her second bookable offence; it looked like curtains for the Caribbean queens particularly as, in the 14-year history of this competition, USA have never conceded a goal in the semifinal round.
But then neverbefore had they faced a talent like Haiti captain and forward Nérilia Mondésir. Three minutes into stoppage time, Mondésir finally broke clear of formidable USA central defender Tierna Davidson and manufactured an improvised volley off her thigh to beat opposing goalkeeper Amanda McGlynn and pull her team level.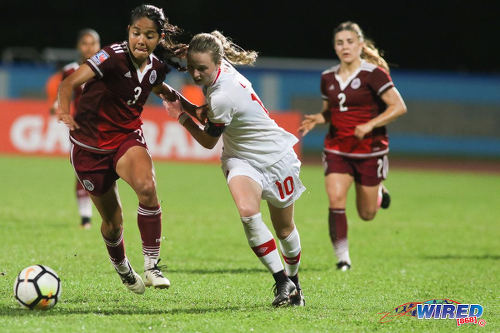 The strike sent the partisan Couva venue into an uproar and Theus went on to save USA's opening penalty kick from Smith. But Haiti could not maintain their momentum, failing to score any of their three attempts in the shootout with Mondésir failing to even hit the target.
"In the beginning, we had more control but again Haiti showed us what a good team they are," said Klimkova, "and they fought until the end. […] We need to play for 90+ minutes."
Cuellar and the gang learned a similar lesson in the evening's second affair, as they took the lead through a Jimena López free kick in the 34th minute. Try as they did, however, they just could not get that insurance item as Canada goalkeeper Rylee Foster pushed a Gabriela Juarez header and a Belén Cruz penalty against the bar while defender Hannah Taylor cleared a Katty Martinez effort off the goalline.
And, in the 79th minute, Canada's impressive captain and playmaker Gabrielle Carle grabbed a fortuitous equaliser after good wing play from forward Jordyn Huitema and full-back Emma Regan.
In the subsequent shootout, Mexico defender Miriam García and Canada midfielder Julia Grosso failed to convert before Huitema, the tournament's leading scorer, took her mark and had her nonchalant effort stopped by the legs of Mexico's superb goalkeeper Emily Alvarado.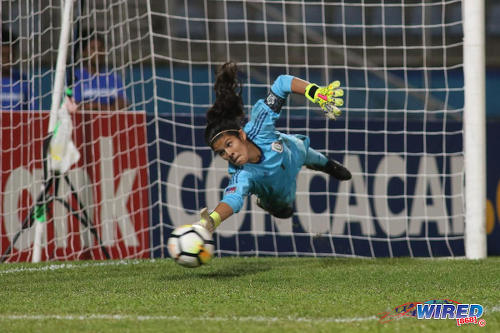 It meant another clash between bickering neighbours United States and Mexico.
Haiti and Canada have already met already in this tournament, the Caribbean nation having been  swatted aside 4-0 in their final group match, after fielding a team made up almost entirely of their substitutes.
On Sunday, it will be the real thing. If the masterful Mondésir has anything else left up her sleeves, it would be a good idea to leave it all out on the field in a couple days' time.
CONCACAF Women's Under-20 Championship
(Friday 26 January)
USA 1 (Jaelin Howell 76), Haiti 1 (Nérilia Mondésir 90+3), Semifinals, Ato Boldon Stadium;
*—USA won 3-0 on kicks from the penalty mark;
Canada 1 (Gabrielle Carle 79), Mexico 1 (Jimena López 34), Semifinals, Ato Boldon Stadium;
*—Mexico won 4-3 on kicks from the penalty spot.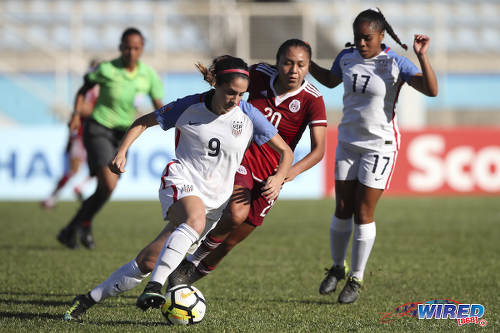 Upcoming fixtures
(Sunday 28 January)
Haiti v Canada, Third Place Play-off, 2pm;
United States v Mexico, Under-20 Finals, 5pm.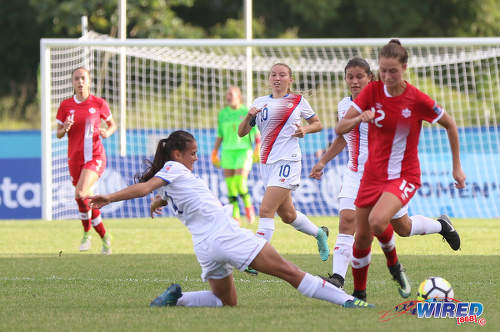 Goalscorers
5—Jordyn Huitema (Canada),
4—Nérilia Mondésir (Haiti),
3—Gabby Carle [1 pen], Shana Flynn (Canada),
2—Hillary Corrales (Costa Rica), Katty Martinez, Belén Cruz (Mexico), Dennecia Prince (Trinidad and Tobago), Jaelin Howell (USA),
1—Tonya Boychuk (Canada), Catalina Estrada, Daniela Coto, Fabiola Villalobos [pen] (Costa Rica), Roseline Eloussaint, Nelourde Nicolas, Melchie Dumunay (Haiti), Olufolasade Adamolekun, Jazmin Grant, Jadyn Matthews (Jamaica), Jacqueline Ovalle, Dayana Cazares, Jimena López (Mexico), Jaclyn Gilday (Nicaragua), Kedie Johnson, Aaliyah Prince (Trinidad and Tobago), Taryn Torres, Civana Kuhlmann, Sophia Smith, Abigail Kim, Ashley Sanchez (USA),