Trinidad and Tobago ended their CONCACAF Women's Under-20 Championship campaign with a third successive defeat this evening, falling 2-1 to Costa Rica at the Ato Boldon Stadium in Couva.
For the third straight match, the Junior Women Soca Warriors scored first—this time, through bustling forward Dennecia Prince. But, yet again, they could not hold on, even against a Costa Rican team that had not won a match in the tournament before today and which had rested eight of their regular starters.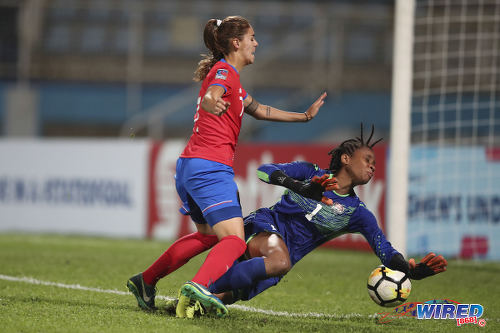 It was one of their regular players who turned the game around, though, as attacker Fabiola Villalobos converted a penalty within seconds of coming on in the 46th minute before Hillary Corrales grabbed a 56th minute winner.
By then—and not for the first time—the hosts had run out of puff and they offered only token resistance in the second half.
Still, it was more competitive than the opening game of the Group A double-header, as Haiti took the sting out of a top of the table clash by starting nine substitutes—only to be soundly thrashed 4-0 by Canada.

Only three of the four semifinalists will advance to the France 2018 Under-20 World Cup and Canada, Mexico and the United States all rested players for their second group match with an eye on the knock-out round on Friday. Haiti too, belatedly, decided to do likewise this evening and seek to preserve their legs for the semi-final engagement.
Time will tell if Haiti coach Marc Collat made the right call but Canada winger Shana Flynn made the most of the opportunity with a hattrick while Tonya Boychuk closed off the score summary for the North Americans.
When Costa Rica put out a weakened team and promptly fell behind, there was genuine hope for a consolation win by the hosts.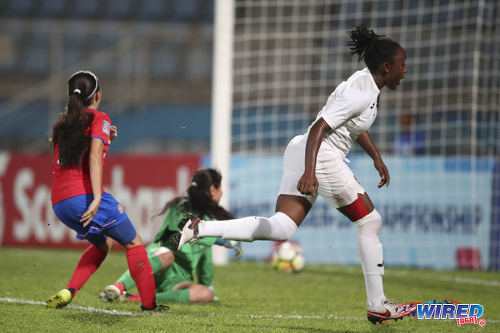 Once more, it was a delightful goal. Tiny attacker Aaliyah Prince was kicked off her feet for the umpteenth time this tournament but the ball rolled to midfielder and stand-in captain Ranae Ward who played into the path of overlapping full-back Jaasiel Forde. And Forde's incisive lofted diagonal pass for Prince (D) inspired a finish to match, the forward controlling the ball neatly before burying it through the legs of opposing custodian Nicoles Genis.
Costa Rica coach Amelia Valverde responded by introducing Villalobos at the interval and her impact was immediate. Within seconds, the attacker darted behind the Trinidad and Tobago defence for a loose ball. Goalkeeper K'lil Keshwar got there first but failed to get her hands on the ball and, as Villalobos flew over the custodian, United States referee Ekaterina Koroleva pointed to the spot.
Villalobos took the penalty herself to pull Costa Rica level.
The winner came off a set piece as the Trinidad and Tobago defence failed to deal with a deep free kick from Kenlly Villalobos—one of three Villaloboses in the Costa Rican team—and Corrales flicked the ball around Keshwar to complete the comeback.
Editor's Note: See Wired868 later for full match report with comments from both coaches.
(Teams)
Trinidad and Tobago (4-4-2): 1.K'lil Keshwar (GK); 12.Jaasiel Forde (16.Kelsey Henry 61), 17.Alexis Fortune, 2.Crystal Molineaux, 3.Shadi Cecily Stoute; 10.Aaliyah Prince (19.Chelcy Ralph 73), 11.Ranae Ward (captain), 13.Shenieka Paul, 14.Kedie Johnson; 7.Dennecia Prince (15.Asha James 67), 9.Laurelle Theodore.
Unused substitutes: 20.Malaika Dedier (GK), 5.Nathifa Hackshaw, 6.Shaunalee Govia, 8.Megan Rampersad, 18.Brittney Williams.
Coach: Jamaal Shabazz
Costa Rica (4-2-1-3): 18.Nicoles Genis (GK); 5.Fernanda Sanabria (16.Priscilla Chinchilla 46), 15.Stephannie Blanco, 3.Jeimy Unaña, 6.Maria Paula Elizondo; 19.Daniela Coto (8.Mariela Campos 75); 10.Gloriana Villalobos (), 13.Cristal Sandi (7.Fabiola Villalobos 46); 12.Kenlly Villalobos, 17.Catalina Estrada, 14.Hillary Corrales.
Unused substitutes: 1.Fabiano Solano (GK), 2.Maria Paula Salas, 4.Maria Paula Coto, 9.Sofia Varela, 11.Juliet Navarro, 20.Yaniela Arias.
Coach: Amelia Valverde (Costa Rica)
Referee: Ekaterina Koroleva (United States)
CONCACAF Player of the Match: Gloriana Villalobos (Costa Rica)