Trinidad and Tobago's 2024 Women's World Under-20 Cup campaign ended in Curaçao tonight, after just three matches.
The Women Soca Warriors needed a win over Puerto Rico to advance to the Concacaf Championship, but it wasn't even close—as the ladies in red, white and black slumped to a 5-0 defeat at the Rignaal Jean Francisca Stadium in Willemstad.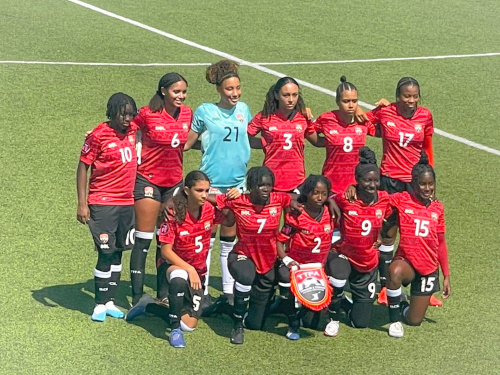 Remarkably, the final scoreline flattered Trinidad and Tobago—and was testimony to a fine performance by goalkeeper Sophia Keel.
Inevitably, any post-mortem of tonight's game is bound to linger on coach Dernelle Mascall's decision to start the match without her three best attacking players: forward J'Eleisha Alexander, flanker Talia Martin and playmaker Orielle Martin.
Alexander scored a hattrick in Trinidad and Tobago's 3-2 win over Guadeloupe on Monday, Talia has two goals, an assist and won two penalties from two group matches so far, and Orielle has been the provider for most of their forays.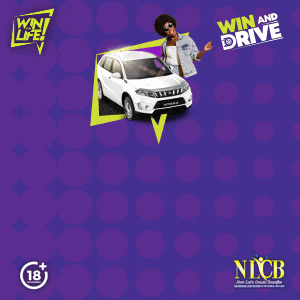 None of them started in tonight's do-or-die contest and word from the camp was that the decision to use them from the bench was "tactical".
Suffice to say that Mascall's gamble did not reap the returns that anyone on the two island republic would have wanted.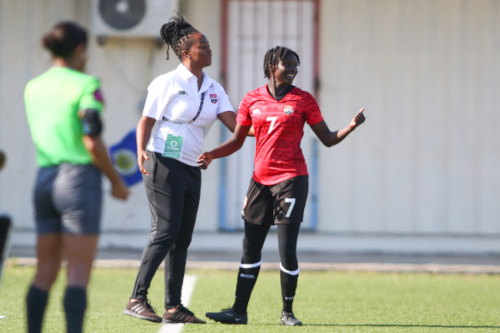 It is also worth noting that Puerto Rico scored three times without conceding while Trinidad and Tobago had their best players on the field. On tonight's evidence it is difficult to see any tactical swivel that might have hid the obvious, which was that the Spanish-speaking islanders simply possess the better team.
Technically solid, patient in possession, yet relentless in their offensive probing, Puerto Rico wasted no time taking control of the proceedings.
The Trinidad and Tobago technical staff hinted beforehand that a relative lack of athleticism might be the chink in their opponent's armour. The big question was: how do we exploit it?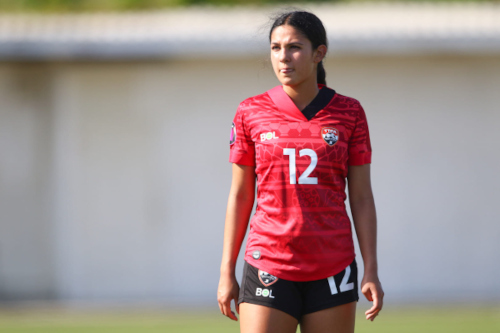 If Mascall's thinking was to keep your most dynamic players on ice until the second period when Puerto Rican legs tired, the follow-up question might be: are your starting players good enough to extend the opposing backline?
There was nothing to suggest they were and the game was one-way traffic from kickoff, with Trinidad and Tobago's makeshift offence virtually operating in a different time zone to Puerto Rico goalkeeper Isabel Ackerman.
The Women Soca Warriors defended competently at the start, as they doubled up against opponents on either flank. But the Puerto Ricans just kept coming, and the front-three of utility player Jeniecia Benjamin and attackers Nikita Jackson and Rasheda Archer could not keep the ball long enough for their defenders to catch their breath—let alone trouble the opposing backline.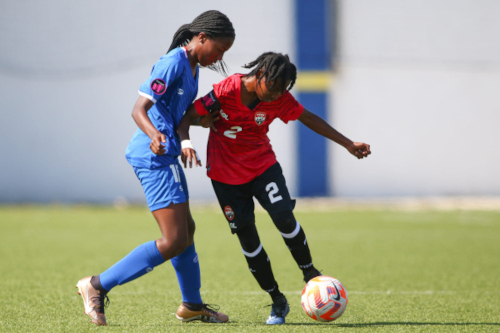 The opening goal came in the 27th minute, as forward Kenedy Garcia scored off a right side corner that Trinidad and Tobago failed to clear. There was no question about whether they deserved their advantage.
Mascall responded by sending in Orielle for midfielder Carissa Cowan in the 29th minute. Yet, two minutes later, the lead was doubled.
Having manned the flanks so well for the first half hour, right back Jada Graham failed to stop a left side Puerto Rico cross and the resulting volleyed item by Enasia Colon was emphatic.
The score remained 2-0 at the interval and Mascall might have felt the situation was not irretrievable, as she finally introduced the Tobago duo of Alexander and Talia.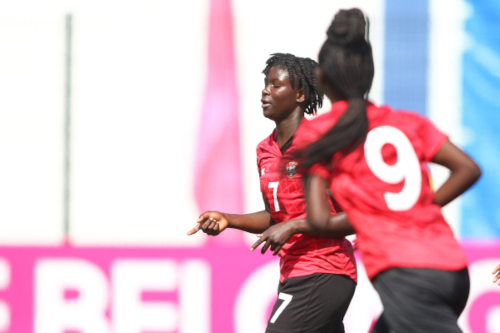 Five minutes later, the deficit rose to three. This time, Trinidad and Tobago could not deal with a cross from a free kick and midfielder Ashley McMahon neatly controlled on her chest before scoring a thumping volley.
In the 53rd minute, the Women Warriors finally managed their first goal attempt. The alert Orielle pinched the ball off an opposing defender and flicked to Alexander in one move and the forward had her legs taken from beneath her in the penalty box.
The loose ball rolled to Archer who hit a glorious chance over the bar.
Fortunately, or so it seemed at the time, Honduran referee Merlin Vanessa Soto decided to give Trinidad and Tobago a second bite at the cherry—as she pointed to the penalty spot for the initial trip on Alexander.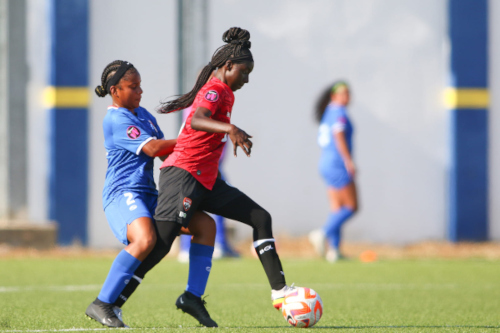 The Speyside High Secondary forward scored two penalties against Guadeloupe on Monday, but her effort from the spot this evening sailed into the evening sky. And Trinidad and Tobago were really in trouble now.
In the 65th minute, Puerto Rico coach Wendy Espejel changed goalkeepers as Alondra Iriarte replaced Ackerman. It is hard not to see that as a sign that they felt the game was up.
Even more infuriating is that she was right. And worse? Neither Puerto Rico goalkeeper was tested over 90 minutes.
If Puerto Rico intended to cruise to the final whistle, nobody passed the memo on to Colon. In the 75th minute, the winger scored the goal of the match as she dribbled Benjamin, Cicely-Anne Spencer-Wickham (twice!), Anastasia O'Brien and captain Marley Walker in an outrageous display of skill.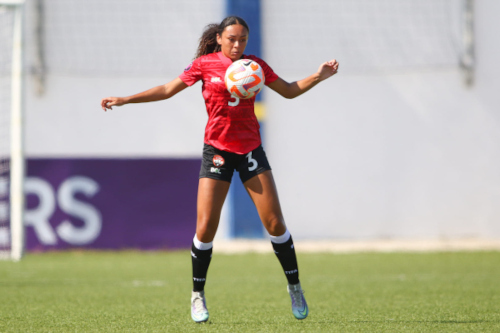 By then, the Trinidad and Tobago defenders were worn out by the quick ball movement and attacking ambition of their opponents. They certainly had no need for super subs.
The Women Warriors had lost all shape by now. Stocky Puerto Rican forward Garcia was merciless though, as she added a fifth goal with a looping header off a right side cross in the 82nd minute—the fourth item to come off a cross.
More than half of Mascall's players are eligible to represent Trinidad and Tobago at Concacaf Under-17 level later this year—Orielle and left back Kaitlyn Darwent are just 14-years-old.
They are likely to have many more battles to come in the international arena. But tonight was a chastening experience.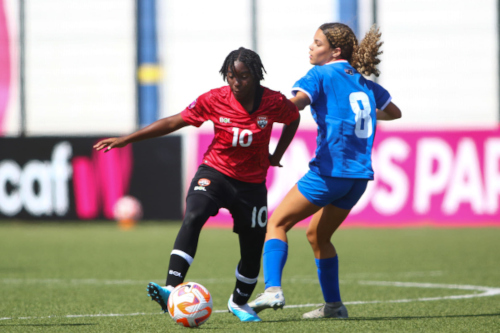 Whisper it, but only the likes of the United States and Canada could serve out these kinds of spankings to Trinidad and Tobago in yesteryear.
However, in the last 16 months, the Warriors have conceded five or more goals on seven occasions—against Mexico (10-0) and Panama (5-1) at Women's U-20 level, Canada (5-0) and St Kitts and Nevis (7-2) at Women's U-17 level, Mexico (5-0) at Men's U-20 level, Canada (7-0) at Women's Senior level and Bolivia (5-0) in a men's friendly.
There is no easy path to respectability from here for the TTFA, as Trinidad and Tobago attempts to rebuild its football reputation.
Whether or not we have even started in earnest depends on who you to talk to—despite the flashes of talent and application by our youth teams in not only Curaçao but at the Men's Concacaf Under-17 tournament in Guatemala this February.
(Teams)
Trinidad and Tobago (4-3-3): 21.Sophia Keel (GK); 19.Jada Graham (7.Talia Martin 46), 17.Anastasia O'Brien, 3.Cicely-Anne Spencer-Wickham, 5.Kaitlyn Darwent (18.Shakira Charles 86); 6.Marley Walker (captain), 14.Cherina Steele, 16.Carissa Cowan (10.Orielle Martin 29); 2.Jeniecia Benjamin (4.Kanika Rodriguez 80), 12.Nikita Jackson (9.J'Eleisha Alexander 46), 15.Rasheda Archer.
Substitutes: 1.Mikaela Yearwood (GK), 20.Sadiel Antoine (GK), 8.Jessica Harragin, 11.Mariah Williams, 13.Athena Jackson,
Coach: Dernelle Mascall
Puerto Rico: 12.Isabel Ackerman (GK), 7.Jessica Torres (captain), 14.Gabriela Berrios, 19.Abigail Seawright, 2.Grace Burns, 15.Ashley McMahon, 16.Payton Quinones, 18.Susana Roberts, 9.Madison Krakower, 10.Kenedy Garcia, 17.Enasia Colon.
Substitutes: 1.Alondra Iriarte (GK), 3.Eva Anderson, 4.Erin Smith, 6.Sofia Colon-Gonzales, 8.Estefania Gonzales, 11.Fabiola Martinez, 13.Lisette Gregoris, 20.Jocelyn Chinea.
Coach: Wendy Espejel
Referee: Merlin Vanessa Soto (Honduras)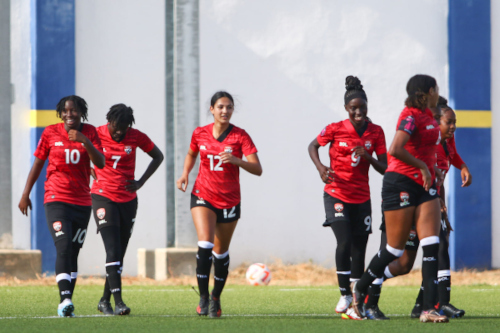 Concacaf U-20 Championship qualifiers
Group D
(Wednesday 19 April)
Trinidad and Tobago 0, Puerto Rico 5 (Kenedy Garcia [2], Enasia Colon [2], Ashley McMahon)
Guadeloupe 3, Cayman Islands 0
(Monday 17 April)
Trinidad and Tobago 3 (J'Eleisha Alexander 8 pen, 51 pen, 60), Guadeloupe 2 (Laetitia Echard 42, Sergyna Loubli 84 pen)
Puerto Rico 6 (Kenedy Garcia 9, 45+1, Madison Krakower 24, Payton Quinones 63, Susana Roberts 75, Lisette Gregoris 90+3), Cayman Islands 1 (Molly Kehoe 45+2)
(Sat 15 April)
Trinidad and Tobago 3 (Talia Martin 22, 68, Nikita Jackson 66), Cayman Islands 0
Puerto Rico 5 (Kenedy Garcia 12, Enasia Colon 40, Estefania Gonzales 52, Jocelyn Chinea 73, Fabiola Martinez 88), Guadeloupe 0