United States and Mexico both booked their places in the CONCACAF Women's Under-20 Championship semi-final stage this evening after wins over Jamaica (2-1) and Nicaragua (2-0) respectively but it was not as straightforward as they might have expected.
The United States scored direct from a free kick by Sophia Smith in the 42nd minute but were constantly thwarted by Jamaica goalkeeper and captain Sydney Schneider. And there was nearly a shock result as the "Reggae Girlz" drew level in the 88th minute through Jadyn Matthews, only for USA to go right up to the other end and grab the winner, courtesy of Jaelin Howell.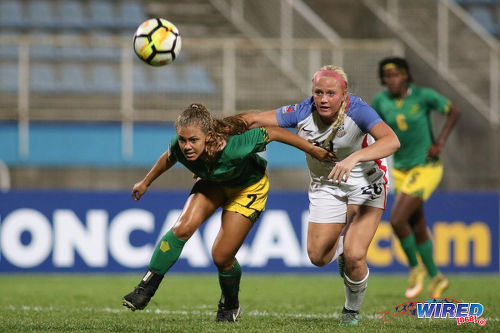 Mexico's progress was smoother but only just. Winger Dayana Cazares fired "El Tricolor" ahead in the 17th minute but they had to wait until the 74th minute for an insurance item, as Nicaragua battled gamely.
A coolly taken second-half item by substitute Belén Cruz made sure of the three points, however.
Despite all their fighting spirit, the feisty Nicaragua will now play Jamaica tomorrow evening with nothing but pride on the line. The Nicaragua versus the Reggae Girlz encounter could have been more meaningful had a penalty decision had gone their way just nine minutes before Cruz's insurance item.
After breaking free of the Mexican defence down the right flank, Nicaragua's tireless attacker Yessenia Flores appeared to have her legs taken from under her in the box by a retreating defender. Racing to the scene of the incident, Guatemalan referee Astrid Gramajo ignored the numerous Nicaraguan appeals for a penalty and awarded the disappointed Nicaraguan team a corner.
It was little consolation for coach Elna Dixon and a Nicaragua team which showed great resolve and kept their compactness throughout—much like they had done against the fancied US team in their opening encounter on Friday.
Speaking to Wired868 via a translator, coach Dixon did not want to dwell on the controversial Gramajo call. Instead, she opted to focus on the positives in the performance of her Nicaraguan charges.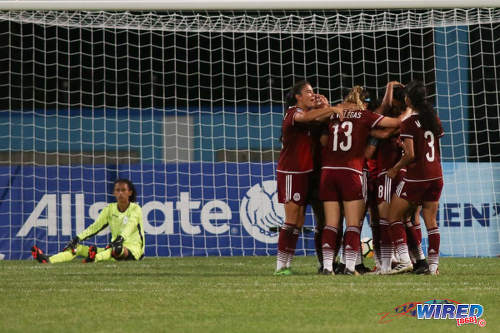 "[In the end] it was the decision of the officials," Dixon said. "We really thought that we missed an opportunity but we still did what we could do with what we had.
"It was a really complex and complicated game but we did well and we could show face and be proud of the game we played," an upbeat Dixon told Wired868. "We are going to keep working and we are going to continue the process of making women's football a big deal [in Nicaragua]."
The Central Americans definitely showed their fearlessness and commitment when called upon to tackle CONCACAF giants Mexico and the United States. In right-back Diana Ortega, who is light on her feet and not afraid to commit to a tackle, they have at least one player on whom they can build a solid defensive platform. But Ortega is not the only one so Dixon's challenge is unlikely to be daunting.
Jamaica had their own demons to face when they squared off with the US in the second game of their double-header. Having suffered a 4-0 drubbing at the feet of Mexico in Friday's opener, the Jamaicans knew they had to up the ante and bring their A game. They did.
"[We] didn't expect that performance," Jamaican assistant coach Xavier Gilbert had told Wired868 after his team's defeat to Mexico on Friday. "We are a bit disappointed with the way we acquitted ourselves today."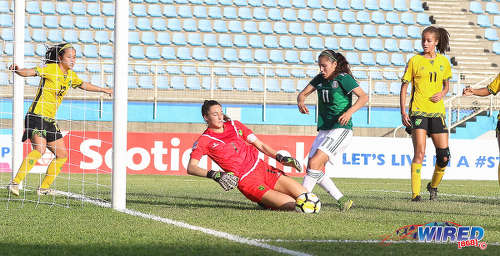 Last night, the Jamaican girls endeared themselves to the home supporters, producing a rollicking second-half spell to earn themselves an equaliser and come within a whisker of carving out a result against the four-time defending champions.
Clichéd as it may be, it really was a tale of two halves.
In the first half, the slippery Smith looked unstoppable and she could have walked into the dressing room at halftime with a hat-trick if not for the heroics of Schneider in the Jamaican goal. At the other end, the determined Jamaican attacker Jody Brown looked to be the only one capable of posing any threat to the US defenders with her single-minded forays into the box.
However, the insertion of Olufolasade Adamolekun and Jazmin Grant drastically changed the Jamaican intensity and the overall atmosphere in the Ato Boldon Stadium. Jamaican coach Lorne Donaldson told the media baldly that for him there was no silver lining to the US game because Jamaica still came away empty-handed. He must, however, have been pleased with the fight his girls showed.
"[There is] nothing [positive to take away]; we lost the game," said, Donaldson, who is also the Executive Director of Coaching at Real Colorado, the home club to American goal-scorers Howell and Smith. "It doesn't matter what manner it is; we showed that we had some talent when we played but we still lost the game."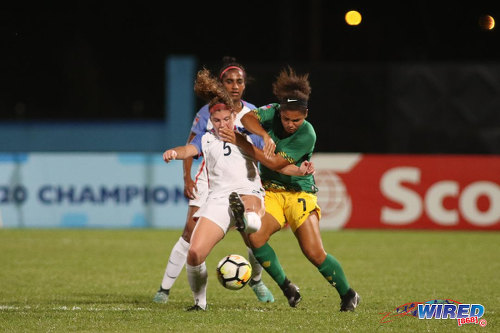 Before Jamaica seized control to lay siege to Amanda McGlynn's goal at the back end of the contest, the US team were doing their best to shoot themselves in the foot. Both Ashley Sanchez and skipper Savannah Demelo missed better-than-decent opportunities to score in the second half.
Sanchez, who already has two youth World Cups under her belt and who was one of five starters from the Nicaragua game who were left on the substitutes' bench, somehow contrived to head overbars from point-blank range in the 54th minute. Five minutes later, after winning possession inside the six-yard box, Demelo, too, only found the legs of Schneider when not scoring seemed much more difficult that putting the ball in the net.
It seemed to be the US' way of keeping the Girlz in the contest and the crowd interested.
Grant entered the game in the 70th minute to loud cheers from the modest Jamaican contingent, who seemed to know what to expect from her. Within seconds of her entry, she should have got the equaliser after McGlynn tipped a looping cross from Brown on to the bar. However, her first touch let her down.
She certainly went some way towards making amends subsequently, her hustling, bustling, direct approach appearing to frustrate a US backline well marshalled for the most part by centre-half Naomi Grima.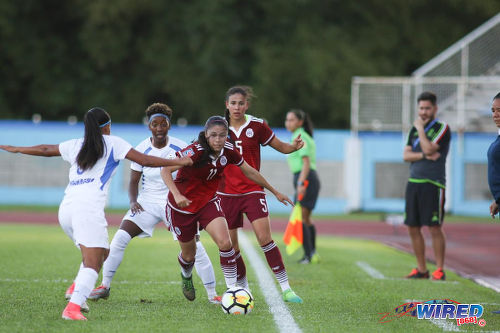 After Sanchez also missed from point-blank range once more in the 84th, the Reggae Girlz were able to bundle in their equaliser.
With a mere two minutes left in regulation, Brown instinctively headed a deep free kick from the left flank towards the far post. Matthews gleefully tapped the ball in at the back post to send the Jamaican staff and the Ato Boldon crowd into frenzy.
What happened next, Donaldson contended, was an injustice to his team.
He questioned the manner in which Canadian referee Carol-Anne Chenard re-started the contest after Matthews' item.
Right from the touch-off, the business-like US team moved the ball swiftly down the left flank, setting Howell up to sweep across home past Schneider from within the six-yard box.
"In the end, [the US] won it but the way they won it was a bit disappointing," Donaldson said, "because we were still celebrating and the ref blew the whistle.
"I've never seen that before, especially at this level. She should have waited until the girls got back in position to re-start the game."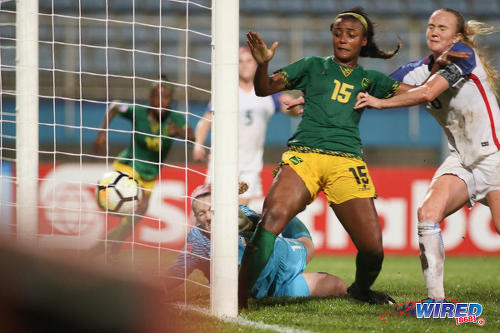 US coach Jitka Klimkova diplomatically declined to discuss the details of the winning goal.
"It was an exciting game and we must give credit to Jamaica," Klimkova said. "because they made it really exciting, especially at the end of the game when they created a few chances and looked dangerous.
"It was such an amazing response from our side after we conceded the goal," she went on. "And I'm really proud of this team because we never ever give up and that's exactly what happened. We believed in this win and I think we deserved it."
Similar to the post-game comments she made after her team's 2-0 win over Nicaragua on Friday, Klimkova stated that she was pleased to see the strides that her regional counterparts were making in the women's game.
"CONCACAF teams are getting better and this is great for our game that everyone is improving," she said. "And those games are more exciting for us and the fans and I think that's a good thing for women's soccer [in the region]."
Although both the opposition and some of the Trinidad and Tobago spectators expressed satisfaction with the tenacious Jamaican performance, Donaldson confessed to being unsure about what the immediate future holds for the women's programme in the country.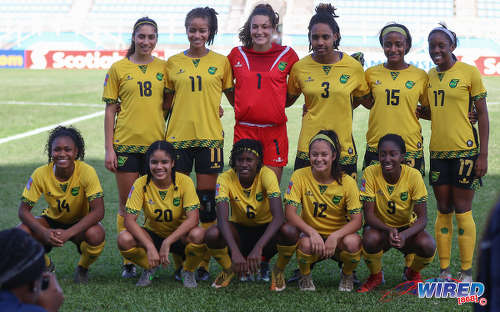 "Who knows, if we had some camps, who knows what more we could have gotten out of them?" Donaldson said rhetorically. "We have players who will fight and they showed that tonight [but] I never know [what the next step is]. We go day-by-day in Jamaica. We are known for that in the Caribbean.
"There are countries who go year-by-year and we go day-by-day. Right now, I don't know where we will go from here."
Several members of the Jamaica team are either born or based in North America which is where Donaldson, a former Jamaica international player and Real Colorado's Executive Director of Coaching, is also based. Does the coach think that the mentality towards the women's programme will change his country?
"Well, you know all I can say is I've never seen a lion become a vegetarian," he quipped, "so maybe if something changes and a lion becomes a vegetarian, then we might change [our mentality]."
Klimkova, however, shares none of Donaldson's uncertainty about the immediate future, unsurprising given that her charges have to face off with group leaders Mexico tomorrow.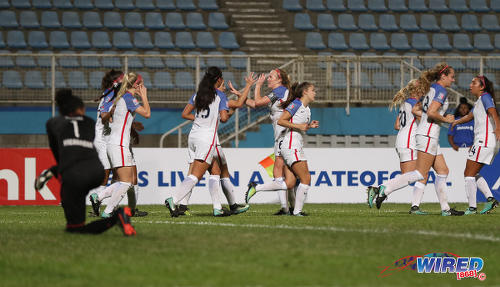 "We are focusing really game after game and we know we will have a challenging game against Mexico," she told the assembled media. "The Mexican team is strong and it will be a big challenge for us. And we had our head of scouts scouting the opposition and we will be prepared for the game…"
Mexico, Canada, Haiti and the United States will all now compete in the semi-finals, each vying for one of three spots at stake in the France 2018 Under-20 World Cup. Draws in their closing matches will suffice to earn Canada and Mexico top billing in their respective groups.
Canada face Haiti from 4pm today at the Ato Boldon Stadium while hosts Trinidad and Tobago close off Group A when they tackle Costa Rica from 6:30pm with only pride at stake for both nations.
United States and Mexico square off from 4pm tomorrow at the same venue.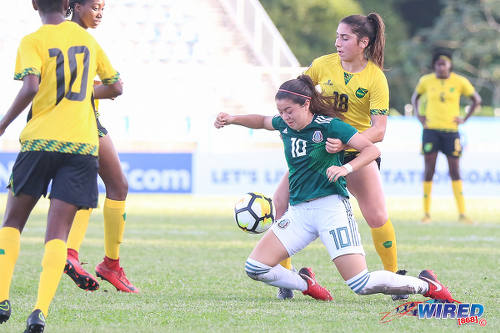 CONCACAF Women's U-20 Championship
[All matches are carded for the Ato Boldon Stadium in Couva]
(Sunday 21 January)
Nicaragua 0, Mexico 2 (Dayana Cazares 17, Belén Cruz 74), Group B, 5pm;
United States 2 (Sophia Smith 42, Jaelin Howell 89), Jamaica 1 (Jadyn Matthews 88), Group B, 7.30pm;
(Saturday 20 January)
Haiti 3 (Roseline Eloussaint 5, Nelourde Nicolas 32, Melchie Dumornay 45+2), Costa Rica 2 (Daniela Coto 61, Hillary Corrales 73), Group A, 4pm;
Trinidad and Tobago 1 (Aaliyah Prince 3), Canada 4 (Jordyn Huitema 9, 50, 87, Gabrielle Carle 66 pen), Group A, 6.30pm;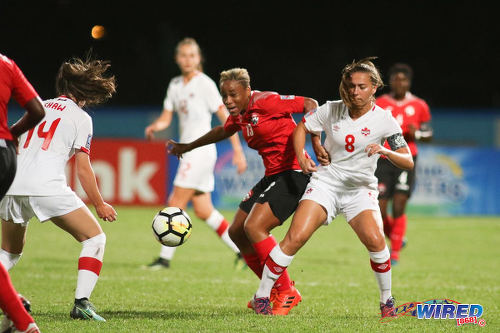 (Friday 19 January)
Mexico 4 (Jacqueline Ovalle 26, Katty Martinez 33, Chyanne Dennis OG 55, Belén Cruz 77), Jamaica 0, Group B, 4pm;
United States 2 (Taryn Torres 18, Civana Kuhlmann 53), Nicaragua 0, Group B, 6.30pm;
(Thursday 18 January)
Costa Rica 1 (Catalina Estrada 27), Canada 3 (Jordyn Huitema 49, 65, Gabby Carle 56), Group A, 4pm;
Trinidad and Tobago 2 (Dennecia Prince 3, Kedie Johnson 10), Haiti 3 (Nerilia Mondésir 25, 45, 53), Group A, 6.30pm.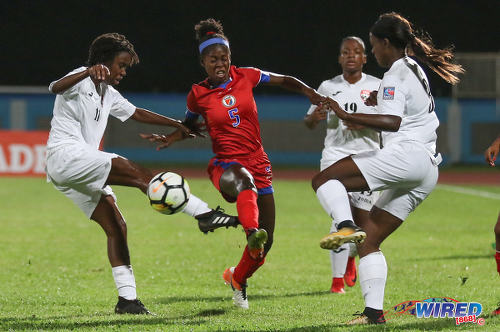 Upcoming fixtures
(Monday 22 January)
Haiti v Canada, Group A, 4pm;
Trinidad and Tobago v Costa Rica, Group A, 6.30pm.
(Tuesday 23 January)
United States v Mexico, Group B, 4pm;
Jamaica v Nicaragua, Group B, 6.30pm.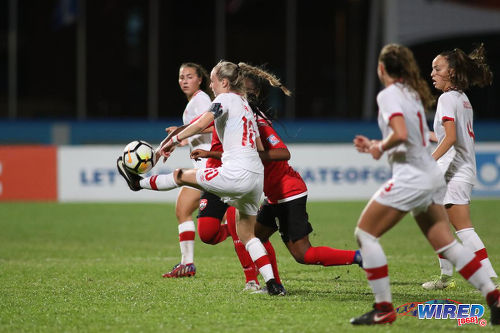 Standings
Group A (Played-Won-Drew-Lost-Goals For-Goals Against-Points)
Canada      2-2-0-0-7-2-6
Haiti           2-2-0-0-6-4-6
Costa Rica 2-0-0-2-3-6-0
T&T            2-0-0-2-3-7-0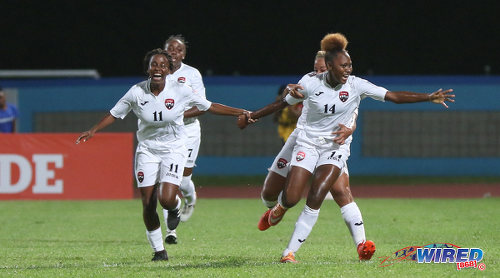 Group B (Played-Won-Drew-Lost-Goals For-Goals Against-Points)
Mexico        2-2-0-0-6-0-6
USA             2-2-0-0-4-1-6
Nicaragua  2-0-0-2-0-4-0
Jamaica      2-0-0-2-1-6-0