Trinidad and Tobago gave CONCACAF giants, Canada, a scare but, in the end, were eliminated with a group match to spare as they fell 4-1 tonight in CONCACAF Women's Under-20 Championship action at the Ato Boldon Stadium in Couva.
Lanky striker Jordyn Huitema lived up to her billing for Canada with a treble although the junior Women Soca Warriors might be cursing their misfortune. Again, the hosts failed to hold on to their lead while they were controversially reduced to 10 players with close to half hour left in the match.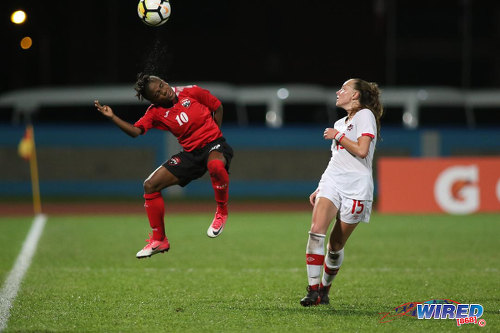 The result means that Trinidad and Tobago's France 2018 Women's Under-20 World Cup dream is over as the hosts now have no chance of advancing to the semifinal round, despite one group match remaining against Costa Rica on Monday.
Canada join Haiti into the knockout stage after the French-speaking islanders edged Costa Rica 3-2 in the opening clash of this evening's double header.
In Haiti's opening win over Trinidad and Tobago on Thursday, striker Nérilia Mondésir stole the plaudits with a brilliant hattrick. Today, it was the turn of midfielder Melchie Dumunay who was irrepressible in central midfield and put Haiti three goals clear in first half stoppage time, after early strikes by Roseline Eloussaint and Nelourde Nicolas.
But the Central Americans fought back and second half items from Daniela Coto and substitute Hillary Corrales ensured a nervy finish as Haiti held out for a historic result.
It is the first time that Haiti have ever qualified for a CONCACAF semifinal in the Women's Under-20 game.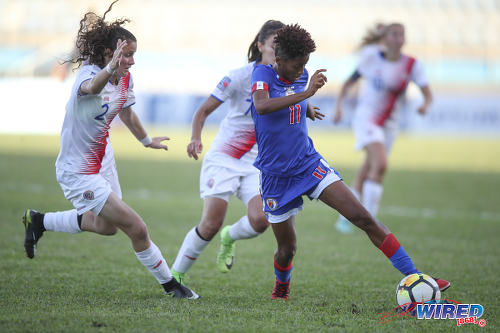 Trinidad and Tobago needed a result to keep their own hopes alive and coach Jamaal Shabazz made four changes to his starting team. Winger Kedie Johnson, who scored against Haiti, and defender Shaunalee Govia were both replaced due to injury while full back Jaasiel Forde and winger Chelcy Ralph lost their starting berths.
Bustling forward Lauren Theodore and the versatile trio of Alexis Fortune, Brittney Williams and Nathifa Hackshaw took their places.
Canada coach Beverly Priestman also made four changes but her decision to rest captain and star midfielder Gabrielle Carle—the only player in the competition with an Olympic medal after featuring in Canada's senior Rio 2016 squad—suggested that the North Americans hoped to pace themselves with Monday's showdown with Haiti in mind.
Presumably, the Group A runners-up would face the United States in the semifinals and it is not a match-up that teams look forward to in this confederation.
However, at halftime, Carle was on the touchline waiting to come on with the score locked at one goal apiece and the feisty hosts showing little hint of an inferiority complex.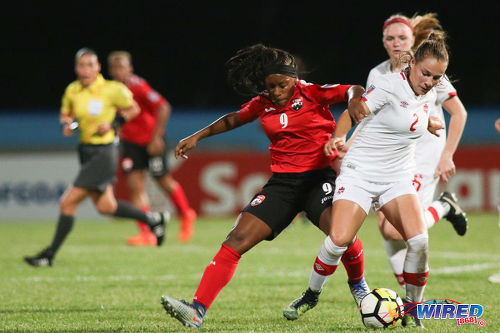 For the second time in the competition, Trinidad and Tobago had scored first. This time, it was diminutive attacker Aaliyah Prince who did the honours, as she blasted a swivelled effort past opposing goalkeeper Lysine Proux in the third minute off a right side corner kick.
The largely partisan 2,200-odd supporters were in uproar. But Canada drew level in just six minutes as Huitema capitalised on an error by Trinidad and Tobago custodian K'lil Keshwar to head home off a right side corner kick.
The junior Women Soca Warriors were fast and fiery but, unsurprisingly, the composed Canadians generally enjoyed the better of the exchanges and went ahead in the 50th minute with an improvised volley by Huitema, after another set piece. Once more, Keshwar would think she could have done better.
And, in the 64th minute, disaster struck as a Canadian effort was partially saved by Keshwar and deflected off the forearm of Trinidad and Tobago captain and central defender, Natisha John.
Honduran referee Melissa Borjas immediately pointed to the penalty spot, which seemed fair. But she also showed red to John; and that was arguably excessive.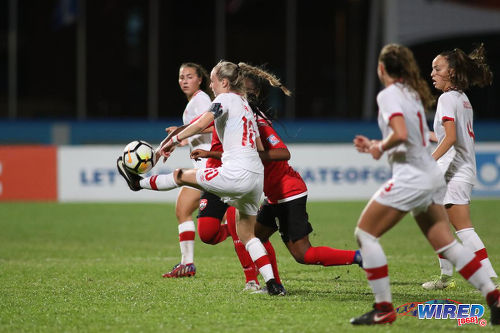 Carle coolly stroked home the penalty to give Canada a two goal lead on top of their numerical advantage.
As the clock ran down, a few supporters headed for the exits to a chorus of heckles.
"Allyuh plastic fans… where allyuh going?" asked one supporter. "Leh we lost together nah… Allyuh can't give allyuh nation seven more minutes?!"
But the bubble was well and truly burst in the 87th minute, as Huitema hared into the Trinidad and Tobago box to prod home Canada's fourth and her fifth goal from two matches.
And Canadian cheers meant curtains for the young Women Warriors.
Editor's Note: See Wired868 later for full match report and coaches' comments by reporter Amiel Mohammed.
Trinidad and Tobago (4-1-4-1): 1.K'lil Keshwar (GK); 18.Brittney Williams, 17.Alexis Fortune, 4.Natisha John (captain), 3.Shadi Cecily Stoute; 13.Shenieka Paul; 10.Aaliyah Prince, 11.Ranae Ward, 7.Dennecia Prince, 5.Nathifa Hackshaw (16.Kelsey Henry 46); 9.Lauren Theodore (6.Shaunalee Govia 79),
Unused substitutes: 20.Malaika Dedier (GK), 2.Crystal Molineaux, 8.Megan Rampersad, 12.Jaasiel Forde, 14.Kedie Johnson, 15.Asha James, 19.Chelcy Ralph.
Coach: Jamaal Shabazz (T&T)
Canada (4-1-4-1): 18.Lysianne Proulx (GK), 2.Emma Regan, 5.Hannah Taylor, 16.Maya Antoine, 15.Jessica Lisi; 4.Julia Grosso; 13.Tanya Boychuk (17.Nadege L'Esperance 76), 8.Sarah Stratigakis, 14.Caitlin Shaw (20.Jessica De Filippo 68), 11.Jayde Riviere (10.Gabby Carle 46); 12.Jordyn Huitema.
Unused substitutes: 1.Rylee Foster (GK), 3.Ashley Cathro, 6.Malikae Dayes, 7.Shana Flynn, 9.Teni Akindoju, 19.Ariel Young.
Coach: Beverly Priestman (England)
Referee: Melissa Borjas (Honduras)
CONCACAF Player of the Match: Jordyn Huitema (Canada)
CONCACAF Women's U-20 Championship
[All matches are carded for the Ato Boldon Stadium in Couva]
(Saturday 20 January)
Haiti 3 (Roseline Eloussaint 5, Nelourde Nicolas 32, Melchie Dumunay 45+2), Costa Rica 2 (Daniela Coto 61, Hillary Corrales 73), Group A, 4pm;
Trinidad and Tobago 1 (Aaliyah Prince 3), Canada 4 (Jordyn Huitema 9, 50, 87, Gabrielle Carle 66 pen), Group A, 6.30pm;
(Friday 19 January)
Mexico 4 (Jacqueline Ovalle 26, Katty Martinez 33, Chyanne Dennis OG 55, Belén Cruz 77), Jamaica 0, Group B, 4pm;
United States 2 (Taryn Torres 18, Civana Kuhlmann 53), Nicaragua 0, Group B, 6.30pm;
(Thursday 18 January)
Costa Rica 1 (Catalina Estrada 27), Canada 3 (Jordyn Huitema 49, 65, Gabby Carle 56), Group A, 4pm;
Trinidad and Tobago 2 (Dennecia Prince 3, Kedie Johnson 10), Haiti 3 (Nerilia Mondésir 25, 45, 53), Group A, 6.30pm.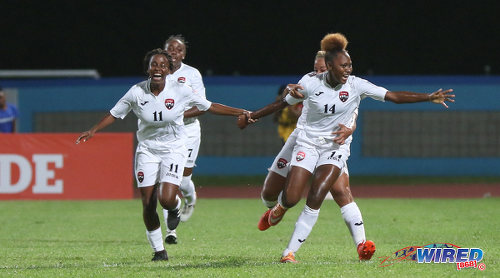 Upcoming fixtures
(Sunday 21 January)
Nicaragua v Mexico, Group B, 4pm;
United States v Jamaica, Group B, 6.30pm;
(Monday 22 January)
Haiti v Canada, Group A, 4pm;
Trinidad and Tobago v Costa Rica, Group A, 6.30pm.
(Tuesday 23 January)
United States v Mexico, Group B, 4pm;
Jamaica v Nicaragua, Group B, 6.30pm.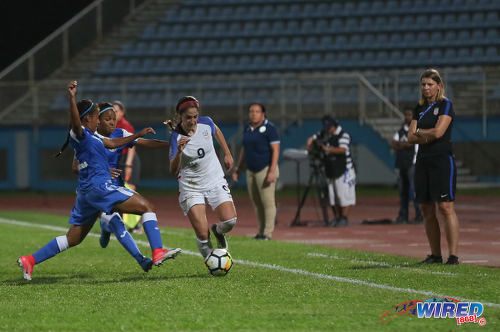 CONCACAF U-20 Standings
Group A (Played-Won-Drew-Lost-Goals For-Goals Against-Points)
Canada      2-2-0-0-7-2-6
Haiti           2-2-0-0-6-4-6
Costa Rica 2-0-0-2-3-6-0
T&T             2-0-0-2-3-7-0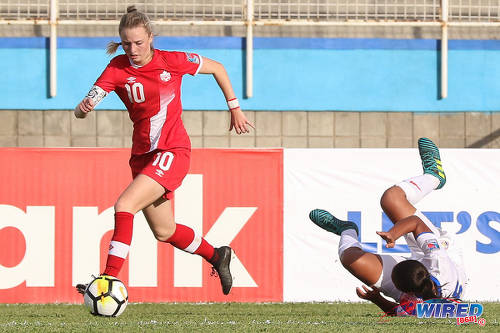 Group B (Played-Won-Drew-Lost-Goals For-Goals Against-Points)
Mexico        1-1-0-0-4-0-3
USA            1-1-0-0-2-0-3
Nicaragua  1-0-0-1-0-2-0
Jamaica      1-0-0-1-0-4-0