Carapichaima East Secondary, powered by talented Trinidad and Tobago National Under-17 Team attacker Afiyah Cornwall, gave Big Five champions Pleasantville Secondary a scare today in the Coca Cola Girls National Intercol semifinals at the Mannie Ramjohn Stadium in Marabella.
But, in the end, Jasandra "Mama" Joseph's 20th minute item proved to be the winner as Pleasantville triumphed 2-1 and booked their spot in next Monday's National Intercol final, which kicks off from 3pm at the Ato Boldon Stadium in Couva.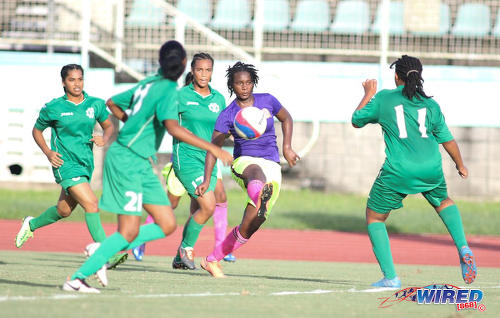 "P'ville" will face the winner of tomorrow's 3pm showdown between Bishop Anstey (Port of Spain) and Bishop Anstey East at the St Augustine Secondary ground.
No matter which Bishops show up at Couva on Monday, they face a devilishly difficult time against a balanced Pleasantville outfit which is chasing their fourth title this season, having already lifted the South Zone Championship, National Big Five and South Zone Intercol trophies.
"I have to give them credit," Carapichaima East coach Christopher Pugh told Wired868. "I think they were very focused and organised and they were competitive. They were a little more competitive than us."
Pleasantville had a strong spine with a wily and physically imposing midfield trio of Lorall Romaine, Kimberly Stewart and Joseph just behind clever forward Aaliyah Pascall. Together, they pushed high into opposing territory and rocked "Caps" back on their heels.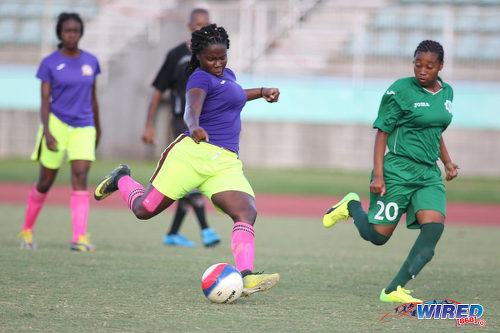 At the other end, Carapichaima goalkeeper Shanice Lazarus did not take her own goal kicks while central defender and team captain Leah Massiah could barely get her own clearances to about 30 yards from her own goal.
It spelled trouble for the Central Zone champions. Pascall took advantage of a sustained period of pressure with a close-range finish in the sixth minute while "Mama" doubled Pleasantville's lead in the 20th minute, dancing around Massiah before stroking past Lazarus.
In between, Romain struck the bar with a thumping effort from 25 metres as Pleasantville looked set to run amok.
Carapichaima had something better than a prayer to hang on to, though; they had Cornwall.
In the 26th minute, Caps forward Angel Simon dropped off to collect the ball between the lines and Pleasantville were slow to spot the danger. In a flash, Simon played a lofted pass into Cornwall's path and it was too late for Pleasantville to find a remedy.
Cornwall outpaced their defence and neatly steered to the right of their custodian Celine Hypolite to halve their advantage.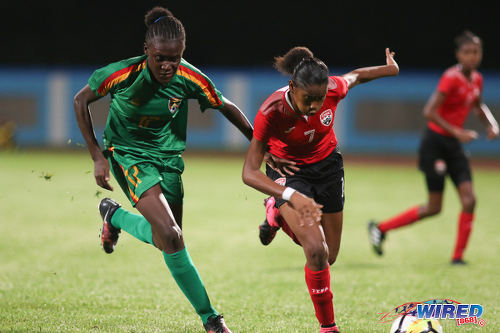 "Before the game, we told our team that Afiyah is the player they are going to look for," said Pleasantville coach Joel Maloney. "[…] We knew we had to do some adjustments [to keep her quiet but] the person who was man-marking her drifted off in her own world and [Cornwall] got the ball and scored."
It is important to understand the make-up of a girls' school team to appreciate the bizarre unpredictability of any particular passage of play—and Pugh probably summed it up best when he said his team has three levels.
Carapichaima, for instance, had Cornwall and winger Kya Edwards with international experience for the National Under-17 Team. Then, there were midfielder Shenice Maynard and left-back Celine James, who displayed decent football IQ.
Around them, though, were a few teammates with barely a year's experience in the game while one substitute only got her first taste of organised football in September.
Unsurprisingly, Pugh's young ladies were always going to lean heavily on individual talent to see them through.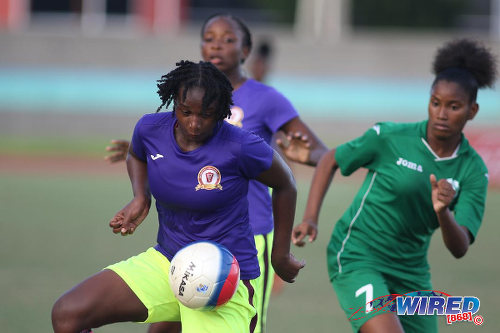 "We didn't start training until the third week of September and there were setbacks pertaining to the health of some of our players," said Pugh, who is in his first season as school coach. "We have six players with asthma and two [Cornwall and Edwards] with low blood count. So I believe we did very well when you take that into account."
Pleasantville were a far more prepared outfit.
"Before the season started, I went to the principal [Philip Allard] and asked for players to be brought in," said Maloney, "because we lost four starters and three subs [from last season]. So we got four players in from different schools [including Joseph] to come and work with what we have."
By half-time, Pleasantville knew what they had to do to get to the Intercol final: stop Cornwall!
"I let them know that if someone leaves her, someone else has to take up that responsibility and we did it better in the second half," said Maloney. "If she was on one side, Lorall [Romain] would watch her and if she switched to the other side Jasandra [Joseph] would pick her up. So we always had a body on her."
"Mama" Joseph stayed so close to Cornwall at the start of the second half that it seemed as though they were wearing the same shirt at times. And, on at least one occasion, the Caps attacker pleaded with referee Alloy George to keep an eye open for the unnecessary physical contact that came her way.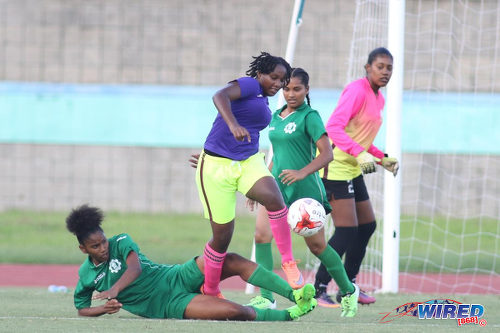 Incidentally, Pugh also thought that Mama was dangerous enough to merit a man-marker and it made for a touch of farce, which brought a chuckle from the Carapichaima coach after the final whistle.
"It was funny," said Pugh, "because while 'Mama' was trying to man-mark Ayifah, I had [Narsha Jaichan] man-marking her."
Carapichaima were fortunate not to concede a penalty in the 51st minute as Massiah clattered into Pascall, with the contact coming after the Pleasantville attacker had lost control of the ball. George, leniently, pointed for a goal kick.
At the other end, Cornwall slipped her marker down the left flank in the 58th minute and, with Simon waiting unmarked near the penalty spot, chose to go for goal herself. Her effort beat Hypolite but rolled agonisingly wide of the far post as well.
In the 66th minute, Pascall was at it again as she twisted Massiah inside out but failed to hit the target.
"Mama" seemed in total control of the midfield area now as Maynard, having forgotten to walk with her nebuliser, faded badly in the later stages of the game. But the Pleasantville playmaker's attempts to conjure an insurance goal for her team did leave some openings for Cornwall on the counter- attack.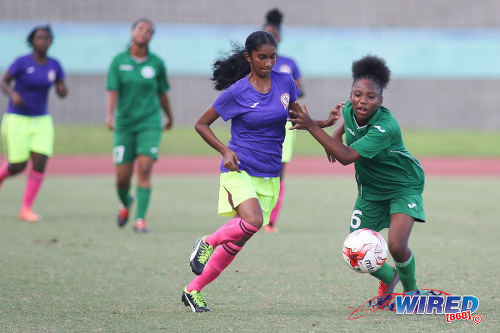 In the 69th minute, Cornwall gave another reminder of her ability to wreak havoc as she ran on to a bouncing ball in her own half and neatly flicked it over the head of Pleasantville defender Latifha Prescott before knocking it around the latter's partner, Shawnelle Rose.
Rose had the presence of mind to cynically tug Cornwall back. It earned the defender a yellow card but probably spared her team an equaliser.
"That too easy 'Tifa!" yelled a Pleasantville supporter at the embarrassed defender. "That too easy!"
As if she could could do any better against the Central princess!
Cornwall then took the free kick herself and watched in horror as her dipping effort came off the bar; it was as close as Carapichaima would come to level terms on the evening.
Two minutes into stoppage time, Cornwall received the ball, looked at Joseph in front of her and opted to hand over responsibility to Jaichan instead. Fittingly, George promptly blew off the match. Carapichaima had nothing left.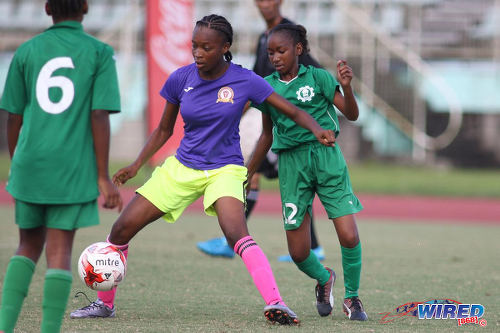 "Hopefully next year we can start earlier," said Pugh, "because this is my first year with the team and, with what we have here, I think we are heading in the right direction.
"[…] We have work to do but, with the proper structure, we will get somewhere. All in all, I can't complain. I think the better team won."
Pleasantville have a fourth title to contest now and Maloney said he will watch the clash of Bishops with assistant coach Brian London tomorrow, before they settling on the details of a training session on Friday to prepare for the National Intercol final.
"We beat [Carapichaima East] already this season and, […] after winning the national title in the Big Five competition, I think we came out overconfident today," said Maloney. "It was good that it happened today so we can humble ourselves and come out and work hard in the final."
If Mama is given license to roam on Monday, it will take some doing to stop Pleasantville.
(Teams)
Pleasantville Secondary (4-3-3): 20.Celine Hypolite (GK); 15.Ariel Stoute, 6.Shawnelle Rose, 7.Latifha Pascall, 14.Curissa Joseph; 9.Lorall Romain, 8.Jasandra Joseph, 11.Kimberly Stewart (captain) (17.Dinesha Williams 31); 13.Kimberly Sambochan (4.Zahara Mitchell 79), 10.Aaliyah Pascall, 18.Kayla Maillard (16.Kalita Francis 79).
Unused substitutes: 22.Gabriel Greene (GK), 2.Corysa Joseph, 12.Anissa Henry.
Coach: Joel Maloney
Carapichaima East Secondary (4-3-3): 1.Shanice Lazarus (GK); 10.Cynara Smith (20.Jada-Marie Joe), 11.Leah Massiah (captain), 21.Daniella Collier, 6.Celine James; 12.Annalicia Williams, 17.Shenice Maynard, 8.Narsha Jaichan; 13.Kya Edwards, 7.Afiyah Cornwall, 23.Angel Simon.
Unused substitutes: 5.Nicole Honore, 9.Andy-Ann Rowley, 16.Khristie Joseph, 30.Lana Harry.
Coach: Christopher Pugh
Referee: Alloy George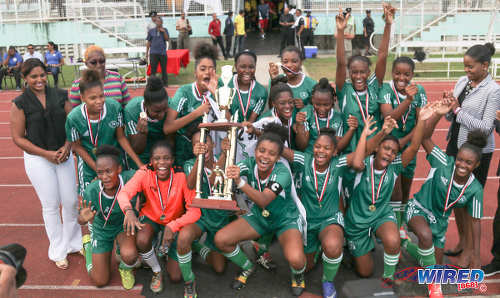 Today's Coca Cola National Intercol results
[Girls semifinal]
Pleasantville Secondary 2 (Aaliyah Pascall 6, Jasandra Joseph 20), Carapichaima East 1 (Afiyah Cornwall 26) at Mannie Ramjohn Stadium;
Upcoming fixtures
(Thursday 30 November)
San Juan North Secondary v Signal Hill Secondary, 3.30pm, National Boys semifinals, Ato Boldon Stadium;
Shiva Boys' HC v Carapichaima East Secondary, 5.30pm, National Boys semifinals, Ato Boldon Stadium;
Bishop Anstey (Port of Spain) v Bishop Anstey East, 3pm, National Girls semifinals, St Augustine;
(Monday 4 December)
Pleasantville Secondary v Bishop's Anstey (POS)/Bishop Anstey East, National Girls Intercol finals, 3pm, Ato Boldon Stadium;
National Boys Intercol Finals, 5pm, Ato Boldon Stadium.