The Secondary Schools Football League (SSFL) executive has decided to shuffle its fixture list to ensure that the Premier Division's potential title deciding games—involving St Anthony's College, Naparima College and Presentation College (San Fernando)—are played on the final match day.
St Anthony's and Naparima are locked on 30 points each, although the former team has a superior goal difference. Presentation are on 23 points at present but also have two games in hand, which could take them to 29.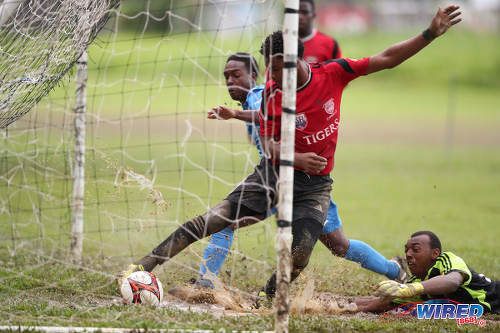 The "Westmoorings Tigers" were due to travel to St Mary's College on Saturday for their final league match of 2017 while "Naps" were hosting second from bottom, Trinity College Moka.
However, a flood of postponements due to inclement weather meant that the Premier Division would have continued next week with rescheduled matches on Monday, Thursday and Saturday.
It is unclear whether the SSFL's final decision was made on its own volition or after needling from television network, SportsMax, which broadcasts the league live across the Caribbean and North America. Either way, the fixture reshuffle will ensure a dramatic final match day thanks to key adjustments of the fixture list. (See below)

The drama off the field shows no sign of slowing down, though, as a new protest was lodged this morning. This time, Shiva Boys Hindu College are the complainers and not the complainees.
Naparima College are in the hot seat now, as they will be asked to prove that midfielder Rushawn Murphy—a former Malick Secondary student and Trinidad and Tobago National Under-20 Team player—is eligible to play school's football.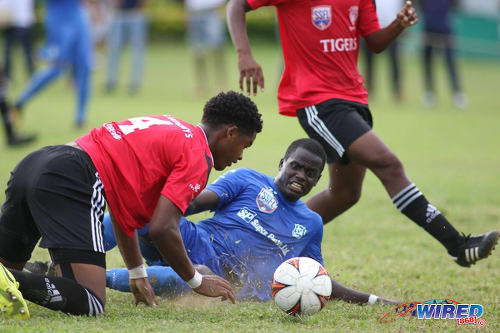 The 19-year-old Murphy, a former Pro League player with St Ann's Rangers and Club Sando, is a form five student at Naparima. It is unclear what rule Shiva Boys think might have been infringed upon by Naps in using the promising utility player.
Murphy sat the SEA examinations in 2012 and passed for East Mucurapo Secondary before eventually transferring to Malick and then Naparima. Already on his third secondary school, Murphy is yet to sit the CXC exam and is not a form five repeater.
Naparima, who won the season's first protest by querying Shiva Boys' registration of Kierron Mason for the opening game of the 2017 term, are confident that they followed proper procedure in recruiting Murphy.
"He is a form five transfer student," Naparima team manager Percy Samlalsingh told Wired868. "He never wrote CXC."
If Shiva Boys' protest is successful, though, Naparima could lose most of their points this season and are likely to be relegated, alongside the suspended Fyzabad Secondary. Ironically, Shiva Boys cannot gain any points themselves since they used an improperly registered player, Mason, in their own clash with Naparima.
At present, the SSFL still has to rule on St Benedict's College's protest against Speyside High for alleged insufficient security. Speyside defeated St Benedict's 1-0 on Wednesday 11 October.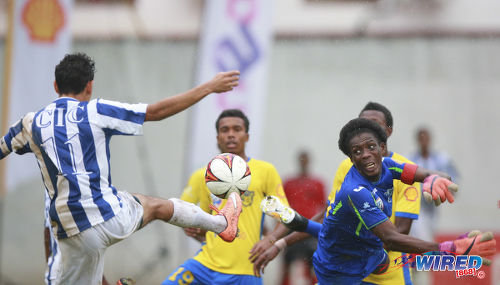 Fatima College also filed an appeal today against a SSFL Disciplinary Committee decision not to deduct points from Shiva Boys, despite finding them guilty of using Mason in six games when he was improperly registered.
St Anthony's won their own case against Shiva Boys on Wednesday morning and the two points gained took the Tigers a whisker ahead of Naps on the standings.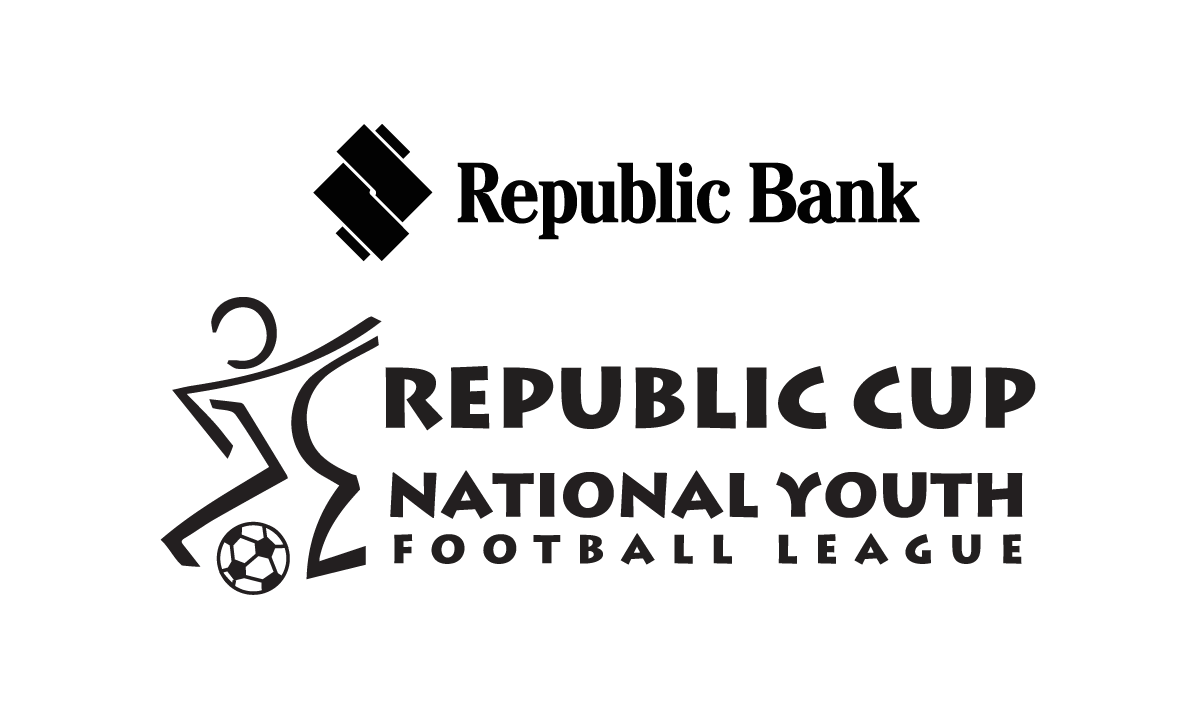 Shiva Boys manager Sheldon Maharaj indicated that the school will appeal the Disciplinary Committee's decision.
In all, four schools—inclusive of Fyzabad—will be relegated from the Premier Division while three teams will be promoted to replace them, which means the competition will have 15 schools next season.
Valencia Secondary, Bishop's High School (Tobago), East Mucurapo Secondary, Moruga Secondary and Chaguanas North Secondary are battling for the available positions in the ongoing Championship Division Big 5 competition.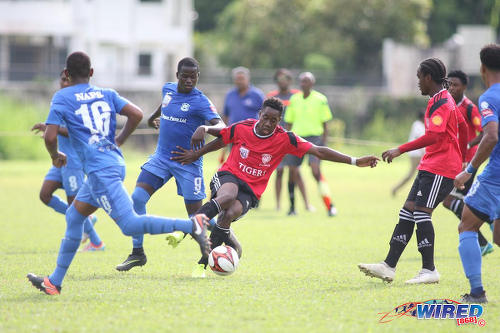 SSFL Remaining Fixtures
(Saturday 28 October)
Presentation College v St Augustine Secondary, 3.40pm, Guaracara Park;
St Benedict's College v Trinity College East, 3.40pm, Lewis Street, San Fernando;
Carapichaima East v Shiva Boys HC, 3.40pm, Carapichaima;
Signal Hill v Fatima College, 3.40pm, Signal Hill;
San Juan North v Speyside High, 3.40pm, San Juan.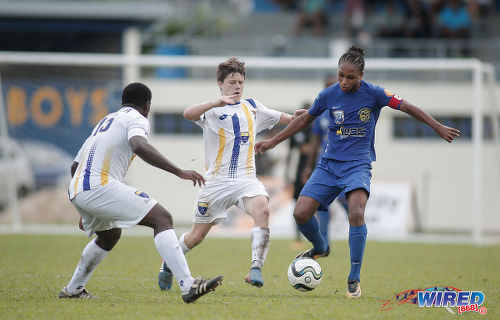 (Monday 30 October)
Trinity College East v Fatima College, 3.40pm, Trincity;
St Augustine v Trinity College Moka, 3.40pm, St Augustine;
Shiva Boys HC v St Mary's College, 3.40pm, Morne Diablo.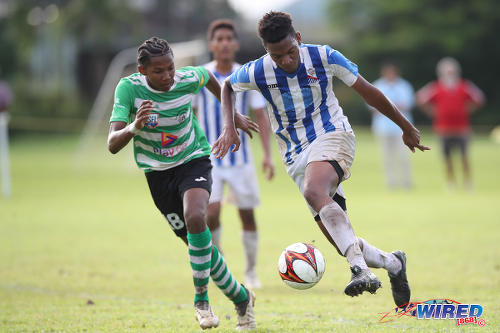 (Thursday 2 November)
Signal Hill v Trinity College Moka, 3.40pm, Signal Hill;
Presentation College v Trinity College East, 3.40pm, Mannie Ramjohn Stadium.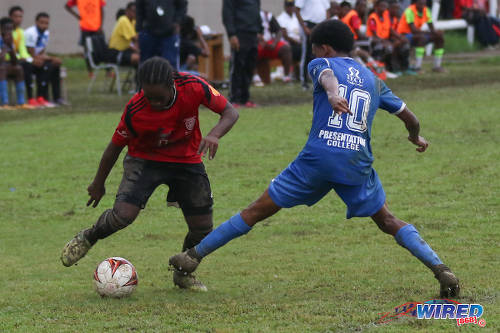 (Saturday 4 November)
Fatima College v Presentation College, 3.40pm, Fatima;
St Benedict's College v Shiva Boys HC, 3.40pm, Barrackpore;
St Mary's College v St Anthony's College, 3.40pm, St Mary's;
Naparima College v Trinity College Moka, 3.40pm, Lewis Street.
SSFL Standings
(Played-Won-Drew-Lost-Goals For-Goals Against-Points)
St Anthony's       13-9-3-1-42-20-30
Naparima            13-9-3-1-30-13-30
Presentation       11-7-2-2-25-14-23
Shiva Boys HC    11-7-1-3-28-14-22
San Juan N         13-5-6-2-29-15–21
Trinity East         11-5-2-4-20-12-17
St Mary's            12-4-4-4-27-26-16
Fatima                 11-6-0-5-15-15-18
Carapichaima E 13-4-3-5-19-20-15
QRC                    14-4-3-7-23-30-15
St Augustine       12-4-1-7-24-28-13
St Benedict's      12-3-3-6-18-26-12
Signal Hill           12-2-2-8-11-25-8
Trinity Moka        11-2-2-7-13-30-8
Speyside High     13-2-1-10-7–43–7