Fyzabad Secondary will take no further part in the 2017 Secondary Schools Football League (SSFL) Premier Division competition after the SSFL executive committee today took the decision to suspend the South Zone school today.
The SSFL decision, according to a media release, is "directly related to the fraudulent January Caribbean Examination certificates which were received by the League on behalf of [team captain and defender Dez Jones and midfielder Maurice Dick]."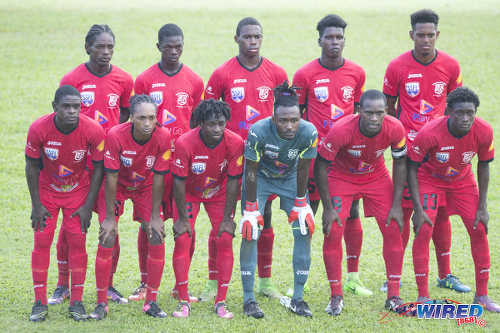 Jones and Dick, in an interview with Wired868, insisted that they played no role in the deception but merely handed over their examination certificates to Fyzabad team manager Nigel Lakhan.
Neither Lakhan nor principal Troy Jebodhsingh has publicly commented on the issue so far or responded to calls from Wired868. However, SSFL president William Wallace alleged that Fyzabad officials claimed to have been duped by the two players.
The SSFL found the school liable, though.

"The League, having completed its investigation, is satisfied that the two students did not have the necessary qualifications for placement [in Lower Sixth Form]," stated a release from SSFL general secretary Azaad Khan, "and moreso that the documents submitted to gain admission into Lower Sixth Form were in fact fraudulent.
"The League regrettably has not option but to suspend Fyzabad Secondary. The Ministry of Education would be so advised and copies of all the relevant documents forwarded."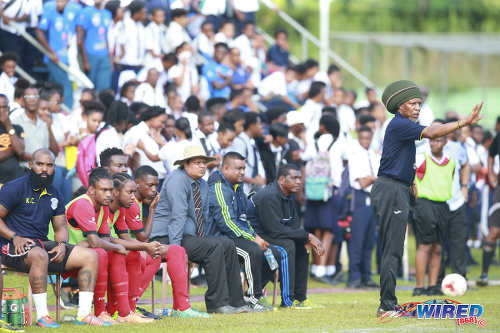 The decision means that the SSFL standings will be adjusted for the third time this season—following a successful protest against Shiva Boys Hindu College's use of midfielder Kierron Mason for the season opener and the SSFL's initial decision to deduct points from Fyzabad.
All results against Fyzabad will now be nullified.
The SSFL's updated position puts Trinity College Moka and St Benedict's College back into the relegation zone. The last three schools will fall through the trapdoor to join Fyzabad.
Fyzabad Secondary's 2017 outings
(Saturday 9 September)
Fyzabad Secondary 3 (Sharkeel Louison 10, Natini Jones 53, Maurice Dick 62), Trinity College Moka 1 (Saleem Henry 61 pen) at Fyzabad;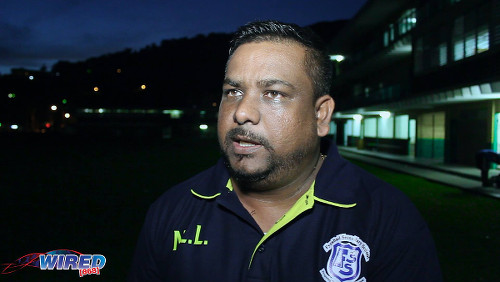 (Wednesday 13 September)
Fyzabad Secondary 1 (Jeremy Duntin), Fatima College 0 at Fyzabad;
(Saturday 16 September)
Shiva Boys HC 2 (Kierron Mason [2 pen]), Fyzabad Secondary 0 at Penal;
(Wednesday 20 September)
Trinity College East 1 (Josiah Lord 87), Fyzabad Secondary 2 (Sharkeel Louison 7, 55) at Trincity;
(Wednesday 27 September)
St Augustine Secondary 3 (Akeem Hosten, Alan Hogan, Anthony Samuel), Fyzabad Secondary 1 (Sharkeel Louison 47) at St Augustine;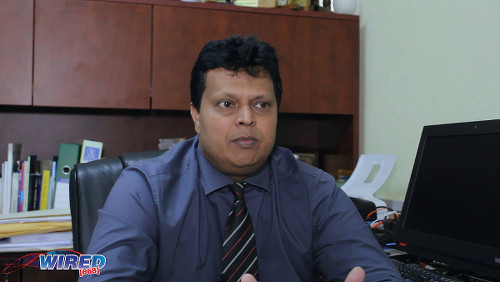 (Saturday 30 September)
Fyzabad Secondary 2 (Maurice Dick 21, Tyrese Reefer 55), Presentation College 3 (Jordan Riley 13, Jaiye Sheppard 61, 72) at Fyzabad;
(Monday 2 October)
St Anthony's College 4 (Che Benny 16, Jaydon Prowell 37, Jodel Brown 72, Jordan Barclay 85), Fyzabad Secondary 1 (Des Jones 85) at Westmoorings;
(Saturday 7 October)
St Benedict's College 2 (Reuel Tyson 63, Kyjuan Sampson 71), Fyzabad Secondary 0 at Barrackpore;
(Wednesday 11 October)
Fyzabad Secondary 0, Signal Hill 0 at Fyzabad;
(Saturday 14 October)
Carapichaima East 2, Fyzabad Secondary 1 (Nicholas Blake 43) at Carapichaima.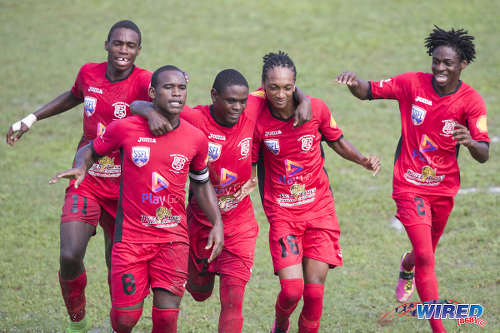 SSFL Standings
(Editor's Note: Standings reflect league positions before kick-off on Thurs. 19 Oct)
(Played-Won-Drew-Lost-Goals For-Goals Against-Points)
Naparima             11-8-2-1-23-11-26
Presentation        10-7-1-2-22-11-22
St Anthony's        10-6-3-1-33-16-21
Shiva Boys HC    10-6-2-2-26-13-20
San Juan N          11-4-6-1-23-10–18
St Mary's              10-4-3-3-25-20-15
Fatima                  9-5-0-4-9-12-15
Trinity East           9-4-1-4-16-11-13
St Augustine        9-4-1-4-20-17-13
Carapichaima E  10-3-2-5-15-18-11
Signal Hill            10-2-2-6-9-17-8
QRC                     11-2-2-7-15-25-8
Trinity Moka         9-2-1-6-11-27-7
Speyside High     11-2-1-8-7–35–7
St Benedict's       10-1-3-6-13-23-6