Defending Secondary Schools Football League (SSFL) Premier Division champions Shiva Boys Hindu College tasted their first defeat of the season today—but it did not come on the field of play.
The SSFL disciplinary committee deducted three points from the "Penal Princes" after Naparima College successfully protested against Shiva Boys' use of utility player, Kierron Mason.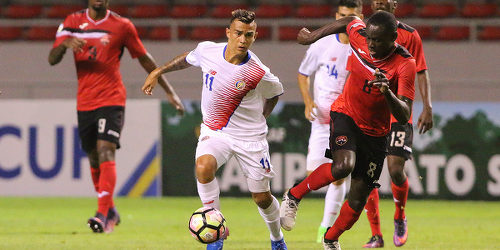 In a letter to the relevant schools, the SSFL Disciplinary Committee declared that: "Kierron Mason was ineligible to represent the school as a player in that game. Therefore the results of the game will overturned and Naparima College will be awarded 3 point & 3 goals."
Shiva Boys have 72 hours to decide whether they wish to appeal. If they choose to appeal, they must pay TT$1,000 for the right to do so.
Mason, a former Naparima student and National Under-20 Team defender, debuted for Shiva Boys in their SSFL opener against his old school on 8 September. Shiva Boys won that outing 2-1 and, up until this morning, were the only Premier Division outfit with a 100 percent record after victories in all five outings.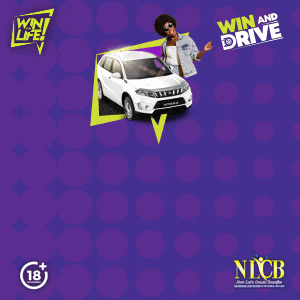 However, Mason apparently became a Shiva Boys student just two days before the match and a SSFL notice—issued to all schools on 17 July 2017—insisted that all Form Five repeaters and Lower Six Intakes must be registered 72 hours prior to their first game.
Naparima team manager Percy Samlalsingh was wise to the infraction and told Wired868 that he lodged a protest with the match commissioner even before kick-off.
Mason only featured as a second-half substitute against Naps and it looks to have been a costly cameo for Shiva Boys.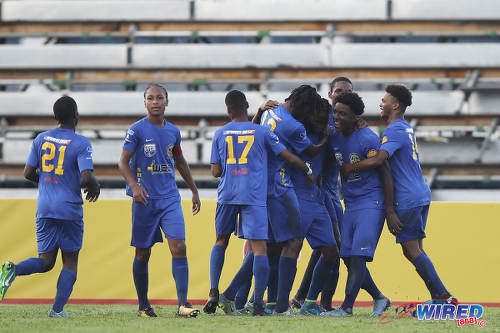 Naparima are believed to have protested Mason's registration as a student and as a school footballer. They won on the second count, which meant a reversal of their opening result against Shiva Boys. Had Mason also been declared improperly registered as a student, the defending champions could have been suspended from the rest of the competition, according to the SSFL Constitution.
However, Shiva Boys manager Sheldon Maharaj said the matter is not over yet.
"We will be appealing it," Maharaj told Wired868. "We are sending in the letter to appeal in the morning."
There is little question as to whether Mason is worth the trouble in the long run, though. Tall and tidy in possession, the versatile midfielder is Shiva Boys' highest scorer so far this season with five goals—albeit with three items from the penalty spot.
Mason's tally is joint level with Presentation College (San Fernando) attacker Omri Baird while only San Juan North Secondary attacker Brandon "Sprite" Semper, who has six goals this season, has scored more.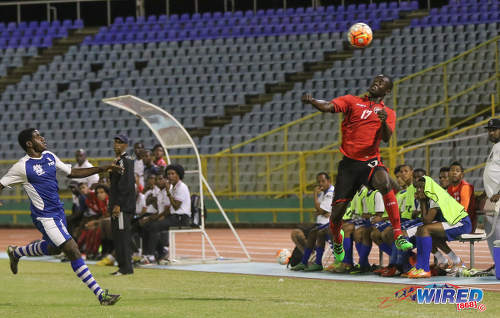 Mason is a Lower Six student at Shiva Boys where he is studying Business, PE and Communications.
The SSFL's ruling means Presentation College go to the top of the standings with 13 points while Shiva Boys drop one place to second with 12 points and Naps climb six spots to third place with 10 points.
Remarkably, the fourth-placed SSFL team, Fyzabad Secondary, is also from South Trinidad, which has dominated the Premier Division from its inception. The South Zone's fifth and final top flight school, St Benedict's College, is having a tougher time of things, though, as they are one place off the foot of the table at present.
Naparima and Presentation square off from 3.40pm tomorrow in a southern derby at the Mannie Ramjohn Stadium in Marabella while Shiva Boys travel to Bourg Mulatresse where they face San Juan North.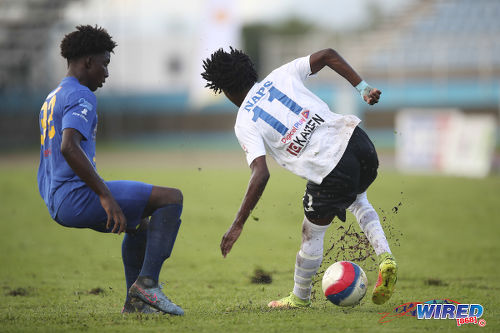 SSFL Premier Division fixtures
(Wednesday 27 September)
Presentation College v Naparima College, 3.40pm, Mannie Ramjohn;
St Benedict's College v Signal Hill, 3.40pm, Barrackpore;
Fatima College v Trinity Moka, 3.40pm, Fatima;
St Mary's College v Carapichaima East, 3.40pm, St Mary's;
Trinity East v QRC, 3.40pm, Trincity;
St Anthony's College v Speyside High, 3.40pm, St Anthony's;
St Augustine Secondary v Fyzabad Secondary, 3.40pm, St Augustine;
San Juan North v Shiva Boys HC, 3.40pm, San Juan.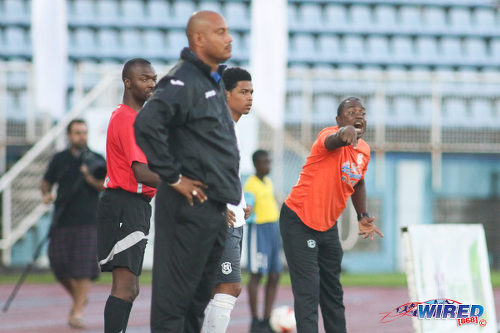 Adjusted SSFL Standings
(Played-Won-Drew-Lost-Goals For-Goals Against-Points)
Presentation         5-4-1-0-13-4-13
Shiva Boys HC     5-4-0-1-14–4–12
Naparima             5-3-1-1-11-6-10
Fyzabad Sec        4-3-0-1-6-4-9
Fatima                  5-3-0-2-5-4-9
San Juan N          5-1-4-0-13-6-7
Trinity East           5-2-1-2-8-5-7
St Augustine        4-2-1-1-8-6-7
St Anthony's        4-2-1-1-8-6-7
Carapichaima E   5-2-1-2-7-7-7
St Mary's              4-1-2-1-8-10-5
QRC                      5-1-1-3-4-10-4
Speyside High     5-1-0-4-3-11-3
Trinity Moka         5-1-0-4-4-16–3
St Benedict's       5-0-2-3-5-12-2
Signal Hill            5-0-1-4-3-9-1