Defending champions, Naparima College were squeezed out on penalties by arch-rivals Presentation College San Fernando at Mahaica Oval. The Lions of Presentation College, who finished one spot above Naparima in the SSFL League, claimed the scalp of their southern neighbours courtesy of kicks from the penalty mark after the score remained goalless at the final whistle.
Presentation College will face the new champions on the block, Shiva Boys Hindu College in the South Zone Finals on Friday 18 November at the Mannie Ramjohn Stadium after a late Aaron Rodney goal helped the boys from Penal overcome Fyzabad Secondary in the second match of the Mahaica Oval double header.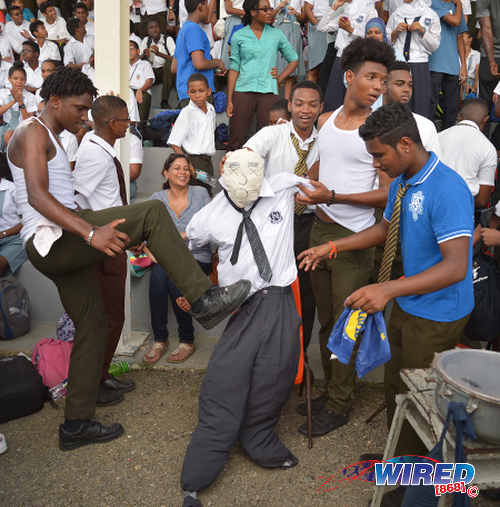 In a repeat of the 2014 North Zone Intercol Semifinals, St Mary's College will tussle with Trinity College Moka while East Mucurapo will pit their wits against St Anthony's College in a double header at the Hasely Crawford Stadium today. Two years ago, East Mucurapo and St Mary's each won on penalties to make it to the North Zone finals, which East Mucurapo won.
In the east, St Augustine Secondary, led by new head coach Adrian Romain, will try to defend their title against San Juan North in the East Zone Intercol Finals on Monday 21 November at the Larry Gomes Stadium. The "Green Machine" hammed Valencia Secondary 4-1 in their semifinal matchup while San Juan North ground out a 2-1 victory over Trinity College East.
Over in Tobago, newly promoted Speyside Secondary will battle against 2016 SSFL Premiership surprise package, Signal Hill Secondary, in the Tobago Zone Finals at the Dwight Yorke Stadium, Bacolet on Monday 21 November.

The winner of the Tobago Zone will face the champions of the Central Zone on Friday 25 November in the quarterfinal of the National Intercol competition.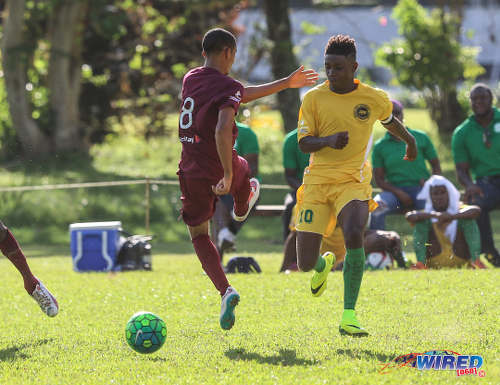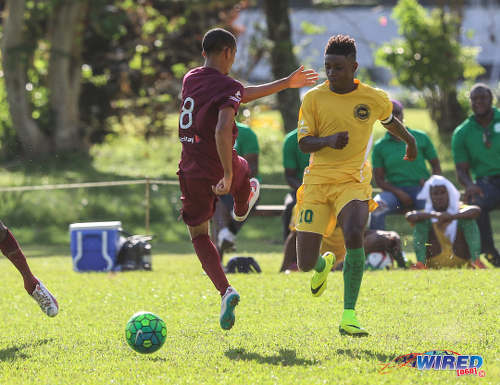 The Central Zone still has a way to go before crowning a winner though. Gasparillo Secondary play Chaguanas North and Carapichaima East face Presentation College (Chaguanas) in a semifinal double header at the Ato Boldon Stadium on Wednesday 16 November.
In Girls Intercol action, newly crowed Girls SSFL Big 4 Champions Diego Martin Central will look to continue their excellent season as their face Bishops Anstey POS in the North Zone Finals on Sunday 20 November.
East Zone powerhouse St Augustine Secondary tackle face Bishops Anstey East on Thursday 17 November at the Larry Gomes Stadium in the East Zone Finals while semifinals in the Tobago and South Zones continue throughout the week.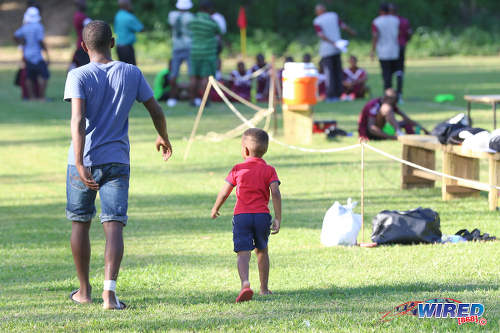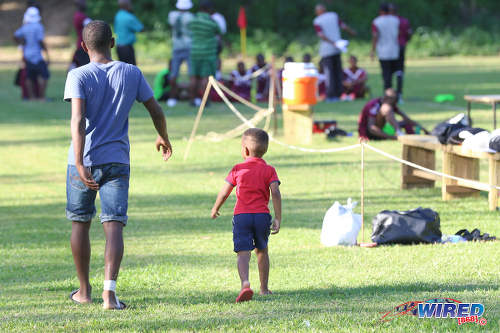 Coca-Cola National Intercol Results
Saturday 12 November
(North Zone Quarterfinals)
St Mary's College 6,  Malick Secondary 1 at Fatima
Monday 14 November
(South Zone Semi-finals)
Presentation College (San F'do) 0, Naparima 0  at Mahaica Oval
*–Presentation won 4-2 on penalties
Fyzabad Secondary 0,  Shiva Boys HC 1 (Aaron Rodney 80) at Mahaica Oval
(Tobago Zone Semi-finals)
Speyside Secondary 2 (Tyshawn Gray 30, Seon Melville 47), Goodwood Secondary 0 at Mt Pleasant
Mason Hall 0, Signal Hill 1 (Ronaldo Samuel 40) at Mt Pleasant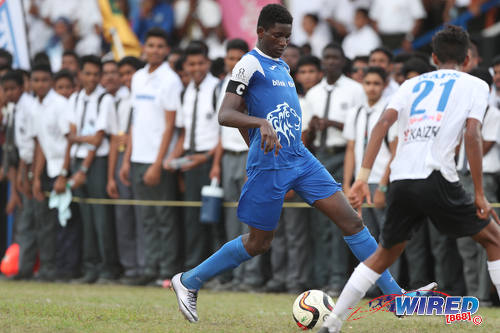 Tuesday 15 November
(East Zone Semi-finals)
Trinity East 1,  San Juan North 2 at Larry Gomes Stadium
Valencia Secondary  1, St Augustine 4 at Larry Gomes Stadium
Upcoming Intercol fixtures 
Wednesday 16 November
(Central Zone Semi-finals)
Gasparillo Secondary vs Chaguanas North, Ato Boldon Stadium
Carapichaima East vs Presentation Chag, Ato Boldon Stadium
(North Zone Semi-finals)
St Mary's College vs Trinity Moka, Hasely Crawford Stadium
East Mucurapo vs St Anthony's College, Hasely Crawford Stadium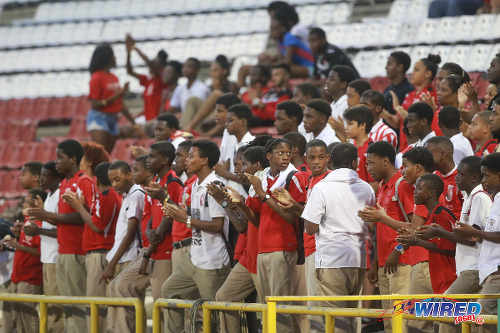 Friday 18 November
(South Zone Finals)
Presentation College San Fernando vs Shiva Boys HC, 3:30 pm, Mannie Ramjohn Stadium
Monday 21 November
(Tobago Zone Finals)
Speyside Secondary vs Signal Hill Secondary, 3:30 pm, Dwight Yorke Stadium
(East Zone Finals)
San Juan North vs St Augustine Secondary, 3:30 pm, Larry Gomes Stadium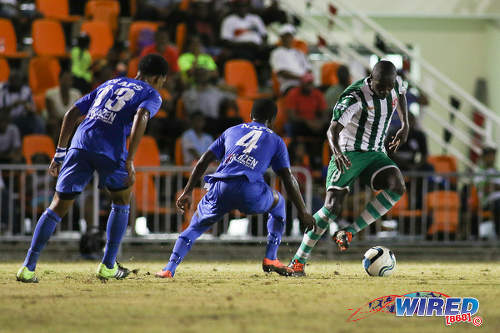 Tuesday 22 November
(Central Zone Finals)
Gasparillo Sec/Chaguanas North vs Carapichaima East/Presentation Chag, 4 pm, Ato Boldon Stadium
Friday 25 November
(North Zone Finals)
St Mary's/Trinity Moka vs East Mucurapo/St Anthony's, 4 pm, Hasely Crawford Stadium
(National Intercol Quarterinals)
Central Zone Winner vs Tobago Zone Winner, Dwight Yorke Stadium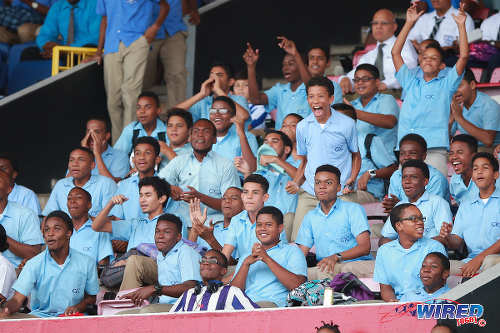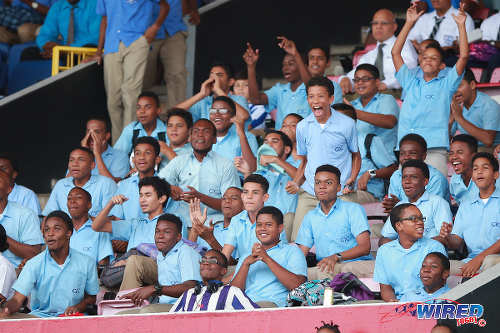 Tuesday 29 November
(National Intercol Semi-finals)
 South Zone Winner vs Winner Central/Tobago Zone, 3:30 pm, Mannie Ramjohn Stadium – Semi-final 1
Wednesday 30 November
(National Intercol Semi-finals)
North Zone Winner vs East Zone Winner, Hasley Crawford Stadium – Semi-final 2 
Monday 5 December
(National Intercol Finals)
WINNER Semi-final 1 vs WINNER Semi-final 2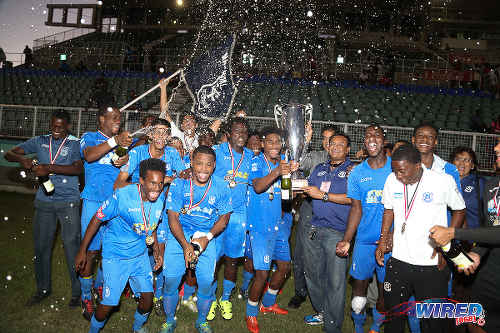 Upcoming Girls Intercol Fixtures 
Wednesday 16 November
(Tobago Zone Semi-finals)
Signal Hill Secondary vs Scarborough Secondary, 4 pm, Bon Accord
Mason Hall Secondary vs Bishops High Tobago, 4 pm, Bon Accord
Thursday 17 November
(South Zone Semi-finals)
Fyzabad Secondary vs San Fernando East, 3:30 pm, Mannie Ramjohn Stadium Training Field
Pleasantville Secondary vs St Joseph Convent, 3:30 pm, Mannie Ramjohn Stadium Training Field
(East Zone Finals)
St Augustine Secondary vs Bishops Anstey East, 1:30 pm, Larry Gomes Stadium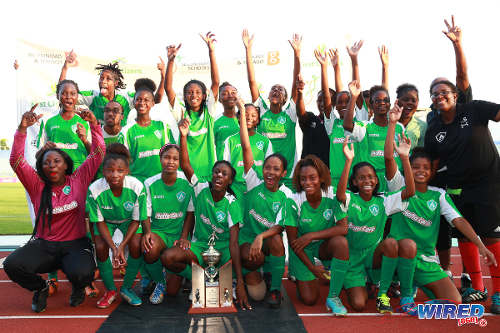 Sunday 20 November
(South Zone Finals)
Fyzabad/San F'do East vs Pleasantville/St Joseph Convent, 3:30 pm, Mannie Ramjohn Stadium
(Tobago Zone Finals)
Signal Hill/Scarborough vs Mason Hall/Bishops High Tobago, 3:30 pm
(North Zone Finals)
Diego Martin Central vs Bishops Anstey POS, 3:30 pm
Thursday 24 November
(National Girls Intercol Quarterfinals)
Tobago Zone Winner vs Central Zone Winner
Sunday 27 November
East Zone Winner vs North Zone Winner, 3:30 pm, Larry Gomes Stadium – Semi-final 1
South Zone Winner vs Tobago/Central Zone Winner, 3:30 pm, Mannie Ramjohn Stadium – Semi-final 2
Friday 2 December
Winner Semi-final 1 vs Winner Semi-final 2