Presentation College (San Fernando) booked their ticket to the 2016 National Intercol Final with a 5-3 penalty shootout victory over Signal Hill Secondary at the Mannie Ramjohn Stadium in Marabella today.
In regulation time, the two semifinalists could not be separated, as they both landed late blows in a tense 1-1 stalemate.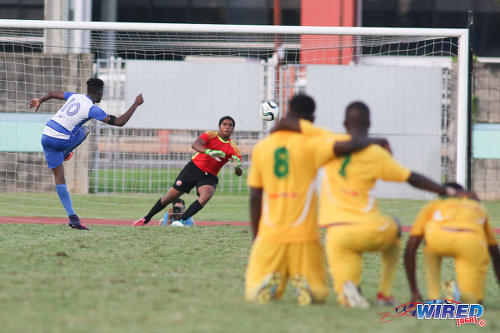 Presentation took an 80th minute lead through a towering header by defender Matthew Joseph. But, like against Premier Division champs Shiva Boys Hindu College in the South Zone Intercol Final, the "Pres Lions" conceded a late equalising item as Signal Hill forward Ronaldo Samuel scored in the 86th minute.
The lottery of the shootout then followed and coach Shawn Cooper's Presentation team were perfect from the spot while Signal Hill midfielder Akeil Holdford crucially missed his school's fourth kick.
Holdford's miss meant that Presentation substitute Omri Baird had the chance to seal his team's place in the final. And Baird comfortably converted his penalty to set up a showdown with "Mr Magic"—Renaldo Boyce—and the schoolboys from San Juan North Secondary in the National Intercol final from 3.30pm at the same Marabella venue on Tuesday 6 December.

The boys' final will be preceded by the Girls National Intercol final from 1.30pm at the Mannie Ramjohn Stadium, which will also be a contest between the North and South Zones. Fyzabad Secondary and St Augustine Secondary are the last two teams standing in the girls' knockout competition.
For the Pres Lions yesterday, Signal Hill represented a different sort of threat than Shiva Boys did, some two weeks. There would be no half line screamers or 90 minutes of frenetic end-to-end action.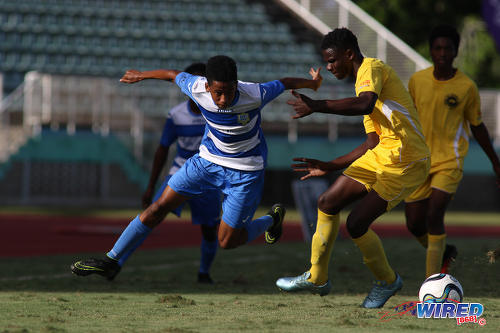 Instead, the visitors, who defeated Carapichaima East Secondary on penalties on Wednesday evening, set up mean defensive stalls and tried to play on the counter rather than to go toe-to-toe with the South Intercol champions and leave vacant real estate for the likes of Jordan Riley and Nion Lammy to exploit.
"We did [nullify their strengths]," Signal Hill coach Urington Samuel told Wired868.  "We did what we wanted to do coming into the game. We can't stop all the chances that they will get but we did well because we planned to mark out [Jordan] Riley and [Nion Lammy]. Riley is a very good player."
The fleet-footed Riley, who might be one the Secondary Schools Football League's (SSFL) smoothest operators on the dance floor—judging from his on-field moves—showed a glimpse of his capability in the 10th minute as he tricked his way past left back Kellon James with a slick dummy.
However, that might have been Riley's brightest moment from open play as the Signal Hill defenders stuck to their task, although most of Presentation's traffic was directed to the other flank anyway.
A real battle was brewing on Presentation's left wing, and it was an epic duel between Lammy and Signal Hill's Nkosei Chance.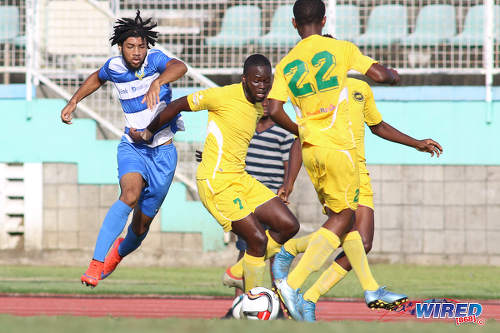 Lammy, who is a National Under-17 player, is quick and as stubborn as a spoilt child. The powerful winger probes and probes until he gets a breakthrough. However, he met a worthy opponent in the burly Chance, as the Signal Hill player matched his pace and power.
"We lost our best defender Oshan George because he got a red card in the previous game," said Samuel. "We had to use the striker Nkosei Chance and put him in defence because he had good pace to keep up with [Lammy]."
While the pair of 'number 7s' went at it on the wing, Riley demonstrated that he could create problems from set pieces too.
Near the half hour mark, the slender Riley picked out Joseph with a precise corner, but the defender's header went agonisingly wide. The visitors could not say they weren't warned by that duo.
Still, clear-cut chances were scarce and Cooper felt his players were lethargic due to their inactivity in the last two weeks. There was great anxiety when Lammy went down in the penalty area under a challenge from a Signal Hill defender in the 42nd minute. But referee Joel Cox waved away the appeals while also opting not to  punish Lammy for simulation.
The Pres winger, as always, persisted and nearly carved out an opening for striker James Alex Lee Yaw just after the restart. However the latter was just unable to latch on to a dangerous, low cross.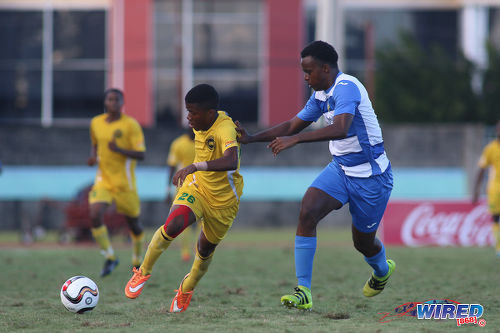 Presentation were not allowed to play at their usually fast pace as Signal Hill often disrupted their flow of attack with key interceptions. While Pres captain Kareem "Enzo" Riley was unable to stamp his authority on the game either, as he got little time or freedom in the middle of the park.
Cooper's team always looked promising from set pieces though. Enzo shot into the side netting in the 78th minute, after working a cheeky free kick routine with Lee Yaw and substitute Jarod Gordon. And Signal Hill were finally caught out, two minutes later, as Joseph rose above the opposing defence to head in an in-swinging corner by Riley (J).
Joseph's goal sparked wild celebrations from the Presentation players. But the home fans had seen this movie before and warned goalkeeper Jabari Gray to get back on his goal line—as as to avoid a repeat of Tyrel "Pappy" Emmanuel's sensation goal from the kick off in the South Intercol final on 18 November.
Gray was not embarrassed from the half-line this time around. But he was soon picking the ball out of the back of his net all the same, as Samuel tapped home from close range in the 86th minute after Signal Hill skipper Akil Frank sent a stinging shot towards goal.
Cooper was far from pleased.
"What we need to do is protect leads now because in the last two games we were leading [and we conceded late on]," said Cooper. "We need to keep concentration […] and as the old adage in football goes, 'You are most vulnerable in football when you have just scored'.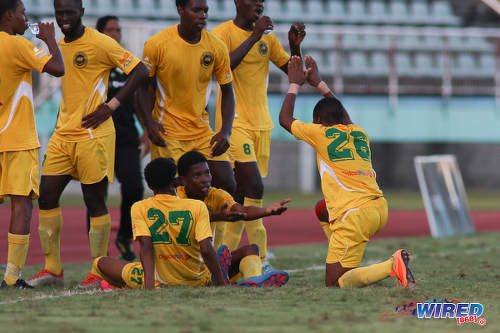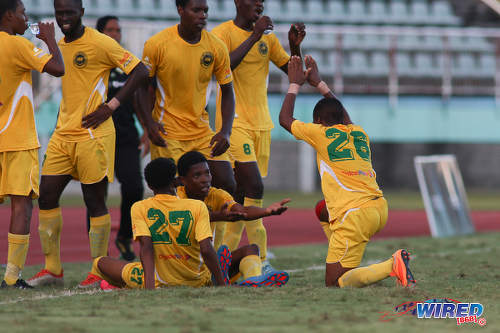 "I think we are supposed to learn [from those errors] now because we got bitten twice by opponents and we need to shut out games."
Cooper was a much happier camper at the end of the shootout though, as his team scored all five kicks from the spot to clinch a 5-3 win from the penalty mark. Gray was not required to make a save at all, as Signal Hill's fourth kicker, Holdford, dragged his right-footed shot horribly wide for the only miss of the shootout.
Samuel was surprised his team did not get the better of the lottery but hailed their  Intercol semifinal performance as one of their best for the season.
On the other hand, coach Cooper thinks it's high time that Presentation deliver another National Intercol title. He claimed his Lions are far from finished this season.
"We have achieved nothing. It's not only the team but the institution. Presentation College is a big institution—it's bigger than all of us—and we are trying to get a [National Intercol] title. 1975 is a bit too long and we need to put this to bed now.

"It's a matter of getting the job done. It's a matter of executing on the day. We have to make good decisions. We have to be tight and we have to be compact. We have to be clinical […]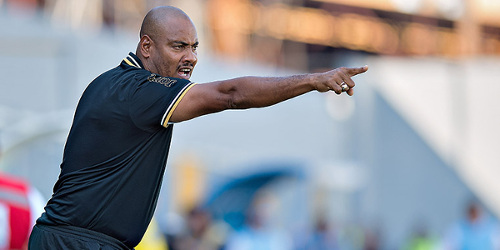 "I think you will be in for a bumper final because [San Juan North] coach [Jerry] Moe is an experienced coach and it will be no walkover. It will be a bumper affair again."
Cooper and his charges will be trying to stop a 41-year drought, while Moe and company aim to deliver's San Juan North's first National Intercol title since 2006.
Cooper declined comment on his team's illegal use of Trinidad and Tobago National Under-20 Team defender, Kori Cupid, which could have dire implications on San Juan North's place in the top flight next season.
A decade ago, the boys from Bourg Mulatresse put Fatima College under 'manners' at the Hasely Crawford Stadium. But will striker Renaldo Boyce and versatile teammate Brandon Semper have their way on Tuesday?
Yesterday, Fyzabad set the tone for Presentation in Marabella as they defeated Signal Hill Secondary 2-1 in  the Girls' Intercol semifinal in Marabella. Will the Fyzo gals help make a clean southern sweep on Tuesday afternoon?
Time will tell…
(Teams)
Presentation College (4-4-1-1): 28.Jabari Gray (GK); 16.Mylz Barrington, 2.Shirwin Noel, 6.Matthew Joseph, 3.Juaval Roberts; 11.Jordan Riley, 12.Darnell Hospedales, 8.Terrell Williams (13.Jarod Gordon 66), 7.Nion Lammy; 10.Kareem Riley (captain); 5.James Alex Lee Yaw (9.Omri Baird 84).
Unused Substitutes: 1.Ishmael Salaam (GK), 14.Jerrin Jackie, 15.Aleem Barclay, 19.Jarelle Steadman, 23.Kent Hamilton.
Coach: Shawn Cooper
Signal Hill Secondary (4-1-3-2): 1.Njeri Fermin (GK); 7.Nkosei Chance, 22.Jabarry Francis, 6.Jokiah Leacock, 8.Kellon James; 18.Akeil Holdford; 16.Antonio Pantin (4.Jabari George 88), 10.Akil Frank (captain), 11.Nathan Cadiz (17.Che Richards 62); 13,Omarley James (27.Jalanie James 62), 26.Ronaldo Samuel.
Unused Substitutes: 2.Sillon Williams, 12.Keshion Small, 24.Karyque Joseph.
Coach: Urington Samuel
Referee: Joel Cox
Wired868 Man of the Match: Nkosei Chance (Signal Hill)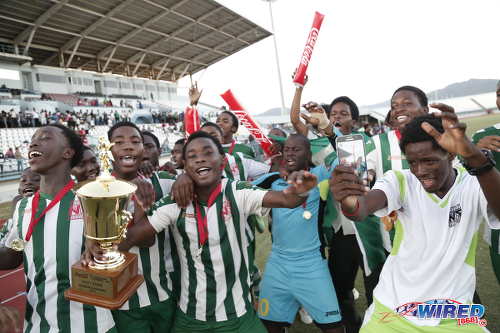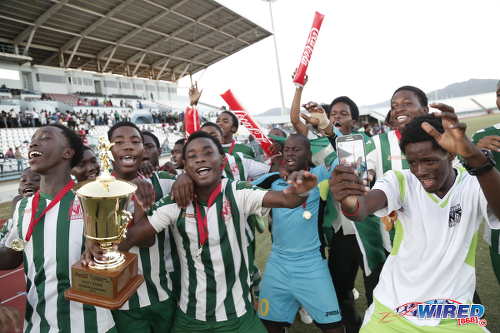 National Intercol Finals
(Tuesday 6 December)
Fyzabad Secondary vs St Augustine Secondary, Girls final, 1.30pm, Mannie Ramjohn Stadium;
San Juan North vs Presentation College (San Fernando), Boys final, 3.30pm, Mannie Ramjohn Stadium.