Not every skin teeth, as the old people say, is a laugh. And, as Defence Force and Central FC players posed with trophies and giant cheques at the Hasely Crawford Stadium in Port of Spain, tension was not far beneath the surface.
Central, who won the Pro League title for the last two seasons running, copped the prize for leading all teams at the end of the first round, after a come from behind 2-1 win against San Juan Jabloteh. And, in the second match of the double header, Defence Force held off Ma Pau Stars 1-0 to secure the 2016 First Citizens Bank Cup and a TT$110,000 cash prize, in front of around 1,500 supporters.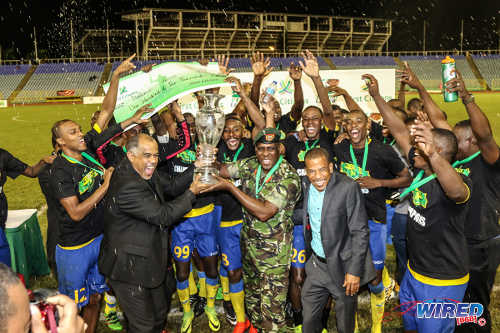 But behind the razzmatazz of the rhythm section and the coaxing of the crowd lay an obvious problem.
Earlier this year, as the economic crunch bit, some football analysts suggested that financial collapse was imminent for the Pro League. However, the response from the League, in the face of nationwide retrenchments in far bigger and older industries, has been commendable.
The Morvant Recreation Ground has already recorded a crowd of over 3,000 spectators this season—which, allegedly, energised sponsors for the Morvant Caledonia United team—while San Juan Jabloteh and Club Sando have also made encouraging debuts at the Santa Cruz Recreation Ground and Naparima College school ground respectively.

But an ingredient is still missing.
The best performer at the Hasely Crawford Stadium yesterday wore white. His pass completion rate was flawless, his intensity was admirable and his vision seemed to be at a 360 degree angle.
He was selling doubles in the foyer of the covered stands.
On the field, there were intermittent bursts of activity and flashes of skill. But little that a neutral supporter would wake up on Saturday and remember fondly.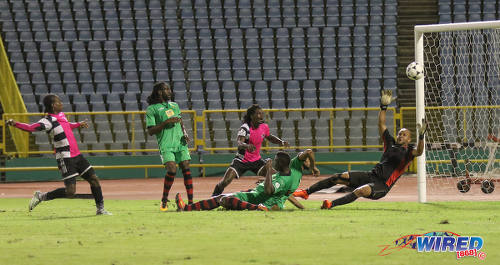 Now imagine for a second if there was a local team with the efficiency, energy and professional approach of that doubles vendor…
Yet, remarkably, there were three former England Premier League players on the pitch yesterday—men with roughly 30 years' experience in the British professional game between them.
Kenwyne Jones (Southampton, Sunderland, Stoke City and Cardiff City) played the full 90 minutes for Central while Jason Scotland (Wigan Athletic) and Carlos Edwards (Sunderland) put in a similar shift for Ma Pau Stars.
Scotland was very reluctant to criticise the league that gave him his start in the game. But he suggested that the asset in short supply these days is not so much skill as it is mental toughness.
Now 37, Scotland fought his way to prominence in an era in which national coaches could pick from strikers like: Dwight Yorke, Stern John, Jerren Nixon, Arnold Dwarika, Angus Eve, Gary Glasgow, Mickey Trotman, Nigel Pierre, Collin Samuel and Errol McFarlane.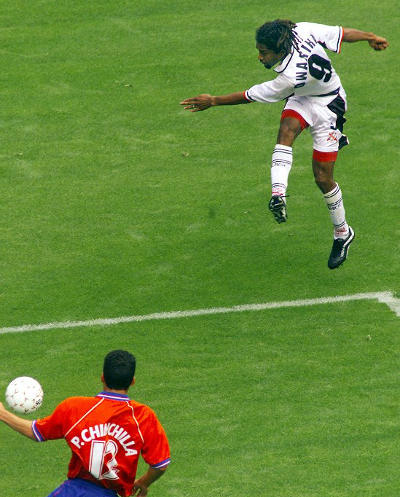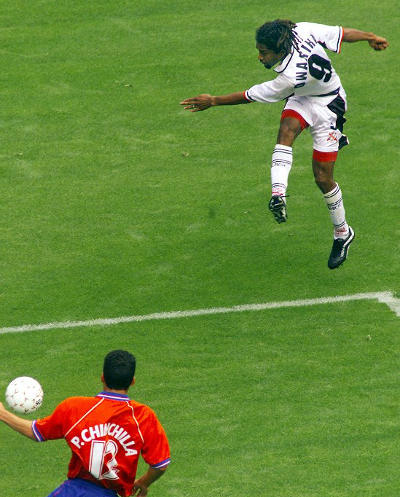 "There were players in Trinidad  [then] who were more talented than me or went to Scotland and they felt it was too cold and they didn't make the grade," said Scotland, who also represented Dundee United and Hamilton Academical in the Scotland Premier League. "The public knows there were players then who better than me. It wasn't the talent alone that counted. It was the mental strength to know what they wanted in life and to carry on…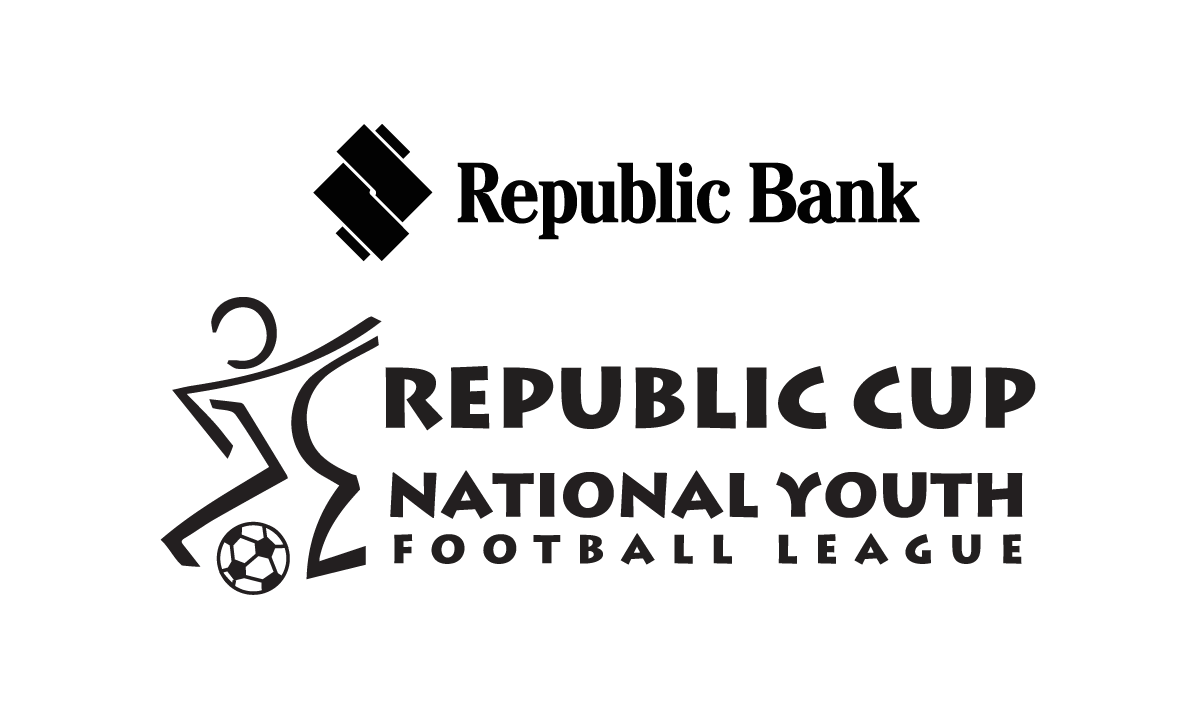 "You have to know for yourself if you are doing this for fun or recreation, or just something to do on the weekend. Or if this is something that you want to make a living from."
The relationship between players and administrators has been a doubled edged sword in the two island republic since time immemorial.
Yesterday, Central were without central defender Andre Ettienne, who almost came to blows with club chairman and former Sport Minister Brent Sancho on the training ground over financial issues.
First choice right back Kaydion Gabriel was injured while his deputy, Glen Sutton, parted ways with the "Couva Sharks". So, against Jabloteh, coach Dale Saunders started with central midfielder Nathaniel Garcia at right back, forward Jem Gordon at left back and regular full back Kevon Villaroel in central defence.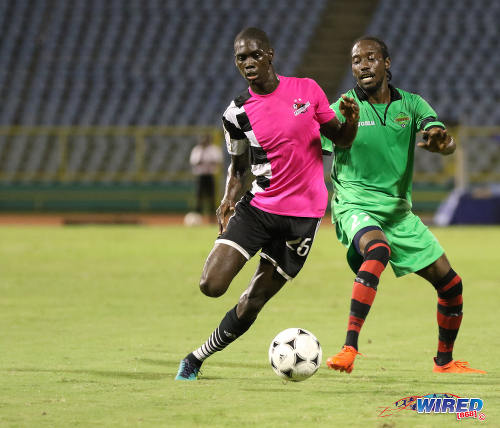 Last week, Central signed free agent Kishun Seecharan, a former Trinidad and Tobago National Under-20 Team midfielder, and Saddle Hill Hotspur player Rhondel Gibson, who was an unused substitute, to helped fill the gap.
And Seecharan made a storming debut off the bench, as he set up Gordon's 75th minute equaliser—which nullified a first half Nathan Lewis item—before Central grabbed a late winner from captain Darren "Chucky" Mitchell.
"It was a very good result," said Saunders, whose team struck twice in the last 15 minutes to leave Jabloteh empty handed. "Our team has a lot of quality players, so we don't really miss anybody. We have situations like any family and any club does. But I will leave that for the management to talk about.
"I won't be able to answer those questions [about Ettienne or unpaid bonuses to players]."
Ettienne, for his part, admitted that his bust up with Sancho involved a disputed financial fine—a habit used liberally by the club's administrators; and one which tends to lower their wage bill.
However, the former Point Fortin Civic captain says he believes the problem is fixable and hopes to square off matters with his Central employers by Monday.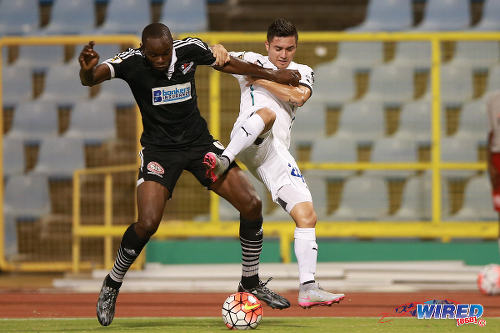 It is one example of how issues off the field might affect the squad on match day. But, as Scotland pointed out, players have to take some responsibility for their own performances as well.
"I think coaches are doing a lot to try to make the players as happy as they can, just so they can get that extra [on match day]," Scotland told Wired868. "But that extra is not coming. Sometimes you hear about players who miss training because they had something to do on that day. And then you hear they went somewhere else other than where they said or were chilling on the block. But they will still play the next day.
"In the past, that would never happen. But there is so much at stake for clubs now and [coaches] will allow [some leeway] in the hope that it will help them get the best out of their players on match day.
"The players have to want it for themselves though and sometimes you feel you are not seeing enough commitment."
Not that there isn't more coaches can do to help the game at the development level too.
"Sometimes you watch players here and you see they have ability," said Scotland, "but you watch them and notice that you see them only running in straight lines. So you realise they need coaching. And these are things that should be happening at grassroots level.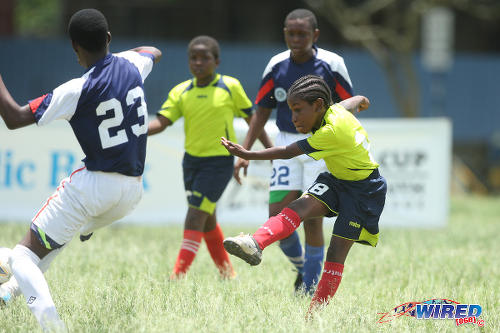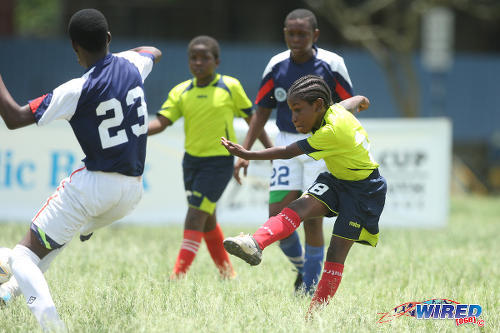 "Sometimes you see players who are in their 30s and only running in a straight line or not showing any understanding of tactical shape. And you realise it isn't their fault. That is all they know."
Scotland was a soldier before the opportunity came to earn a living as a professional footballer in Britain. But there wasn't a lot of sympathy for his former comrades at kickoff.
"[The First Citizens Cup] is the last cup I won before I went away [in 2003]," said Scotland, "so I was hoping that it was the first cup I could win on my return."
Defence Force, buoyed by 33-year-old midfield anchor Chris Durity, had other ideas. A former Hillview College schoolboy, Durity dropped from the Pro League to the second tier National Super League, two years ago, as he pursued a bachelor's degree in criminal justice and criminology.
"I finished my [bachelor's] degree in May and, at that point in time, the first team was short on players," said Lance Corporal Durity, who has already started his master's degree in the same field. "So they asked me to come back upstairs."
Fourteen minutes into the affair, Durity strode forward to smash an attempt from just outside the opposing penalty area. His strike hit the underside of the bar and appeared to cross the goal line before spinning back into play.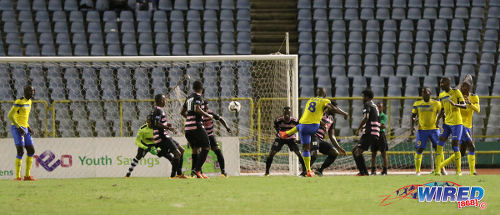 Left back Akile Edwards was alert to the opportunity, though, and headed the rebound past Stars goalkeeper Glenroy Samuel for the opener.
"I wish [my shot] did cross the line," said Durity, with a laugh. "I don't know if it did. But the result is the same."
For the most part, it was Durity's work off the ball that galvanised the Army/Coast Guard unit, as they outnumbered Stars in Central midfield and closed down passing lanes for much of the first half.
"We had a plan to go out there and work hard and try and execute and we did that," said Durity, a former Trinidad and Tobago National Under-17 player. "We tried to outnumber them in midfield—the coach always emphasises winning the midfield battle—and focus on Britto's pace and "Scotty" up top. And I think we did a great job in that."
Stars started with Scotland on top with Britto in a withdrawn role, as an attacking midfielder. Only the latter player rarely created extra passing options for his midfielders or put pressure on Durity.
At the half, coach Ross Russell, a two-time Pro League champion as coach with Defence Force, swapped the two with the 37-year-old Scotland asked to play deeper.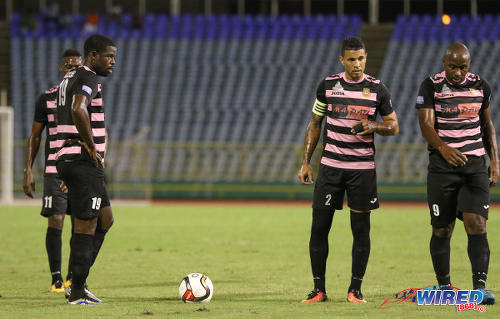 "[I think that change] created more chances and allowed me to get on the ball and influence the football a bit more," said Scotland.
Twice, Scotland stung the palms of Defence Force goalkeeper Andre Marchan while Britto was also denied by the shot blocker. But Stars never really got going until the final 20 minutes of the game—when another veteran, Kerry Baptiste, joined the fray and immediately struck up a telepathic relationship with Scotland.
In the end, though, it was a case of too little, too late.
"They had something to hold on to and they did it well," said Scotland. "Any team that score first and decide to sit back and invite pressure can be difficult to break down. And we found it difficult yesterday, even though we created a few chances."
A flare up with Stars defender Glenton Wolffe apart, Defence Force striker Devorn Jorsling did most of his work on the defensive end yesterday. Yet, at the final whistle, Jorsling was awarded the MVP and Most Goals accolades for his seven strikes in the earlier rounds. It was an example of an unspoken truth in sport: Talent is rarely rewarded without effort and team support.
As the Defence Force players posed with their trophies, the jersey of former colleague, Ross Russell Jr, was spread out neatly on the grass.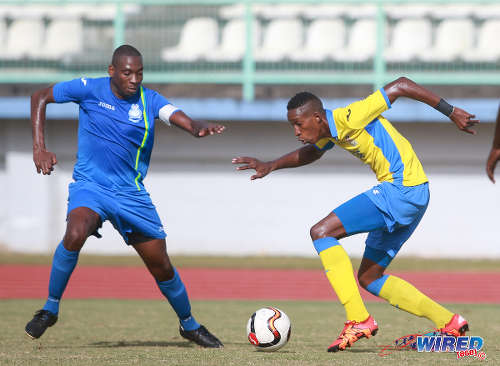 Russell Jr, the son of the Stars coach, is in jail awaiting trial for murder at present and has already been expelled from the Army.
"Everybody knows the situation with [Russell Jr]," said Durity. "The guys have a close relationship with him and he was a part of the team. So [displaying his jersey] was just their way to stand in solidarity with him."
It is a testing period for Trinidad and Tobago football at present—in terms of the local and international game, on and off the field. But where there is life, there is hope.
(Teams)
Defence Force (4-1-4-1): 1.Andre Marchan (GK); 13.Marvin Jones (14.Darryl Trim 90+1), 3.Jamali Garcia, 26.Justin Garcia, 21.Akile Edwards; 8.Chris Durity; 17.Curtis Gonzales, 10.Hashim Arcia (37.Cassim Kellar 85), 99.Jerwyn Balthazar (captain), 12.Jemel Sebro (6.Rodell Elcock 77); 9.Devorn Jorsling.
Unused substitutes: 25.Sheldon Clarke (GK), 5.Devin Jordan, 22.Anthony Charles, 35.Tirek George,
Coach: Marvin Gordon
Ma Pau Stars (4-2-3-1): 22.Glenroy Samuel (GK); 25.Keryn Navarro, 5.Taryk Sampson, 19.Glenton Wolffe, 2.Carlos Edwards (captain); 6.Neil Mitchell (23.Anthony Wolfe 53), 11.Elton John; 7.Kerry Daniel (4.Kerry Baptiste 70), 10.Jerrel Britto, 17.Hayden Tinto; 9.Jason Scotland.
Unused substitutes: 1.Shane Mattis (GK), 8.Adrian Noel, 12.Sayid Freitas, 14.Chike Sullivan, 20.Quincy Charles,
Coach: Ross Russell
Referee: Crystal Sobers
Wired868 Man of the Match: Andre Marchan (Defence Force)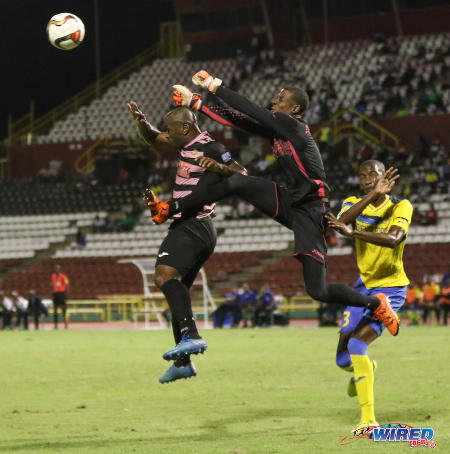 First Citizens Bank final
(Friday 2 December)
Defence Force 1 (Akile Edwards 14), Ma Pau Stars 0 at Hasely Crawford Stadium;
MVP: Devorn Jorsling (Defence Force)
Most Goals (7): Devorn Jorsling (Defence Force)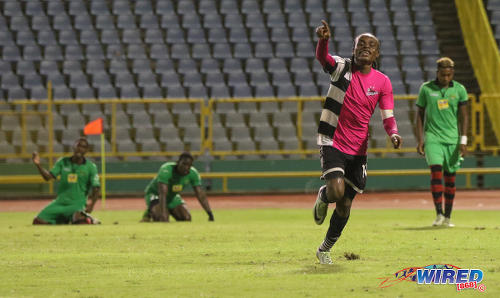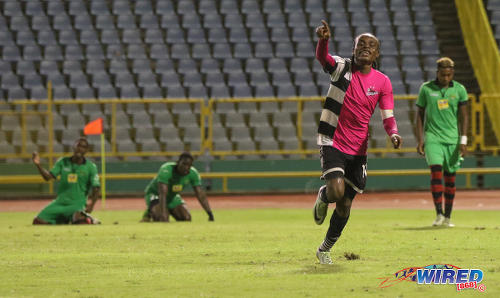 Pro League result
(Friday 2 December)
Central FC 2 (Jem Gordon 76, Darren Mitchell 89), San Juan Jabloteh 1 (Nathan Lewis 31) at Hasely Crawford Stadium;
Upcoming fixtures
(Sunday 4 December)
Morvant Caledonia Utd v Police FC, 3.30pm, Morvant Recreation Ground;
Cub Sando v St Ann's Rangers, 5pm, Naparima College ground;
(Tuesday 6 December)
Defence Force v Point Fortin Civic, 6pm, Ato Boldon Stadium;
W Connection v Ma Pau Stars, 8pm, Ato Boldon Stadium.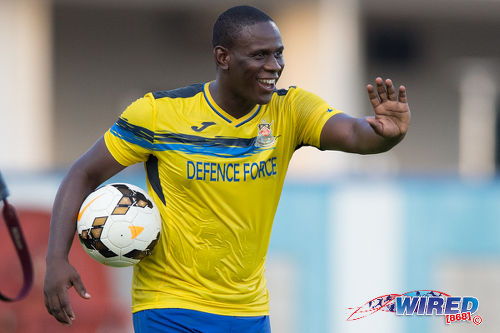 Standings (Tabulated as Won-Drawn-Lost-Goals For-Goals Against-Points)
Central FC             9-8-1-0-21-9-25
W Connection     8-6-1-1-24–6-19
S/Juan Jabloteh 9-5-1-3-17-13-16
Ma Pau Stars       8-4-1-3-12-10-13
S/A Rangers         8-3-2-3-12-12-11
Club Sando           8-3-1-4-15-16-10
Police FC               8-2-2-4-15-14-8
Defence Force    8-2-1-5-7-15-7
M'vt Caledonia   8-1-3-4-12-16-6
Point Fortin        8-0-1-7-5–29-1