There may be an edge to the boys' 2016 National Intercol final this afternoon as Presentation College (San Fernando) and San Juan North Secondary clash from 3.30pm at the Mannie Ramjohn Stadium in Marabella against a backdrop of disciplinary action in the Secondary Schools Football League (SSFL) boardrooms.
The match is preceded by the girls' Intercol final from 1.30pm at the same venue, which is another clash of South and East Zone schools as Fyzabad Secondary tackle St Augustine Secondary.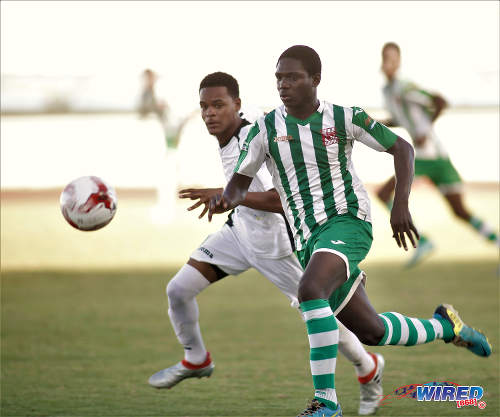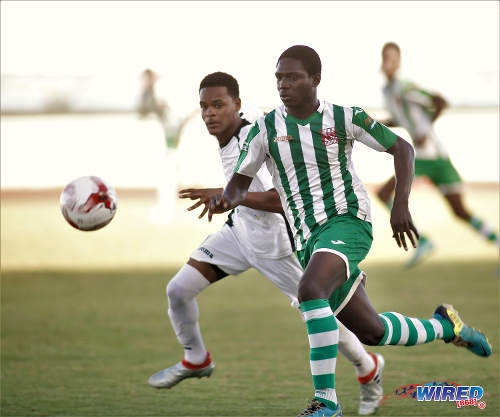 But, while the girls might have nothing but a big shiny trophy in mind, two startling disciplinary actions against Presentation and East Mucurapo Secondary have overshadowed the boys' showcase event.
The 'Pres Lions' were found to have used an illegitimate player, Trinidad and Tobago National Under-20 Kori Cupid, for nearly half their season while East Mucurapo also fielded ineligible defender, Abdus Ramcharan.
In both cases, the expected points deduction for matches played by the offending players—according to SSFL rules—looks set to lead to relegation for San Juan North, who finished one point above the bottom three but will be left worse off by the re-calculated standings.

"That game involving Mucurapo and St Benedict's [College] was in the seventh round [of league action] and there were six rounds to follow," San Juan North coach Jerry Moe told Wired868. "[If we do get relegated] then a can of worms will be opened because somebody should have put a stop [to the player's participation] there. Someone should have told Mucurapo that a protest was inside so that means that somebody slept on the ball.
"You can't penalise San Juan for something like that. The [SSFL] administration is doing their job so that is not San Juan's responsibility. However, a precedent has been set all over the world. In Italy, a team did something wrong and they had to start the next season with points deducted. So I think they can go along those lines.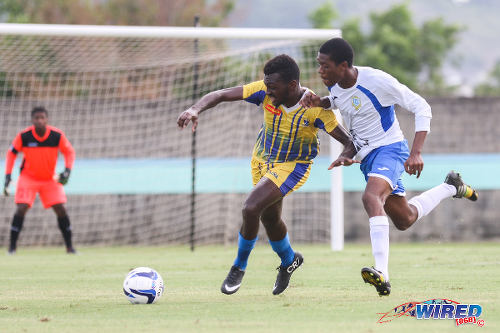 "I can't see it happening because no team protested within the time frame. I am not seeing it happening but that is not for me to decide… I can only talk about things I can talk about—which is the football."
San Juan North struggled for consistency during the 2016 Premier Division competition but, in the knockout tournament, they finally demonstrated their confidence and stride.
In the Intercol semifinal, San Juan came from behind to defeat Trinity College (Moka) 4-1, despite playing without the ejected defender Lukeman Brooks for almost an hour. The combative skipper will not be available for today's final either but coach Moe is certain other players will step up to the plate.
"I think it all comes down to [the] roles and functions [we assign to the players]," said Moe. "At the start of the season we didn't have the most talented crop of players but we put a lot of focus on role and function. And when one person is missing another person has to step up.
"While the individual effort of Lukeman Brooks will be missed I think the player coming in will be able to do the same role and function."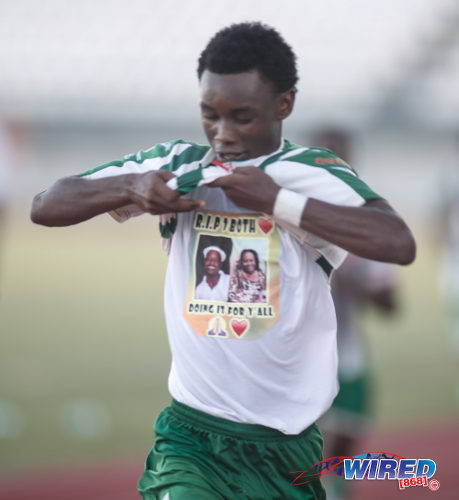 The pair of National Under-17 player Brandon Semper and striker Renaldo Boyce have certainly done their jobs, as both youngsters played significant parts in their school's most recent victories.
In the East Intercol final, Semper scored a stylish late double to see his school past St Augustine, while the burly Boyce netted all four items in a dominant performance against Trinity.
And, this afternoon, Moe will need his two premier attacking threats to be on their 'A' game if the boys from Bourg Mulatresse are to be victorious against a very good Presentation team. The San Juan coach is understandably wary about their opposition.
"The keyword is 'final' and it's the final game [of the Intercol campaign] so everyone wants to leave a lasting impression," said Moe. "I am expecting a tough, hard game. I think Presentation [are] a good team. They have a lot of quality players and they have a lot of disciplined players. But at the same time, we are not going to fear them.
"We will have respect for them but at the same time we are not going to fear them […] At the end of the day, I think [the team] who goes out there and executes the game plan will be the team to come out on top."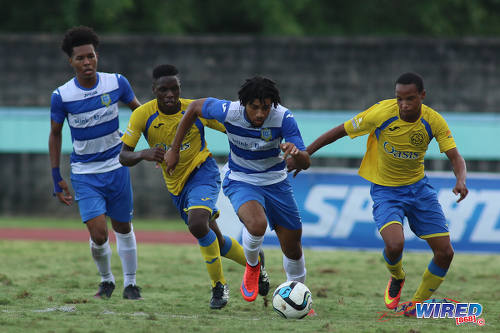 Back in October, Presentation defeated San Juan by a 1-nil margin thanks to a goal by National Under-17 winger Nion Lammy and they should start as slight favourites. However, Pres coach Shawn Cooper is keeping his feet on the ground.
Cooper told Wired868 that his team has unfinished business after their penalty shootout win over Signal Hill in Saturday's semifinal.
"Everybody's excited and looking forward to the game and expectations are high, as expected,"  said Cooper. "Nevertheless, we know the game is not won until after the final whistle. We are still concentrating on getting our part done which is executing our game plan."
Presentation have not won a National Intercol title since 1975 but Cooper believes his players have the right mindset for the task at hand.
"[The players are taking it just like a normal game. They know the importance of it and I think they are settled and focused. They are looking at it like the way they approached the South [Intercol] Final. They are taking it very serious. They are not in a panic mood but they know the importance of [the occasion]…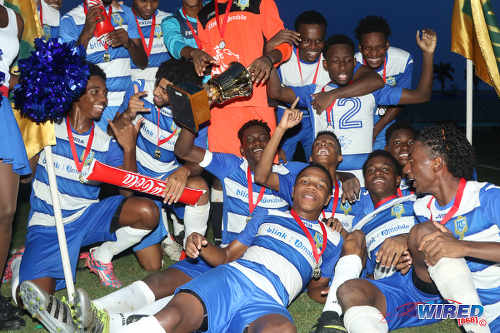 "I have no idea what [San Juan] will do or what they will change so this is why I'm not concerned about what they are going to do. I'm more concerned about what we will be doing."
Former West Indies women's skipper, Stephanie Power, has been in to talk to the San Juan players recently and Moe commended her for helping to prepare his players mentally.
The San Juan players also received encouragement from San Juan Jabloteh midfielder Elijah Manners and Ma Pau Stars goalkeeper Glenroy Samuel, who were members of San Juan's 2006 National Intercol winning team. Samuel also represented Trinidad and Tobago at the 2009 FIFA Under-20 World Cup.
Moe is trying to keep his players focused on Intercol trophy in front of them and not the trouble brewing in the SSFL boardroom.
"I think from a management standpoint a lot of things were swept under the carpet," said Moe. "I think they could have done a lot better in terms of managing it. In order for a player to play he has to get a pass. In order for him to get a pass he has to be registered. That means whoever it is needs to make sure the player has all the accreditations [dropped the ball]…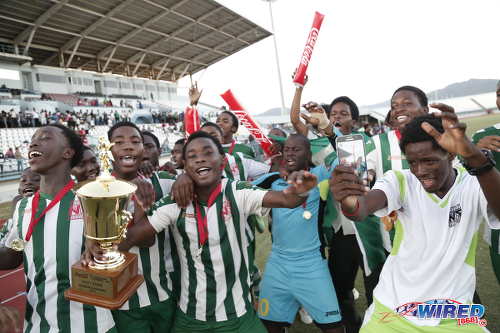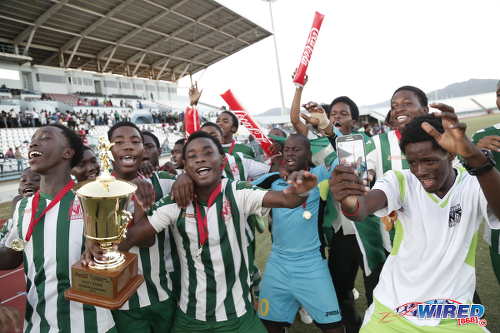 "We will wait to see the outcome of that. If the rule is that you have 72 hours to protest and you don't protest within that 72 hours then I think it's between the League and Mucurapo [and Presentation College] to deal with that."
Who will be the happier teams this evening?
Will the South schools in Fyzabad and Presentation have their way? Or will San Juan North and St Augustine land the final knockout punch?