The Pro League will need a new punchline if St Ann's Rangers keep this up. For four of the last five seasons, the St Ann's club finished dead last.
The only exception came in the 2012/13 when T&TEC imploded and played half the season with a side so threadbare that they sometimes had to wait for then Shiva Boys' Hindu College brothers Nathaniel Garcia and Levi Garcia—then 19 and 15 years old respectively—to get to the ground from school, just to have 11 players.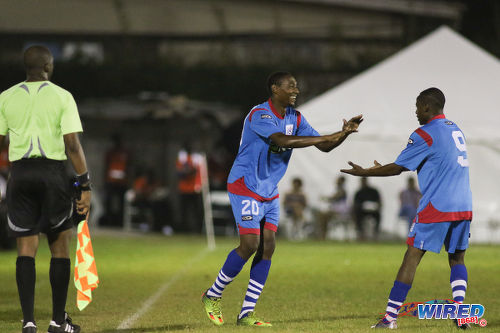 In those five years, Rangers' highest points total was 17 in the 2011/12 term. But, after yesterday's emphatic 4-0 win over Point Fortin Civic at the Mahaica Oval, they are halfway there already.
Coach Anthony Streete's team are on 10 points at present, with three wins and one draw from five outings. Streete, whose on-again off-again relationship with Rangers stretches over a decade, admitted that he has nearly hit his target already—barely a month into the season.
"To be honest, my target was to get more than 14 points," Streete told Wired868. "I wanted to prove it was not the players who were at fault [last season]."
Coach Angus Eve helped Rangers to 14 points last season before he took the struggling team's best players—according to the club at least—and headed to Club Sando. Incidentally, Streete was Sando's head coach and had to make way for the upstart before ending up at the club that Eve left behind.
From the sound of things, it will be a tasty clash when those two coaches meet again on the football field.
Eve and Club Sando were at Mahaica Oval yesterday as well although their opponents were Morvant Caledonia United.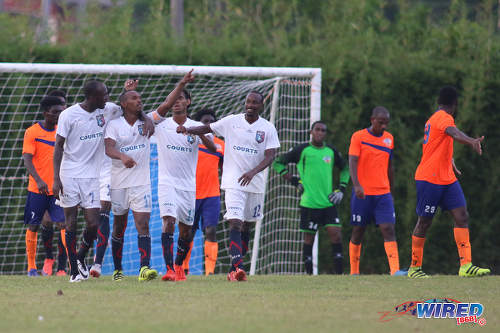 Morvant Caledonia won their opening game in Point Fortin against Civic on 30 September. But coach Rajesh Latchoo and his troops have not managed a three-point haul since.
Yesterday, the "Eastern Stallions" could at least take heart from ending a two game losing streak as they came from behind on three occasions to hold Sando 3-3. The final two goals came in the last three minutes of play, as Shaquille Holder followed up on a Keith Simpson shot to put Sando 3-2 ahead in the 89th minute, only for Jameel "Shooter" Neptune to equalise in stoppage time after latching on to a Seon Thomas punt.
There was nowhere near as much drama in the second fixture of yesterday's double header, although it was enjoyable in its own right. Not if you were a Point Fortin Civic fan, of course. And especially not if you were a Civic defender charged with stopping Rangers winger Jomoul Francois.
For better or worse, the Rangers/Civic clash was all about Francois with the other 21 players on the field all wanting the same thing: to see the electric winger give somebody else the ball.
"He wanted to do all the work and then score all the goals where he could have shared some," said Streete. "The score could have been a different score if he was playing for the team. I think he played for himself too much."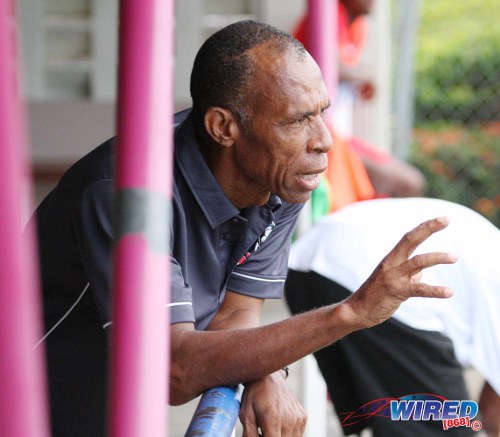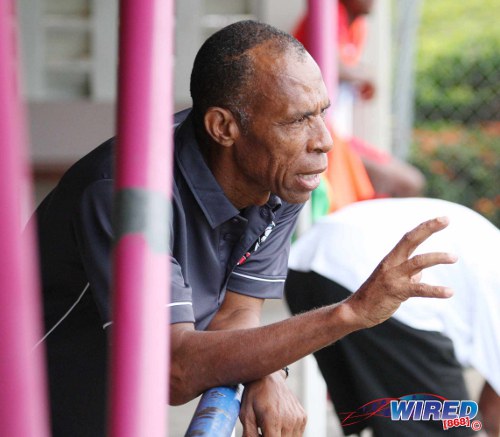 But if Francois' flaws were evident, so was his immense promise. Athletic, tricky and fearless, Francois dribbled Civic defenders until they dropped their heads. And then he dribbled them some more until they stopped feeling bad about it.
Occasionally, he passed.
"You have support!" Streete shouted at his talented winger. "You have support!"
Francois didn't think he needed it. And he was part-right.
It would be unfair to label the youngster as a glory hog or uncoachable, though. He was just trying to make an impact for his team in the best way he knew how. But there were signs that are he is learning.
"Come off his radar!" Streete shouted at Francois. "Never let yourself be on his radar. You're making it too easy for him. Let him be looking for you."
Francois, who was not in possession at the time, adjusted his starting position so that he was on the blindside of his marker rather than standing right in front of him. In a more professional culture, he would have learned such tips at 16 or 17. He is 21 now. It is late; but hopefully not too late.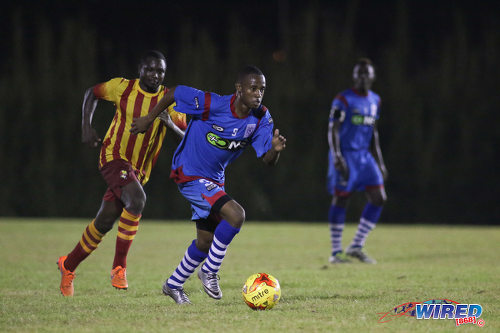 Throughout the contest, everyone in a Rangers uniform seemed to have a word for the youngster. Some harsh. Some encouraging. Most deserved. If he takes them on board, he will be known much further afield than the Pro League in a year or two.
Francois will face tougher opposition than Civic though. Sylvester "Son Son" Teesdale and Akeem Redhead both hit the post in the closing minutes but the hosts were well beaten.
It is difficult to know where to start as far as Point Fortin's deficiencies go. Coach Dick Furlonge employs a 3-4-3 system in which neither of his two central midfielders can tackle, they lack a genuine centre forward and their two wing backs look like agoutis frozen in a car's headlights—never quite sure if to go forward, backward or close their eyes and hope for the best.
Rangers went two goals clear within the first seven minutes, as midfielder Osaze Springer finished from a right side cross in the fourth minute before frontman Dylon King superbly buried a Francois cross on the turn.
"I brought [King] a little deeper to make the [Civic] stoppers be looking for him," said Streete, "and Jomoul and [Kazim Donald] get a little more room to capitalise from the flanks."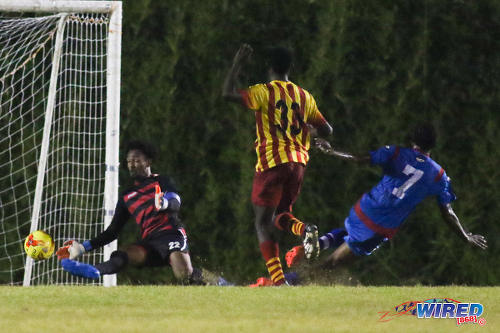 The tactical twist meant Civic's three-man defence often had nobody to mark while King had little chance of being molested by opposing midfielders, Nicarlom Turton and Redhead.
Rangers were in complete control. And, when the Civic defence finally caught sight of an opponent, it was usually Francois moving in a blur of speed behind either of their wing backs.
In the 49th minute, Francois ran on to a diagonal pass from King and tore past Shane Garraway before finding the far corner.
"He tried to cross you know!" Devon Modeste exclaimed, as the Rangers players congratulated their maverick winger.
Modeste was almost certainly correct. But there was no doubt about Francois' second item, as he cut in off the left flank this time before deliberately finding the far corner off a Jameel Antoine pass.
Teesdale tried to rally his troops but there are J'Ouvert bands with more order and disciplined shape than Civic demonstrated last night.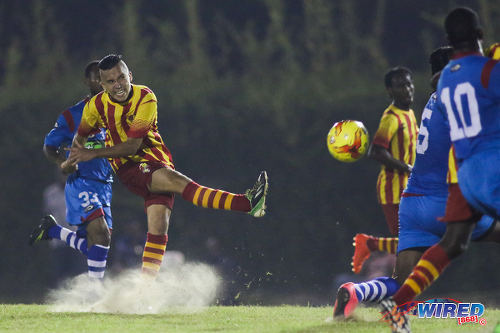 "I want to give all the praises for my team and the staff for working real hard to reach this far, especially the players for believing in themselves," said Streete. "On the training ground, they are committed to the task [and] the team… So I'm most happy…
"I always say don't take a job and then make the players the problem. If you take a job, you have to do your best to make it work."
So far, so good for Rangers. A resurgent W Connection is next though.
Another win and Streete will be one point off his pre-season target. Another electric showing like that and Rangers will be struggling to keep Francois away from more illustrious local suitors for the 2017 season.
(Teams)
St Ann's Rangers (4-1-2-3): 1.Cleon John (GK); 30.Lester Durham, 10.Devon Modeste, 5.Devon Drayton, 20.Kareem Baptiste; 8.Jameel Antoine (captain); 33.Osaze Springer, 7.Sedale McLean; 11.Kazim Donald (32.Marvin Lee 76), 6.Dylon King, 9.Jomoul Francois.
Unused substitutes: 22.Christopher Biggette (GK), 16.Richard Williams, 17.Francis Rojas, 19.Tafari Williams, 44.Dyllon Lara.
Coach: Anthony Streete
Point Fortin Civic (3-4-1-2): 22.Miles Goodman (GK); 11.Shaquille Dublin, 6.Shane Garraway, 33.Kerron Gaskin; 16.Tyrell Johnson, 8.Akeem Redhead, 14.Nicarlom Turton (99.Tereek Joseph 55), 17.Kestwin Goolie (30.Mario Romero 65); 9.Sylvester Teesdale; 4.Keron Neptune (24.Austin Hernandez 46), 31.Jose Herrera.
Unused substitutes: 21.Callum Marshall (GK), 3.Kurfi Pierre, 23.Shaquille Stewart, 32.Nestor Ruiz.
Coach: Dick Furlonge
Referee: Rashby McPhee
Man of the Match: Jomoul Francois (St Ann's Rangers)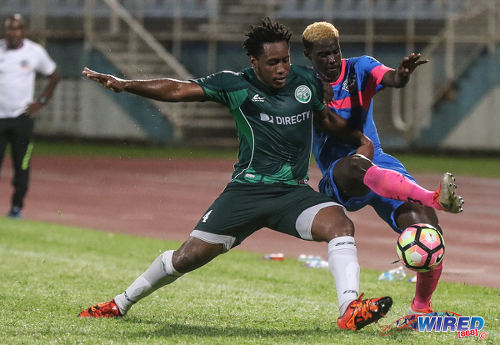 Pro League results
(Friday 28 October)
W Connection 2 (Andre Toussaint 31, Dimitrie Apai 79), Defence Force 0 at Mahaica Oval;
Central FC 0, Ma Pau Stars 0 at Mahaica Oval;
(Sunday 30 October)
Club Sando 3 (Keron Cornwall 32, Akeem Roach 56, Shaquille Holder 89), Morvant Caledonia United 3 (Kordell Samuel 42, Akim Armstrong 62, Jameel Neptune 90) at Mahaica Oval;
Point Fortin Civic 0, St Ann's Rangers 4 (Osaze Springer 4, Dylon King 6, Jomoul Francois 49, 80) at Mahaica Oval.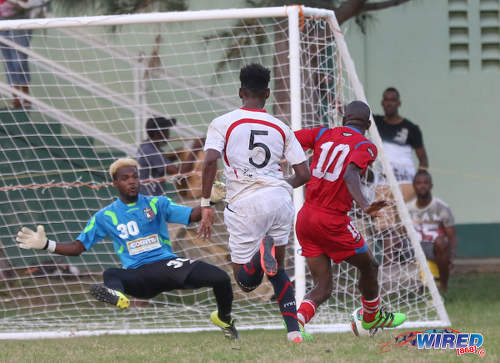 Upcoming fixture
(Tuesday 1 November)
Police FC vs San Juan Jabloteh, 6pm, Ato Boldon Stadium.