By the time I was ready to turn in on Sunday night, my pulse rate was back to normal. And, like the Buddha you encounter at the entrances to many Thai restaurants, I wore a silly grin, like a man whose appetite was sated.
No, I did not overeat: I was overfed with athletics performances—and it was only Day Three of nine days of track and field events at the Rio Olympics.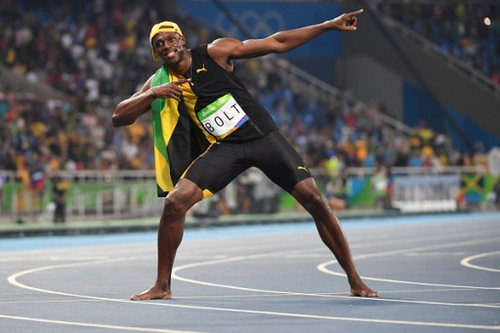 Usain Bolt, who has stamped his authority as the greatest sprinter ever, almost gave me a heart attack by trailing druggist Justin Gatlin up to the half-way mark in the 100 metres final. Then he delivered, in style—but I was nervously massaging my chest!
Earlier, in the 400 metres final—in which we had a stake in the youthful Machel Cedenio—and a kith-and-kin interest in the form of Grenada's Kirani James, we were treated to one of the most spectacular quarter-mile races in history.
In the 43-or-so seconds one had to watch the race develop, most eyes were focussed on the duel between joint favourites LaShawn Merritt and James. Few observed South Africa's Wayde van Niekerk, cast into the difficult Lane 8, run the race of his life, which, by the 325-metre-mark, would change dramatically into the best 400 metres race in our lifetime.

It's not as if keen athletics fans like me, who monitor all the competitive meets year-round, and dig into the statistics, were unaware of Van Niekerk's tremendous achievements by age 24. He has been among the top in the IAAF's 400-metre rankings for the past few years.
And, at the 2015 World Championships in Beijing, he beat Merritt to claim gold in a stunning 43.48 minutes.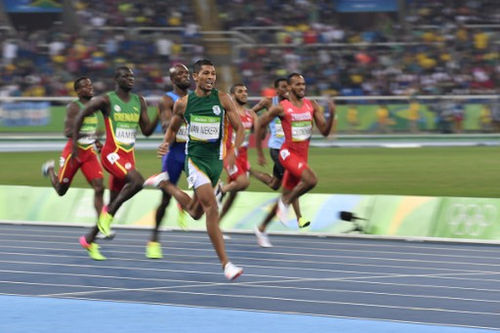 Even more impressive, Van Niekerk is the only athlete who has run sub-10-seconds in the 100-metres, sub-20 in the 200, and sub-44 in the 400. The boy was destined for greatness.
On Sunday night, I imagine all of us hoped that 21-year-old Cedenio would somehow run past the favourites to win a medal. Or, failing that, Kirani would flog Merritt.
But it was the South African wunderkind—looking neither left nor right, only straight ahead, and running like a man possessed—who broke Michael Johnson's 20-year-old record of 43.18, clocking an astonishing 43.03!
And to think that up to 1990, with apartheid still law in South Africa, talents like Van Niekerk's will have remained buried under rabid racism.
As I sat watching this spectacle in shock, I noticed Kirani fend off Merritt for second place, and saw Cedenio place fourth, at long last breaking Ian Morris's 24-year-old national record with a deserving 44.01. Next stop for Machel must be a 43-point. At age 20, his prospects are boundless.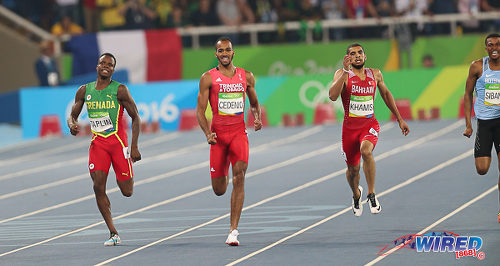 Now, only Keshorn Walcott and Michelle-Lee Ahye remain in contention for an individual medal. Cedenio and Ahye will also have another realistic shot in the men's 4×400 and the women's 4×100 metres relays—and that's it for track and field.
Look, I applaud local Olympic Committee president Brian Lewis for trying to psyche up our athletes and sports administrators with his mantra of "10 gold medals by 2024". Brian is well-intentioned. But it takes more than good intentions to pave the track to Olympic glory.
How does one rationalise Cleopatra Borel's effusive boast, after she finished sixth in the shot put finals, that after three Olympics, she had achieved her dream? With the greatest respect to Cleo, you go to the Games to win, not to "make de finals".
That mentality of glorifying mediocrity, or worse, aspiring to it, is one reason why our achievements have been… well, ordinary.
Wendell Mottley, Edwin Skinner, Benedict Cayenne, Edwin Roberts, Hasely Crawford and Ato Boldon shone brightly in their time in spite of governments and administrators, not because of them.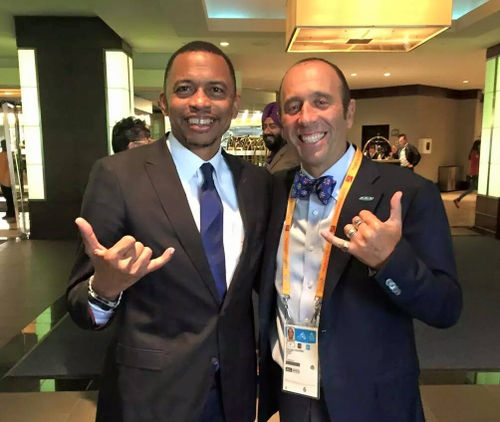 The athletes of today are showered with largesse for achievements that, in other countries, merit only thanks and some assistance, preferably through scholarships, and encouragement.
Let me put this as politically correct as I can: if Bolt were a T&T athlete, he would own half of the country, gifted to him by grateful governments. If the other Jamaican superstars were ours, we'd have to annex or conquer Grenada, St Vincent, maybe even Venezuela, to reward them with mansions and estates.
Get my point?
I have always loved athletics, so my interest in the Olympics has been there since my boyhood. I support my country's athletes once I know they are working hard to achieve the loftiest goals. I extend my support to Caribbean competitors, since I see the region as one.
Most of all, though, I admire and support athletes who perform superbly—be it a Bolt, a Diekerk, a Kirani, a Shelly-Ann Fraser-Price who has done us proud in three Olympics, or an Elaine Thompson, the new sprint queen.
If speed, strength and stamina be the pillars of satisfaction, race on, give me excess of it…