Taxi for Kamla Persad-Bissessar!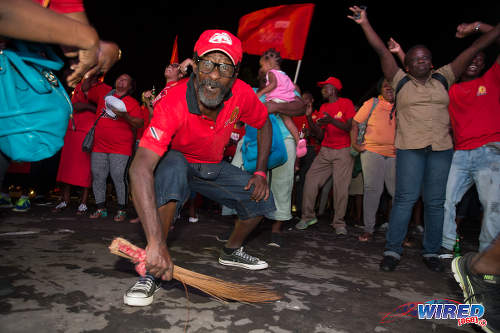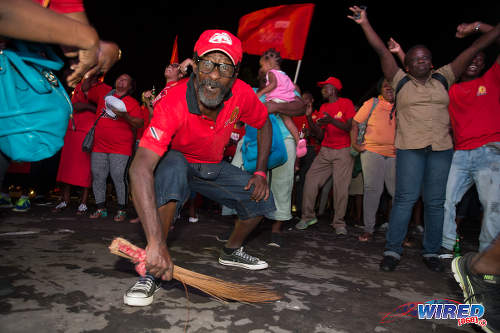 In the end, it transpired that Trinidad and Tobago was not the only thing that the UNC political leader had not been properly servicing.
After a less than gracious concession speech, the Siparia MP hopped into "PM1", only for the vehicle to refuse to budge.
Who said God isn't a satirist?
On September 7, Trinidad and Tobago's electorate spoke loud and clear. And, after years of tap-up and bald jokes, voters chose to end decades of discrimination and elect its first follicularly-challenged Prime Minister, Dr Keith Rowley.
For the last four and a half months, Rowley was about as welcomed in Parliament as Yasin Abu Bakr, after Persad-Bissessar took exceptional exception to his parading emails allegedly written by herself and other Government officials.
Now, Dr Rowley will govern the tiny two island republic. He promised not to divide the country's resources along yellow and red lines.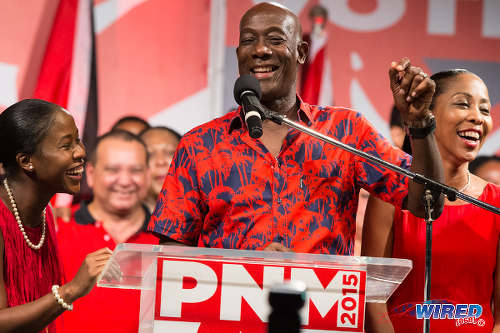 "While I come from the PNM, I am not the prime minister of the PNM," said Rowley. "I am the prime minister of Trinidad and Tobago."
Of course, Persad-Bissessar did not exactly promise to emasculate the police, pass laws for bandits and treat the treasury like her personal piggy bank in her 2010 victory speech either.
So Mr Live Wire will be keeping a close watch.
And what of the outgoing Prime Minister who simply could not handle the "Raging Bull?"
In her Siparia constituency office, Persad-Bissessar looked like someone who thought she was about to sip champagne, only to end up with a mouthful of black coffee—no sugar and no cream.
Her concession speech sounded as though it were written by South Park character Eric Cartman: Screw all of you, I'm going home!
And then, in a delicious piece of irony, the "PM1" refused to take Persad-Bissessar to Siparia and a supporter had to give her a lift home in a Cube instead.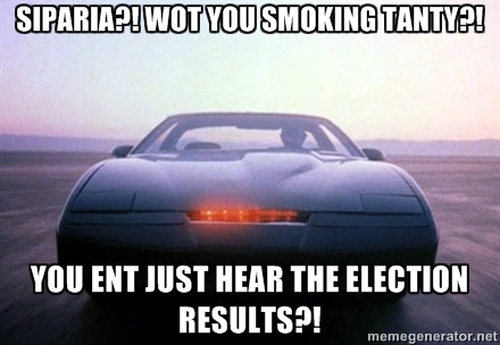 So you mean "Kitt" has been moonlighting as PM1 all this time? And Roodal Moonilal couldn't send a yellow-band maxi self for the lady so she could stretch her legs?
From soaring over voters in a helicopter, it must be quite a climbdown to be hopping a drop in an imitation Hummer. Live Wire cannot confirm that MC Hammer sent "Tanty Kamla" a sympathy card.
Persad-Bissessar has now lost ground at five successive elections: THA, Chaguanas West, Local Government, St Joseph and General Elections. She did not even bother to turn up at Rienzi Complex to speak to UNC colleagues and supporters last night.
Buh buh bye, Kamla! We need to breathe again.
Presumably, Moonilal is out this morning shopping for a long knife that would fit between the shoulder blades.
Of course, "Moonie" would have a hard time finding a spot that outgoing MP Jack Warner had not already molested.
"I wanted to get three seats, I got none, but I got Mrs Persad-Bissessar out," said Warner. "I alone have taken down three prime ministers. That is my legacy to Trinidad and Tobago."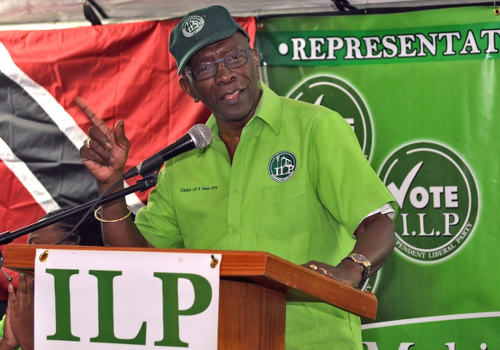 Mr Live Wire cannot confirm that Warner now has hip hop star "Big Sean" on repeat on his iPod: I don't funk with you…
Forever the salesman, Warner declared a PNM victory to be a win for his ILP party. And, to be fair, more than a few PNM supporters have lauded Warner's role as whistleblower—albeit history's most shameless turncoat—ever since United States Attorney General Loretta Lynch sent him an invite for a US-based family reunion.
Ungratefulness, as they say, is worse than witchcraft. So Rowley cannot turn his back on the "Baron of Bobol" during his time of triumph.
Mr Live Wire has just the portfolio in mind.
Appoint Warner as Trinidad and Tobago's next Ambassador to the United States!