Another Willis Plaza goal and another three-point haul for Central FC yesterday afternoon as the Pro League leaders edged Point Fortin Civic 1-0 at the Mahaica Oval, Point Fortin.
The "Central Choir" were not present to belt out their non-ending stream of English-flavoured club hymns but we all know the tune by now:
"Plaza scores when he likes…"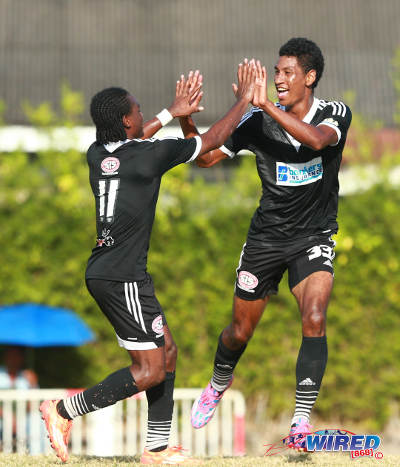 The triumph put Central five points clear of defending champions DIRECTV W Connection who were held to a surprise 1-1 draw by Caledonia AIA at the Ato Boldon Stadium in Couva yesterday.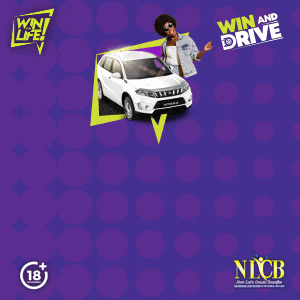 It means that Central is guaranteed the prize for topping the second round of competition having already earned the honour for the first round.
There were actually two shocks at the Ato Boldon Stadium as a Newton Sterling double helped San Juan Jabloteh to a 2-1 win over Defence Force. Jabloteh climbed to fourth place on the back of that result while the Army/Coast Guard combination slipped two spots to fifth.
In yesterday afternoon's other encounter, North East Stars returned to winning ways with a 2-1 triumph over St Ann's Rangers at the Marvin Lee Stadium, Macoya.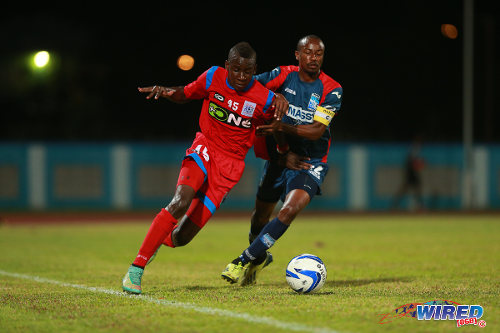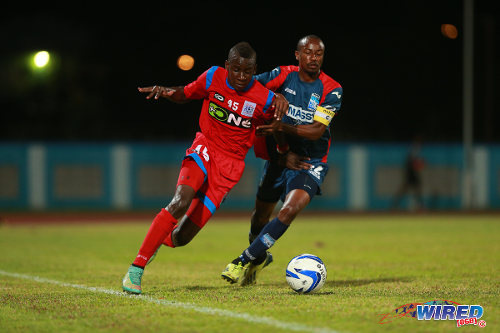 It was Rangers' tenth straight defeat and their 14th League loss of the season from 15 games—they managed one draw against Caledonia last October. There is no way to sugar-coat such dismal statistics.
At one point this season, Civic kept Rangers' company near the foot of the table. Point Fortin's fightback began earlier this year under departed coach Reynold Carrington but, after three League games on a trot before Central's visit, it is safe to say that their impetus has accelerated under current boss and former Trinidad and Tobago football icon Leroy De Leon.
Once a silky, thrilling attacking midfielder, De Leon credited an increased focus on his players' mental toughness for their positive results.
"I've tried to change their attitude and their way of thinking about football," De Leon told Wired868. "I'm trying to break bad habits. Every session, I try to break at least one bad habit.
"It is a long process (because) their mental state of mind is not (what it should be)."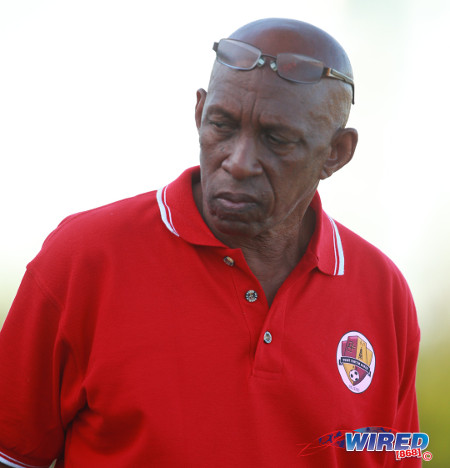 In Civic's first game under De Leon, talented Trinidad and Tobago international goalkeeper Marvin Phillip spent the 90 minutes on the substitutes' bench. Today, it was Civic's leading scorer, Marcus Joseph, who got a taste of tough love as he stomped towards the changing room after being withdrawn in the 58th minute.
De Leon said he was dissatisfied with Joseph's contribution—both in imposing himself on Central and helping his own teammates.
"For any marquee player, when a team comes to play they must be wary of you," said De Leon. "I don't care if he thinks he is bigger than this game. He is not.
"I don't care who you are. You have to earn it on the field not talk about it."
Civic were more unified at kick off and should have opened the scoring within the first 15 minutes.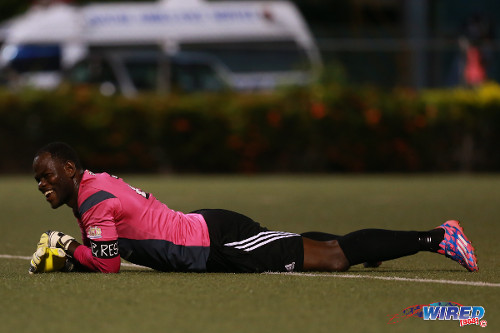 The game was barely two minutes old when Joseph shot overbar from inside the opposing penalty area while Central goalkeeper Jan-Michael Williams and veteran sweeper Marvin Oliver were alert to thwart a swivelled shot from Civic defender Weslie John and a clever dummy from Joseph in the 13th and 14th minutes respectively.
The home team had a good shout for a penalty too in the 15th minute as Joseph flicked a Shackiel Henry pass into the path of Civic playmaker Andre Toussaint who was clumsily bundled over by Central defender Jamal Jack.
Referee Callum Marshall, a La Brea resident, looked the other way and his disinclination to punish foul play would be a recurring theme in a generally fast and competitive fixture.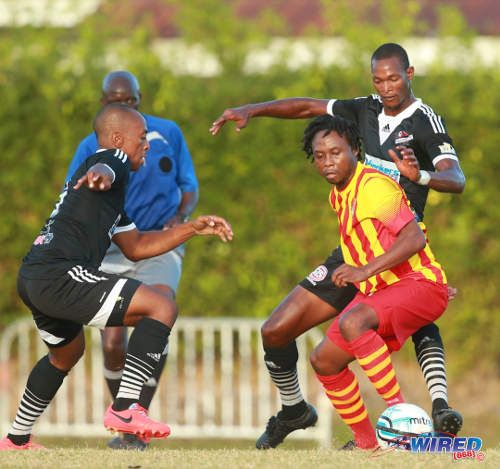 Civic were marginally better for much of the first half hour. Upfront, Toussaint and Joseph kept Central guessing with their "good cop/bad cop" routine—Toussaint drew players close with his magnetic technique on an awkward, bumpy surface while Joseph made them scatter with booming left foot strikes and quick changes of direction.
But, as the game crossed the half hour mark, the host team lost their compactness in central midfield and Central took advantage.
Vranes' decision to replace Dwight Quintero with "Soca Warrior" Ataulla Guerra, inside the first 40 minutes, seemed borne out of frustration at the young attacker's workrate. But it proved to be a tactical masterstroke.
Civic's midfield enforcers, Nickcolson Thomas and Trent Lougheed, were holding their own against Central's attacking pair of Jason Marcano and Darren Mitchell. Suddenly, there was Guerra dropping off the front man to create an additional passing option at a time when Civic's front four—with the exception of 21-year-old Akeem Redhead—had grown lethargic in their defensive transition.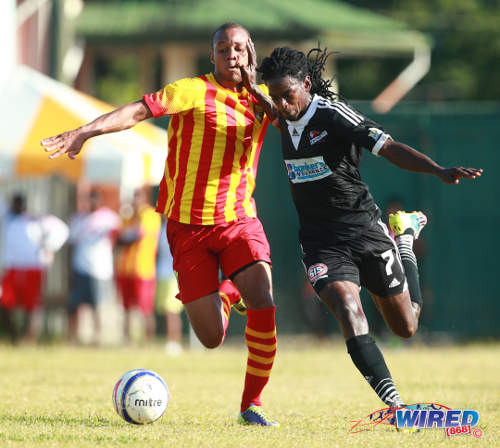 Seconds before the halftime whistle, the "Couva Sharks" benefited from the shift in the tide with a fine team goal. Plaza worked a wall pass with Guerra then backheeled to Marcano who returned the ball into space for the striker to run on to before driving home at the near post.
It was a cruel time to concede and, at the resumption of the second half, Joseph found himself repositioned on the left flank as Henry took up Civic's striking duties.
Joseph's chin seemed to have dropped so low that it was a wonder he did not trip over it.
The gifted attacker's day got considerably worse when, in the 58th minute, he became the first Civic player to be substituted.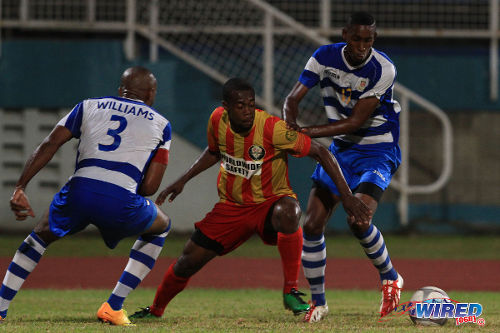 "Allyuh not serious!" shouted Joseph.
"I don't care; play big!" De Leon yelled back. "You're playing on the national team (so) show people (why) you're playing on the national team!"
It was not the most extraordinary disagreement at the Mahaica Oval today. That came from Toussaint and Guerra in the 66th minute.
Guerra was ghosting around Civic players like cones at the time when Toussaint obstructed his path. The former player reached over and picked Toussaint up like a parent disdainfully moving a toy from his path.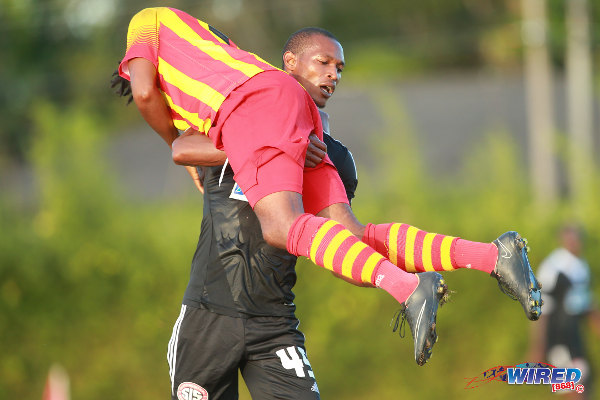 "He is a lightweight," Guerra explained afterwards. "I wanted to show him that."
It was an extraordinary sight and that might have been the saving grace of the talented attacker who had only just returned from a two-match suspension for reckless conduct.
Marshall whistled and summoned Guerra.
"What?!" retorted Guerra. "You can't book me for that!"
Marshall, who almost certainly had never seen anything like that in his refereeing manual, couldn't think of a counter-argument and gave a free kick to Central instead.
Civic did manage to push Central back on their heels for the final eight minutes but never really looked like overpowering them.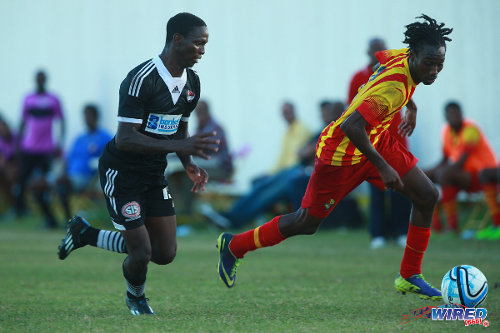 "(Central) is a well organised team," said De Leon. "They have people upfront with confidence on the ball and we don't have that. I am trying to get there but it takes time…
"But we will be okay."
Between the gutsy performances of Lougheed, Redhead, full backs Ronell Paul and Andrei Pacheco and the trickery of Toussaint, Civic gave enough reason for confidence yesterday.
But Central, an athletic, hungry outfit steered by the perceptive duo of Oliver and holding midfielder Elton John, were worth their win.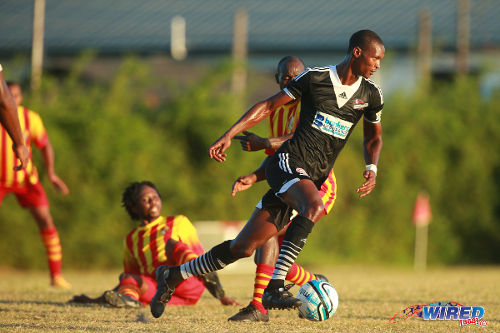 The Sharks, who are in their third Pro League season, have never won the League competition before and they would do well to be wary of Connection's powers of recovery. If yesterday was any guide, they will not give up their lead without a fight though.
(Teams)
Central FC (5-3-2): 21.Jan-Michael Williams (GK) (captain); 15.Kaydion Gabriel, 17.Marcelle Francois, 10.Marvin Oliver, 12.Jamal Jack, 4.Uriah Bentick; 7.Jason Marcano (6.Leston Paul 65), 2.Elton John, 11.Darren Mitchell (3.Keon Goodridge 85); 99.Dwight Quintero (45.Ataulla Guerra 40), 33.Willis Plaza.
Unused substitutes: 30.Akel Clarke (GK), 14.Jean-Luc Rochford, 19.Nathaniel Garcia, 29.Upston Edwards.
Coach: Zoran Vranes
Point Fortin Civic (4-2-3-1): 1.Marvin Phillip (GK); 15.Ronell Paul, 5.Andre Ettienne (captain), 4.Weslie John, 19.Andrei Pacheco; 8.Nickcolson Thomas, 18.Trent Lougheed; 99.Shackiel Henry (9.Matthew Bartholomew 71), 11.Andre Toussaint, 6.Akeem Redhead; 10.Marcus Joseph (20.Jamille Boatswain 58).
Unused substitutes: 52.Akini Adams (GK), 7.Kelvin Modeste, 23.Kelvin Rouse, 25.Andre Matthew, 27.Bevon Bass.
Coach: Leroy De Leon
Referee: Callum Marshall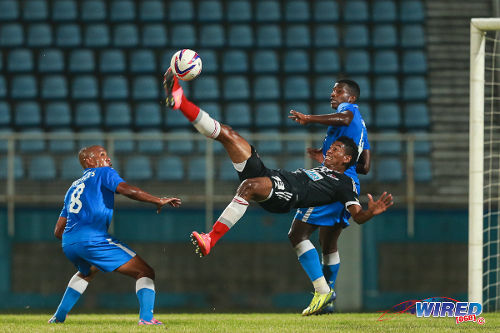 Pro League results
(Tue Feb 24)
Point Fortin Civic 0, Central FC 1 (Willis Plaza 45) at Mahaica Oval;
W Connection 1 (Mekeil Williams 78), Caledonia AIA 1 (Kareem Joseph 90+3) at Couva;
San Juan Jabloteh 2 (Newton Sterling 22, 47), Defence Force 1 (Devorn Jorsling 84) at Couva;
North East Stars 2 (Aquil Selby 19, Kennedy Hinkson 75), St Ann's Rangers 1 (Devon Modeste 39) at Macoya;