A 65-year-old man tragically drowned in Tobago this morning. Mr Live Wire knows what you're thinking: What did his corpse look like and was he any good at his day job?
You weren't thinking that at all? Well, TV6 surely was.
And so a married father of four who held three Ministerial portfolios and had enough university degrees to make Suruj Rambachan drool was reduced to a looped video of a motionless body in a red trunks—thankfully, it was not yellow—and childishly superficial narrated analysis of his time as National Security Minister.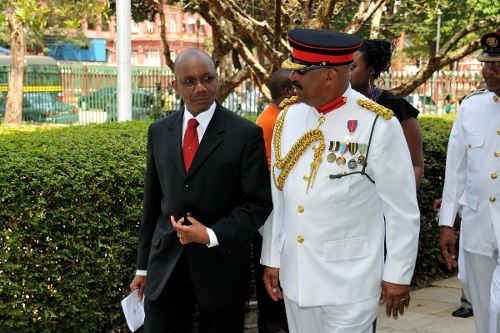 At a time when Martin Joseph's family and loved ones are grieving his loss and his eight-year-old daughter is getting a heartbreaking lesson in mortality, TV6's viewer question was: "Do you think Martin Joseph was a better National Security Minister?"
Four years and four National Security Ministers have passed since Joseph last held that post. Is now really the time for his job appraisal TV6? Does incumbent Gary Griffith not have enough problems with dead bodies without TV6 chucking him into a popularity contest with one?
Wouldn't the public need more information than Joseph's peak murder rate tally and the fact that Jack Warner once gave him a red card to cast their vote? Will TV6 use the money raised from the call-in to open an ethics class for journalism students?
In case you are wondering, 88 percent of voters declared that Joseph was indeed a better National Security Minister. But then maybe they thought TV6 Head of News Dominic Kalipersad intended to somehow resurrect Joseph and stick him back in the hot seat.
Is there any other scenario where their question might have made sense?
We can handle stupid questions though. The broadcasting of dead bodies during dinner is something else entirely.
Does the media leave anything for the imagination anymore? If Kalipersad has a haemorrhoid and someone asked how he was doing, would he drop his pants?
TMI, TV6. Anymore of this and the company's logo might as well be a corbeaux.
It has been a year and a half already Kalipersad, please let it go. You know what I mean. Park up the tabanca on Ariapita Avenue and let the police tow it.
Nothing lasts forever. We all have to cut our losses sometimes and recognise that it is better to have loved and lost than to have never experienced it in the first place.
Take Robin Thicke's "Get her back" off your playlist and put in Cee-Lo or Taylor Swift instead.
No matter how many dead bodies you show, TV6. Ian Alleyne ent coming back.