Former AG Ramesh Maharaj described this week's stunning news as one of the biggest scandals in the history of Trinidad and Tobago. Opposition Leader Keith Rowley called it a travesty and insisted that the controversial State appointee was unsuitable for his position.
Maharaj and Rowley were not discussing the TSTT's suspension of Machel Montano's account though but rather the alleged false credentials of Hafizool Mohammed, as revealed by the Trinidad Guardian.
Hafizool, you say? That's the guy who sits next to the former Barbados AG Sir David Simmons during the 1990 Coup Enquiry.
Is the Coup Enquiry still going on, you ask? Well, I think you get the picture on the public impact of this story thus far.
It is not easy to gain public space these days with the number of corrupt appointments, suspicious hirings and doctored resumes that are making the rounds.
Mr Live Wire has several suggestions to jazz up Mohammed's CV (Catchy Vibes).
Sex sells: The photo of a youthful Reshmi Ramnarine sharing a drink with Education Minister Tim Gopeesingh, before being promoted beyond her qualifications, intrigued on many different levels.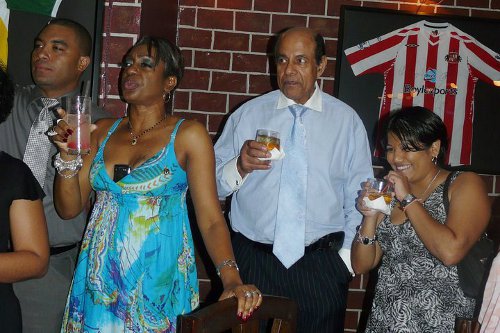 Catchy slogans works: "Ish and Steve" sounds like a captivating sitcom that might have aired between the "A-Team" and the "Dukes of Hazzard" while the spin-off series "Section 34" also fits neatly on placards and in puns.
Be relevant: Machel Montano and Jack Warner both hold jobs that people care very much about. The 12-year-old recollections of former government clerks and obscure one-time Ministers during the attempted coup pale in comparison to the sort of memoirs Warner and Montano could put out after a weekend in the Hyatt or night out in Zen.
Provoke emotion: Minister Roodal Moonilal's suggestion, while smirking into the television camera, that he raised millions for the People's Partnership two-year anniversary celebrations via pholourie sales is just the sort of transparency that catches voters' attention. Ashworth Jack used this formula to good effect in the THA race when he told Tobagonians that he built a multi-million dollar mansion on pumpkin and cucumber sales and then proceeded to achieve historic election results.
Mr Live Wire can only hope that the doctored coup chairman seizes this opportunity to leap to nationwide fame.
A good place to start for Mohammed would be a retort that he cannot comment on the Guardian's allegations until he has read the newspaper article in hard copy, cross-checked the news ink's authenticity and verified the journalist's political membership.
Preferably, he would conduct this interview at the AG's residence in between gulps of red bulls and vodka while twirling his car keys and wearing a tee-shirt that reads: "I see dead people… they provide the best references."